Kenosha burned last night. Here's what we witnessed.
One man, sitting outside the Kenosha County Courthouse, which was protected by stoic riot-gear wearing police and covered with graffiti, told us he was from Chicago. Were others from Chicago, we asked?
"A lot. There's more coming tomorrow," the man said. When we began to inquire about which groups were organizing the Chicago presence, a woman, who had been yelling in the face of silent police a few minutes before, shouted "get the f*ck out of here, white boy," and promised to make us famous. "They kill us because they fear us. Honor the dead," the courthouse graffiti read. The graffiti on the burning County Credit Union said, "kill cops." ACAB, an acronym meaning "All Cops Are Bastards," was painted throughout the  vandalized, burning and boarded-up downtown. "F*ck the police," said other sprawled words with the drawing of a pig face, near the words, "Black Lives Matter." The name of a police officer some people think shot Jacob Blake was painted on buildings. One piece of graffiti with that officer's name proclaimed "you caused this," with a spray painted arrow directed toward a vandalized, burning Corrections building.
We're Jim Piwowarczyk and Jessica McBride, Wisconsin journalists. We headed to Kenosha to see what was happening on the streets on the second day of destruction. Watch our main live stream:
https://www.facebook.com/jessica.mcbride100/videos/304833360780430/
Billows of acrid smoke draped a smog-like blanket over downtown, burning our eyes, two days after Jacob Blake, 29, was shot by police in a viral video that went national. The shooting is under investigation.
Kenosha Riots Burn Through Downtown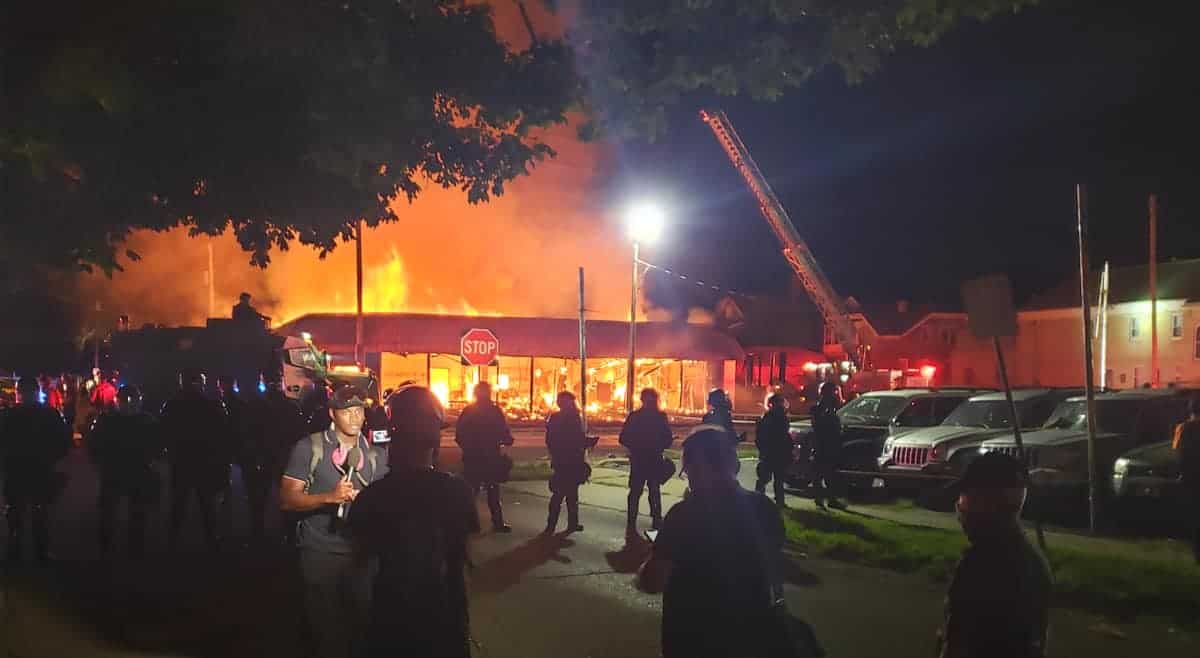 To our right, a firework went off with a loud bang, surprising us. People, most of them appearing to be in their 20s but including some juveniles, milled aimlessly around during the late evening of Aug. 24 and early morning hours of Aug. 25, despite the 8 p.m. curfew, taunting the cops who stood in some areas in riot gear. People smashed windows as a credit union burst into flames, observed the unfolding scene, and one man shouted, "I'm going to fry me a pig."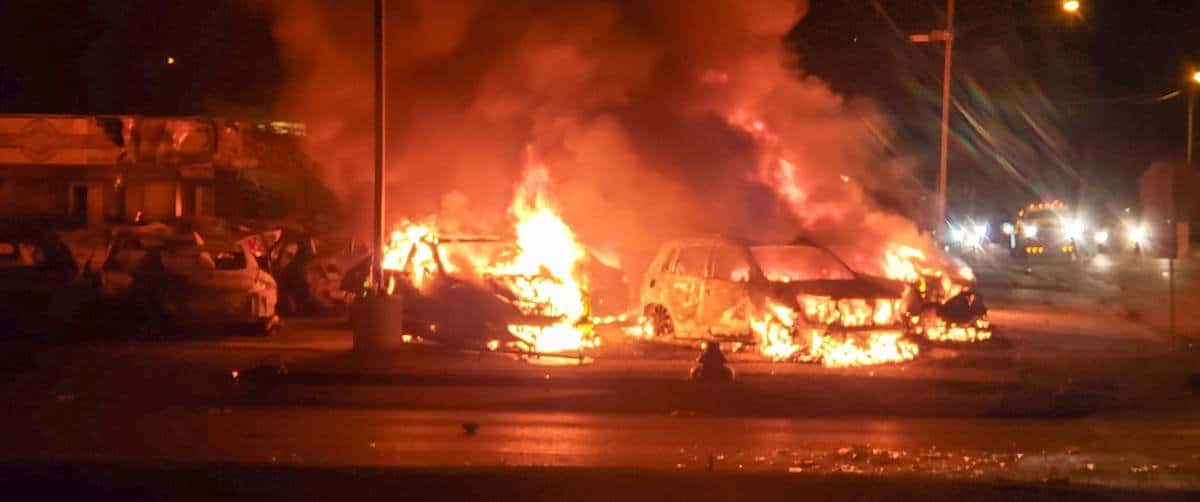 The boarded-up buildings made it look like a hurricane was coming, and, in a way, one had. A massive inferno demolished an office furniture store (people called it a "mattress store"). A Department of Corrections Community Corrections office (people called it "probation and parole"), was completely engulfed. An American flag whipped in the smoke-filled wind. The heat emanated from the fires, and small explosions popped from burning cars.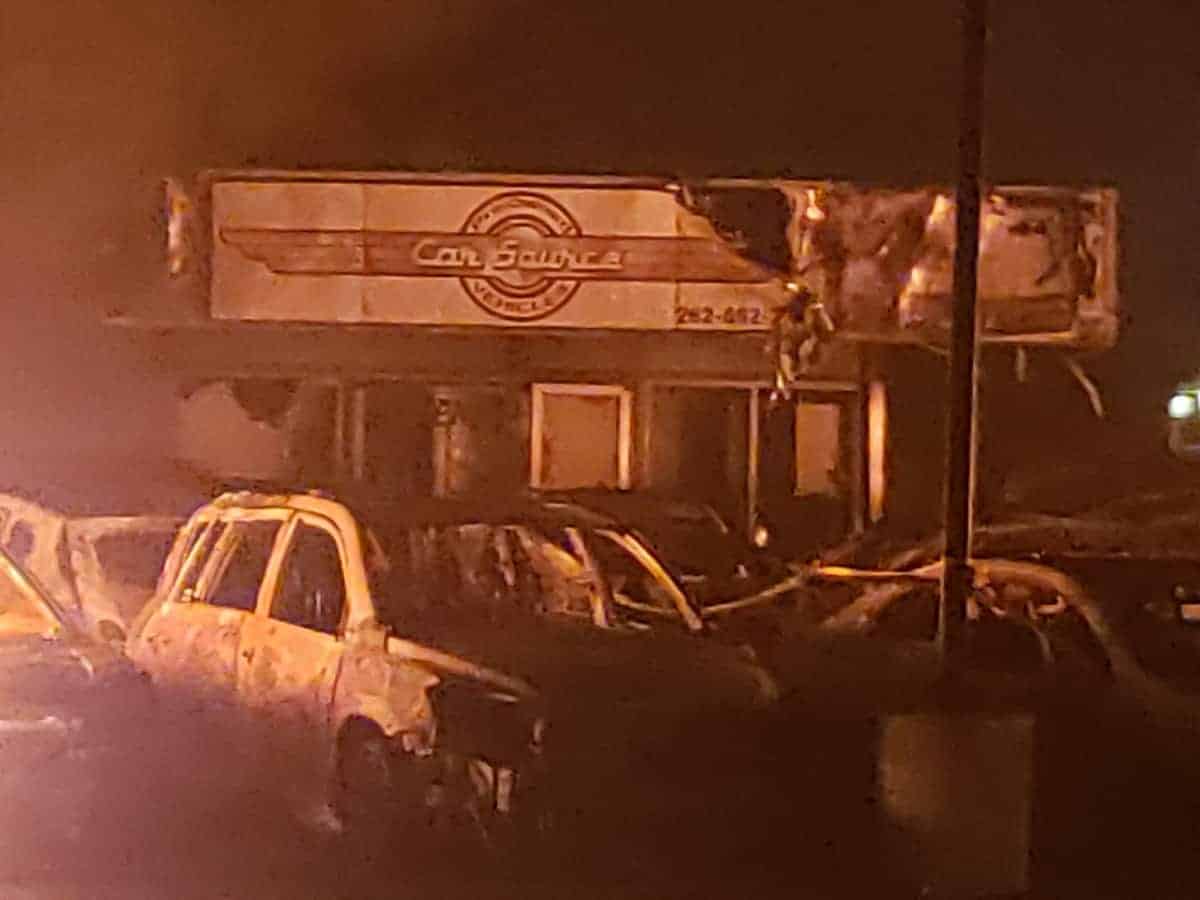 The cops stood silently by, not engaging, and protecting the perimeter so firefighters could safely do their jobs putting the fires out. They couldn't keep up. We didn't see a single cop engage with people or arrest anyone. They just stood quietly and took it, watching the vandalism unfold and having invective lobbed in their faces. Earlier, they used tear gas and rubber bullets to disperse crowds when the curfew hour hit, after people threw bottles and fireworks at cops. The crowds were broken now into people, many in masks and some in Black Lives Matter T-shirts or walking around without shirts or carrying black umbrellas, hanging out in smaller clusters or randomly roving around on their own or in pairs.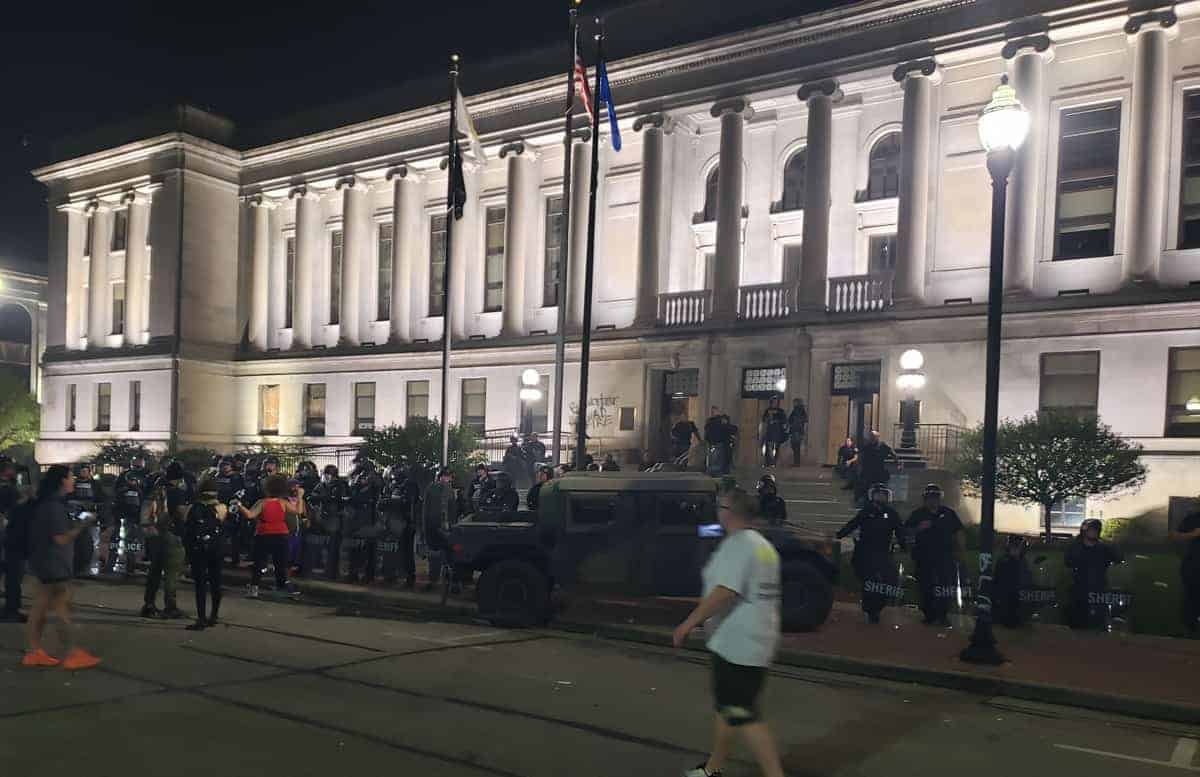 Here's another live stream:
https://www.facebook.com/jessica.mcbride100/videos/3027410934036691/
We counted more than six fires in a several block area from 58th to 60th Streets, saw rows of smashed out cars with spider-webbed windshields, and noticed homes and businesses with broken windows. Kenosha's downtown was like a scene from Mad Max, apocalyptic appearing. We sidestepped the shattered glass and the heavy uprooted street light poles. Clusters of shouting people squared off against the police, calling them hateful things and swearing at them.