Multiple news media outlets, both local and national, reported that teenager Kyle Rittenhouse was criminally charged with homicide in the shooting deaths of two people in Kenosha, Wisconsin before he was.
After this story first ran, Rittenhouse was indeed charged with two counts of homicide. The charges hit the court website around 5 p.m. on Aug. 27.  The problem with the news media coverage is that multiple prominent news organizations reported that Rittenhouse had been charged on Aug. 26 and all morning on Aug. 27 – and he hadn't been yet.
The Kenosha County District Attorney's Office said that, as of 3:30 p.m. on August 27, criminal charges had not yet been issued against Rittenhouse. "We have not issued formal charges," a DA's representative said. About 1.5 hours after that comment, they were filed. The DA's office said it would provide the actual criminal complaint but hasn't yet.
Wisconsin Circuit Court Access, the online court record website, did not show any criminal charges filed in Wisconsin against Rittenhouse, 17, of Antioch, Illinois, until around 5 p.m.. The only cases against Rittenhouse on CCAP were two traffic cases that predate the shootings. We called the Kenosha County Clerk of Courts Office, and they said they didn't have a criminal complaint yet against Rittenhouse earlier in the day. We contacted the District Attorney for clarification, and they said formal charges were not issued yet. That was on the afternoon of Aug. 27. That changed with the CCAP filing a little more than an hour later. (You can read the full criminal complaint here.)
Kenosha County District Attorney Michael Graveley told The Chicago Tribune that his office would "have to make some determinations about, at least preliminary decisions about charges or holding (the suspect) by the end of the day (Thursday)."
His comment also means that, when numerous news outlets were reporting that Rittenhouse had been criminally charged with homicide, prosecutors hadn't announced any decision on that yet.
The bottom line: Multiple prominent news outlets prematurely reported that Rittenhouse was charged before he ever was.
Check out examples of some of the headlines from around the country that ran on prominent news sites before Rittenhouse was ever charged. At the time they ran, these headlines were false.

Milwaukee Journal Sentinel (Aug. 27 before charges were filed): After teen is charged with killing 2 at protests over Jacob Blake shooting, turmoil in Kenosha spreads and reaches new heights"
New York Post (Aug. 26): "Illinois teen Kyle Rittenhouse charged in fatal shooting of two Kenosha protesters"
Daily Beast (Aug. 27 before charges were filed): "17-Year-Old 'Blue Lives Matter' Fanatic Charged With Murder at Kenosha Protest"
Insider.com (Aug. 27 before charges were filed): "Kyle Rittenhouse — the teen charged with first-degree homicide over the shooting of 3 people at Kenosha protests — was obsessed with Blue Lives Matter and appeared 'on edge' before shots rang out."
Al-Jazeera: (Aug. 27 before charges were filed) "Teenager Kyle Rittenhouse arrested, charged for Kenosha shootings"
Washington Post (Aug. 26): "17-year-old charged with homicide after shooting during Kenosha protests, authorities say"
Los Angeles Times (Aug. 26): "Teen charged in Kenosha killings, Kyle Rittenhouse, praised police"
---
An Extradition Document From Illinois Caused the Confusion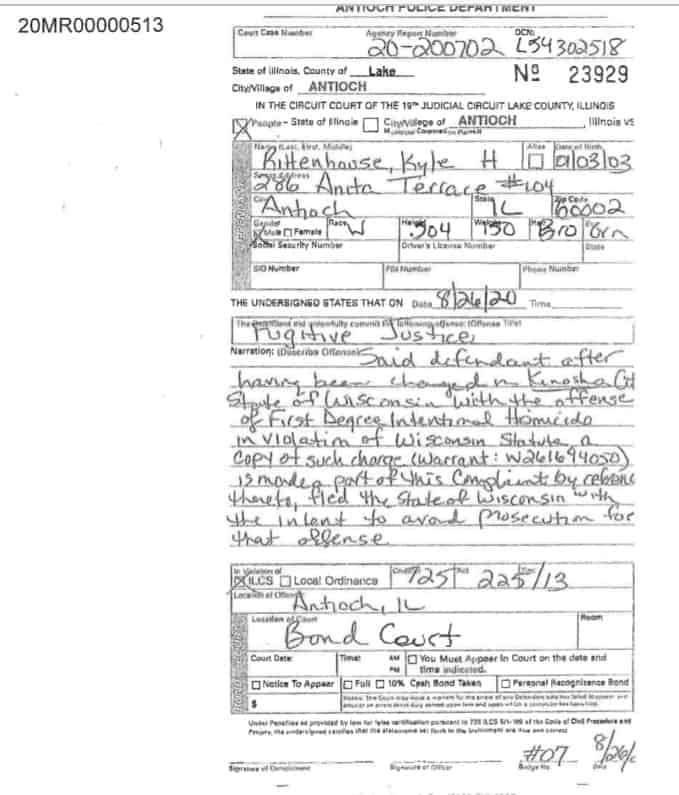 The confusion appears to have stemmed from an extradition ticket in Illinois. We've obtained that ticket. See it above.
The Journal Sentinel story correctly said that the document indicated Rittenhouse "faces a first-degree intentional homicide charge in Kenosha County." But the newspaper's headline went much further and said he was actually charged with killing two people before that decision came down.
The fugitive from justice case includes a ticket from Antioch Police that says:
"Said defendant after having been charged in Kenosha County State of Wisconsin with the offense of first-degree intentional homicide in violation of Wisconsin statute…fled the state of Wisconsin with intent to avoid prosecution for that offense."
A police referral isn't a criminal charge. The District Attorney's Office makes the ultimate decision in Wisconsin on whether to charge Rittenhouse with homicide.
Rittenhouse is accused of shooting and killing two people during a chaotic sequence of events that unfolded after demonstrations. He was there to protect people and property and was seen protecting a car dealership and cleaning up graffiti. The shootings occurred in two chaotic situations. The New York Times has run a detailed chronology of what happened. They say the first shooting occurred when someone else fired a gunshot.
A group of unknown people was chasing Rittenhouse for unknown reasons near a car dealership he had been protecting earlier. "While Mr. Rittenhouse is being pursued by the group, an unknown gunman fires into the air, though it's unclear why. The weapon's muzzle flash appears in footage filmed at the scene," the Times wrote. At that time, Rittenhouse "turns toward the sound of gunfire as another pursuer lunges toward him from the same direction. Mr. Rittenhouse then fires four times, and appears to shoot the man in the head," according to The Times.
Rittenhouse made a phone call and then started running. Others gave chase and he tripped and fell, videos show. The Tribune says a voice on the video says, "I just killed somebody."
In the second shooting, Rittenhouse opened fire while being rushed by three people, one with a handgun, after he tripped, the Times reported. Photos show him being hit with a skateboard. Three people were wounded and two of them died.
Editor's note: We updated this story after the charges were filed to explain they had just been filed.