Wisconsin Right Now requested the number of positive COVID-19 student and staff tests from 11 Waukesha County School Districts. Six provided the information: Pewaukee, Oconomowoc, Waukesha, Elmbrook, Kettle Moraine, and Hamilton.
The provided data, obtained Sept. 11-12, shows that at least 20 students have tested positive for COVID-19 since classes started, but they're from three districts. Waukesha leads the way by far with 14 COVID-19 positive students, followed by Elmbrook with 5 and Oconomowoc with at least 1. Pewaukee, Kettle Moraine, and Hamilton reported 0 student cases.
Overall, 6 staff members in the districts have tested positive for COVID-19. Waukesha accounts for 5 of those and Elmbrook for 1. The other districts reported 0 teacher/staff COVID-19 cases.
Many more students are in quarantine or isolation. For example, 48 students (and three staff) were quarantined in the Elmbrook School District as of Sept. 12. In the Waukesha School district, 121 students were quarantined.
Some districts have created constantly updated COVID-19 data dashboards to inform parents, staff, and children of the numbers. Others have not. Some districts (like Waukesha) will tell you the number of cases in each school, but other districts will only do so if the cases exceed 5 per school for privacy reasons.
We sent emails to each district's superintendent on Sept. 11. The schools that did not provide COVID-19 data by the time this story ran were: Hartland Arrowhead; New Berlin; Palmyra-Eagle; Mukwonago; and Muskego-Norway. We also requested Hartford School District's numbers but didn't hear back.
You can see the statistics by district, as of Sept. 11 and Sept. 12, 2020.
We also obtained Waukesha County Public Health Department data as of Sept. 12, including from the districts that didn't respond. There were 61 active COVID-19 cases of those under the age of 18 in Waukesha County school district boundaries as of Sept. 11, 2020, according to public health data obtained by Wisconsin Right Now.
The county lists the numbers as "active child cases in school district boundaries." As a result, that may include non-school age children, private schools, and homeschooled children, as well as public schools. Thus, the district-level coronavirus numbers may be different from the "active child cases in school district boundaries" statistics for the above reasons.
We asked Waukesha County's Health Department to break down the active child cases by school and they wrote us this back, "Waukesha County's COVID-19 dashboard currently provides cases of school-aged individuals and the geographic boundaries of the school district they live in. The information is provided at this level in order to preserve Protected Health Information (PHI), as regulated by HIPAA. PHI is any health information that could be used to identify an individual."
Elizabeth Tomev, Director of Communications for the state Department of Public Instruction, told Wisconsin Right Now that DPI "does not track the number of COVID-19 positive tests among students and staff. A principal, teacher, or school nurse per state statute must report a case of a communicable disease to local public health officials."
Here are the numbers by school district. When you see "Active child cases in school district boundaries," those are the County numbers, which again include more than public schools. We also provide the district-level statistics obtained from the districts themselves. Those are for only cases of students or staff who actually work for or attend those school districts.
---
Waukesha School District: Waukesha Schools COVID-19 Numbers Are Highest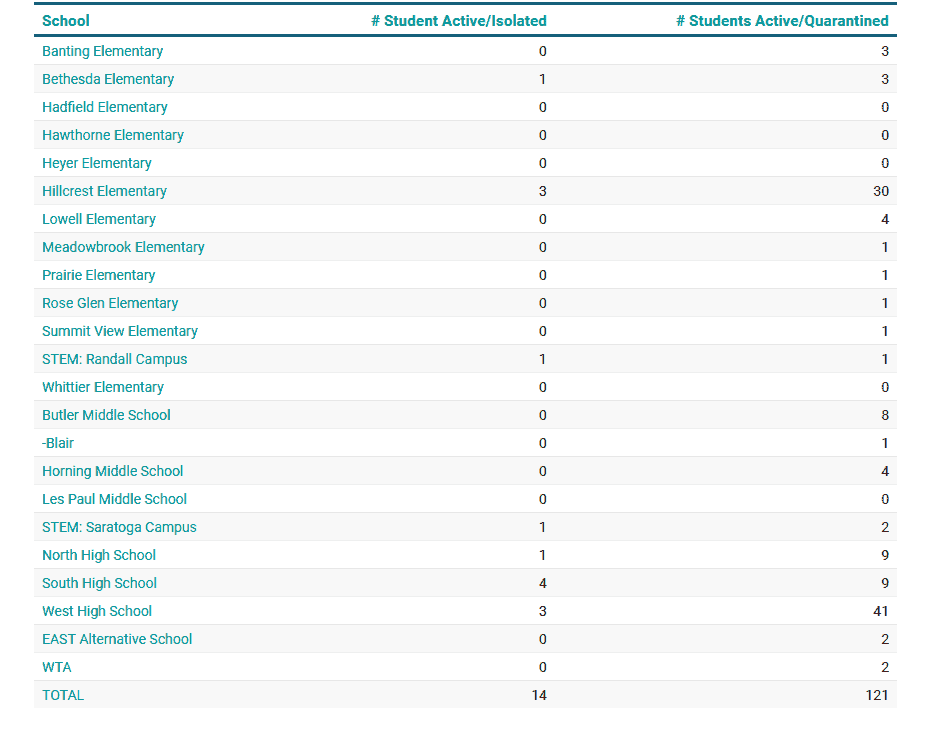 The Waukesha School District superintendent said the district was finalizing a COVID-19 dashboard on Sept. 11. Here's what the numbers showed as of Sept. 12:
14 students have been isolated after testing positive for COVID-19, and 121 are under quarantine. There are positive cases at Bethesda Elementary School (1), Hillcrest Elementary (3), STEM Randall Campus (1), STEM Saratoga Campus (1), North High School (1), South High School (4), West High School (3). West has the most students in quarantine, with 41, followed by Hillcrest Elementary with 30.
5 staff members have tested positive for COVID-19, and 24 are in quarantine. The cases were at Banting Elementary (2), Whittier Elementary (1), and Butler Middle School (2).
The number of active child cases in the district is only listed by the County as 11. It's not clear why there's a discrepancy.
---
Pewaukee School District
Mike Cady, Pewaukee School District Superintendent, told Wisconsin Right Now on Sept. 11: "As of this time we have had zero positive student or staff tests for COVID 19."
Active overall child cases in school district boundaries, according to Waukesha County: 3 (no age range given.)
---
Elmbrook School District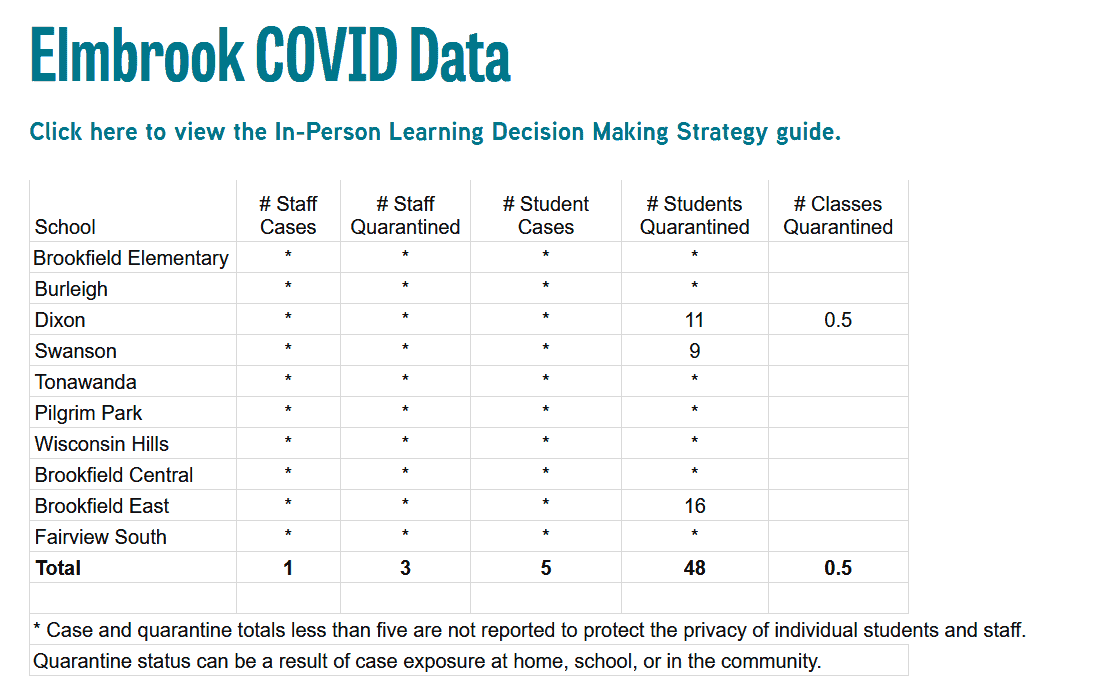 The Elmbrook School District COVID-19 dashboard gives the following data specific to students and staff in the district:
Elmbrook reports:
1 staff positive case
3 staff quarantined
5 student positive cases
48 students quarantined
.05 classes quarantined
Mark Hansen, the superintendent with the Elmbrook School District, told Wisconsin Right Now that his district "worked with the Waukesha County Health Office." If an adult or student in the district tests positive, there's a mandatory quarantine by public health order, he said. School-age children's parents get a letter.
"It tells you that you have to quarantine for 10 days plus be 24 hours fever free," Hansen said. A "disease investigation" commences, and people are asked "where were you in the last 48 hours?"
That information is turned over to contact tracers, and "they figure out what other people were exposed," he said.

In a week after a positive case, "We will know if we nail this or if it will go sideways," he said.
Hansen stressed that Elmbrook district has deployed "incredible mitigation strategies," that include reducing travel and "cohorting kid