We've seen too much of this on social media lately: People hoping that President Donald Trump dies of COVID-19 or expressing glee or happiness at the thought. There are many examples of this. One is a woman named Zara Rahim, who is Hillary Clinton's former national spokesperson. In a now-deleted tweet, she is accused of writing, "…I hope he dies."
We could single out many local examples of this. Just go read the comment threads of any local news source. But Wisconsin's Assembly Speaker singled out Facebook posts of a man named Jason Burczyk as being particularly egregious. "May he die a slow and excruciating painful respirator death, alone…" read one of his posts.
"Hope this fucking scumbag piece of shit president dies choking on his own drool and his shithead wife is close behind," read another.
Assembly Speaker Robin Vos shared one of Burczyk's posts on Facebook, writing, "This is the kind of rhetoric that is so repugnant and why hateful rhetoric from the radical left so disgusts me." So we decided to check them out.
---
More Jason Burczyk Posts
Who is Jason Burczyk? "The Cooperage/Flannel Fest Talent Buyer/Producer/Photographer/Social Justice Advocate @jasonburczyk," he says on Facebook. On LinkedIn, he describes himself as entertainment director/talent buyer for the Cooperate in Milwaukee, and tour manager for Nautical Mile Productions. What's the Cooperage? It's the "Harbor District's riverside hub for live music, private parties, and special event." To be sure, in a free country, Burczyk has a right to pen odious Facebook posts, and everyone else has a right to criticize them.
In that light, we will simply show you more of his posts, and let you decide what to make of them.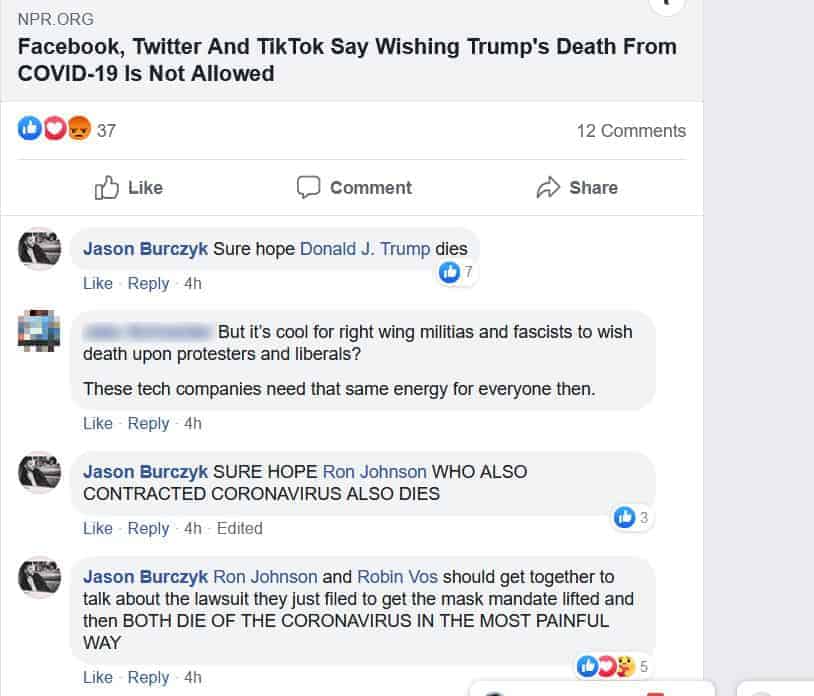 To be sure, many people on both sides are also wishing people who are sick well even if they don't politically agree with them. But he's not the only person saying such things locally. Here's more: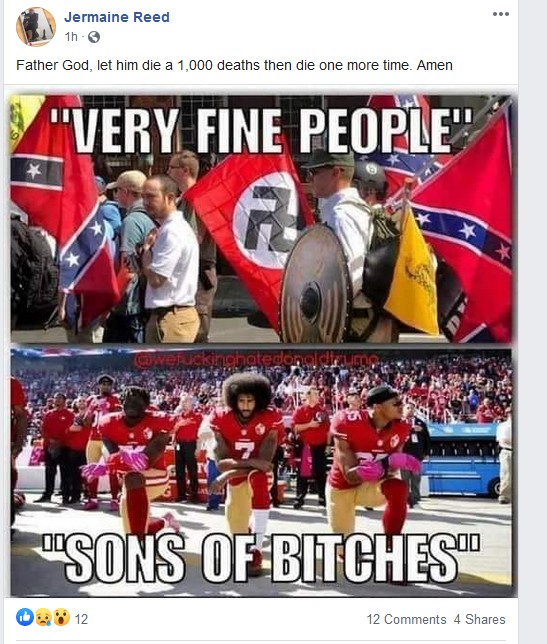 Some people challenged that writer on her post (one friend wrote, "Eew Don't go this rabid. I love you. This is icky"), but she doubled down, writing, "I never claimed to be an angel and frankly there are some people the world would be better off without, if trump really is sick, which I am having a hard believing is actually true, I am sure I will not be the only one who is happy to see him go." She added, "…there has been a lot of guilt tripping about my hatred and character, if this has caused you to see me in an unfavorable light to yourself we can politely not be friends. I said what I said, I will not be taking it back."