UPDATE: Delafield Police Chief Erik Kehl confirmed that Nathanael Benton, the man wanted in the Delafield police shooting of two officers, has been arrested after a person in Delafield reported seeing him in the southeast corner of Delafield.
Nathanael Benton is the North Dakota man who is being sought in the Delafield police shooting of two officers. The officers are expected to live. People who live in the Delafield, Wisconsin area are urged to use caution during the manhunt.
The Delafield police chief said Benton is at large and warned that he's armed. He was wearing a hoodie, flat brimmed hat, and khaki pants and is a white male.
Other news sites gave his name as Nathaniel Benton, but he's listed as Nathanael Benton in a news story on a previous shooting in North Dakota, in Corrections records, and on his Facebook page. An emergency alert went out to area residents' phones in the early morning hours.
According to Delafield Police Chief Erik Kehl, who spoke in an early morning news conference, the injured officers are from Delafield and Hartland. He said that people in the area should stay home and inside. "Don't let any strangers in your house," he said. The Delafield shooting took place near the Holiday Inn Express.
Please avoid the area of I94 at Cty rd SS and Cty rd C. This is an active scene.

— Waukesha County Sheriff (@WaukeshaSheriff) November 6, 2020
The officers responded to a call for service when "shots were exchanged," said the chief. Both officers were injured, but he stressed, "It's not life threatening from my understanding."
---
Who is Nathanael Benton?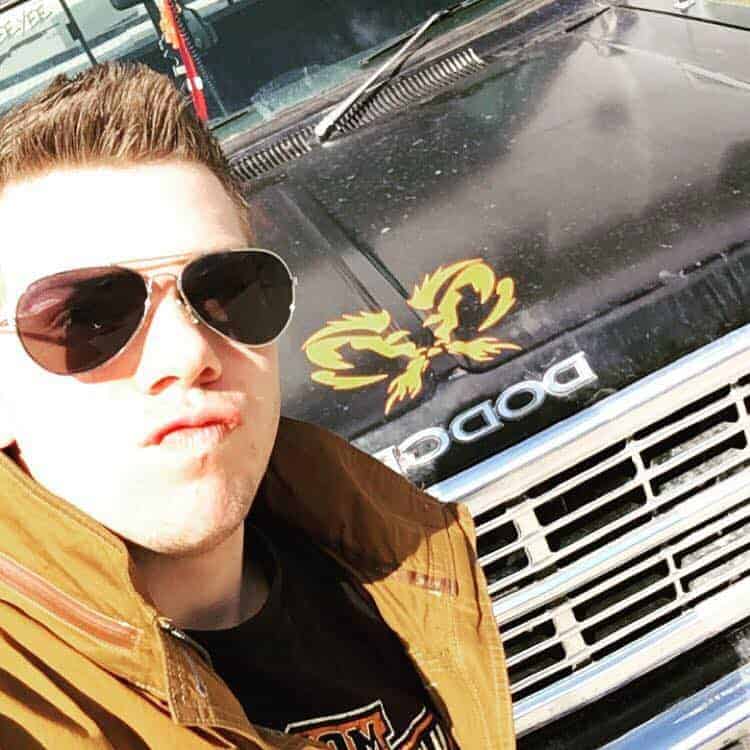 Police told the news media that Nathanael Ray Benton was wanted for a similar offense in North Dakota. According to a Nov. 2 story by KVRR-TV, Nathanael Benton is wanted on an attempted murder warrant in Fargo, North Dakota, for a shooting. He is 23 years old.
A man had reported to police that he was shot in Moorhead. The story said that a man was found in downtown Fargo with bullet fragments around his head.
According to a release by Fargo Police:
The Fargo Police Department is seeking the public's assistance in locating Nathanael Ray Benton, 23 years old of Fargo. The States Attorney's Office has issued a warrant for his arrest for the charge of attempted murder. We have reason to believe he is armed and poses a threat to public safety.

On Sunday, November 1, at 2:33 a.m., an adult male contacted dispatch stating he thought he had been shot. The male was located in the 100 block of Roberts Street North by Fargo Fire. The male was transported to a local hospital. At the hospital, medical personnel located bullet fragments in the male's head. Initially, we had information this injury may have occurred in Moorhead. Through a more detailed investigation, detectives learned the male had taken a ride share to Moorhead, complained of head pain, and then returned back to Fargo before calling 911.

If you see or have information regarding his whereabouts, call 911. Do not approach him. You may also submit an anonymous tip by texting FARGOPD and your tip to 847411.
We reviewed Benton's Facebook page. It says he's from Great Bend, North Dakota, and lives in Fargo. His page includes a picture of a Confederate flag morphing into an American flag as well as pictures of pickup trucks and motorbikes.
Wisconsin Right Now has learned that, according to North Dakota records, he has a previous sex offense.


He was accused of the crime of "sexual imposition."
In 2015, another man was accused of ripping a Confederate flag off Nathanael Benton's pickup truck at a county fair in Fergus Falls, according to the Grand Forks Herald. That story gave Benton's hometown as Wahpeton and said it was a $35 flag.
---
The Officers Shot During the Delafield Police Shooting Are Being Treated at an Area Hospital