Wisconsin State Rep. Jonathan Brostoff, a virulently anti-police Democrat who represents parts of Milwaukee, has called the two Milwaukee police unions that represent all officers and supervisors "violent bullies" engaging in "violent, thuggish White Supremacy."
Brostoff's tirade was posted to his Facebook page in response to a story in the Milwaukee Journal Sentinel, which reported that the unions were accusing new City Attorney Tearman Spencer of "dereliction of duty" for pushing a $750,000 taxpayer-funded settlement with Bucks player Sterling Brown, who was tased at a Walgreen's when he refused officers' orders to take his hands out of his pocket.
Dale Bormann Jr., MPA president, declined to comment when asked for response.
"This is violent, thuggish White Supremacy at the highest levels in Milwaukee and we must defeat it!" railed Brostoff.
"The Milwaukee Police Association and Milwaukee Police Supervisors Union continues to push this pro-police brutality crap and they must be stopped. This disgusting hit piece against City Attorney Tearman Spencer is also an attack on our city and if they are successful now it will continue the morally abhorrent and outrageous pattern of horrific and racist 'policing' that has plagued our community for far too long! Let your leaders know to hold strong against these violent bullies and that we need this accountability and transparency if we're ever going to move forward as a community."
Here's the post: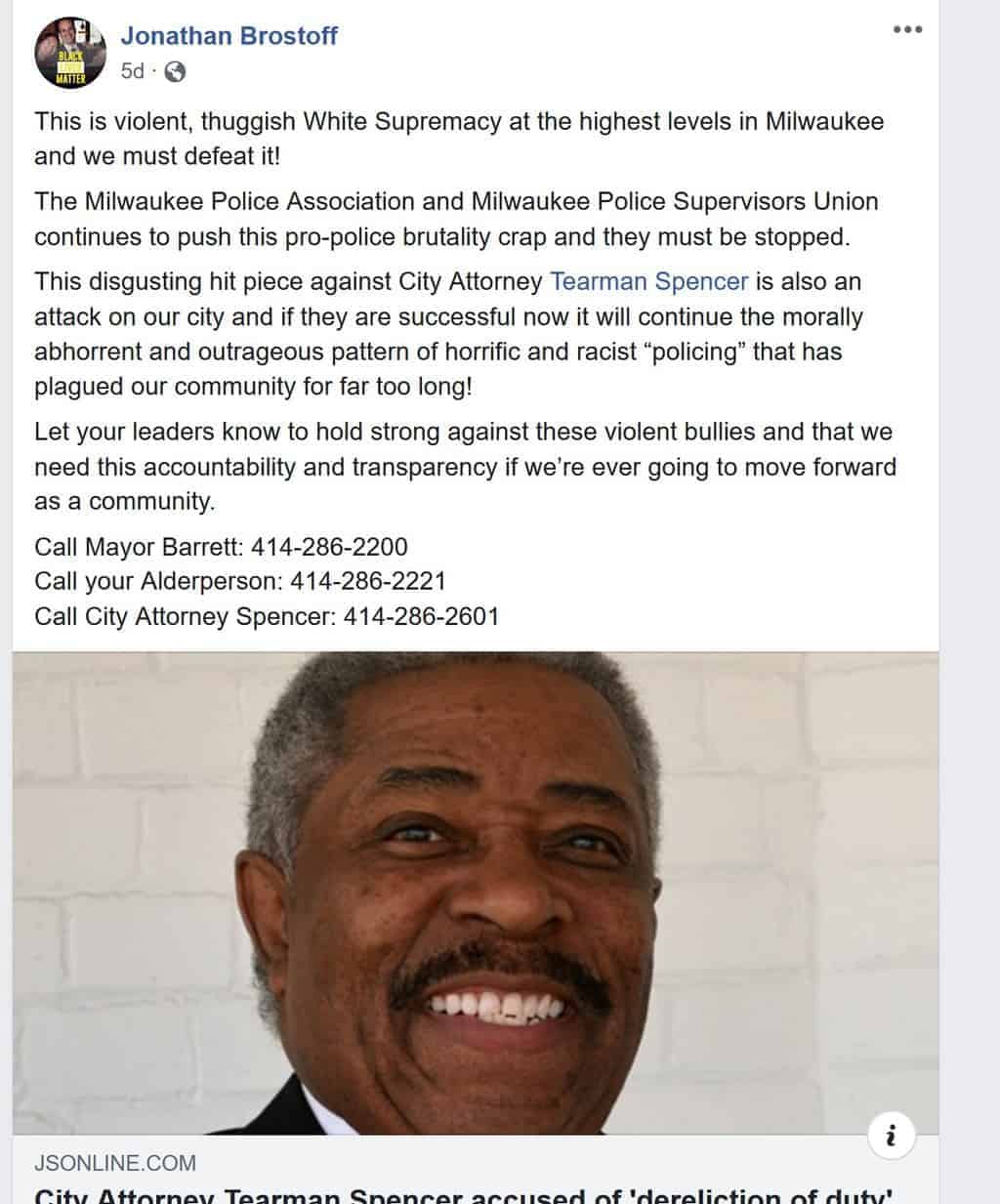 In a press release on the same topic, Brostoff called the union leaders "unelected extremists" who "allow a diseased status quo to continue unchecked."
Brostoff is closely aligned with the People's Revolution and other Black Lives Matter protest groups, and many of his social media posts recently have trashed local police. For example, he shared a post about accused Kenosha shooter Kyle Rittenhouse being released on $2 million bail, writing, "This is a terrorist. But because they like his 'politics' they treat him like a hero. Remember, Kenosha law enforcement agents supported him, actively chose not to arrest him while they did go after others for 'curfew violation' and let him walk free after murdering multiple people. He should not be free and every LEO who supported his terrorist activity should be, at the very least, fired and questioned for their behavior."
That comment is highly misleading. There's zero evidence that Kenosha officers who encountered Rittenhouse knew he was the shooter at that time. It was an incredibly chaotic, active situation. There's no evidence that Kenosha officers supported any "terrorist activity" by Rittenhouse, who was cleaning up graffiti and protecting a business before the shootings. Rittenhouse's lawyer has claimed self defense, as the first man he shot was chasing him, the second man he shot had struck him with a skateboard, and the third man he shot was moving toward him while holding a gun.
On November 22, he wrote, "Let me get this straight. When a peaceful protest comes through Tosa they have all the equipment and resources in the world. They are throwing out spike strips like it was candy on Halloween, they are using high-tech surveillance and spying on folks, etc." He added, "One a mass shooter, at Mayfair Mall (tons of cameras) and they may have gotten him days later."
Police arrested the suspect, a 15 year old Hispanic teen from Milwaukee, on Saturday night. The shooting occurred on Friday afternoon.
The Milwaukee Police Association and Milwaukee Police Supervisors Organization wrote previously that they have lost confidence in new Milwaukee City Attorney Tearman Spencer's ability to fairly represent their members, after it was revealed that Spencer wants to settle a lawsuit filed by Bucks player Sterling Brown. They're accusing Spencer of "disturbing and blatant violations of the Rules of Professional Conduct."
The two unions are demanding outside counsel to represent their members at city expense in the case and are asking that the Common Council wait to vote on the settlement until they receive such counsel.
"We have no confidence in your ability to legally and ethically represent our members on, at the very least, this case," the union wrote Spencer. The Nov. 14 letter, which was obtained by Wisconsin Right Now, was signed by Dale Bormann, MPA President and Carmelo Patti, MPSO President,
The unions accused Spencer of taking action that was unprecedented and could potentially affect their members' future job prospects.
Spencer, a U.S. Rep. Gwen Moore ally, recently ousted Grant Langley from the position Langley held for decades.
We previously published a story revealing Spencer's rationale for settlements after obtaining messages he sent to a constituent and interviewing him on the topic. "…the Sterling Brown matter is more for the people…but everything that's done helps a little," Spencer wrote the constituent in the context of discussions about racial injustice toward blacks. ESPN reported that Spencer wants the city to settle Brown's civil rights action for $750,000.
The police unions wrote Spencer that the Brown settlement "involves not only the Milwaukee Police Department Chief of Police (former Chief Alfonso Morales, in his official capacity) but also eight individuals, six of whom are current members of the MPA and MPSO."
They added: "It has come to our attention that there is a pending resolution related to this matter scheduled for November 16, 2020 before the Judiciary and Legislation Committee. Based on numerous local and national reports, there has already been a tentative settlement reached by the plaintiff and your office."
They continued:
As the attorney representing our members, you are duty bound both by the Milwaukee Code of Ordinances and the State Bar of Wisconsin Rules of Professional Conduct to competently and ethically represent your clients. While the extent of your disturbing and blatant violations of the Rules of Professional Conduct in this and other matters exceed the scope of this letter, it is obviously, and perhaps intentionally, apparent you have failed to satisfy your responsibilities to competently and ethically represent our members in this lawsuit.
The unions alleged these failures:
You have intentionally failed to discuss any potential settlement with our members. We found out about the potential settlement from the news. To date, you have never asked for our members' opinion on a settlement offer. You have intentionally failed to provide a copy of the potential settlement to our members. To date, our members have never seen a copy of the potential settlement despite the fact they are bound by its terms. You have intentionally failed to include our members in any mediation efforts.
The unions focused on news reports saying that the city would admit "a constitutional violation."
"While it is unclear what the admission entails because you have also intentionally failed to provide this document to our members, it obviously is referring to the Milwaukee Police Department and/or our members," the unions wrote. "It is an alarming precedent as we are not familiar with the city ever settling this type of action while admitting such liability. More importantly, on behalf of our members, we are deeply concerned about how it affects their future employment and personal liability."