Wisconsin lags behind most states in administering COVID-19 vaccines to people, according to federal data accessed on Jan. 14. Compared to other states, we're doing a poor job of getting the life-saving vaccine where it needs to go.
According to data from the Centers for Disease Control and Prevention obtained by Wisconsin Right Now, Wisconsin has administered fewer vaccine doses per 100,000 people than surrounding Midwestern states and many states in the U.S. Wisconsin was in the bottom 17 states.
The top Republican leaders in the Wisconsin state Assembly have written Gov. Tony Evers a letter slamming his administration's lack of "urgency" and a comprehensive plan to get COVID-19 vaccine to Wisconsinites, calling Evers' approach "woefully inadequate" and lagging other states.
Does Wisconsin really lag other states? Yes, says the CDC. As a result, many Wisconsinites who are in jobs on the front lines – such as first responders – remain unprotected from the virus.
The GOP leaders compared the Evers' administration's slow rollout of the vaccine to the backlogs that marred his administration's unemployment benefit payments.
The leaders says the government had provided 429,500 doses available to Wisconsinites but fewer than 140,000 had been administered at the time of the Jan. 13 letter.  "Wisconsin is falling behind the nation and our citizens are suffering," they said.
Here's what the CDC shows.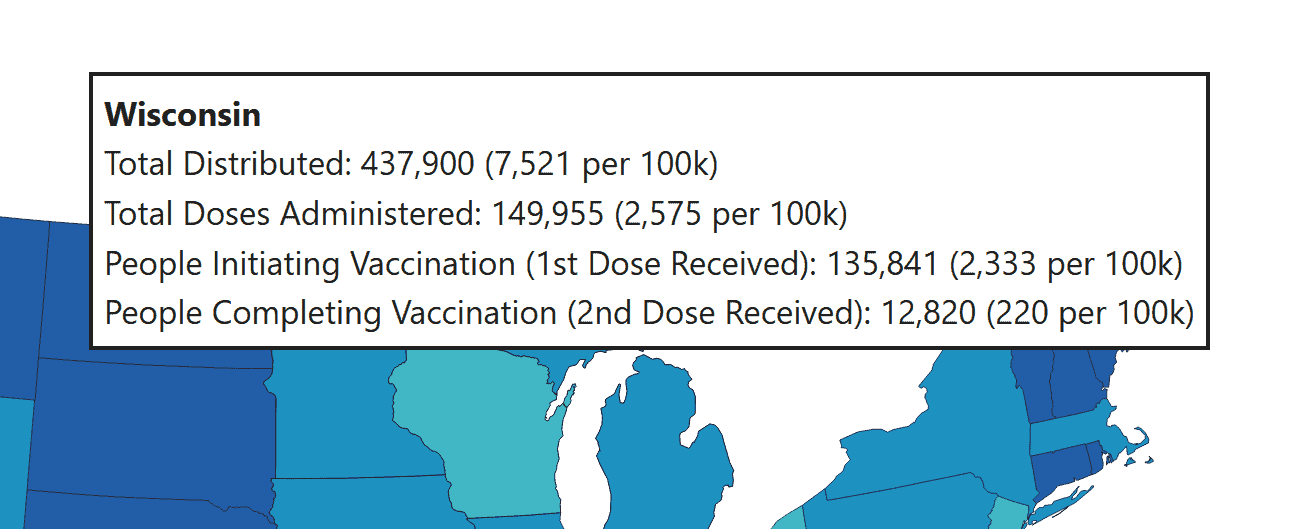 As of Jan. 14, the state website said that the state had been allocated 607,650 doses of COVID-19 vaccine, 373,100 of those were shipped but only 195,152 were administered. Only .05% of the Wisconsin population has received a second vaccine dose.
"We urgently write you to outline the concerns raised about your administration's plan for Covid-19
vaccination distribution," wrote Assembly Speaker Robin J. Vos and Assembly Majority Leader Rep. Jim Steineke to Evers.
"This discrepancy in vaccine distribution cannot be chalked up to anything other than a lack of both
urgency and a comprehensive plan, as Wisconsin is proving to be an outlier among its peers. According to
several media reports, Wisconsin is lagging behind nearly every single Midwest state in vaccinating its healthcare workers and first responders. When reviewed on a per capita basis, Wisconsin again scores
near the bottom. If your administration is in fact implementing a distribution plan, it is time to review and
reevaluate – this is unacceptable."
"With coronavirus cases and deaths continuing to rise in the state, we know you would agree that time is of the essence, not to be wasted in providing this vital product to our citizens. However, as we have conversations with constituents each day, it has become abundantly clear that there is widespread confusion."
They noted: "Healthcare workers, local public health officers, first responders, teachers and other critical frontline workers are unsure if and when they may receive a vaccine let alone distribute the vaccine to the public. In our mutual quest to return to normalcy, this unknown is an unfortunate and inhibiting factor."
They added: "…it is becoming painfully clear that what your administration is doing is woefully inadequate."
The Republicans wrote that:As we have seen demonstrated in the past, most recently with your administration's handling of the unemployment claim backlog, problems like this cannot and should not be ignored with the expectation that they will resolve themselves. Throughout all of 2020, your administration stood idly by as peoples' livelihoods were on the line; we fear that in 2021, you are doing the same with peoples' lives. As we look to our peers and partners within our state like the University of Wisconsin System, there are clearly better models that exist to ensure an efficient and timely delivery of these Covid-19 vaccines. We stand ready to assist where able and we look forward to hearing how your administration is taking swift steps to reverse these staggering trends during the Assembly Committee on Health later this week. Mr. Governor, Wisconsin needs a comprehensive vaccine distribution plan now. Our constituents cannot wait any longer.
Meanwhile, in a Jan. 15 press release, Evers said he was organizing mobile vaccination teams.
"It has always been our goal to get folks vaccinated as quickly, safely, and equitably as possible," said Gov. Evers. "These mobile vaccination teams are going to help us do just that by continuing to expand vaccine distribution across our state, leveraging partnerships and our best resources to meet folks where they are in their own communities."
Jennifer Miller, spokeswoman for the Wisconsin Department of Health Services, claimed previously to the Journal Sentinel that the federal data doesn't include 56,800 doses that Wisconsin set aside for people in assisted living facilities through a partnership with Walgreen's and CVS. She said Wisconsin may have more assisted living facility residents than other states. However, the story also quotes a doctor as calling the state's vaccine rollout "chaos" and fire officials unhappy that first responders haven't received the vaccine yet.