Disturbing videos captured the massive barrage of gunfire at a candlelight vigil on Sept. 13, 2021, for a 16-year-old aspiring Milwaukee rapper named Ib Kashh, who went by the name Lil Ron. Milwaukee police say five people were shot at the vigil. The victims are two girls age 15, a 64-year-old man, and two men, ages 30 and 35.
All are expected to live.
The teen murder victim's real name has not been released, but social media posts from family members indicated that he was the 16-year-old who was shot and killed near Sherman and Burleigh just after midnight on Sept. 13. Police had said they did not have suspects in any of the shootings.
Ib Kashh appeared to have somewhat of a following judging from the flow of social media tributes to him; the media stories were generic, missing the outpouring of emotion.
Hours later, a crowd gathered near the same spot for the vigil, but the gunfire broke out. It's unclear how many people, if any, were injured.
A woman named Niaa Dior wrote on Facebook: "Basically this what happened, candlelight was shaking everybody was in joying they self, outta nowhere here come this lady saying everybody move everybody run everybody got to running wasn't nobody shooting yet, 2 seconds later it sound like hella gun shots, I couldn't find nobody I was with kids was laying on the grass, people was screaming it was just a lot I finally got up in went across the street to see sb on the floor bleeding, I started looking at the body yelling at the police help , I got him help I kept walking, there was another body in the apartment, boom some lady ran up in said it was a body in the alley lj pulled up yelling in told me to get in the car bro ts scary."
A member of the Sherman Park Community Council said early on that there were multiple shooting victims.
More victims transferred themselves to the hospital. Looking at 4-5 shooting victims total.

— Jordan Morales (@Morales4MKE) September 14, 2021
Local media were initially calling it a "double shooting."
At the scene on a double shooting on Sherman and burleigh tonight more info @tmj4 pic.twitter.com/oHzMl0iQdz

— Gideon WVW (@GidTruth) September 14, 2021
Scanner reports said the same.
Milwaukee WI – N Sherman / W Burleigh – Double Shooting – 15 year old female shot in the arm, 64 year old male shot in the flank #Milwaukee #Shooting #USFiR

— USFiR2015 (@USFiR2015) September 14, 2021
Lil Ron AKA Ib Kashh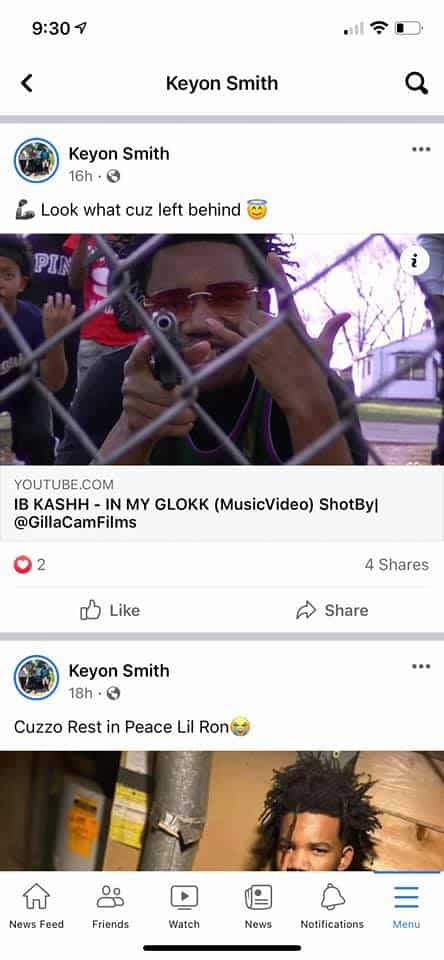 On social media, Ib Kashh appeared to have a local following; he also left behind music videos full of guns and photos showing him flashing large wads of cash, despite his young age.
People offered tributes on social media to Lil Ron AKA Ib Kashh. "No words can describe how I'm feeling rn. They took my nephew from me. This world is a lil colder n a lot less love wit u gone. So much life cut short by violence. I'll never be the same!!!!!" his uncle wrote on Facebook.
"RIP Nephew," wrote another relative. "I'm so sick."
The shooters "WAS SO GANGSTER THEY SHOT ALOT OF TIMES PULLED OFF MADE A UTURN THEN CAME BACK AND SHOT PLENTY MO TIMES WTF 🥲💔 Ib Kashh my brother ain't deserve nun of this Sh**," a woman wrote on Facebook.
She wrote that there were over 60 shots.
A relative wrote on Facebook earlier in the day, "Come show love to a young king.My son visual 2nite at 7 on Sherman n burleigh I appreciate all the love and support from everybody."