Vile posts about Johnson have also been posted online by a woman named Jessica Key to a group called Donges Bay Parents. She trashed Johnson's mother and her hair and said she "could hook her up with a Dominican that can match her hair and teach her about her heritage…"
A threatening letter urging a key Mequon-Thiensville school board recall organizer to shoot herself has been reported to the police. The racist letter refers to the "gene pool" of the Hispanic mom, calling her family "Neanderthals."
The Milwaukee Journal Sentinel incited the hatred being directed against Scarlett Johnson by publishing a story misleadingly implying the Hispanic mom of five is a white supremacist. She is obviously not. This has sparked a flurry of vile abuse directed by recall opponents toward Johnson, but the Journal Sentinel has remained silent on the threats (despite publishing a big story about unrelated threats directed at Milwaukee's election supervisor over the 2020 presidential election). Apparently, threats against liberals are big news, but threats against conservatives like Johnson aren't.
It's reminiscent of the vile threats directed at conservative Waukesha School Board members and their businesses after a false Washington Post report on a school lunch controversy there (note the big correction now affixed to the top of the Post's Waukesha story; too late, the damage was done.)
Scarlett Johnson, the parent who is one of four people running in the Mequon recall, has expressed concern about declining academic achievement, the pandemic response, and Critical Race Theory.
She received the anonymous letter in her newspaper box this week. Johnson told Wisconsin Right Now that the letter was given to police. "The police have it," she told WRN. We contacted Mequon's police chief for details on the investigation, they responded:
"We did receive a report of an anonymous letter that was sent to Scarlett Johnson. The request was to have the incident documented with the department. That was the only call that we received of the same nature," John Hoell, Captain of Police for the Mequon PD, told Wisconsin Right Now.
The vile Mequon recall letter piggybacked on the Journal Sentinel's misleading reporting by falsely accusing Johnson of "endorsing white supremacy" in deleted tweets. She actually was defending black lives in a tweet cited in that story.
Threatening Mequon Recall Letter
The letter to Johnson says, "do us all a favor and shoot yourself, you disgusting piece of sh**!"
The vile Mequon recall letter includes a threat to President Trump, saying, "It's just too bad traitors like you and Trump don't face the firing squad these days."
It also urges Johnson to "die of COVID" and "kill off your entire family to rid the gene poll of you Neanderthal losers."
It calls her "disgusting filth."
Kris Kittell, Cheryle Rebholz and Charles Lorenz are the other candidates running in the recall to oust Wendy Francour, Erik Hollander, Chris Scultz and Akram Khan.
On October 4, U.S. Attorney General Merrick Garland wrote a memo saying, "Citing an increase in harassment, intimidation and threats of violence against school board members, teachers and workers in our nation's public schools, today Attorney General Merrick B. Garland directed the FBI and U.S. Attorneys' Offices to meet in the next 30 days with federal, state, Tribal, territorial and local law enforcement leaders to discuss strategies for addressing this disturbing trend." One wonders whether he will take the threats against conservative school board members in Waukesha and a conservative recall organizer in Mequon seriously.
The Wisconsin DOJ previously warned that speech targeting school board members could be criminal, although local DAs have jurisdiction over such threats. Liberal media outlets have focused on threats against liberal school board members, ignoring threats against conservatives in some cases.
Johnson released a statement: "Some members of this community are stuck on perpetuating slanderous smears and personal attacks. They are fueling a fire that appears to be escalating. The letter attacks me personally, and my family. I can only cringe at the fact that they speak for other people. Regardless, I will use this as a cue that our campaign's messaging is resonating and can no longer be disputed – thus they resort to personal attacks. They are grasping at straws to try to improve their point by taking others down. I refuse to play this game," she wrote.
"Instead, I will use this opportunity to say that when elected, I will invite those who disagree with me to dialogue about our differences so the anger and vitriol does not continue. I commit to using listening sessions to make ideas better and actionable. That is my promise to you, the voters, and to Mequon-Thiensville. This entire effort is about improving our school district for the kids. We are on the same team here and have the same goal. I invite the discussion at any time at [email protected] In the meantime, please be well and join me in standing up for our community and for our children!"
Jessica Key
Vile posts about Johnson have also been posted online by a woman named Jessica Key to a group called Donges Bay Parents. She trashed Johnson's mother and her hair and said she "could hook her up with a Dominican that can match her hair and teach her about her heritage…"
Per the Wisconsin Department of Financial Institutions, Jessica Key is the registered agent for a company called Key Solutions USA LLC. Key is a supporter of the School Board candidates being recalled. Key is also a Black Lives Matter protester who once tried to raise money to put BLM murals around Mequon.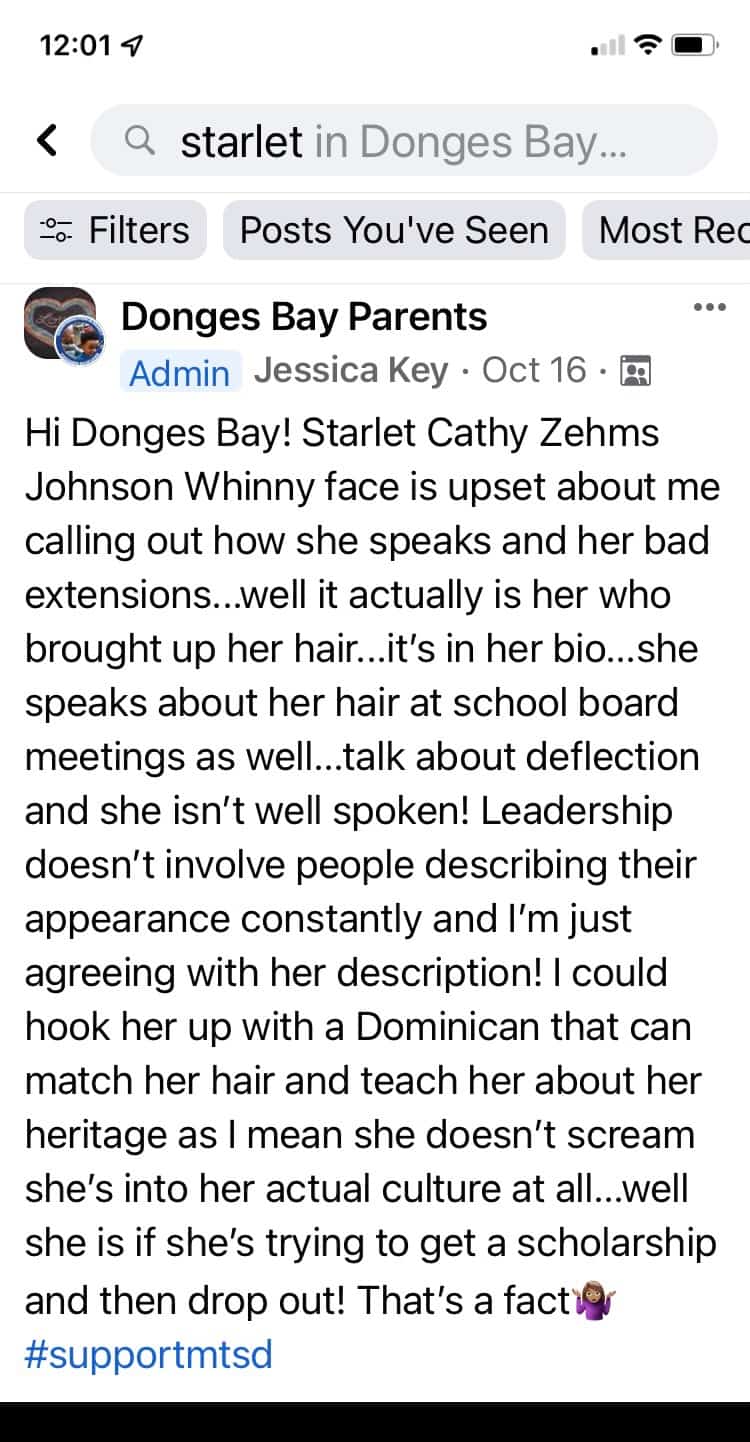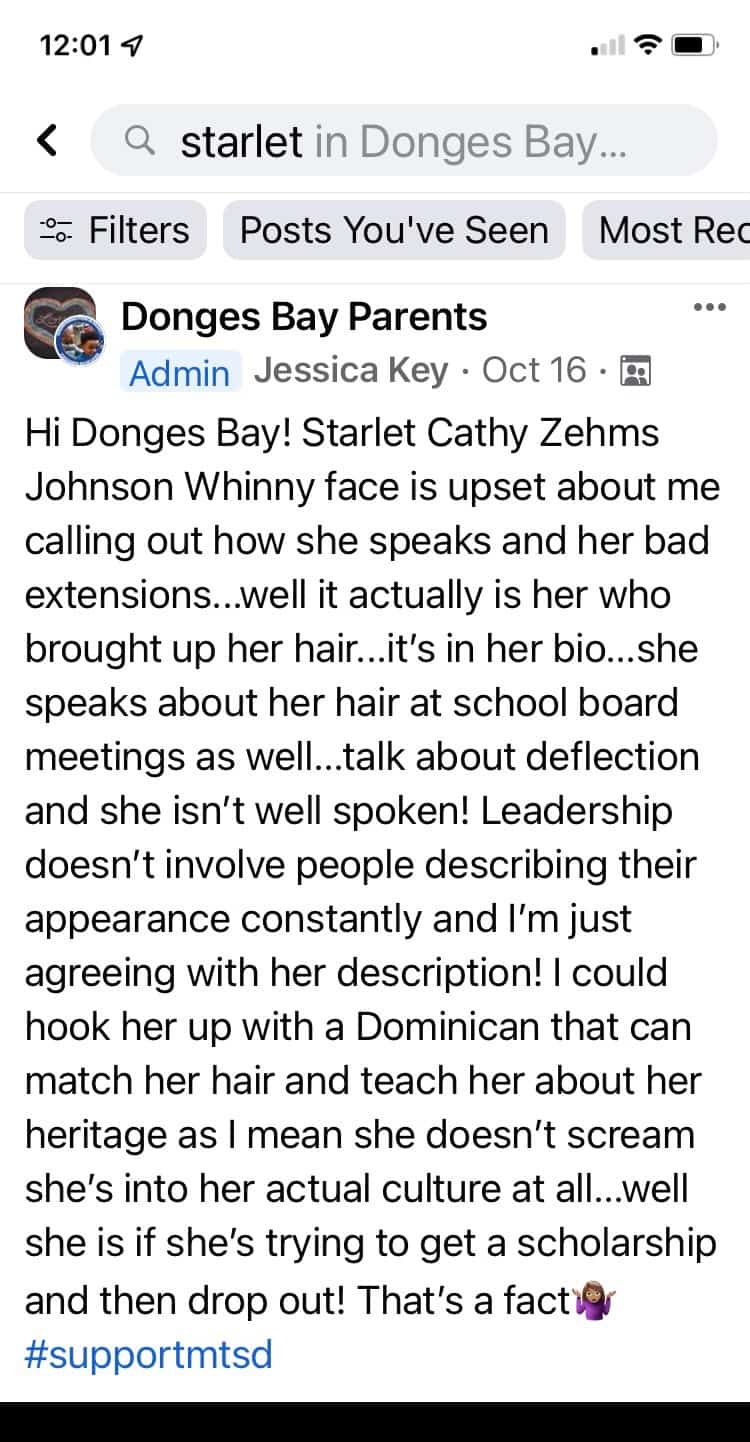 Johnson told Wisconsin Right Now that she deleted her Twitter page because of the hateful trolls who deluged her with nasty comments.