UPDATE: WRN can now confirm the suspect is Darreon Parker-Bell. Read about him here.
A man walked into the District 5 police station in Milwaukee and started shooting at police officers on Friday afternoon, according to four sources. A source said the suspect is Darreon Parker-Bell.
Parker-Bell posted repeatedly on Facebook about the death of Keishon Thomas, the man who died in police custody at district 5 the other day. He is in photographs with him. However, Thomas's family told WRN that they have never heard of Parker-Bell and that he is not a family member. [Note: Keishon Thomas's cause of death is still not clear.]
Just hours before the shooting, Parker-Bell shared a news story about Keishon's death on his Facebook page, writing, "Count down start now." In another post, he wrote, "MY F*CKIN BROTHER" with a broken heart emoji.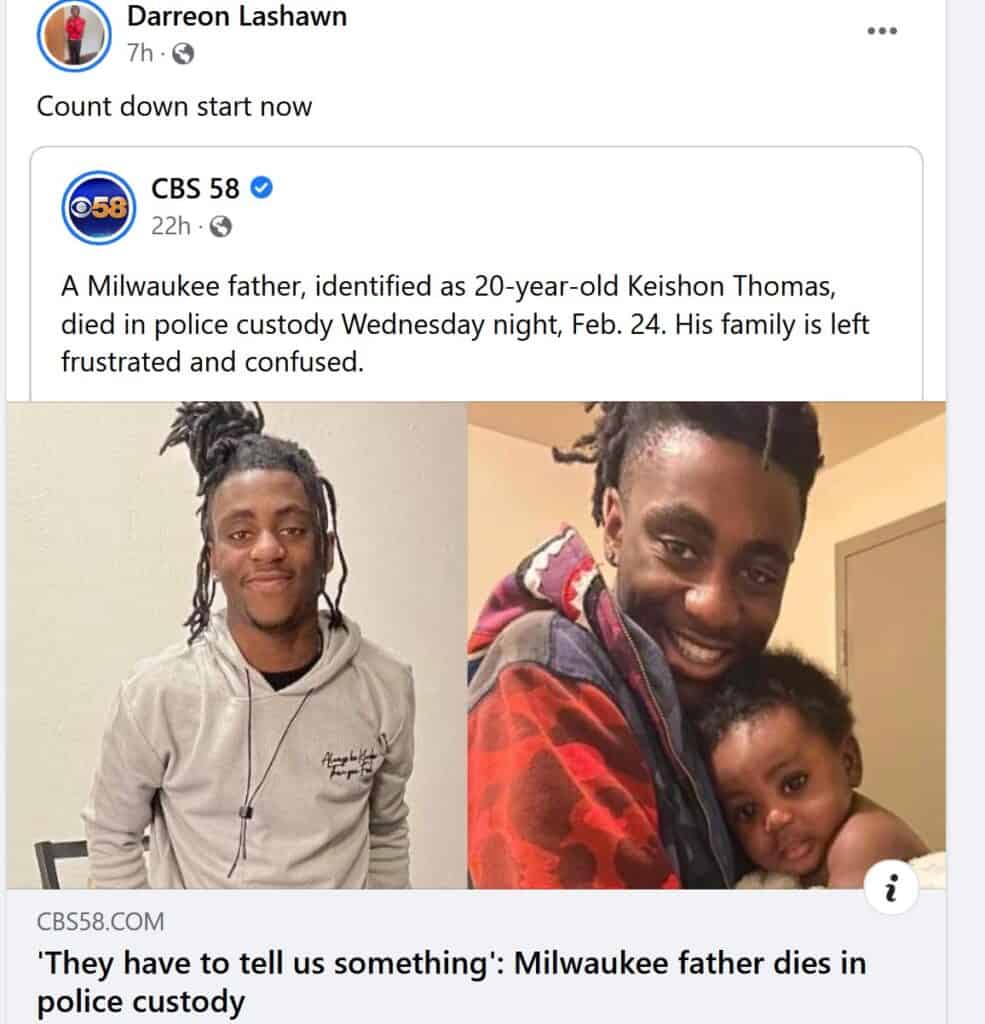 Police have not confirmed that information, but another man wrote on Facebook that his cousin "ran in the police station" to "retaliate."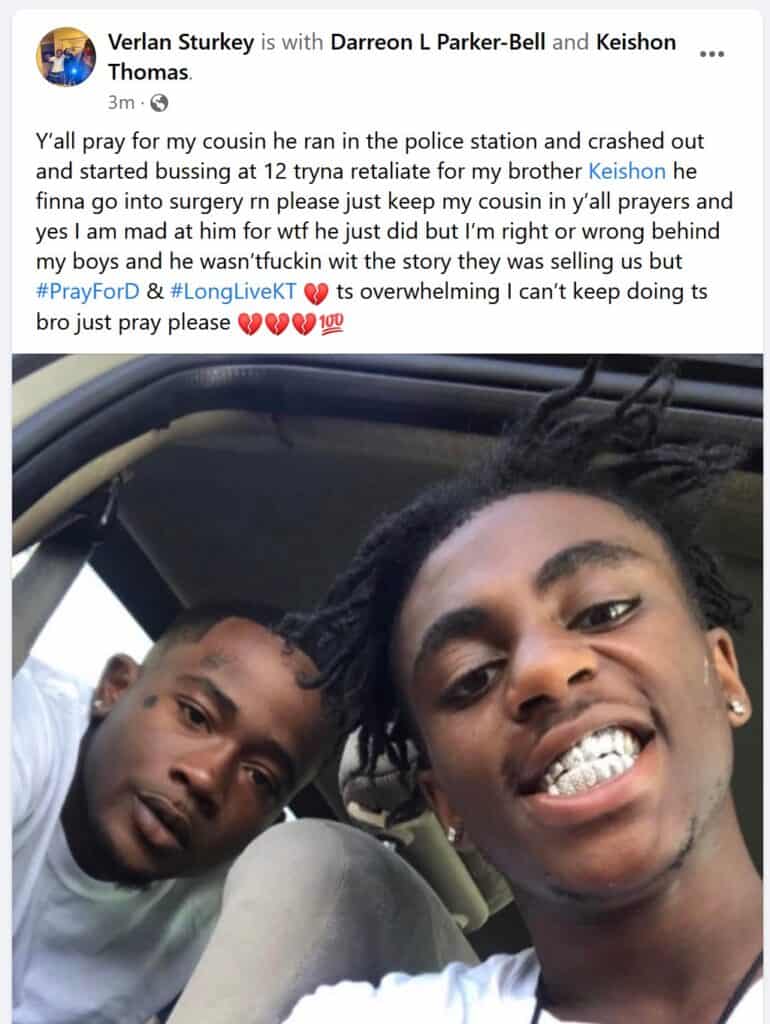 Sturkey also linked to the Facebook page of Parker-Bell, writing, "I know mfs ain't just shoot my cousin answer yo phone cuz Darreon wtfffff."
Milwaukee Police District 5 Shooting
All district stations are on lockdown on Feb. 25, 2022, as a result of the Milwaukee Polce District 5 Shooting shooting, a source told WRN.
"Someone shot up District 5, and the cops ran out of the district" and shot him, one of the sources said. Another source said the man came into the lobby of the district station and opened fire.
The sources told Wisconsin Right Now that officers were not injured; they gave chase and exchanged gunfire with the man, shooting him.
There is conflicting information about whether the man is dead. He was taken to Froedtert Hospital, sources said. Some sources said he was lying in the street; another said he was "revived" and taken to the hospital.
The motive was not confirmed; however, district 5 is the station where Thomas, died in police custody the other day.
According to WISN-TV, three officers are now suspended in that death, with Police Chief Jeffrey Norman claiming there are "concerns" he did not specify.
Police said they pulled Thomas over for a traffic violation and he had a warrant; police also said he had drugs in the car. There were multiple checks of his cell at the district station. He then needed medical attention and died, despite life-saving measures.
For some time, police have told WRN that they are being forced to hold arrested people in district stations, which aren't equipped for that, because of the staffing crisis in the Milwaukee County Jail. Officers told us that sometimes they have to hold arrested people for days and even have to let them go because the jail won't take them. The jail also does not take most misdemeanants anymore, due to COVID and staffing crises. Officers told us that they spend a lot of time tied up at hospitals on med runs. The union president told us just this week that the problem had improved, though.
Keishon Thomas had an open criminal misdemeanor case in Milwaukee County of theft of movable property over $2,500.
It was filed in March 2020, but was still pending, a common scenario in the backlogged court system.
In June 2021, a bench warrant was authorized when he failed to appear in court. He had a pretrial services violation report in May 2021. In May 2021, he was released on a signature bond by Court Commissioner Katryna Childs Rhodes.
Police released this press release on the District 5 shooting incident.
"On Friday, February 25, 2022, at approximately 3:03 p.m., an individual entered the Milwaukee Police Department's District Five lobby located at 2920 Vel R. Phillips Avenue and fired several shots at MPD staff inside the lobby. At the time, there were several community members inside the lobby.
An officer returned fire, at which time the suspect fled the location on foot. Officers pursued the armed suspect on foot and encountered him on the 2900 block of N. 6th Street. During the encounter, multiple officers discharged their weapons, subsequently striking the suspect multiple times. No officers or other members of the community were injured. The suspect's firearm was recovered.
The suspect, a 23-year-old Milwaukee man, sustained non-fatal injuries. He was transported to a local hospital for treatment.
Seven officers were involved:
41-year-old male officer with over 4 years of service,
37-year-old male officer with over 14 years of service,
37-year-old male officer with over 10 years of service,
35-year-old male officer with over four years of service,
33-year-old male officer with over seven years of service,
32-year-old male officer with over 5 years of service and,
27-year-old male officer with over 9 years of service.
They will be placed on administrative duty as is routine in officer involved shootings.
The investigation is fluid and ongoing. This incident is being investigated by the Milwaukee Area Investigative Team. The West Allis Police Department is the lead agency."