Waukesha Alderman Aaron Perry, who recently lost an Assembly race against Republican Rep. Scott Allen that was heavily funded by Democrats, has been accused of felony domestic violence in a criminal complaint that alleges he told sheriff's deputies it would "haunt" them right before they arrested him.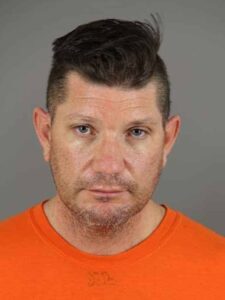 The criminal complaint, which was filed in Waukesha County Circuit Court and obtained by Wisconsin Right Now, alleges that Perry, an alderman since 2013, told deputies: "I just want you to know that this is not a good decision. This is going to haunt you."
The defendant "later told deputies that he works in government and knows that this incident is a waste of the officers' time and resources," the complaint states. The complaint alleges that he brought up his government position to his ex-wife, the accuser in the case, and claimed he "could not be arrested."
We reached out to Perry for comment. He responded:
I'm innocent of all charges. I've been instructed by the court not to comment further.
Perry was one of a string of Democratic candidates who were heavily funded by the shadowy liberal group Better Wisconsin Together and the state Democratic Party in an attempt to take over Republican strongholds in the Legislature. Liberal interests targeted Allen with tens of thousands of dollars in digital ads and paid for a website guide supporting Perry. Allen won the Assembly race 59% to 40%.  Perry previously made headlines when he switched his party affiliation from Republican to Democrat in 2019.
Since that time, he has railed against President Donald Trump, saying he switched parties because of the president's behavior. The Wisconsin Democratic Party paid for attack ads supporting Perry and targeting Allen, including one telling voters that Perry would "put the health of families first."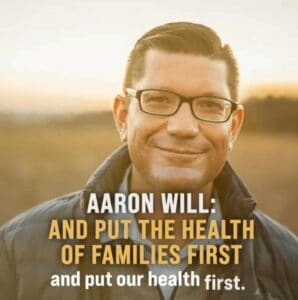 The complaint says he denies the allegations, which contend he smashed his ex-wife's cell phone and grabbed her arms and shoulders.
We asked his attorney, who is a public defender, for comment, but did not hear back.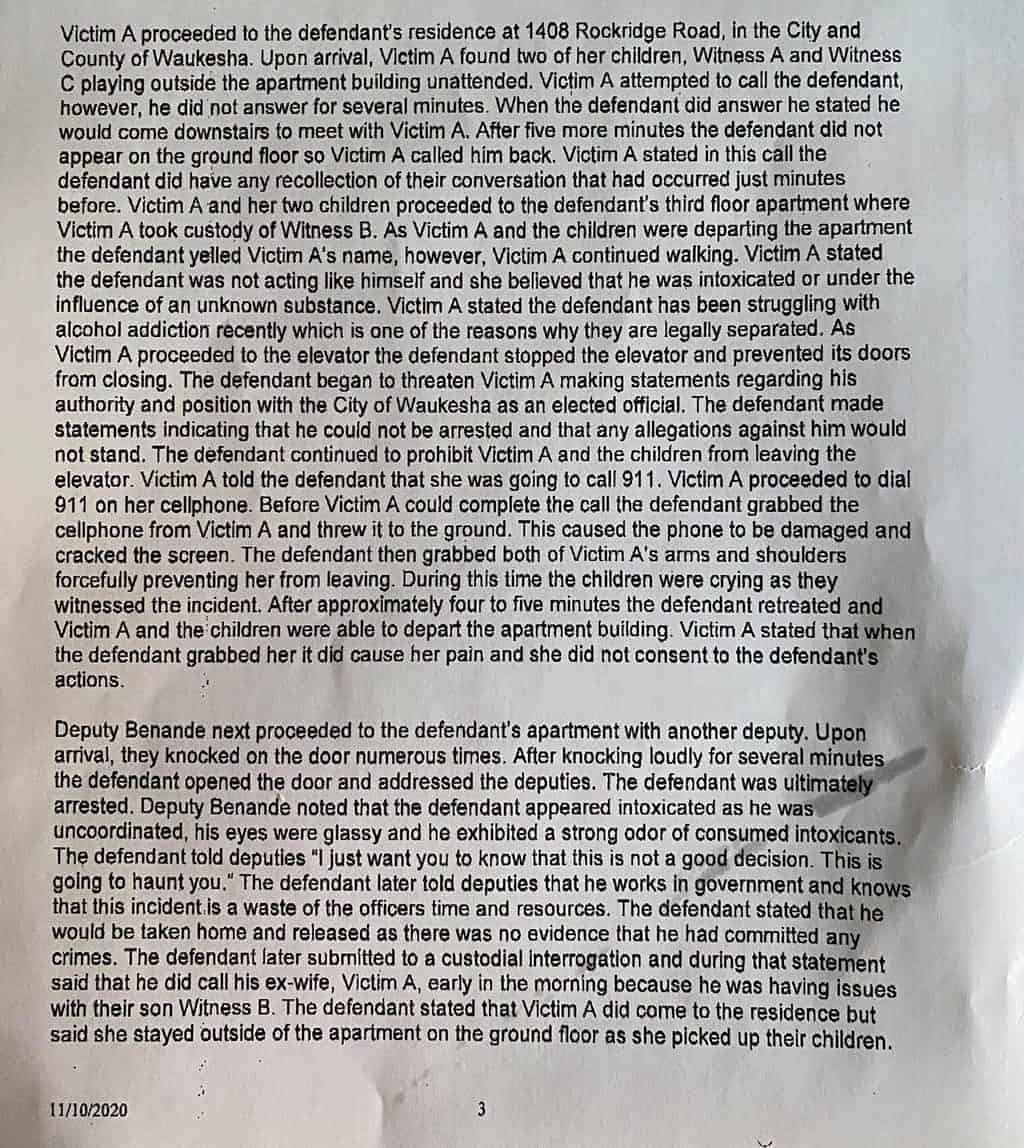 According to the complaint, the defendant threatened his ex-wife by "making statements regarding his authority and position with the City of Waukesha as an elected official."
"The defendant made statements indicating that he could not be arrested and that any allegations against him would not stand. The defendant continued to prohibit victim A and the children from leaving the elevator," states the complaint.
The complaint charged Aaron Perry with misdemeanor battery, misdemeanor criminal damage to property, misdemeanor disorderly conduct and felony intimidation of a victim, all related to domestic abuse.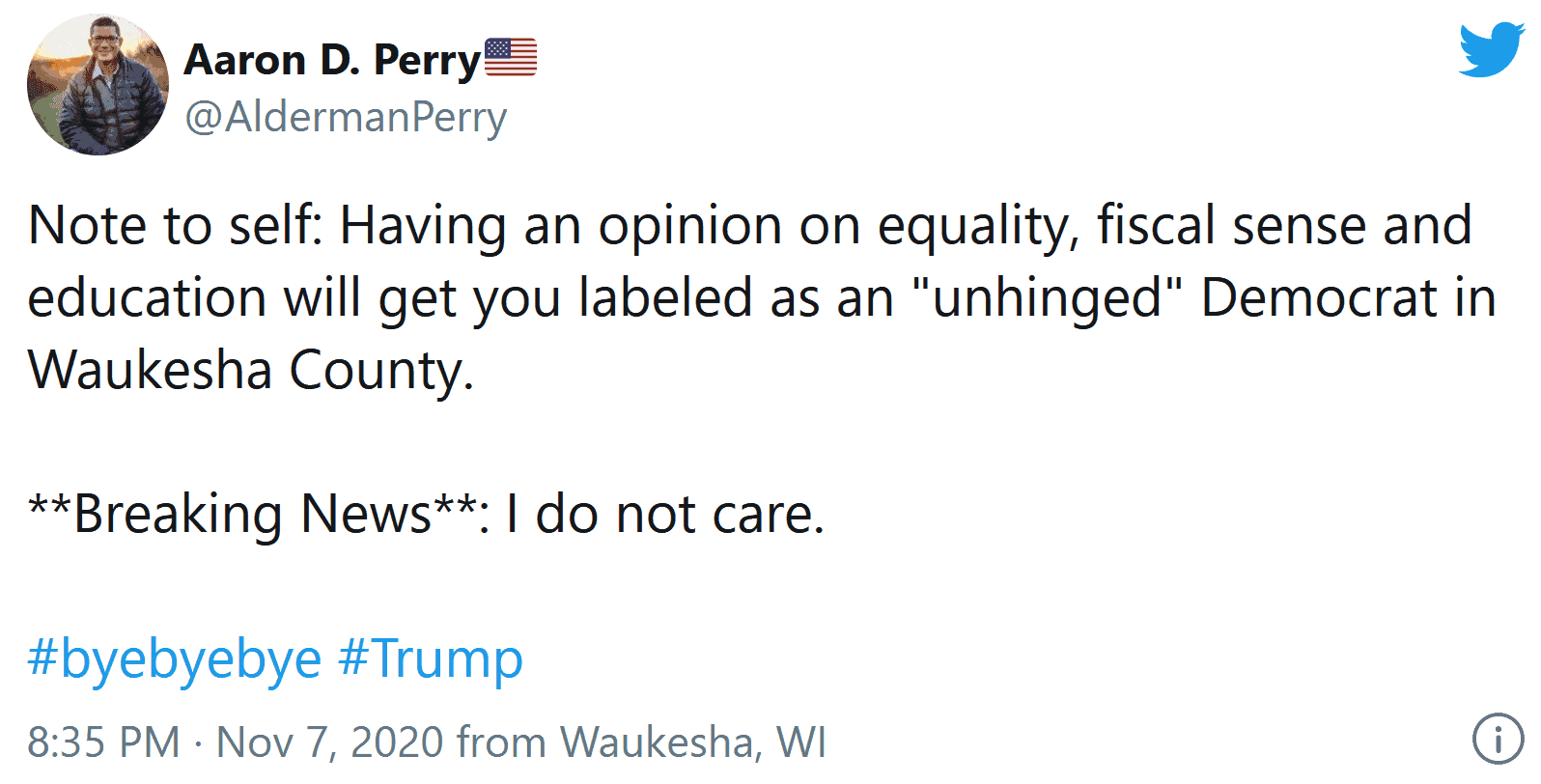 The incident occurred on Nov. 9, only six days after Allen defeated Aaron Perry for the legislative seat. The incident occurred in the city of Waukesha where Perry serves as District 12 alderman. He faces 10 years in prison on the felony charge.
Three days ago, Perry wrote on Facebook:
Closure. What I wanted back in April I earned and won.

Tonight is the beginning of our Country's great come back. Love beat hate, great beat evil. Equality reigns our path ahead and we leave injustice in the dust.

We've worked hard to take our nation's soul again. Let us never allow it's (sic) moral vandalism to occur again.

Flags are for countries, not people. Patriotism is unified, not partisan.

We have 2 parties. Democrats and Republicans. Trump is over. We again are a United States.

We reached out to Alec Zimmerman, Senior Communications Advisor for the Republican Party of Wisconsin, he commented:

This behavior is completely inappropriate from an elected official – it's no surprise that Perry was roundly rejected by voters in the November election.  And with his attacks on the President's character, it looks like we can add "hypocrite" to Mr. Perry's character flaws.
---
What the Complaint Alleges Against Aaron Perry, Waukesha Alderman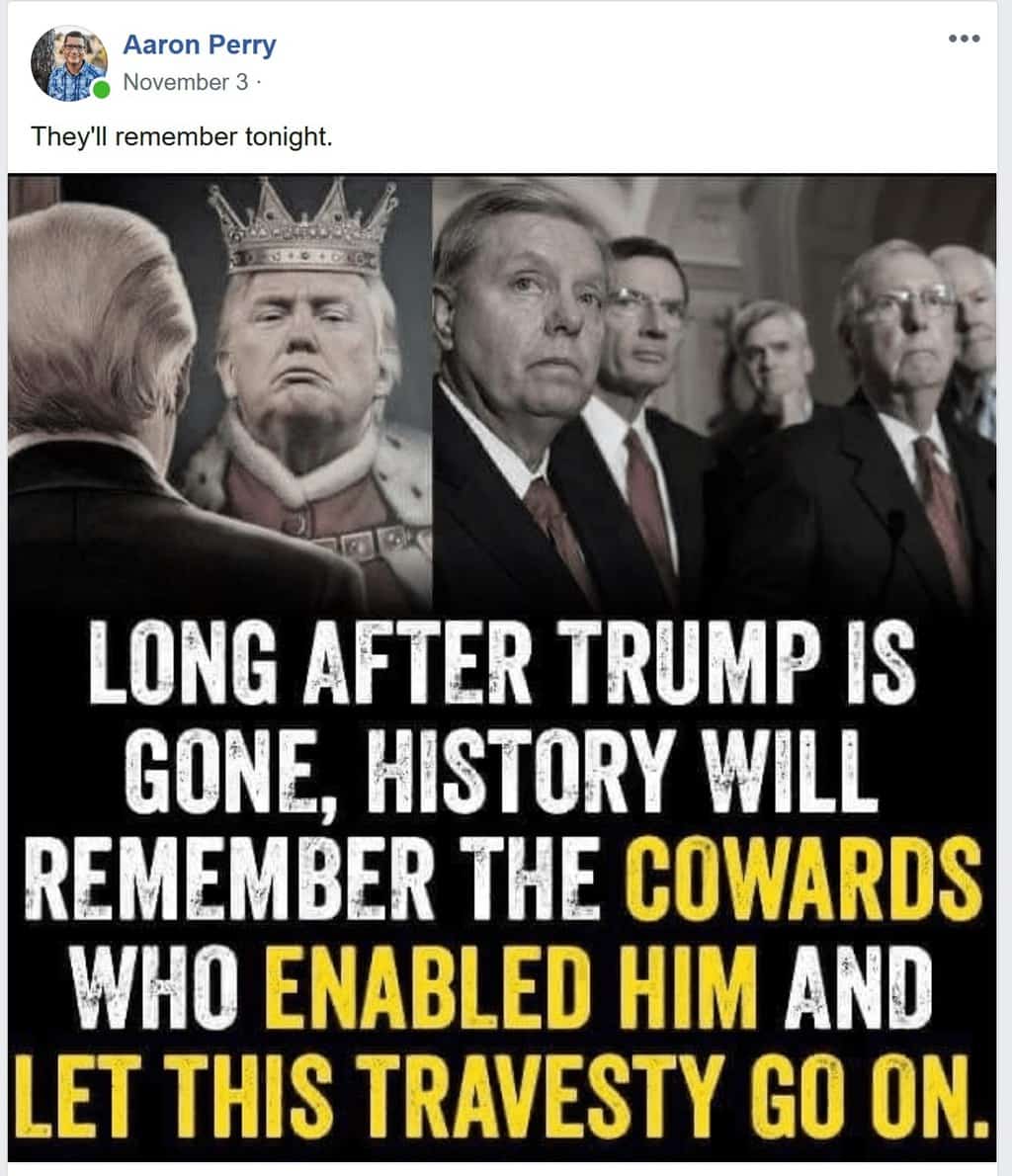 The complaint alleges that on November 9, a deputy was asked to investigate a potential domestic violence incident that had occurred in the City of Waukesha. Because Perry is an alderman for the City of Waukesha, the Waukesha Police Department contacted the Waukesha County Sheriff's Department and asked them to investigate because of the potential  conflict. The complaining party was Perry's ex-wife, who was listed as "Victim A " in the complaint.
She agreed to meet with a deputy and stated that the incident happened earlier that day. She said she received a phone call from Perry asking  her to assist in transporting their three children from the defendant's apartment to school. They have a child custody agreement where the children reside with Perry every other weekend.
Perry told Victim A he was having trouble with Witness B, one of the children, who is autistic and not verbal. Witness B was refusing to get into the vehicle.
She proceeded to the residence and found two of the children playing outside the apartment building unattended, the complaint alleges.
It further alleges that:
Victim A attempted to call Perry, but he would not answer for several minutes. He eventually answered and said he would come downstairs but didn't appear so she called him back. She said she and the two children proceeded to his apartment. As she and the children were departing, he yelled her name, but she kept walking.
His ex-wife said he was "not acting like himself and she believed that he was intoxicated or under the influence of an unknown substance," says the complaint, which added that she "stated the defendant has been struggling with alcohol addiction recently which is one of the reasons why they are legally separated."
As she proceeded to the elevator, he stopped the elevator and prevented its doors from closing, alleges the complaint.
She said she was going to call 911 but before she could complete the call, he allegedly grabbed the cellphone from her and threw it to the ground. This caused the phone to be damaged and cracked the screen, says the complaint. Then he grabbed both of her arms and shoulders forcefully preventing her from leaving, the complaint says.
The children were crying and he retreated, it says.
The deputies went to Perry's apartment. He was ultimately arrested. A deputy noted that he appeared intoxicated as he was uncoordinated, and his eyes were glassy and he exhibited a strong odor of consumed intoxicants, says the complaint.
He stated that he would "be taken home and released as there was no evidence that he had committed any crimes."
He stated that he did call his ex-wife because he was having issues with their son. He claimed she stayed outside of the apartment as she picked up their children, the complaint alleges. He claimed he didn't damage her cell phone or prevent her from calling 911 and maintained he no contact with her except by telephone "to arrange for her to pick up the children," says the criminal complaint.