David Prill, the owner of Affordable Auto Sales in Kenosha, Wisconsin, was guarding his own business the night that arsonists lit a series of buildings on fire throughout downtown Kenosha. The suspects burned down an office furniture store and then walked across the street and tried to smash in Prill's door.
When they saw Prill was there, armed, they left and walked in the direction of a Department of Corrections building that started on fire next.
David Prill caught them on video, which you can see below.
On Tuesday, Sept. 1, President Donald Trump stopped at a burned business across the street from Prill's shop in the riot-torn city.
Exclusive video obtained by Wisconsin Right Now captures the moment the arson suspects lit a major fire that destroyed the office furniture store on Tuesday, Aug. 25, in Kenosha, Wisconsin. Prill, who shared the video with the news site, believes it shows the four arson suspects methodically start the store on fire before trying to break into his used car business across the street. It was the first video and information about arson suspects to emerge publicly from Kenosha since a series of arson fires destroyed businesses and buildings in that community.
"These guys are walking with a purpose…They're on a mission," said David Prill, the owner of Affordable Auto Sales, of the suspects. His business is located at 1118 60th St., directly across the street from the blaze.
In addition, another witness described to Wisconsin Right Now seeing a man, armed with a walkie talkie, appearing to organize a heavily armed group of people in cars, right before the fires broke out.
Prill allowed Wisconsin Right Now journalists Jessica McBride and Jim Piwowarczyk to record the surveillance video, a recording of which he said is also in the possession of the federal Bureau of Alcohol, Tobacco, Firearms and Explosives, which is investigating the arson fires that exploded throughout Kenosha on Monday and Tuesday. The fires ignited right as police pushed crowds of Black Lives Matter protesters out of a courthouse park and into city streets. The suspects first appear on the video along with the BLM protest crowd before focusing on B & L Office Furniture.
A GoFundMe page set up to help B & L Office Furniture has raised almost $45,000 as of Aug. 30.
Watch the surveillance video provided to Wisconsin Right Now here. It includes Prill's narration with Jessica McBride and Jim Piwowarczyk of Wisconsin Right Now:
This is a longer version of Prill narrating his surveillance video. This version starts with the people spilling into the streets, and it also shows more people damaging his cars.
Prill, in analyzing the video with the journalists, said he believes that four Black male suspects started the fire at the office furniture store before trying to smash the door and enter his business across the street. However, Prill and others were armed inside his own business, guarding it, and when they made that known to the men, they left. He said they then walked in the direction of the Community Corrections building that, a few minutes later, also erupted in flames. "We were inside and we chased them off," he said of his own business.
Prill said that other suspects used bats and bricks to break windows on his cars, and one also had a shield. But the arson suspects were different. "Those guys had no interest in destroying cars, no interest in breaking windows," he said. "They're not breaking any windows or cars. They were just here to burn stuff. They came prepared to burn stuff. They didn't smash one window. They didn't take one thing…You can trail them. Right after they set it, they come over here. These guys are walking with a purpose…They're on a mission." They then threw rocks at and tried to come through his door.
When police pushed protesters out of the courthouse park, a "big wave" of them came down the street. "You'll see some guys over there on the corner," he said. "They're there messing around, and they light something with what appears to be a roman candle…The roman candle, they throw it in." He said the office furniture store that was set on fire is "a third-generation" store."
He said about "5% of the people" on the streets that night "did 100% of the damage."
"All had masks on," Prill said of the men he believes set the fire based on tracking them in the surveillance video footage from his business.
"There were four individuals, young Black males. There were four altogether in the group…We watched them light it up, and they did just throw it in the furniture place and from there they directly came over here. They busted down the front door…as soon as they made entry, we made them aware we were there, and they left pretty fast."
He was armed. "I had to. The police watched it happen. They had squads going up and down the road. They saw it going on. I called the police. I called the fire department," Prill said. He said he believes the men who damaged his door lit the furniture store on fire because he can trail their path in the video and see the fire start at the store. He said that's what his "eyes tell me," although he admitted he can't say 100 percent.
The video, which is being published for the first time here and which was recorded on Aug. 25, also shows other people damaging and jumping on Prill's cars in his lot.
Abdul Adaoud is the manager of a gas station in the area where the arson fires occurred, although that business didn't burn. He told Wisconsin Right Now that he's also seen video of the arson suspects. He described them as "like four people, maybe outsiders." He said the arsonists and vandals are "destroying Kenosha." Before the damage, the gas station was "booming," he said, but now "it's dead. People don't want to stop." He, too, felt the police "could have reacted way faster. They left it for us to protect ourselves. That's not our job."
"That was actually not Kenosha," alleged Kenosha resident, Corvette Thompson, a military veteran, in an interview with Wisconsin Right Now on Aug. 29. "Those were out of town people."
"I was up here at this gas station. There was a guy," he said of Aug. 25, the night of the arson fires.
"They were organized. I didn't know what they were going to do…They was like man, 'We're going to go here…' He (the leader) gave them orders. They took off and left. Like eight cars. They went down here to 63rd. They turned right. The next thing I know, all uptown was on fire," he said, referring to Aug. 25. "Most of them giving the orders was Black guys. They was like bullet proof stuff and walkie talkies. They was organized as hell. There was like eight cars of them…" He said they were saying, "You be the first one to go, you be second, you be third… the next thing I knew uptown was on fire."
He said he has lived in the area for 30 years and knows everyone in the area, and he didn't recognize any of the people. "He (the leader) was lining the cars up…he had a walkie talkie… I didn't know who the hell he was," Thompson said. He said they were wearing all black and black Army pants. "Everybody had weapons. They had a lot." He said the lead organizer was a "Black male, medium built, clean shaved and everything. Actually, to be honest with you a decent looking guy."
He's also upset police pushed the protesters out of the park. "Why you going to push that into my front yard. I have my kids up here. Why are you also going to push them into a residential area?"
We did a live stream of the arson fires, which also captured Prill's business, the night of the blazes. Our Aug. 25 live stream started shortly after the fires were already set.
The following day, police again pushed protesters out of the park. Clashes ensued between different groups, including people who came to protect people and property. A pro-police teenager from Illinois, Kyle Rittenhouse, is now charged with homicide in the shooting deaths of two men; his attorney says he acted in self defense in the face of a "vicious" "mob attack," but prosecutors argue otherwise.
---
David Prill Believes the Kenosha Police Pushed Protesters Toward the Businesses & Plans a Civil Lawsuit Against the City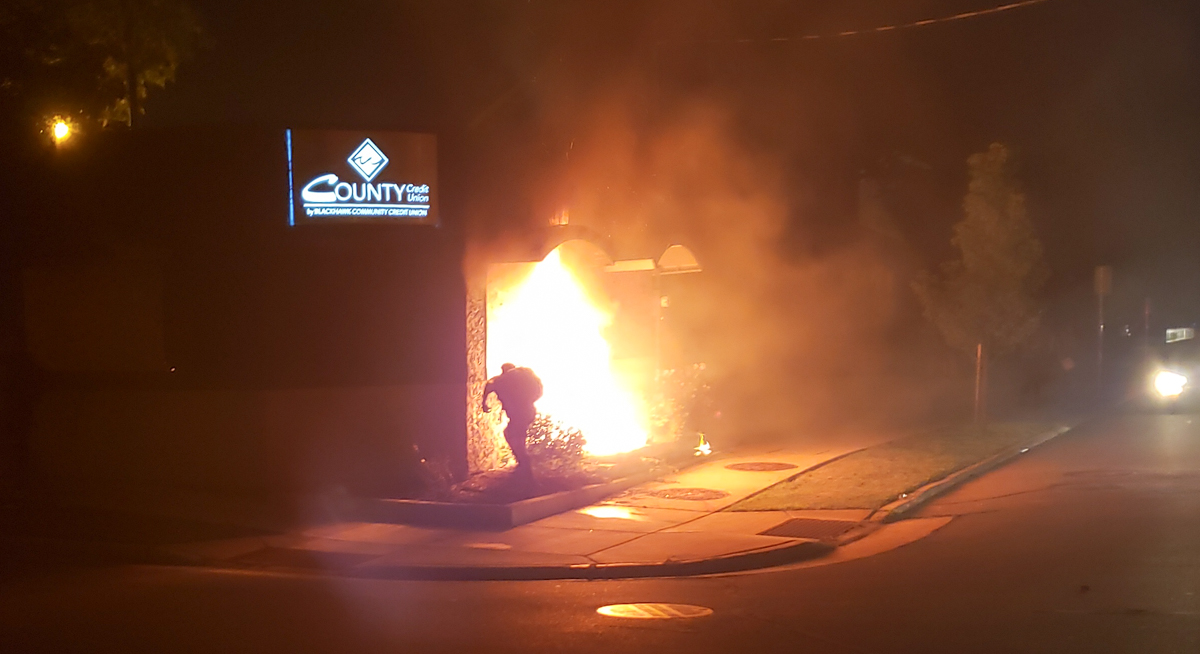 The small business owner described what happened that night as "chaos. Everyone was up at the park up there protesting and then the police tear gassed everybody, which I don't think that was a great idea at all. All that did was flush everybody over here to the businesses. All these people flood us after being tear gassed and pepper sprayed and now they're already agitated…The cops stayed back there. They just let them come all the way up here. They didn't stop them, and they ran through, and everywhere they ran through, they messed up. I don't understand why they can't be in the park; there's nothing to wreck in the park. That's a public park. If they're going to be somewhere, that's where they're going to be."
Prill said he and other business owners want to file a class action civil lawsuit against the city. He also said no one from city government has extended a hand, but federal ATF agents have spoken to him several times.
Prill said his insurance company is coming to his business to assess the damage on Aug. 31. "I'll never be whole from this," he said. "Every car has a deductible, not just one, and I'll never be able to get insurance again." He said 62 cars were damaged on his lot, including multiple vehicles that were burned, and he has a $1,000 deductible on each car capped at $50,000 total.
"This is all I've ever done," said the Burlington, Wisconsin-raised Prill. "My dad had a lot. I've always wanted a lot. We just bought this building six months ago…This is all I've ever done, and this is where I wanted to be at this point in my life too."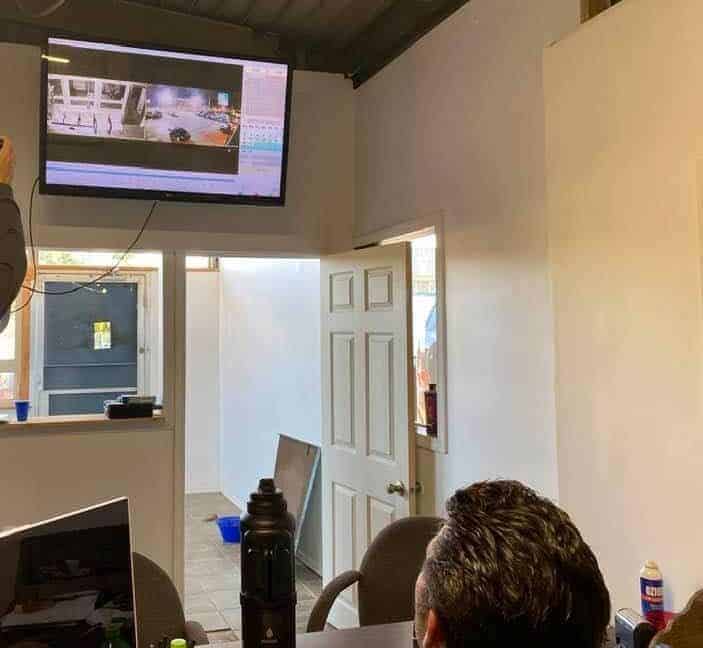 He added: "I am not rich. I work 80 hours a week. I have my bad months; I have my good months. I'm the same as everyone else who punches a clock. The big misconception is that business owners will be OK. No, man, this might put me out of business."
He brought up the homicide charges against 17 year old Kyle Rittenhouse and claimed Rittenhouse was part of a group that was "hired by the car lot that got torched… these were hired protection." He said that owner has several businesses and after the first one was burned on Monday, he brought in protection on Tuesday.
Prill rejects media coverage labeling Rittenhouse a "vigilante," saying, "He was being chased. They surrounded the kid. In the morning, he was cleaning graffiti…they were over here, walking up and down. They didn't have their guns on them during the day." He believes the charges "will be dropped. They did it to save face."
But because of the charges, he doesn't feel comfortable guarding his own business while armed anymore. "Ever since Kyle was charged, you can't even protect your own things," said Prill. "The cops won't protect it, and they won't let us protect it."
Comments Governor Tony Evers made after the police shooting of Jacob Blake "undermined the police" and almost gave a "green light" to people to cause trouble, he said.
"I'll go forward. I always go forward. This is a great city; it's going to continue be a great city," he said.
Prill added, "No one reached out from Kenosha police, and they know I have cameras."
---
The ATF's National Response Team Came to Kenosha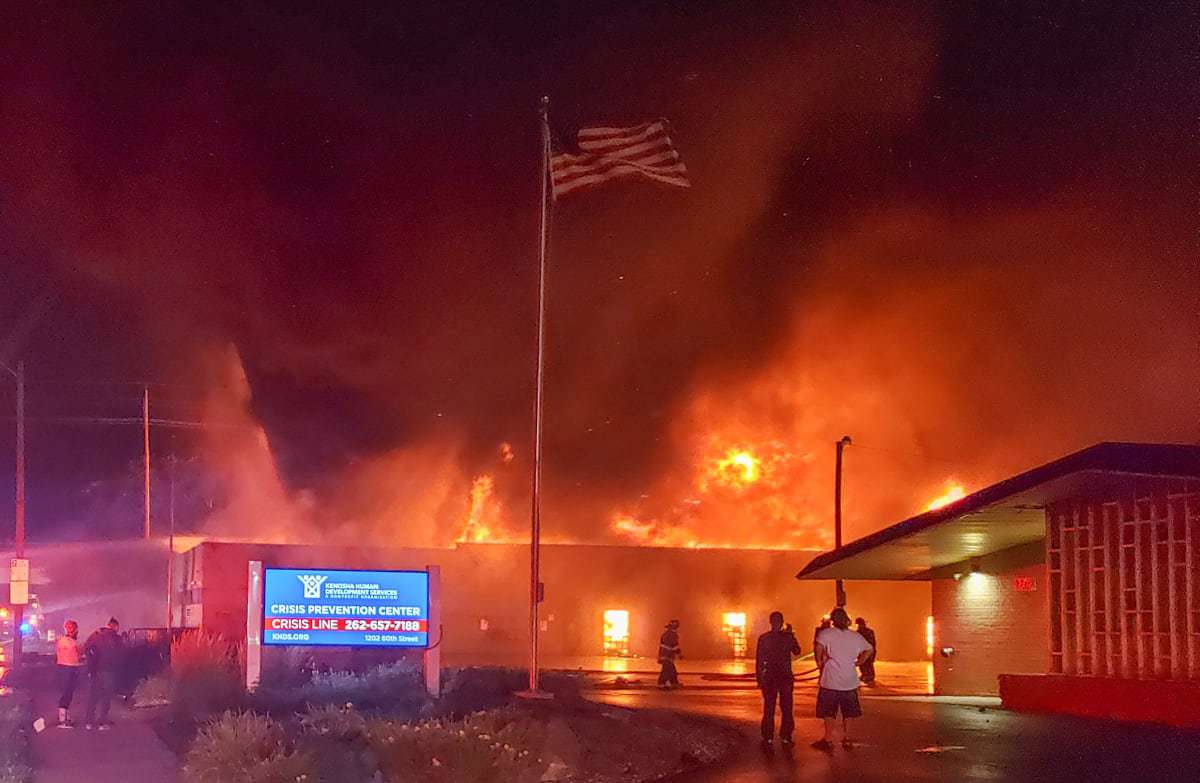 According to a press release from the ATF, its National Response Team arrived in Kenosha to "assist investigating arson cases."
"The Bureau of Alcohol, Tobacco, Firearms and Explosives Milwaukee Field Office, the Kenosha Police Department, the Kenosha Fire Department, the Wisconsin Department of Justice Division of Criminal Investigation, and the Kenosha County Sheriff's Office, in conjunction with the United States Attorney for the Eastern District of Wisconsin are seeking to speak to persons of interest who could advance the arson investigations of over 20 businesses and approximately 12 government owned vehicles that were set ablaze between August 24 and 25 in Kenosha," the release says.
"We welcome the additional resources of ATF's National Response Team, as they work in coordination with our officers to review surveillance video and follow leads to identify persons of interest," said Kenosha Police Chief Daniel Miskinis. "We now need the public's help to identify and hold these individuals accountable for the victimization of the business owners and members of our community who were affected by these arsons."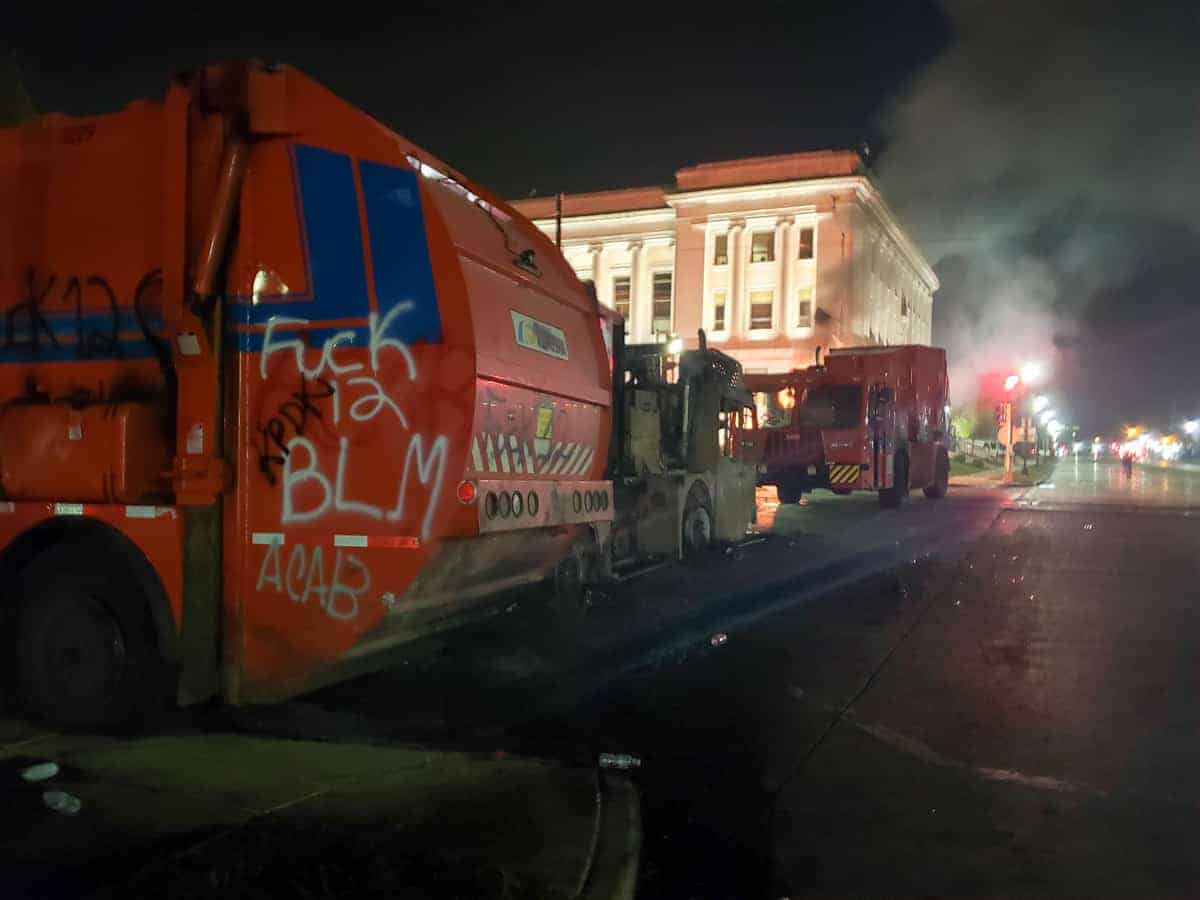 "Partnership is key in investigating these arsons," said Special Agent in Charge Kristen de Tineo, of the ATF Chicago Field Division, which oversees the Milwaukee Field Office. "The members of ATF's National Response Team bring specialized talent and resources to assist the local police and fire departments in determining who is responsible for setting these fires. The expertise of the local departments, with assistance not only from the NRT but also the community, will bring resolution to these investigations. We need the public's assistance in identifying those responsible, so we can bring them to justice."