During dramatic testimony in the Kyle Rittenhouse trial, Gaige Grosskreutz, the only man who survived being shot by Rittenhouse, testified that he was pointing his gun at Rittenhouse and advancing on him when Rittenhouse shot him.
Grosskreutz also admitted that he was carrying a gun, at times stuck into the back of his waist, that night even though his concealed carry permit was expired. It's illegal to carry a gun concealed in Wisconsin without a permit, but Grosskreutz was never charged with that offense. He said he frequently carried guns at protests because he believes in the Second Amendment.
Grosskreutz also testified that, a few seconds earlier, he had feared for Kyle Rittenhouse's safety because Rittenhouse was being attacked by other people, including Anthony Huber, who was hitting him with a skateboard – helping Rittenhouse's self-defense argument in the Huber death.
But it was his description of the moments leading up to his own shooting that were the most damning for the state.
"It wasn't until you pointed your gun at him, advanced on him… that he fired, right?" defense attorney Corey Chirafisi asked Grosskreutz.
"Correct," said Grosskreutz. He tried to claim at another point that he wasn't intentionally pointing the gun.
The defense showed Grosskreutz a photo of that moment he was shot. It shows him holding a gun. He got within three feet of Rittenhouse. Here's the full exchange.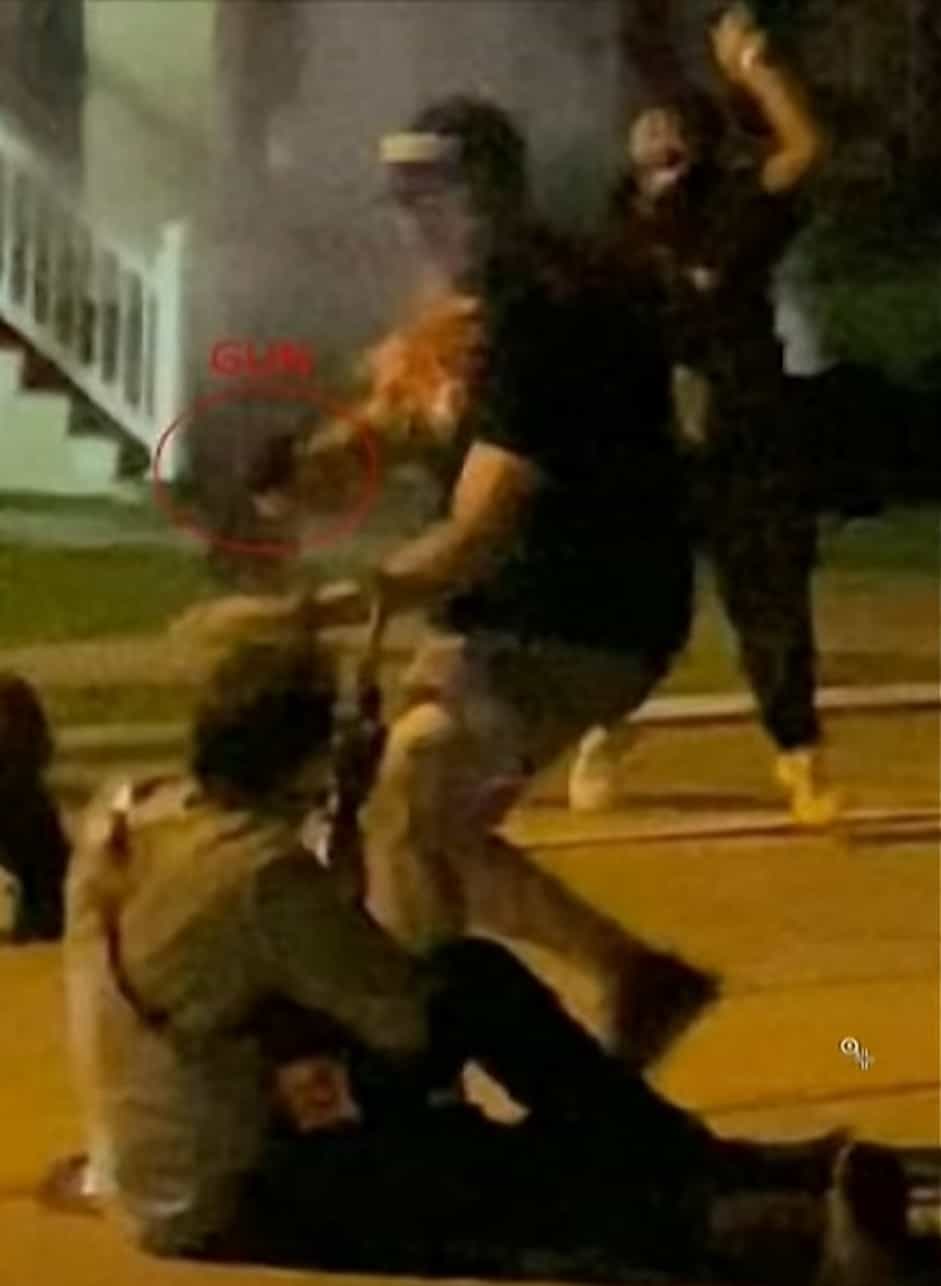 Defense attorney: "You would agree your firearm is pointed at Mr. Rittenhouse correct?"
Grosskreutz: "Yes."
Defense: "Once your firearm is pointed at Mr. Rittenhouse, that's when he fires his gun, yes?
Grosskreutz: "No."
Defense: "Sir, look…Does this look like right now your arm is being shot?"
Grosskreutz: "That looks like my bicep being vaporized yes."
Defense: "It's being vaporized because you're pointing a gun directly at him, yes?"
Grosskreutz: "Yes."
Defense: "When you're standing 3-5 feet from him with your arms up in the air he never fired. Right?"
Grosskreutz: "Correct."
Defense: "It wasn't until you pointed your gun at him, advanced on him with your gun, now your hands down, pointed at him, that he fired, right?"
Grosskreutz: "Correct."
In a line of questioning that would seem to bolster Rittenhouse's self-defense claims in Grosskreutz's shooting as well as in the Anthony Huber shooting (the second of three). The defense attorney asked Grosskreutz, "You believe he's (Rittenhouse) in physical danger because he's being attacked?" Grosskreutz said yes. He also agreed that he was concerned for Kyle Rittenhouse's safety before he, himself, entered the fray.
He admits that he approached Rittenhouse while holding a gun out, and was "closing" in toward him, at the time Rittenhouse shot him. You can see the gun in Grosskreutz's hand. The defense also tried to establish that Grosskreutz has a monetary motive to want Rittenhouse convicted, as he has a civil suit in which he's seeking millions of dollars and his attorney was in court. In addition, he refused to give a statement to authorities in September 2020 on the advice of that attorney, left out that he had a gun in court records, didn't tell police he had the gun during the shooting in his first statement, and wouldn't give police permission to search his cell phone (they had a search warrant but chose not to use it).
Shortly before he shot Grosskreutz, Rittenhouse was being hit with a skateboard and rushed by Anthony Huber, whom he shot and killed, Grosskreutz confirmed; Grosskreutz said that Huber was trying to "wrestle" Rittenhouse's gun from him. "I tried to tell him to stop hitting him with a skateboard," Grosskreutz said of Huber.
"You are by your own admission pointing a pistol from less than three feet away at his head?" the defense attorney asked.
He said no initially but when pressed responded, "In the direction, yes, But directly no."
He also, though, said that he felt he was in imminent danger of being killed by Rittenhouse, whom he believed was an "active shooter."
The defense asked Grosskreutz whether he told his former roommate that the "only regret was not killing the kid and hesitating to pull the gun before entering the entire mag into him," meaning Rittenhouse. He said he did not say that.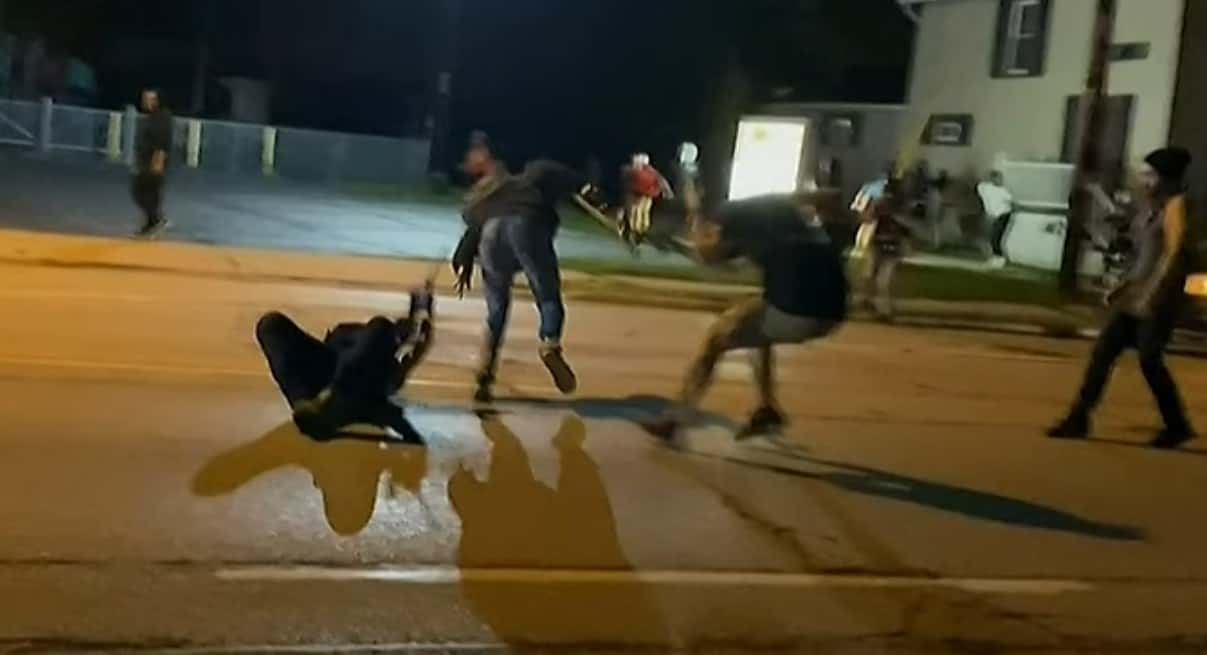 The defense repeatedly asked Grosskreutz whether, in his initial police interview, he "omitted that you ran up on him (Rittenhouse) and had a Glock pistol in hand." Grosskreutz responded, "Correct." The defense team also queried Grosskreutz on whether he "lied" to police by telling them that his gun fell off his waist before the shooting, when he had it in his hand at the time of the shooting. He denied lying and said he was on paid meds and in pain and traumatized at the time from his arm injury, which blew 90 percent of his bicep off. But the defense attorney pointed out he was lucidly describing other details at that time, including giving a description of Rittenhouse's clothing to police.
Grosskreutz admitted that he ran down the street when he saw Rittenhouse running after the Rosenbaum shooting, which he didn't see. He denied "chasing" Rittenhouse but admitted "closing distance between the defendant and I" when he was shot. He also admitted he had the gun in his hand at that point and was close to Rittenhouse.
Here's a picture of Grosskreutz reaching for his gun earlier in the night, establishing where he was keeping it despite not having a valid concealed carry permit: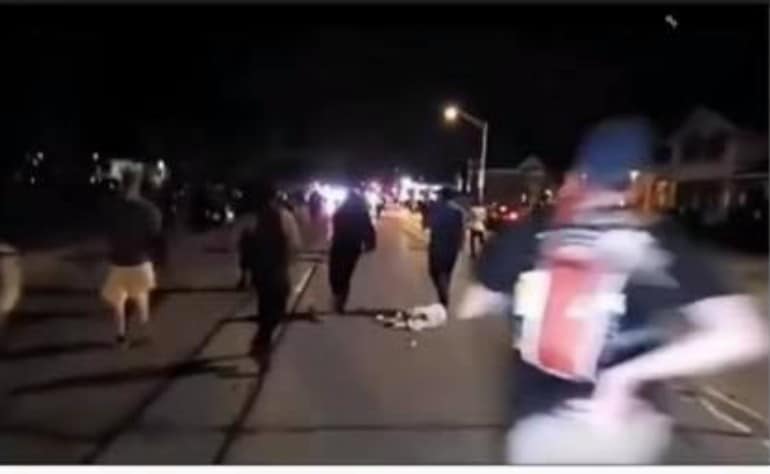 Grosskreutz, who said he went to Kenosha as a medic (he was a trained paramedic), claimed he thought Rittenhouse was an "active shooter," but, under Wisconsin law, what matters is what Rittenhouse believed at the time, not Grosskreutz. Rittenhouse must show he reasonably believed his life or that of another was in danger or they were in danger of great bodily harm.
"I was never trying to kill the defendant. I was trying to preserve my own life," he insisted. Asked why he didn't shoot Rittenhouse first, Grosskreutz said that was "not the kind of person I am." (He does have a prior criminal history, a misdemeanor, for intoxicated use of a firearm and was previously accused of prowling at the West Allis police station. The protest group he's affiliated with, the People's Revolution, instigated a violent attack against two police officers at their own home in Wauwatosa, although Grosskreutz wasn't present for that.)
Grosskreutz also described encountering Rittenhouse as he ran down the street following the Rosenbaum shooting. He said that Rittenhouse said, "I'm going to the police. I didn't do anything," not what he originally thought he said, "I'm working with the police. I didn't do anything." That conversation occurred after Rittenhouse shot and killed Joseph Rosenbaum (who was chasing him and lunging for his gun, per earlier witness testimony.) Grosskreutz was jogging alongside Rittenhouse at that point.
His former roommate posted a picture with Grosskreutz in the hospital on social media. Grosskreutz denied making comment to his former roommate that his only regret was that he didn't empty his magazine in Rittenhouse as his roommate posted on social media that he did.
Grosskreutz admitted being affiliated with the People's Revolution group but said he wasn't a member of it. He has participated in George Floyd protests and was an ACLU legal observer that day.