Chief James Pfister, of the City of Oconomowoc Police Department, reported that the suspect "in the strong-armed robberies and bank robbery on June 29, 2021, in the City of Oconomowoc was identified as Kaia Mueller."
Mueller was "taken into custody without incident in Sauk County on June 30, 2021," the statement said.
"The City of Oconomowoc Police department was continuing to investigate various leads as to the whereabouts of Mueller an d his potential location. While conducting follow-up on these leads, we were dispatched to a hit and run traffic crash on June 30, 2021, around the area of Highway 67 and Valley Road. The hit and run suspect vehicle matched Mueller's vehicle."
Kaia Mueller has a previous conviction for robbery of a financial institution as a repeater. He was given an eight-year sentence with four years of confinement and four years of extended supervision in 2016. His address at that time was given as Elkhorn.
Police said that witness information provided "indicated that the suspect vehicle was last seen east on Oconomowoc Parkway and possibly onto the bike path. We received creditable information later that evening that Mueller was now in the Lake Delton area where he was taken into custody by the Lake Delton Police Department. This is still an active and ongoing investigation. We would like to tank the community for their continued support."
---
Kaia Mueller Is Accused of a Series of Crimes in Oconomowoc, including a Bank Robbery at Waukesha State Bank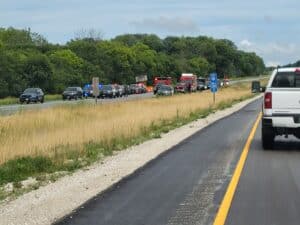 The police said that the incident started June 29, 2021, at 12:59 p.m., when they were dispatched to the 200 block of West Second Street for a possible armed robbery. The suspect left on foot.
A second call was received by dispatch of a vehicle theft in the 200 block of S. Main St. A short time later, Waukesha State Bank activated a hold up alarm.
The suspect "matching the description of Incidents 1 and 2 was also involved in the bank robbery," police said.
The vehicle was located by Summit Police who initiated a traffic stop. The vehicle crashed off the roadway westbound at I-94 near Golden Lake Road. The suspect fled on foot into a densely wooded area.
He was described as a white male, 5 foot 10 inches to 6 foot tall, with a stocky build, wearing black pants, black hoodie, black gloves and a bandana."
The City of Oconomowoc PD were notified at 6:23 p.m. that another vehicle theft had occurred on Valley Road in the City of Oconomowoc. It's believe the suspect used that vehicle to flee the area.