The $45 million agreement between the Milwaukee Public Museum and Milwaukee County for the construction of a new museum WAS NEVER SIGNED, even though construction is supposed to begin soon, Wisconsin Right Now has learned.
The lack of a signed agreement – even though the County Board approved the funding way back in March 2022 – raises the question of whether the county could pull the public funding for the museum project as its private fundraising has languished. WRN has previously suggested that supervisors could explore switching the museum funding to the new Brewers' project. The $45 million granted to the museum comes as the County has agreed to a regressive sales tax to deal with its budgetary problems.
The museum declined to comment on the revelation, referring us to its statement from March 2022, when it thanked the County Board for approving the $45 million.
In a stunning revelation made to Milwaukee County Ryan Clancy in an email, Milwaukee County Director of Audits, Jennifer Folliard told Clancy she was unable to locate a signed copy of the term sheet agreement and was not sure if any items in the agreement are actionable as a result. Clancy had written Folliard to seek an audit into the museum's donations.
The draft agreement that was never signed covers various conditions for getting the money, including that the museum "secure sufficient project funding to substantially cover ninety percent (90%) of the capital costs, which are dedicated to the construction of the building, storage and exhibits" and that the museum "must allow for the examination and reporting by an external auditor to the County of the donor contributions to verify both the donations received, committed, spent and available by fund raising subgoals: project, exhibits, endowment, moving and transition."
This comes as WRN reported last week that the museum project is $92 million short of its $240 million funding goal for a new museum. The construction of the museum is scheduled to begin in December, according to their website. Milwaukee County has pledged $45 million in funding, and the State of Wisconsin has pledged $40 million for the project.
In February, Wisconsin legislators, including four Republicans, released $40 million in taxpayer dollars to the embattled Milwaukee Public Museum with NO debate in a 45-second meeting segment, even though serious questions remain about museum officials' lack of transparency, shifting numbers, misleading statements and unexplained race and equity updates. The state authorized the money on the condition that the museum had already obtained the contribution from the County.
Folliard's response came after Supervisor Clancy asked Folliard about the process of auditing MPM's fundraising: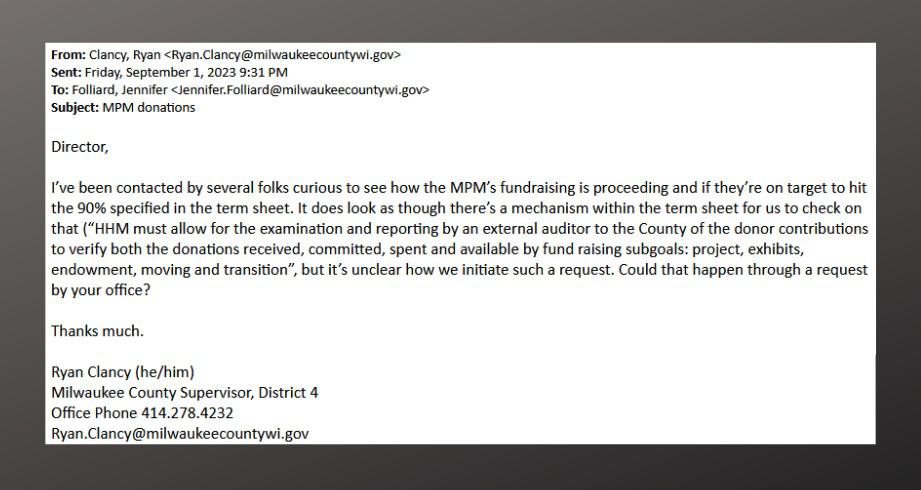 In response, Folliard told Clancy, "I have not yet been able to find a final signed copy of the Term Sheet in Docusign so at this point I'm not clear on what, if anything, in that draft is currently actionable."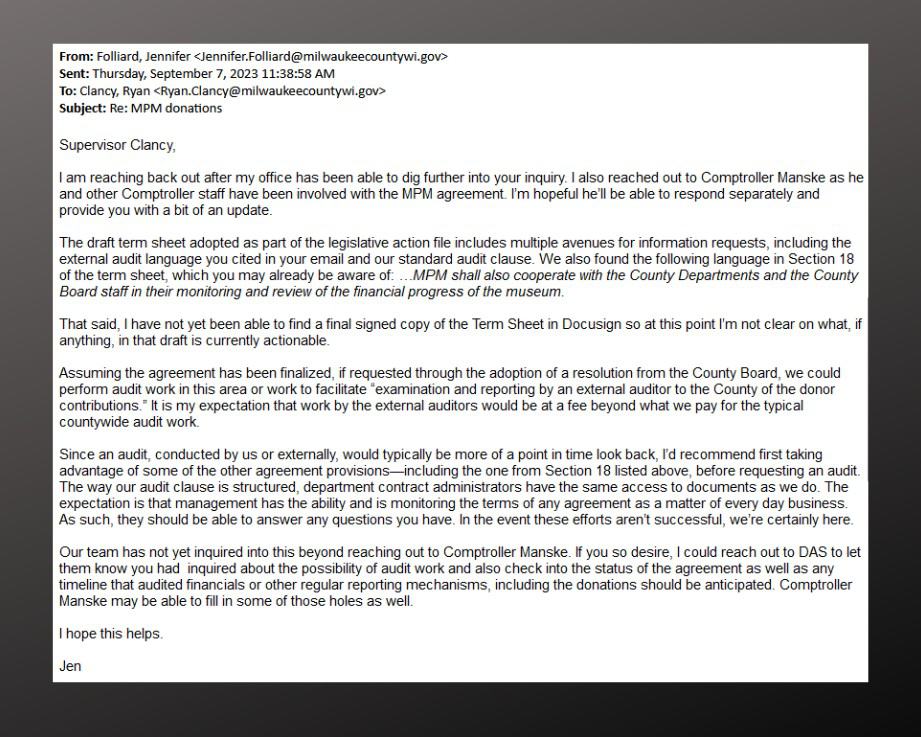 In a follow-up email, Folliard told Clancy, "I spoke briefly to Director Hertzberg who reported that the agreement should be finalized and signed in the coming months (anticipated before the December Cycle) and that MPM is scheduled to present an update on the project, including financials/donations in the December Cycle."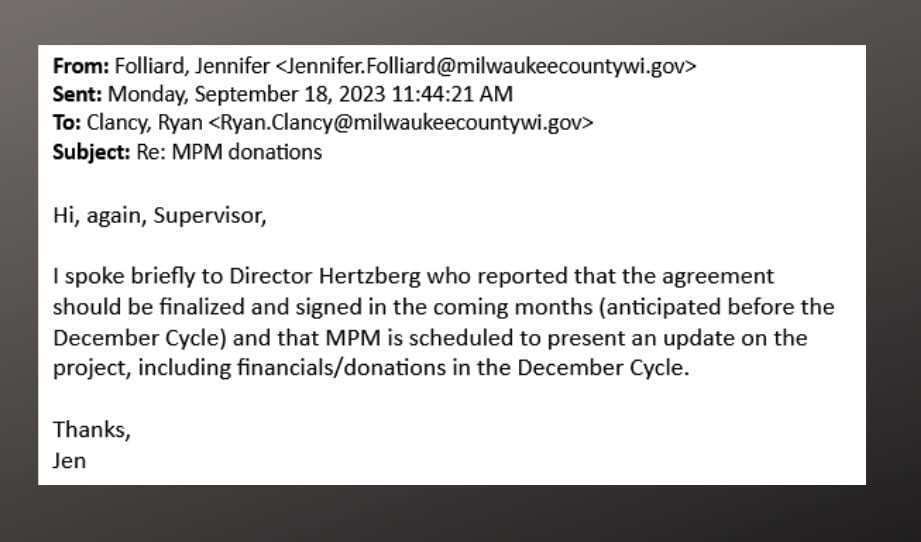 ---
The Draft. But Unsigned, MPM Term Agreement