Tyron Lamb, the Greenfield police shooter who left an officer in critical condition, has three previous felony convictions in Milwaukee, Wisconsin, including two for fleeing an officer, Wisconsin Right Now has learned. That's the same circumstance that resulted in the officer's wounding – a police pursuit in which Lamb took off, authorities say.
Police have not officially released the name of the suspect or the wounded officer. We obtained the shooter's name from sources. Court records use two names for him, Tyron Lamb and Tyran Lamb. His full name is Tyron Christamar Lamb. The Department of Corrections gives his name as Tyron, but links to criminal convictions in both names.
Tyron Lamb
.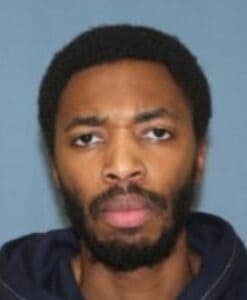 Tyron C. Lamb, of Milwaukee, is listed as being on active community supervision, through Nov. 15, 2022 by the Wisconsin Department of Corrections. Since 2014, he has been in the Milwaukee jail, multiple state prisons, and supervised living facilities. He was released on extended supervision from the Milwaukee Secure Detention Facility in May 2020.
His last sentencing came in 2019 on a felony attempting to flee or elude an officer felony conviction.
Judge Michelle A. Havas gave Tyron Lamb one year in state prison with one-year extended supervision, ordering absolute sobriety, random urine screens, and no driving without a valid license. He was given a $2,000 signature bond in that case and was described as indigent.
In 2017, he was sentenced by Judge Pedro Colon on another felony conviction of vehicle operator flee/elude officer. Again, he was given 1-year prison, and 1 year of extended supervision. He was ordered to "go to school. Obtain/maintain employment" and not commit new law violations.
In 2014, Tyron Lamb was convicted of armed robbery, another felony. Judge Joseph Donald gave him 3 years in prison and 5 years extended supervision. He was ordered to pay restitution. In 2010, he was convicted of criminal damage to property and disorderly conduct with use of a dangerous weapon. Two other similar counts were dismissed. Judge Daniel Konkol imposed and stayed House of Correction time and gave him community service. His probation was eventually revoked in that case.
As a felon, Tyron Lamb was prohibited from carrying a gun.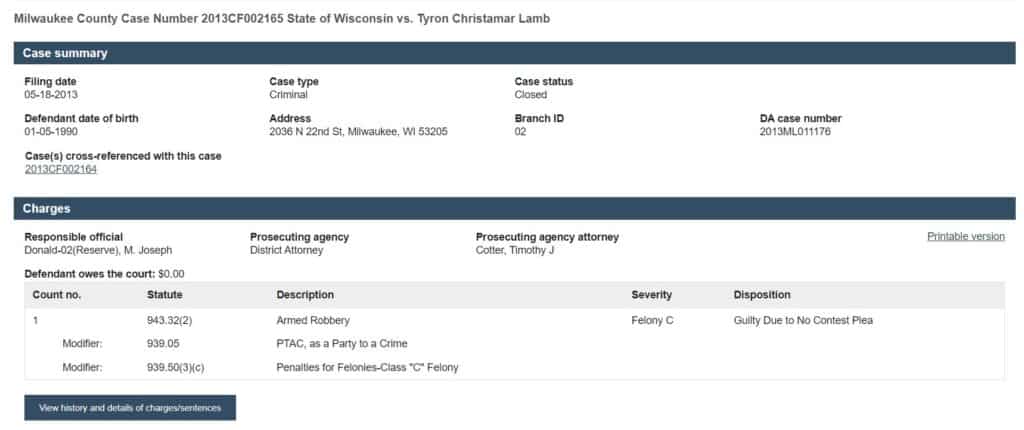 Lamb was shot and killed by officers at the scene. He also goes by the name Tyran Lamb and Ty Lamb, according to DOC. The DOC says that Lamb is 31.
Tyron Lamb fled police and then exited the vehicle shooting at officers, leaving the Greenfield, Wisconsin, police officer in critical but stable condition on Aug. 22, 2021. Officers returned fire and shot and killed the suspect.
According to a press release from Greenfield Police Department, the Greenfield Police shooting occurred at 1:38 a.m. on August 22, 2021, Sunday, at South 27th Street and West Becher Street in Milwaukee.
A Greenfield police officer performed a traffic stop of a vehicle near South 35th Street and West Oklahoma Avenue. After initially stopping, the vehicle fled and crashed near South 27th Street and West Becher Street. The lone occupant of the vehicle exited and began shooting at officers.
A 36-year-old Greenfield officer with three years of experience was hit multiple times in critical, but stable condition.
Two other Greenfield officers, one 32-year-old with 1.5 years of experience, and the other a 22-year-old with 3 years of experience returned fire striking the suspect. The suspect, a 31-year-old male from Milwaukee, was pronounced deceased at the scene.
This is an ongoing investigation. The Milwaukee Area Investigation Team will be investigating the Greenfield Police shooting. The Milwaukee Police Department will be the lead agency in the investigation and all body camera/squad camera footage was turned over to them, Greenfield police said in the news release.
The danger to police officers is escalating in Wisconsin. Just a few days ago, Milwaukee police shot and killed an armed felon who was shooting a gun in the City of Milwaukee at a gas station after the felon pointed it at citizens and ignored police orders to drop it. He fired first, police said. Earlier in August, an Oconto Falls police officer was shot during a domestic dispute. Alisha Kocken is accused of grabbing the officer by the hair and, when she fell to her knees, disarming her of her gun and shooting her in the head. The officer survived.
There has been 210 police line of duty deaths so far in 2021 as compared to 370 for all of 2020.