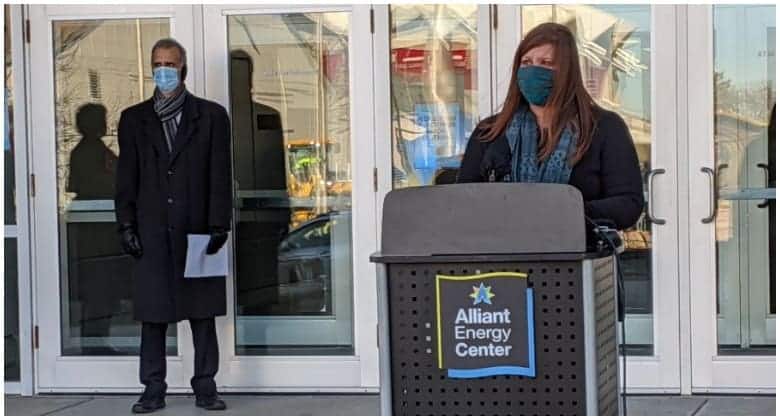 It's going to be hard to hold Thanksgiving in Dane County this year, as long as it's indoors. The public health director says people should make "new traditions."
Madison's mayor says the city has asked people to "stop sharing air" with people not in their household.
On Nov. 17, Dane County and Public Health Madison issued an emergency order which "prohibits indoor gatherings of any size," starting Nov. 18 at 12:01 a.m.
You'd better bundle up grandma if you try to hold Thanksgiving outside in Madison, though. The average daily temperature there on Nov. 26 "typically ranges from 28°F to 37°F and is rarely below 14°F or above 51°F."
What is banned? Forget participating in sports, exercising at the gym or going to a movie in Dane County. The county's press release warns: "The county and City of Madison may issue a fine of up to $1,000 for every violation of the health order, plus court costs. As a result, anyone hosting a gathering could see significant penalties." Watch the press conference here.
"You should not meet up with anyone outside your household, not your friends, your family, your co-workers or teammates. We are taking this strict measure ahead of Thanksgiving. We all need to to stop gathering," Janel Heinrich, director of Public Health Madison & Dane County, said in the news conference.
Mayor Satya Rhodes-Conway claimed Madison had been "abandoned by the federal government." She claimed justices on the Supreme Court put "partisan nonsense" first. "So it is up to us," she claimed, adding that today was the "last time" they would ask the media to "gather in a press conference like this."
"We cannot pretend that this is going to be a normal Thanksgiving. We know that many of the people we want to spend time with are very vulnerable to the virus," said Rhodes-Conway. "We want our loved ones to be around not just for this one holiday, but for all the holidays and special occasions of our lives—the high school graduations, the weddings, and the reunions of the next 25 years, not just the next 25 days."
According to the state of Wisconsin COVID-19 dashboard, people under age 50 account for only 3% of COVID-19 deaths. People under age 60 account for just 9% of deaths. There have been zero deaths from COVID-19 in Wisconsin of people ages 0 through 29. At least 30% of deaths were of people in long-term care facilities or group homes.
In the South Central region, though, 90% of ICU beds are full. COVID-19 cases and death are rising in the state. On Nov. 11, Dane County had 492 people diagnosed with COVID-19, and 624 on the next day. The numbers are trending upward, officials said.
The press release announcing the order states, "Outdoor gatherings are permitted with 10 people or less, with physical distancing. The order goes into effect on November 18 at 12:01am."
"This virus does not spread on its own. We spread it. Every gathering – no matter the size – is an opportunity for disease spread and prolongs the pandemic," said Heinrich. "We are hopeful that with the community's cooperation, we can bring our numbers down and avoid more hospitalizations and deaths."
The county's press release states:
In-person games, sports, competitions, group exercise classes, meetings, trainings, movies, events, and conferences are all considered mass gatherings. Indoor mass gatherings of any people who do not live together are prohibited. Outdoor mass gatherings are limited to 10 people who do not live together, with physical distancing. The previous limit for gatherings was 10 indoors and 25 outdoors, with physical distancing.
The order is in place through the Thanksgiving holiday. "The order is in effect until December 16, 2020 at 12:01 a.m. and continues to require face coverings and limit the capacity for most businesses to 50%, along with many other provisions," says the order.
"Our hospitals are overflowing, our doctors and nurses are running ragged, and everywhere we turn, there is sickness, creating a challenge like none other we have ever seen," said County Executive Joe Parisi. "These new orders, like their predecessors, are designed to call attention to where we are seeing the greatest amount of disease spread and interrupt the virus' quick movement through our community."
Dane County is "currently averaging 433 cases per day over a 7-day period, which is more than double the number of cases from a month ago," the release states.
"As of November 17, 174 people are hospitalized with COVID-19 in Dane County, including 48 in the ICU. Hospitals in the southern region are strained, with many at or near capacity. From October 27 through November 9, nine hospitals in our region reported at least one day of critical staffing shortage. One of these hospitals was within Dane County."
"We ask that everyone exercise good judgement and follow the orders. The intention of the order is not to penalize businesses or individuals, but to keep everyone safe during this pandemic," said Heinrich.