We knew it would get ugly, but this is really beyond the pale.
A text message push poll went out to Wisconsin conservative voters today that is supportive of Republican Attorney General candidate Adam Jarchow and tells a stone-cold lie about his opponent, Fond du Lac County District Attorney Eric Toney in an attempt to turn voters off of Toney.
Specifically, the push poll lies to voters about Toney, who is a Republican, saying:
"Eric Toney prosecuted Kyle Rittenhouse for murder after Rittenhouse defended himself from attackers during rioting in Kenosha." The poll then asks people if that "fact" makes people more or less likely to vote for Toney.
We've obtained a screenshot: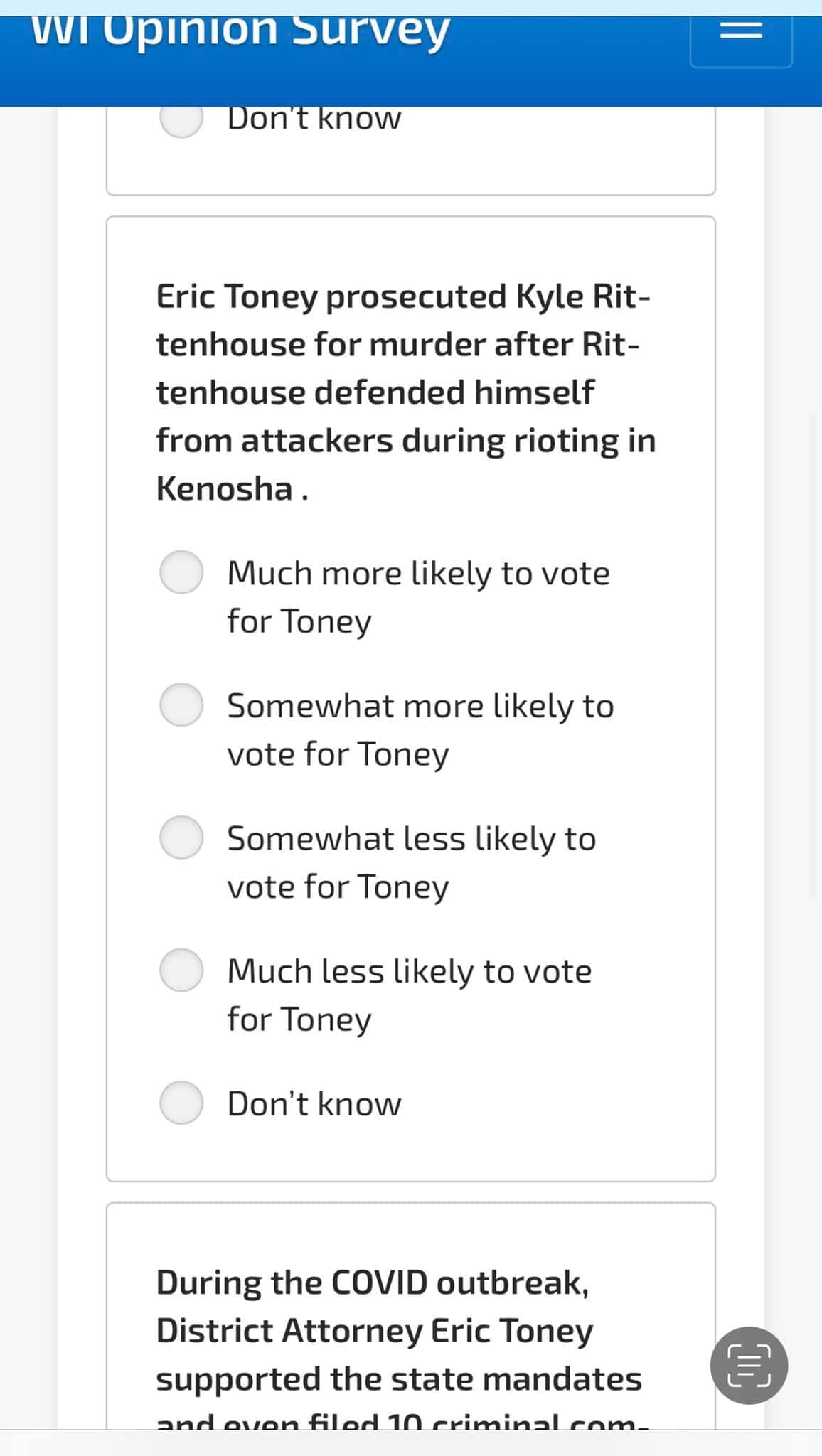 However, Eric Toney did NOT prosecute Kyle Rittenhouse. He did not have anything to do with that prosecution at all. Toney is the District Attorney of Fond du Lac County. Rittenhouse was prosecuted by the office of Kenosha County District Attorney Michael Graveley and his assistant prosecutors. He was then acquitted.
Last time we looked, Fond du Lac and Kenosha were entirely different counties and Eric Toney was not Michael Graveley. But voters who received the poll may not know that.
The push poll also trashes Toney by raising other negative, misleading stories about him that have been fed to and then pushed by the liberal media, some of which we have debunked, and it brings up his COVID prosecutions, which we were first to thoroughly report on in this race (that one is a legitimate issue). In other words, all of the questions about Toney in the push poll are designed to make him look bad in conservative voters' minds.
The push poll then reveals its hand, as it goes on to make a series of only positive comments about Jarchow, the former legislator running against Toney in the Republican primary.
For example, the poll asks, "In the Legislature, Jarchow compiled a very strong conservative voting record in Madison where he fought for smaller government and worked against the bureaucratic deep state on issues from law enforcement to COVID." Voters are then asked whether that makes them more or less likely to vote for Jarchow. There are a number of other questions relating to Jarchow. They all cast him in a positive light.
We would note that Jarchow left the Legislature in 2019, so how could he have worked in the Legislature on COVID-related issues?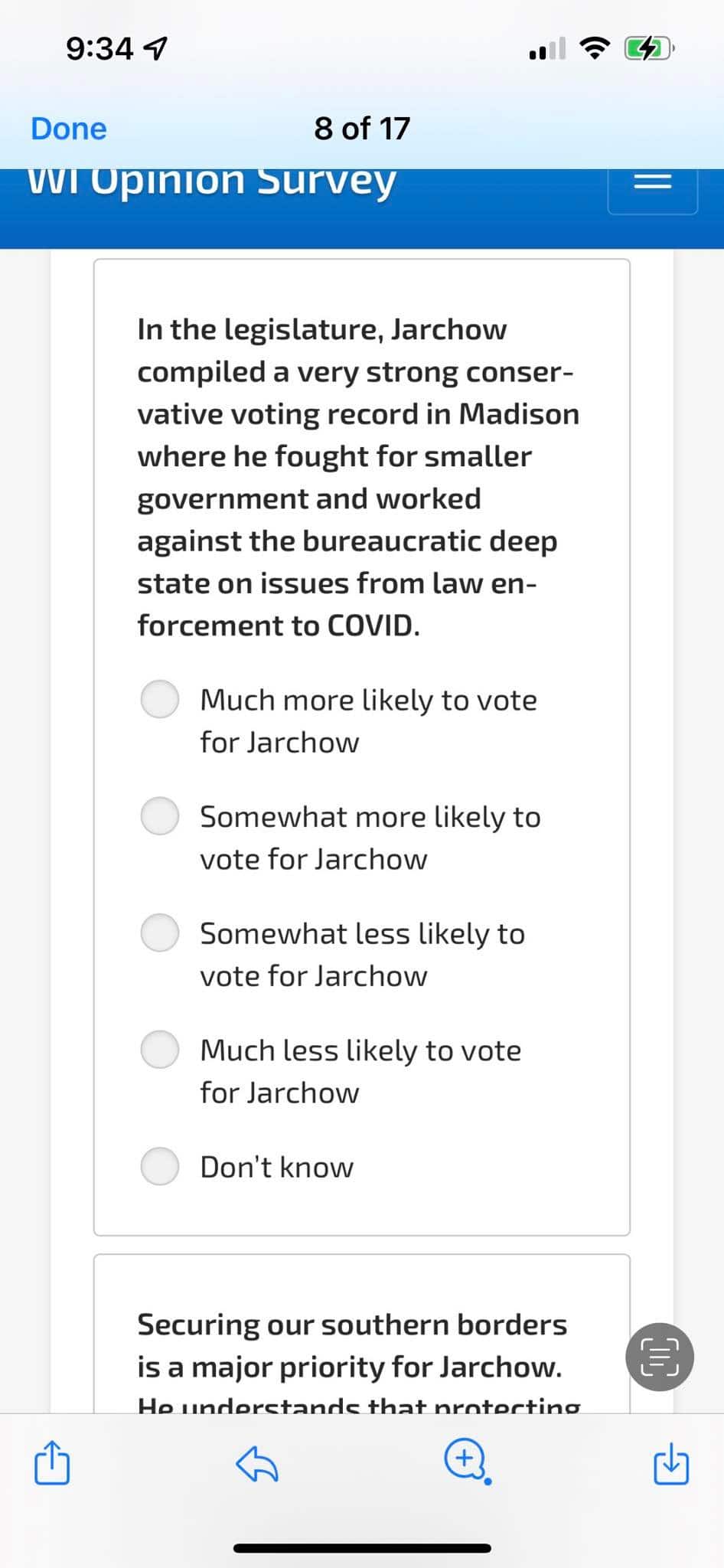 Here's another example: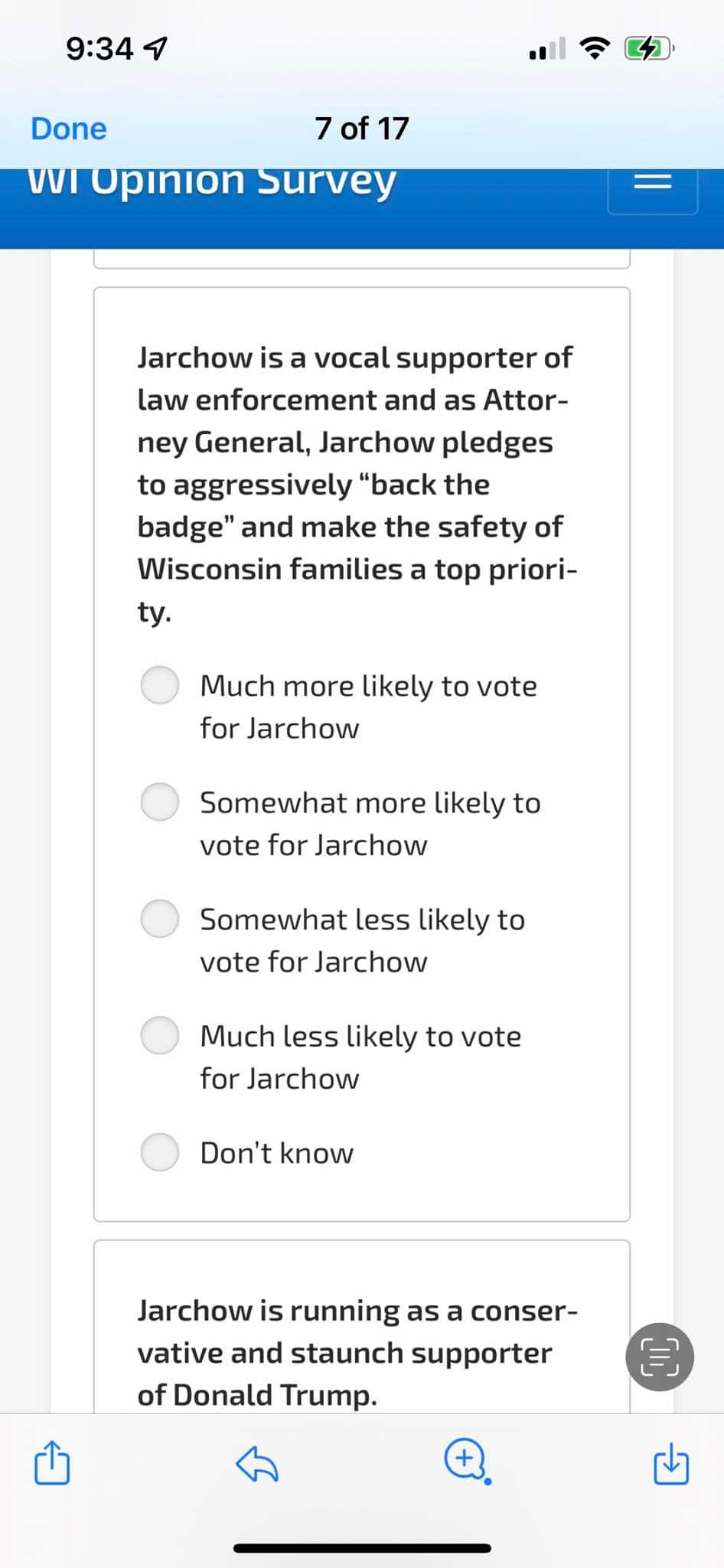 Actually, Jarchow has a series of anti-public safety votes from his time in the state Legislature, including being the only Republican to vote against a bill to make it a felony to batter a prosecutor or family member of a cop for doing their job. But that's another story.
Push polls are designed to taint voters with negative messaging about a candidate and are camouflaged as legitimate opinion polls. However, to include a literally false statement is pretty unique and completely beyond the pale. The poll only asks in-depth questions about the Wisconsin Attorney General's race and mostly focuses on Toney and Jarchow. Toney was way ahead of Jarchow, who has never prosecuted a criminal case, in the straw poll at the Republican State Convention last month.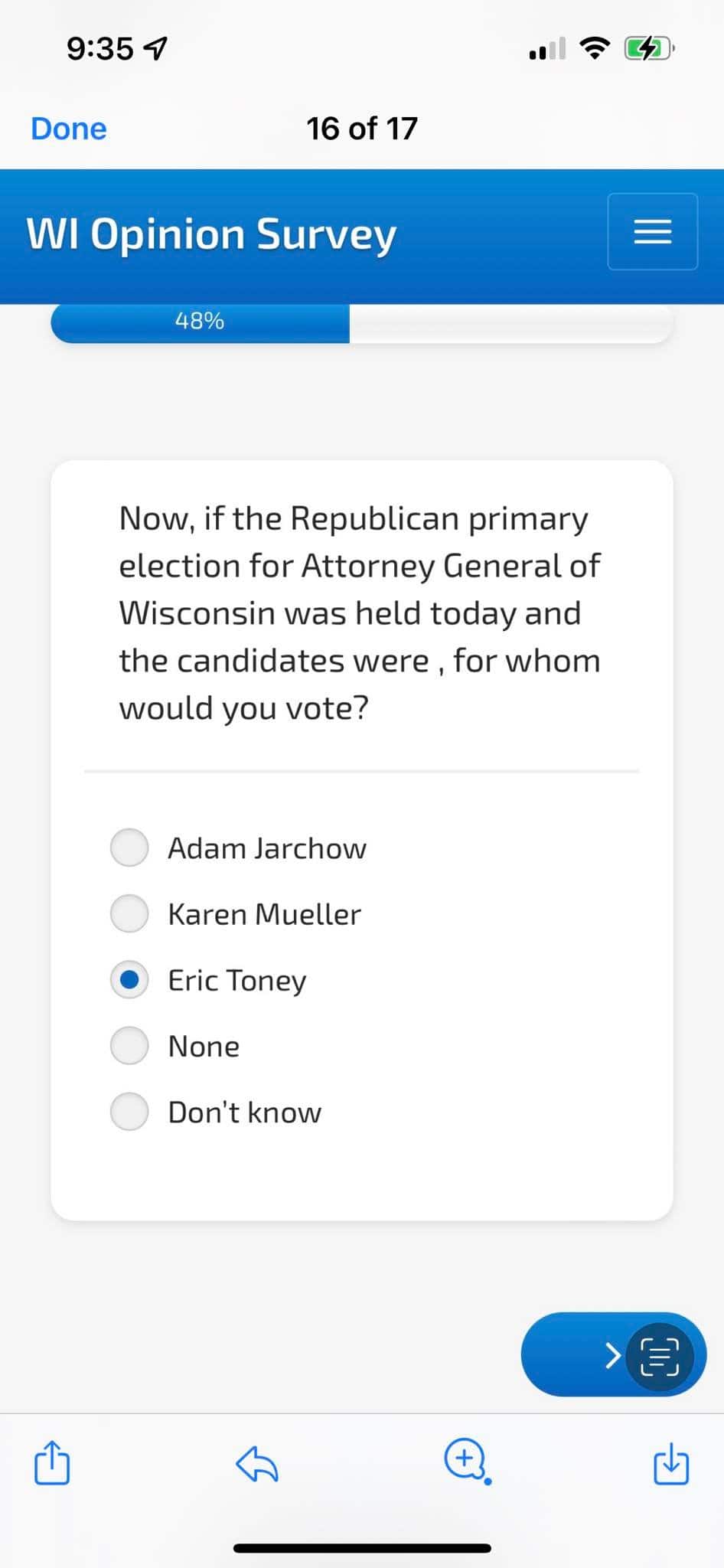 It's not clear from the poll or text message who wrote, sent or funded it. We asked the Jarchow campaign if he or any group affiliated with him are behind the push poll and whether he repudiates it, and we will add his comment into this story if it's received.
Update: The Jarchow campaign got back to us. They say, "The Jarchow campaign is not behind and not aware of these text messages."