There's already a vigorous state Attorney General primary campaign behind the scenes on the Republican side of the ticket. One candidate we keep running into is Fond du Lac County District Attorney Eric Toney, who is aggressively working the GOP base. We saw him speak at a law enforcement event put on by a non-profit spearheaded by former U.S. Senate candidate Kevin Nicholson, and he popped up on a balmy Friday night to seamlessly work the crowd on June 4 at a Waukesha GOP Pints & Politics event.
Toney, a Republican, paints himself as a "tough and proven prosecutor." Despite his relatively young age, he's been DA for nine years; the son of a law enforcement officer, he helped start the county's drug court, created an opioid task force, is president-elect of the Wisconsin District Attorneys Association (WDAA), talks about his staunch support for police, fought to have violent sex offenders return to their county of residence, and promises to "restore the Department of Justice's mission to fight crime, support law enforcement, protect families, and enforce the law." We sat down and talked with him for some time, and he came across as a pragmatic prosecutor with conservative beliefs, but not an ideologue per se. He seemed to greatly care about the concerns of law enforcement. His experience in the state's prosecutorial trenches would be an asset.
At both the Pints & Politics and Nicholson events, Toney seemed largely well-received, although he did face some tough questioning and heat from one man about an issue we think will have some staying power in the GOP primary: His 10 COVID prosecutions.
The race is incredibly important. If Republicans don't knock out liberal activist AG Josh Kaul this time around, there's a good chance he becomes a leading candidate for governor or U.S. Senate down the road. In short: The race matters, but it's getting almost no attention, although it's quite early. The position sets the tone for law enforcement in the state.
Kaul, the son of former liberal AG Peg Lautenschlager, never prosecuted a Wisconsin criminal case before he became AG; his plea bargains in drug cases while a federal prosecutor in Baltimore received some media scrutiny the first time around. He didn't move back to Wisconsin until 2014.
We came away impressed with Toney each time we met him, but we also started getting a number of tips urging us to look into his COVID-19 criminal prosecutions of small business owners, patrons, and an employee. We decided to take a closer look at what happened with those cases, and we thought it was important to give Toney a chance to explain himself. It's clear that those prosecutions will become an issue in the GOP primary. We outline each of them later in this article, and you can read the criminal complaints yourself and decide on your own.
Read the criminal complaints here. They involved multiple charges involving three small businesses. The allegations included: a bar and grill accused of violating social distancing and allowing a dine-in customer, a hookah lounge that held a birthday party after a previous warning, and a vacation rental home whose owner rented to a family from Illinois after a previous incident and allegedly allowed them to use the pool…. all in alleged contravention of Gov. Tony Evers' executive orders.
In some cases, the complaints alleged people were defiant, hung up, were hiding from investigating deputies or were on their second warning. In other words, it seemed like law enforcement agencies referred cases where people allegedly thumbed their noses at them. The cases were dismissed on prosecutors' motions just weeks after being filed.
This won't be our last article on the AG race, far from it; we're getting a number of tips about the abysmal record of Kaul, and we intend to follow up on them. Our goal is to educate readers on the candidates in this race. This is just our first step in that effort.
We aren't endorsing in the primary. Toney is not the only GOP candidate vying for the chance to take on Kaul; Madison Law Professor Ryan Owens is the other. He worked in Tommy Thompson's legal department and calls himself a "constitutional conservative." We saw Owens speak at the Nicholson event too; as with Toney, he stressed conservative principles and spoke strongly against abolishing qualified immunity for law enforcement. Owens' campaign declined to comment on Toney's COVID-19 prosecutions. We also reached one of the people prosecuted, a small business owner. He, too, declined to comment.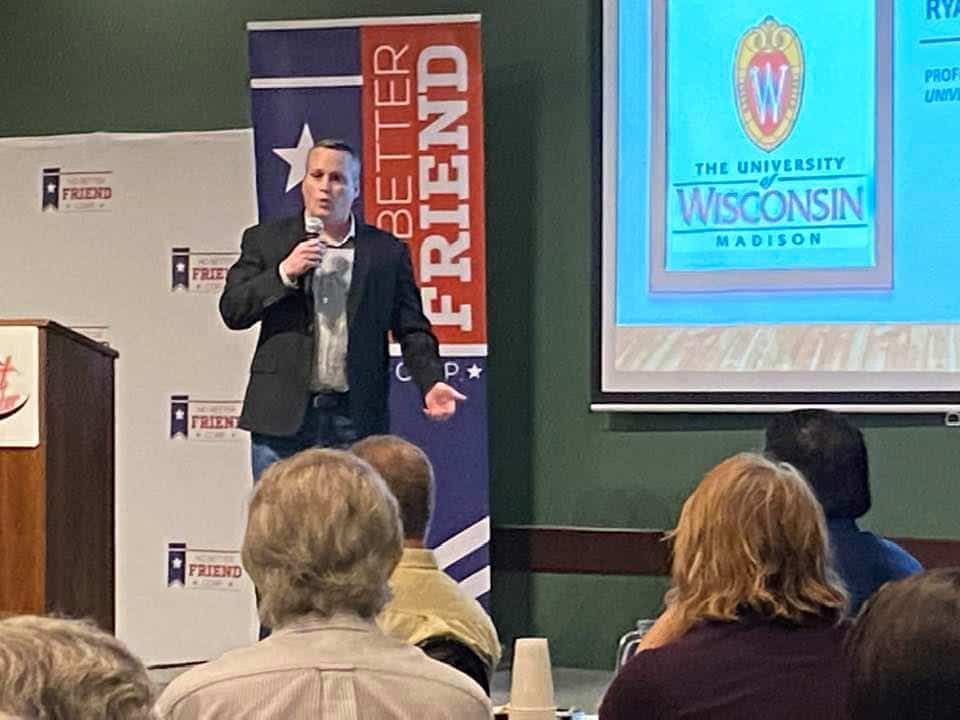 Frankly, either Owens or Eric Toney would be a million times better than activist AG Kaul, who has de-emphasized DOJ's law enforcement mission in favor of partisan politics.
Should the COVID prosecutions disqualify Toney? We think they should be considered in the context of his entire career. Beyond that, it's up to you how much weight to give them.
What does Eric Toney say about his COVID prosecutions? We asked him to explain.
---
Eric Toney's Position: The Rule of Law
Asked to explain the prosecutions, Eric Toney stressed the rule of law, a conservative principle.
"I'm a prosecutor, not a politician and I follow the rule of law, even when I disagree or it is unpopular," he told Wisconsin Right Now. "Unlike Josh Kaul, I don't play politics with community safety and that's what Wisconsin deserves from our Attorney General."
He also provided us with a lengthy article he wrote explaining the prosecutions. You can read it in full here: Toney4AG Rule of Law op-ed.
"As Fond du Lac County District Attorney, I dismissed all of the charges filed for violations of the Safer at Home order after the extended Safer at Home order was struck down by the Wisconsin Supreme Court," he explained in that May 2021 document.
"No one was convicted by my office for violating any Safer at Home order, and no one was prosecuted for mask violations or lack of social distancing," Eric Toney wrote. "I informed county officials that I would not enforce the Governor's mask mandate because it was clearly an abuse of power and an unlawful executive order. Ultimately, the Supreme Court agreed with my analysis. In the initial days of the Safer at Home order, cases were filed in my county for prosecution but I ordered all the charges to be dismissed. I also worked with regional district attorneys to help coordinate a unified approach on this issue, leading to charges being dismissed in other counties."
Toney noted, "Unlike others, I'm a prosecutor, not a politician, and I will never play politics with community safety. My job as a district attorney is to follow the law, not make the law…that's what liberal activists and classroom theorists try to do."
Eric Toney also sent us an analysis he sent on Aug. 3, 2020, to the county's public health officer on Gov Evers' mask mandate and new executive order.