'No officers or citizens were put in danger, we decided to just let Michigan have him.'   -Milwaukee County Assistant DA Samuel Simpson
---
This is the fourth chapter in Wisconsin Right Now's new investigative series – the "No Process Files" – exploring the Milwaukee County DA's high percentage of non prosecuted cases. If you would like us to feature a case from that or another county, email [email protected]. You will remain anonymous.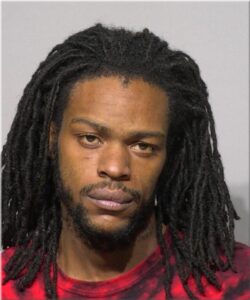 Ronald Glover, a felon wanted on an attempted murder warrant from Michigan who was driving a car allegedly belonging to Milwaukee BLM activist Taleavia Cole, was accused of taking officers on a dangerous high-speed pursuit, possessing controlled substances and resisting arrest.
The Milwaukee County DA's office initially refused to charge Glover for any of those offenses.
However, the same day that Wisconsin Right Now asked why the Milwaukee County DA's office was refusing to charge Glover with the offenses, they suddenly reversed their non-prosecution decision, charging Glover with Vehicle Operator Flee/Elude Officer. Here's the email we sent: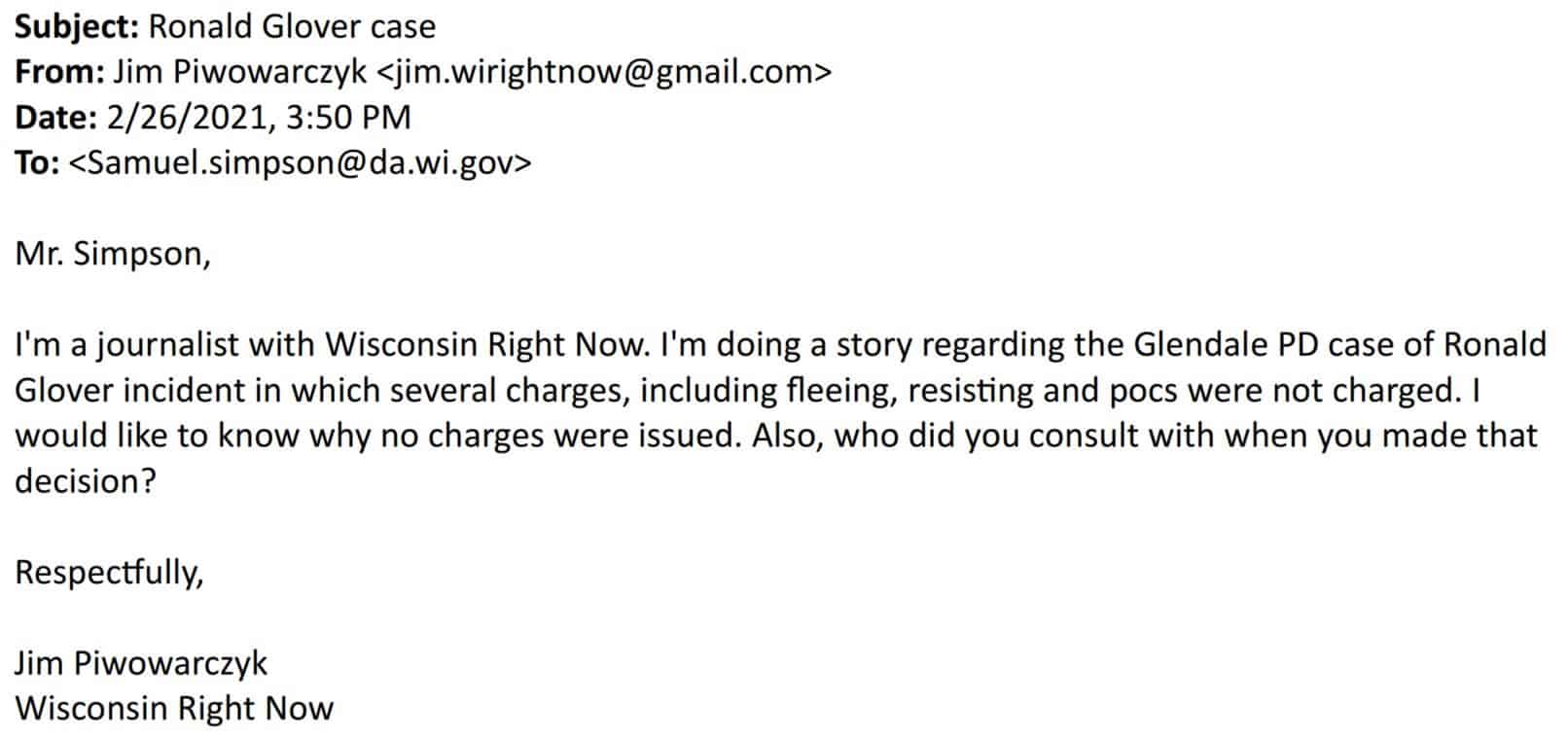 Assistant District Attorney Samuel Simpson never responded to WRN's questions.
ADA Simpson still "no processed" three other charges Glendale police referred, though, even though police reports allege an officer found a blue bag containing marijuana, another person's ID, a small bag of MDMA pills, and one spent handgun round.
The almost five-mile high-speed pursuit, involved three agencies and three sets of stop sticks. The pursuit finally ended when the vehicle lost all four tires and was stopped with the use of a PIT maneuver (pursuit intervention technique). You can watch the pursuit here.
DA John Chisholm's office initially told Glendale police they weren't going to charge Glover for the Wisconsin crimes. The prosecutor told Glendale police, "We decided to just let Michigan have him," according to Glendale police reports obtained by Wisconsin Right Now via an open records request.
On Feb. 20, Simpson did issue a charge of fugitive from justice for the pending Michigan case.
That same day, a Glendale police lieutenant inquired about the other four referred charges for the Wisconsin pursuit incident. "ADA Simpson stated no other charges would be filed," the police reports say.
Glendale Police Lt. Treder, wrote in the report, "I stated I strongly disagreed with this decision. ADA Simpson stated he 'spoke with others in the office' and because 'no officers or citizens were put in danger, we decided to just let Michigan have him.'"

---
It's a pattern of no-prosecutions by Chisholm's office of charges referred by police. In this case, one charge was issued, three were rejected, but it took outside pressure before any criminal charge related to the pursuit was issued.
The first part of our series explored the numbers; last year, the DA's non-prosecution numbers spiked. His office rejected around 60% of cases, including felonies, referred by local police agencies. It's coming against a backdrop of rising crime, yet the DA's refusal to issue criminal charges in so many cases flies beneath the media radar. Chisholm's office has refused to let the public learn about cases his office is refusing to prosecute, but we obtained the Glover case from a tip.
Glover was given a $1,500 signature bond. However, he's still sitting in the Milwaukee County Jail due to the extradition request out of Michigan.
That's despite the fact that Glover, a felon, has an extremely long criminal history out of Michigan for offenses ranging from drug dealing, to assault, to the attempted murder case. [Read his Michigan criminal history here.]
---
Taleavia Cole
The vehicle is listed to Taleavia Cole, police reports allege. She is the sister of Alvin Cole, the armed teenager who was shot and killed by a Wauwatosa police officer outside Mayfair Mall. She has been vocally critical of police and the officer, appearing publicly at press conferences. She is not accused of wrongdoing in the Glover case. WRN reached out to Cole for comment and asked her questions about her connection to Glover and the vehicle. She did not respond.


---
The Ronald Glover Criminal Complaint
According to the Criminal Complaint, On February 19, 2020, at approximately 1:25 a.m., Glendale Police Officer Bartlein "was on routine patrol when he observed a car run a red light while turning southbound on N. Port Washington Road, in the City of Glendale, Milwaukee County, Wisconsin. Officer Bartlein proceeded to follow the car and observed it perform a U-turn at W. Richter Pl., which has a posted no U-turn sign."
The complaint continues that Officer Bartlein "initiated a traffic stop by activating his marked squad's siren and the car came to a slow and gradual stop in about a block. The car did not get put into park and after a couple of seconds, the car quickly accelerated headed northbound. The pursuit lasted approximately 4.9 miles and reached a top speed of 86 miles per hour. During the pursuit, the driver went through at least one red light, drove on the wrong side of the road, and passed another car on its right. The pursuit ended when officers deployed stop sticks and the car's tires were deflated."
According to the complaint, "The sole occupant was the driver. When the car came to a stop, the driver began to flee on foot. Officer Bartlein was able to pursue the driver on foot until another squad caught up and the driver stopped running. The driver was verbally identified as Ronald Glover, the Defendant, after he provided his name and date of birth."
The police reports state that Ronald Glover "possessed numerous warrants with Berrien County, Michigan. The warrants were for Bribe and Flight to Avoid." Initially, they declined to extradite him. The warrants showed valid extradition in Indiana, Illinois, Ohio and Wisconsin. In the miscellaneous fields section of the Flight to Avoid warrant, the following offenses were included, "Asslt wi murd," drugs, armed robbery, weapons, domestic violence, aggravated assault, assault with great bodily harm.
Thus, a detective with Glendale PD contacted Berrien County to confirm they did not wish to extradite Ronald Glover. They then decided to extradite him after all.
We obtained the complaint from the State of Michigan. It alleges that Ronald Glover was wanted on assault with intent to murder and carrying a concealed weapon.
It alleges he "did make an assault upon Willie Peete, Jr. with intent to commit the crime of murder."
It also alleged he "did carry a dangerous weapon or pistol, to-wit a handgun."
The complaint states he was ineligible to possess a firearm because he was previously convicted of felony marijuana dealing.
---
Ronald Glover's Criminal History
Ronald Glover's criminal history in Berrien County Michigan is extensive.
It lists charges including fleeing an officer, no operator's license, marijuana possession, armed robbery with a concealed weapon, police officer – assault/resisting, contraband, marijuana dealing, police officer – assault resisting, marijuana possession, larceny in a building, aggravated assault, domestic violence, possession of a firearm by a felon, assault with great bodily harm, bribe and intimidate a witness and tampering with an electronic device.
He was also involved in a high-profile case in which an officer was criminally charged for hitting him with a patrol car in Michigan. Officer Steven Johnson "was found guilty by Judge Arthur Cotter of reckless driving, but not guilty on a charge of assault with a deadly weapon for hitting Ronald Glover Jr. with his patrol car," reported WSJM-TV.