The Wisconsin REALTORS® Association released its March 2023 WI Real Estate Report today. The report shows that low inventories have hampered home sales in Wisconsin while prices in the state continue to rise. Inventory levels for March are historically low, with just 13,342 units for sale. Total statewide listings are down more than 20% when comparing March 2023 to March 2022. Home sales fell 23.6% and the median price rose 6.9% to $272,500 over that same period.
Report Highlights:
● Low inventories kept March home sales low and contributed to strong price pressure over the past 12 months. Existing home sales fell 23.6% between March 2022 and March 2023, whereas the median home price rose 6.9% to $272,500 over that 12-month period.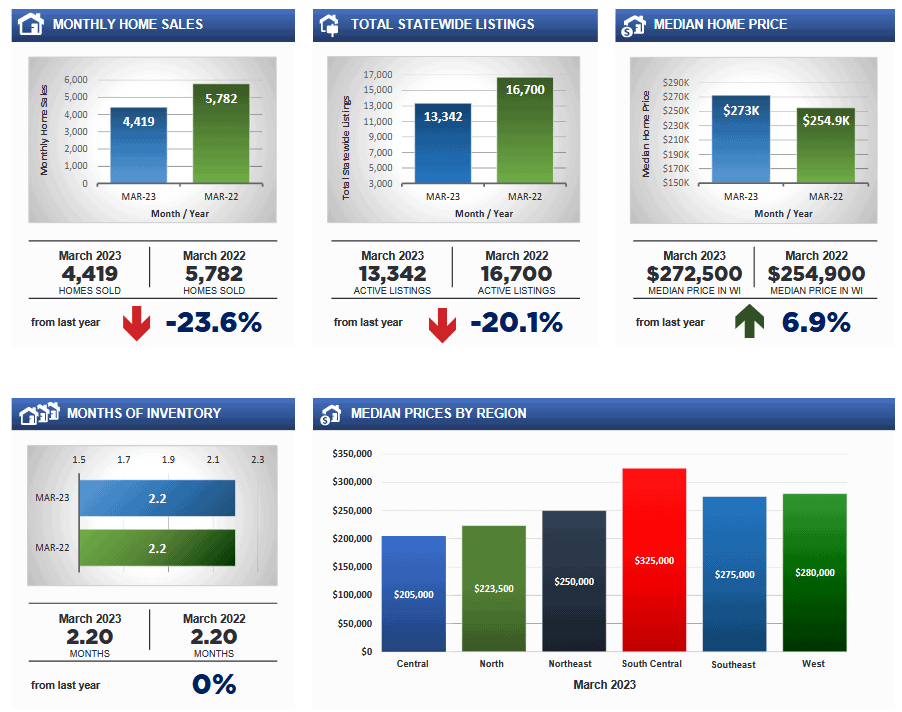 ● This is consistent with the pattern seen in January and February. Overall, first-quarter sales fell 27.4% relative to the first three months of 2022, and median prices rose 9.4% to $262,500 over that same period.
● Inventory does follow a regular seasonal pattern with inventory levels typically shrinking in the winter and then growing during the spring and before peaking in the summer. The inventory levels for March, however, are historically low with just 13,342 units for sale.
● Months of supply were at just 2.2 months in March, unchanged from a year earlier. The last time the Wisconsin housing market was balanced, with six months of supply, was August 2017. Over the past three years, March inventory levels have been consistently in the range of 2.2 months to 2.5 months, translating to a very strong seller's advantage in the market.
● Tight inventories were remarkably consistent throughout the state. March inventories ranged from a low of 2.0 months in the Central and Southeast regions to just 2.5 months of supply in the North region. Over the last 12 months, inventories have been tightest for entry-level homes, which are homes with sale prices ranging between $125,000-$350,000, where there were 1.5-1.7 months of supply. The strongest supply was seen in higher-priced homes, priced at $500,000 and over, where inventories stood at 4.2 months.
● Housing affordability is influenced by changes in income, home prices, and borrowing costs. The Wisconsin Housing Affordability Index measures the fraction of the median-priced home that a qualified buyer with median family income can buy, assuming a 20% down payment and the remaining balance financed using a 30-year fixed-rate mortgage at current rates. Median prices rose 6.9% over the last 12 months, and the average monthly mortgage rate increased from 4.17% in March 2022 to 6.54% in March 2023. In contrast, the median family income is projected to have been flat over the past year. The net effect is that the Wisconsin Housing Affordability Index dropped from 181 in March 2022 to just 132 in March 2023.
---
Michael Theo, WRA President & CEO, commented on the consequences of low inventory: "At the current pace of sales, we would need the available inventory to increase by nearly 24,000 homes, which is an increase of 178% from current levels, to get back to a balanced existing home market. The current housing shortage is depriving young individuals of the wealth-generating benefits of homeownership."
Joe Horning, 2023 WRA Chairman of the Board of Directors, highlighted how millennial buyers are at a disadvantage, noting: "Millennials are typically first-time buyers. They have smaller down payments compared to repeat buyers who can use the proceeds of their previous home sale to increase their down payment. This results in heavier reliance on mortgage financing by millennials, so the higher mortgage rates more quickly price them out of the market than other buyers."
Dave Clark, Marquette University Economist and WRA consultant noted that inflation is improving, but the Fed still has work to do: "We got some good news on the inflation front as headline inflation dropped a full percent from an annual pace of 6% in February to 5% in March. However, this is still well above the Fed's target inflation rate of 2%, and at its most recent meeting, the Fed pushed the short-term federal funds rate up by a quarter percent. It also left the door open to another rate increase in May."
---
Read the Full Report Here: