Who do you want setting policies for the Milwaukee Police and Fire Departments? Trained chiefs or a community activist like Amanda Avalos, who supports abolishing the police?
Fire and Police Commission Vice Chair Amanda Avalos, who has advocated abolishing the police, has resigned in a huff because of a new state law that allows trained, experienced police chiefs to set policy for the Milwaukee Police Department instead of community activists like her.
Avalos was nominated to the civilian Commission, which is unusually powerful nationwide, by former Mayor Tom Barrett. She posted a string of anti-police and anti-MPD tweets before her nomination, accusing police of making the community less safe by their very existence.
In one tweet, Amanda Avalos wrote: "46-49% of Milwaukee's entire city budget gets consistently allocated to the police department. Abolish the police."
Avalos, vice chairperson of the commission, quit on July 20, 2023, along with Commission Chair Ed Fallone. They are upset by the Republican legislature-crafted state law that gives policy-making authority back to the police chief – in other words, to the person who actually has experience in policing and who, presumably, does not despise or want to abolish the police. There is still an oversight mechanism, as a chief's policies can be overridden by a 2/3rds vote of the Common Council. Policymaking authority also goes back to the fire chief.
"An institution that for over 135 years has provided the citizens of Milwaukee with an important measure of control over their own lives was reduced to a pawn in someone else's game. We simply cannot accept this," Avalos and Fallone, a Marquette professor, said in a statement.
Avalos called for racism to be declared a statewide emergency and for 25% of the Milwaukee Police Department, Milwaukee County Sheriff's Office, and State Patrol's budgets to be moved to "public health equity." She also declared that "white supremacy exists everywhere" and demanded that "white and non-Black POC" dismantle anti Blackness, including "at home with your problematic family members."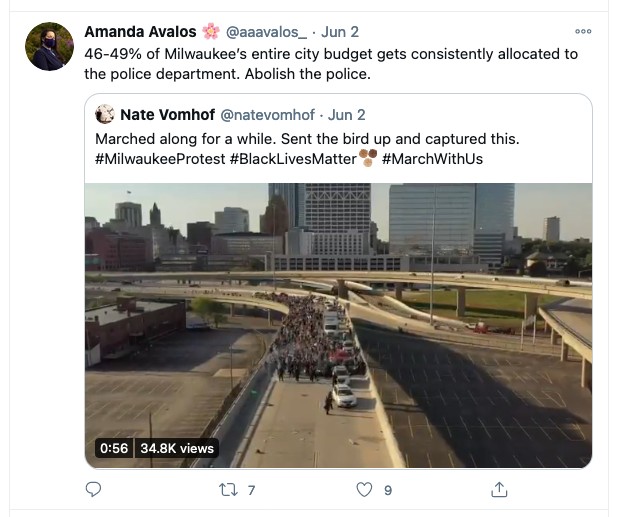 According to her LinkedIn page, Amanda Avalos is the senior civic engagement director for Leaders Igniting Transformation (LIT). LIT was a "leading proponent" of an effort to get the Milwaukee Common Council to cut 25% from the Milwaukee Police Department's budget, according to Urban Milwaukee. The group also successfully lobbied Milwaukee Public Schools to end its contract with the MPD. According to Urban Milwaukee, Amanda Avalos previously called for Chief Alfonso Morales to be fired.
The Fire and Police Commission is the civilian oversight body that "oversees all aspects of Fire Department and Police Department operations," including the hiring and firing of police and fire chiefs and some disciplinary actions against officers. The seven commissioners are appointed by Mayor Tom Barrett and must be confirmed by the Common Council.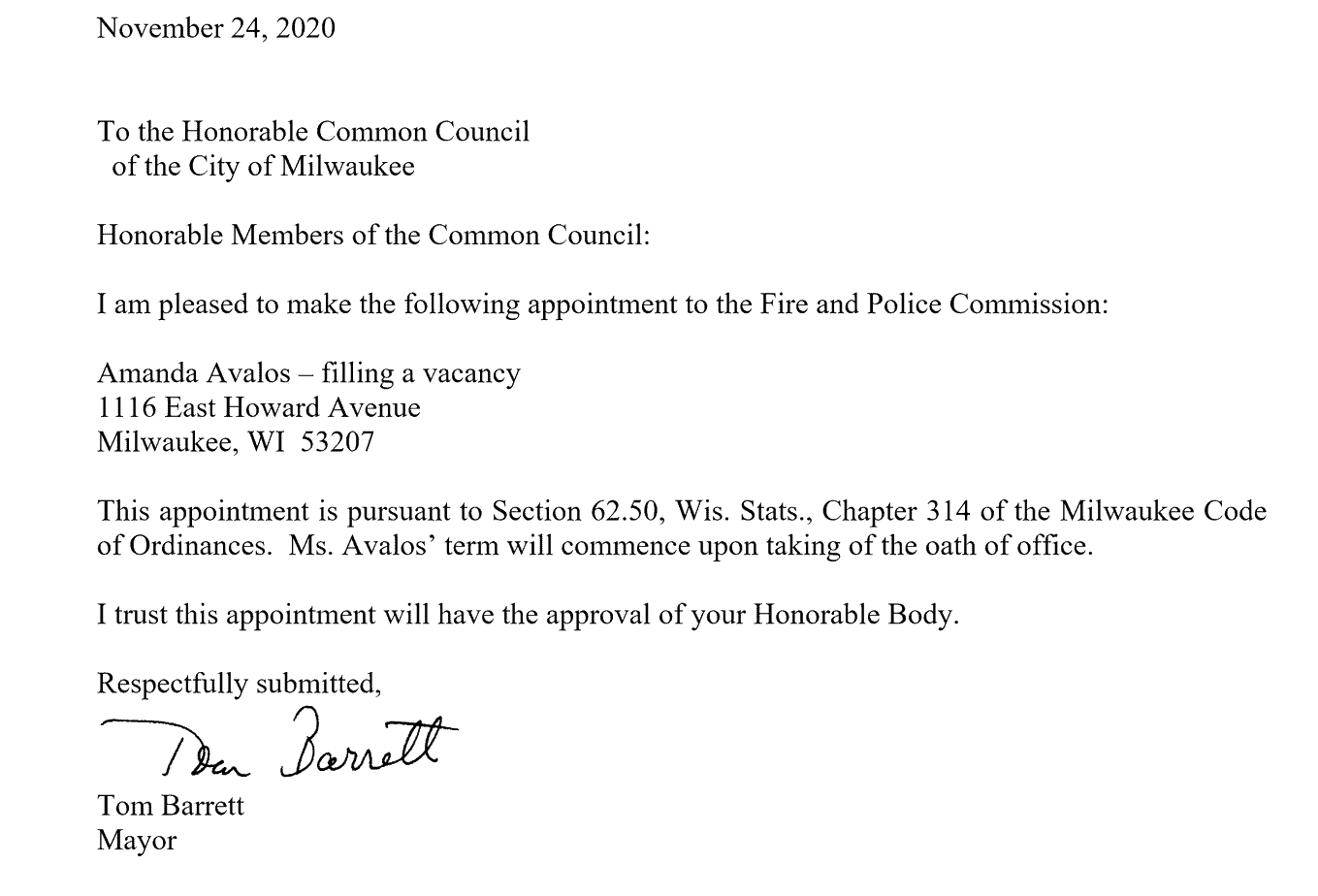 She made it clear in tweets that she harbors great animosity toward the Milwaukee Police Department and police in general.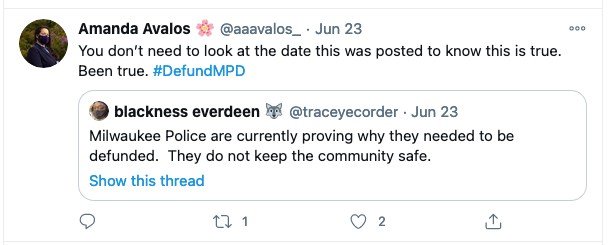 On June 30, Amanda Avalos wrote, "It could be so simple. Universal healthcare, housing, and income standards. Add food, education, and internet access for all too. We'd still spend less than we currently are with the military and police budgets. And we'd be safer."
She also called for a "transparent and public inventory of MPD's military-grade equipment," calling it a "good step."
She accused MPD of "whining" about "the possibility of having to request military grade equipment from the Milwaukee Common Council before purchasing because of the threat of the 'violent crowd that throws bottles.'"
Amanda Avalos opined that Chicago "deserves schools without cops."
She responded to a tweet that read "Milwaukee Police are currently proving why they needed to be defunded. They do not keep the community safe," by writing that she considered it "true." She added the hashtag #DefundMPD.
She congratulated MPS for cutting contact with MPD, saying "the youth won."
Amanda Avalos wrote, "Millions of people: Defund police. We deserve to live. We feel safer without police. Black lives matter."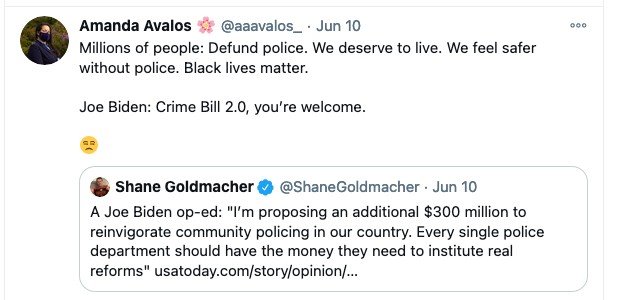 Avalos has repeatedly sided with protests and riots that erupted after the death of George Floyd in Minneapolis.
In May, she retweeted a post saying that "this is not a riot. It is a rebellion" of people resisting "state sanctioned violence."
She demanded that elected officials "announce their support of the protesters" and "prove it by adopting local budgets that are reflective of our demands: divesting from police departments."

She declared that the "tired ol' 'Black on Black crime' argument is inherently racist bc it was created in justification of police brutality."
Avalos wrote, "There is nothing as violent as the police state. Power to the people."
She explained that she's a "proud" union steward and member of the Center for Popular Democracy Union.