DA Chisholm won't explain why his office stopped police from thoroughly investigating the house where the Milwaukee acting mayor's brother was hiding out.
Milwaukee County District Attorney John Chisholm's office refused a request to sign off on a Milwaukee Police search warrant to search the north-side house where Acting Mayor Cavalier Johnson's brother, Allen Addison, was holed up during a two-hour standoff last week, Wisconsin Right Now has learned.
As a result, the house where the Acting Mayor's felon brother defied police for hours while wanted on a felony warrant, was not searched for additional occupants (even though it was believed other people were inside), and it was not searched for evidence. "None of that is normal," an upset law enforcement source told Wisconsin Right Now. "The warrant never made it past the DA's office for approval, which is odd because the residence could obviously contain further evidence of the crime he was wanted for. It's contrary to every other felony investigation."
UPDATE: On April 5th, DA Chisholm's spokesman, Kent Lovern responded,
MPD consulted with an experienced assistant district attorney, who has personally reviewed over 1,000 search warrants with law enforcement officers, and in the collaborative process that generally occurs with a search warrant review, the prosecutor provided feedback regarding the lack of sufficient evidence connecting the premises on 41st Street to Addison himself and to the charged criminal offenses against him from over two months earlier.  After further discussion, the MPD investigator and the prosecutor mutually agreed to not pursue the search warrant.  Neither John Chisholm nor the assistant district attorney who consulted with MPD about the search warrant were aware of the relationship between Allen Addison and Cavalier Johnson until after the media reported it late last week. 
Wisconsin Right Now went to the Milwaukee County courthouse and confirmed there was no search warrant returned in the Addison arrest.
Addison, a convicted child abuser, had dodged police for two months on charges he shot a man in the head in a callous drive-by shooting, contributing to Milwaukee's skyrocketing violent crime rate at a time his brother Cavalier was painting himself as a public safety candidate.
Furthermore, Chisholm is refusing to explain why his office would not approve the request for a Milwaukee Police search warrant for the house at 2313 N. 41st St. where Addison, 37, kept police at bay on March 29, 2022, with the mother of Addison and the city's acting mayor screaming and causing a commotion outside. Police sources say the mother brought up that her other son was the acting mayor. Police believed other people were inside the house and showed up at the scene, as well.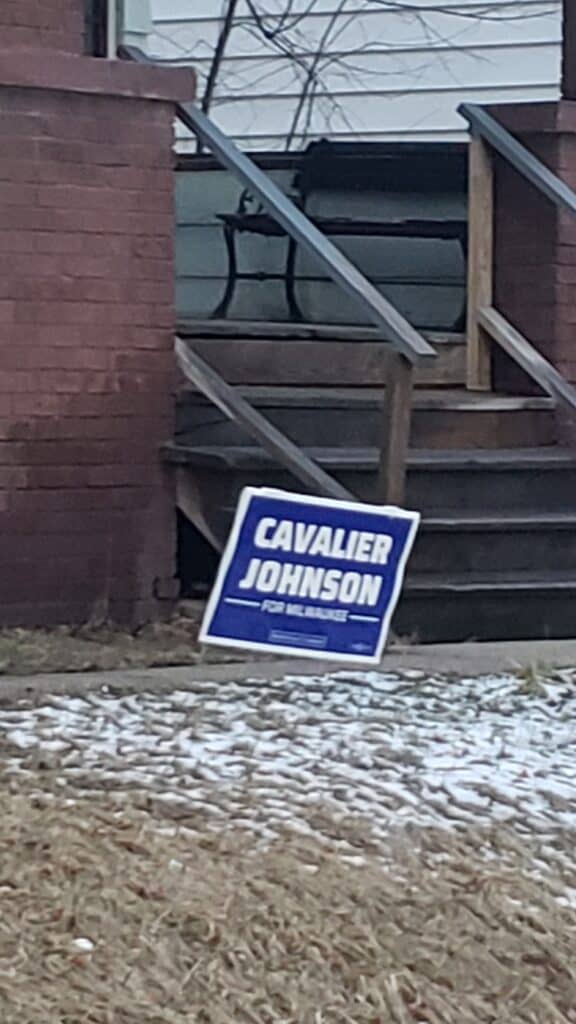 We sent repeated requests to MPD to verify the sources' claims about the rejected search warrant. After multiple emails, some unanswered and some answered with vague responses, we finally received that confirmation.
"Yes, we applied for a warrant; however, it was not approved. Please contact the Milwaukee County District Attorney's Office regarding the reason," A MPD spokesman told Wisconsin Right Now on the evening of April 4.
It's been extremely difficult investigating this story; the police will release almost no information, the DA doesn't respond, and Johnson won't answer all questions (although he's at least been responsive.) It's easier to get answers out of officials when all of the media demand them in unison, but outside WRN and talk radio, the media are extremely uninterested in doing so.
But this is a big development in a case involving the brother of a politician so prominent that you'd think his political allies would bend over backwards to be transparent with the public.
In short, the DA's office stopped MPD from fully investigating the house where Allen Addison was hiding out. It's a house, we've documented, with past ties to another Johnson/Addison family member. Johnson's mother's twin brother once lived next door, online records show. The house in question has a Cavalier Johnson for mayor sign in the front yard. An elderly woman who answered the door grew angry when we started asking questions about Johnson and Addison and slammed the door.
Acting Mayor Johnson claims he did not know his brother was wanted or arrested until he saw a social media post the next day, on March 30, and he says he hasn't seen him since Thanksgiving. He won't identify the social media post.
Addison was wanted for two months on felony charges that allege that he shot a man, Eddie Knox, in the head, and illegally possessed a firearm as a felon. He eventually surrendered at the scene when the SWAT team showed up with an armored vehicle. Police knocked for two hours before Addison came out, a neighbor told WRN.
That's when we learned police attempted to get the search warrant to the house, but Chisholm's office put a stop to it.
We spoke to the shooting victim, who says that the DA's office told him police went to the brothers' mother's house to look for Addison way back in January. He says that three other family members of Johnson/Addison also knew Addison was being sought by police for shooting him and expressed doubt that Johnson did not find out. You can read more about that here. "It ran through the family that he shot me," Knox told Wisconsin Right Now, the only media outlet to seek an interview with him.
The story broke five days before the election via sources who were concerned that Milwaukee Police Chief Jeffrey Norman, a close political ally of Johnson, was trying to keep it quiet until after the election. Norman owes his chief's job, in part, to Johnson, who pushed his appointment.
Milwaukee Police Search Warrant Denial
We subsequently learned about the warrant denial from multiple sources, who described the decision by Chisholm's office as unusual. Chisholm and Johnson are also political allies. Johnson is facing former Ald. Bob Donovan in the mayor's race on Tuesday.
The police spokesman added: "We do not discuss open cases. I responded to your question, you stated you learned the DA's Office denied a request. I referred you to the office that made the decision. Please contact them."
But Chisholm isn't talking. We reached out twice to his spokesman Kent Lovern for comment and received no response at all.
Our sources believe that Chisholm's office denied the request on the basis that the house was not Addison's home and because the shooting happened more than two months before. However, a legal expert we consulted said he believed the search warrant could have been granted had the DA wanted to give the green light.
District attorneys in Wisconsin don't technically have to sign search warrants and police do retain the option of going straight to a judge. However, practically speaking, police routinely take warrants to the DA for a review of probable cause. If the DA doesn't think it's there, as occurred in the Addison case, police generally will not seek the warrant from a judge because the DA is unlikely to use any evidence recovered from a granted warrant due to the fact the DA already stated there was no probable cause for the search.
It's standard procedure for MPD to get the DA's office to review and sign off on a search warrant before going to a judge.
Thus, the DA's decision not to find probable cause usually puts a complete stop to efforts to get a search warrant. As it did here.
We ran across a similar situation in Franklin, where the police wanted a search warrant on a multi-million dollar alleged marijuana grow, but Chisholm's office wouldn't sign off on it. In that case, Franklin police had a signed search warrant by a judge and had executed it, when Chisholm called them off.
In this case, as Wisconsin Right Now previously documented, the house at 2313 N. 41st St. does have ties to the Cavalier Johnson/Allen Addison family. A relative of their mother, Marvin Hardwick, lived in the home until he died recently, per online records. A sibling of Johnson/Addison referred to Hardwick as her uncle in a social media post; the mother of the two brothers is Denise Hardwick-Townsend, and her maiden name is Hardwick.
It was once the residence of a registered sex offender, Martin Hardwick. Marvin and Martin have the same DOB in CCAP. Marvin was also a convicted sex offender. Dennis Hardwick, the twin brother of Cavalier Johnson's mother, once lived next door, according to online records. Cavalier Johnson has two more brothers named Blake and Forrest Hardwick. The former is also a felon.
City records list the home's owner as Cassandral Patterson.
The house has a truck in the backyard with a similar company logo to a truck in a selfie that Addison posted on Facebook.
We have a pending open records request with MPD for a variety of documents that we would like to review, including emails referencing Addison and the CADD document. We also put in an open records request with Johnson's office for any communications from or to Johnson relating to his brother; the office responded quickly, and sent us two emails from members of the media to Johnson.
Police bristled at Donovan's claims, outlined in a Sunday Wisconsin Right Now story, that Johnson was covering up when he knew about his brother's arrest and warrant, and that police possibly were as well.
"The Milwaukee Police Department released a media update the day of the incident. Shortly thereafter, MPD referred criminal charges to the District Attorney's Office against the suspected individual. Last week, as a result of ongoing and active investigative efforts, that suspected individual was arrested. At no point during the investigation and prior to the arrest, did MPD have any discussions with the Mayor's Office as it relates to the suspected individual," they said in a statement.
"Any allegations that the Milwaukee Police Department engaged in any form of a "cover-up" or conducted this investigation with any form of preference are without merit. MPD remains committed to working with our community and system partners to build sustainable neighborhoods free of crime that are built on positive relationships."