The Milwaukee Public Museum is $92 million short of its $240 million funding goal for a new museum, even after receiving a large donation that they announced today.
The construction of the museum is scheduled to begin in December, according to their website.
In a press release on Sept. 27, MPM announced that The Kellogg Family Foundation has provided a $10 million gift, bringing the total project funding to $148 million; however, that is $92 million short of the project funding goal of $240 million.
That means the museum has raised only $63 million in private donations, compared to $85 million from government/taxpayers. They were trying to get $5 from the federal government, but their website does not reflect receiving it.
In a county committee meeting where they made their case for public funding, museum officials were asked what they planned to do if they fell short in private donations. Their solution? Borrowing. Yet we are told it's a lot tougher to raise private donations to pay off debt.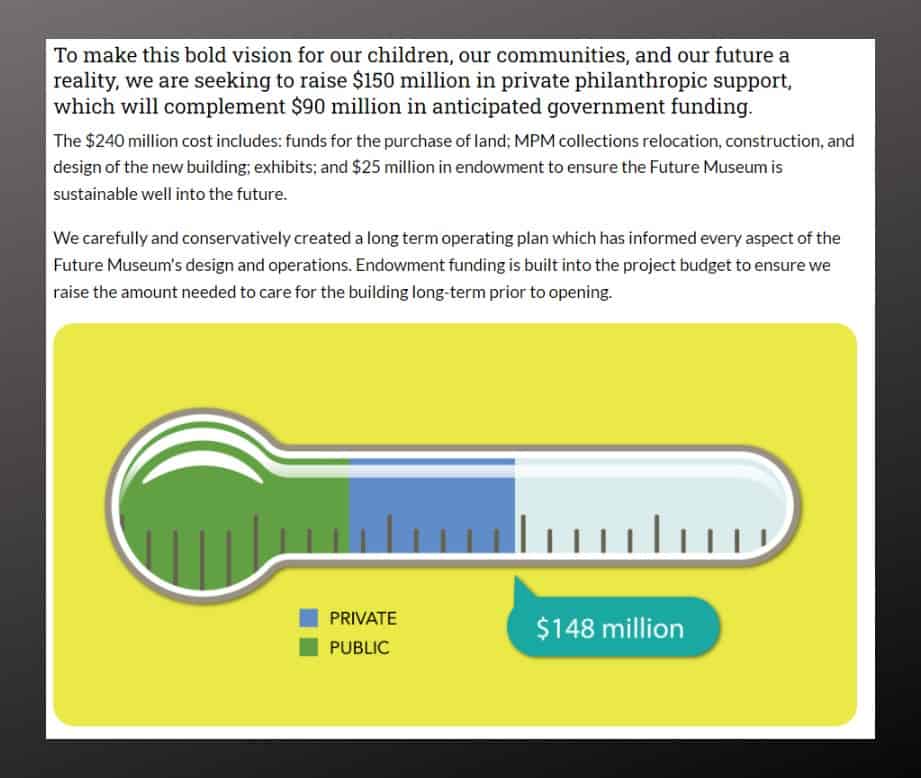 We've previously reported that $85 million of the money raised so far is taxpayer money, including $40 million from the state of Wisconsin and $45 million from Milwaukee County. The museum is expecting another $5 million from the federal government.
That's despite the fact that Milwaukee County currently says it was so broke that it required a new sales tax to pay massive unfunded pension liabilities, which was approved in July. The state Legislature is also trying to approve an annual county contribution toward a new Brewers stadium, and the county needs a new criminal justice facility which is expected to cost as much as $500 million.
It all adds up to a troubling list of questions about the museum project's fiscal health. How would a new museum pay back a loan that size? Were the museum's estimates for philanthropic potential overstated?
See our previous investigative reporting on the Milwaukee Public Museum project here. Members of the public have started petition drives to save the historic European Village and Streets of Old Milwaukee, which would be destroyed in the move to a new museum. The museum admits the latter will be re-imagined in a new exhibit, and that it can't move many of the historic artwork/murals in the current building.
Museum officials are stripping the word "public" out of the museum, which will be a privately owned non-profit, despite the fact it maintains the county's collections.