According to Law Enforcement Today, Facebook then prevented them from posting content.

Instagram has shut down the page of 12-year-old Zechariah Cartledge, who runs a mile while carrying a thin blue line flag whenever a first responder dies in the line of duty, his father told Wisconsin Right Now on December 20, 2020.
"Despite it all, Zechariah was set on continuing to move forward with his mission and he ended up running tonight for 3 heroes lost in the line of duty," Chad Cartledge told WRN in the email interview.
We reached out to Facebook PR; the company also owns Instagram. On December 21, Stephanie Otway, Facebook spokesperson, told us: "The account @Running4Heroes was removed in error and has been restored here. We're still reviewing the restrictions on Law Enforcement Today – the restrictions themselves are unconnected to posts about Running4Heroes. I'll follow up with more info when I have it."
The non-profit run by the boy also posted a statement on Facebook.
"Help us make a statement! Today, as many of you are aware, our Instagram account was shut down with no explanation aside from we 'violated conditions' due to 'impersonating another account,'" Running 4 Heroes, the boy's non-profit, wrote on its Facebook page. "Despite that setback, Zechariah kept his focus and ran miles 762, 763 and 764 this evening. At the end of the day, he doesn't run for a social media page. He runs for the heroes who gave it all. He runs for the families who are hurting. He also runs in hopes of raising funds to help our Injured First Responders live better lives after being given a second chance."
On the non-profit's website, the boy explains why he runs. "These families sacrifice more than we will ever know. If I can bring even a little joy back into their lives, it is worth it all. They are the reason I run," he says. [Follow Wisconsin Right Now on Facebook here for more stories like this one.]
Law Enforcement Today, a site devoted to news about law enforcement officers, wrote on December 20: "It happened at the same time that Facebook, which owns Instagram, blocked Law Enforcement Today from posting ANY content." The site has written content supportive of the boy. "Facebook shut down Law Enforcement Today for honoring kids like this," Law Enforcement Today wrote on Twitter.
This is the error message that Running 4 Heroes received on Instagram: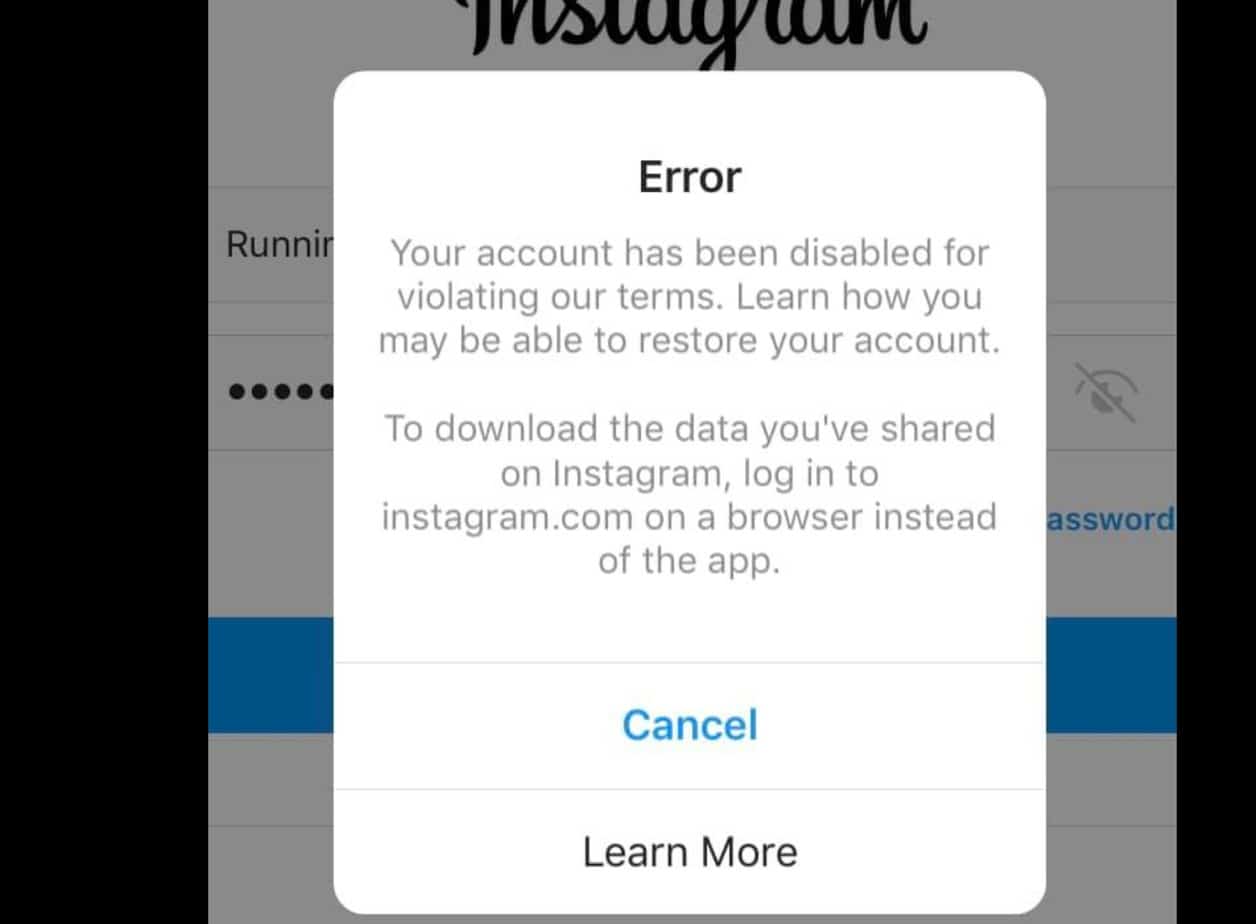 Zechariah, who is from Winter Springs, Florida, has had a passion for running for years, says Running 4 Heroes. Its website explains, "Zechariah Cartledge has always had a deep respect for First Responders, and developed a passion for running when he was only 5 years old. At the age of 7, Zechariah began competing in various 5k events around the community. In October of 2017, Zechariah ran in the Tunnel to Towers 5k in Orlando, FL. This run proved to be a turning point for Zechariah and the spark that created Running 4 Heroes."
---
Zecheriah Cartledge Instagram Shut Down Didn't Stop the Boy From Running for Three Fallen Heroes on December
https://www.facebook.com/Running4Heroes/posts/695021534598753
Chad Cartledge, President & CEO – Running 4 Heroes Inc., told Wisconsin Right Now that Zechariah ran Sunday night for three fallen first responders. "Our son runs for Firefighters and Police Officer lost in the Line of Duty," Chad told Wisconsin Right Now. On December 20, despite the Instagram page being shut down, the boy ran for:
Fire Police Captain and 1st VP Donald E. Trzepacz, Sr. of the Spring Brook Fire District #1, NY
Detective Marcus Thomas of the Newark Police Department, NJ
Officer Jose Antonio Buso, Sr. of the Alamo Colleges Police Department, TX
We reached out to Instagram's and Facebook's public affairs office but haven't heard back yet.
The boy's father told us:
Needless to say, we were quite confused when we were unable to log in to the page this morning. We tried to request they Instagram reinstate the page, but we got a rather quick reply saying that because we violated their rules and regulations, they are unable to recover the page. The reason we were given was that the page was impersonating someone, and the only assumption we have is that they felt we were impersonating Zechariah, though the page was completely handled by myself (Zechariah's father).

We have since created a new Instagram page and the support today has been quite overwhelming for us.
Zechariah has been doing this for some time. In 2019, the boy was moved to learn how many law enforcement officers had already lost their lives in the lines of duty that year, so he decided "to add an additional mile for every Officer lost in 2019, but for them, he would run those miles carrying the Blue Line Flag in their honor.
On Facebook, Running 4 Heroes posted earlier on December 20:
Some bummer news to share with you all…We were made aware over the last few hours that Instagram has removed the 'Running 4 Heroes' Instagram page. The reason for removal was 'for violating the terms' of Instagram. We attempted to dispute the disabling of our account, but we were told that the account was removed 'for not following the Instagram Terms of Use' and that they 'are unable to restore it.' They went on to say that the 'Running 4 Heroes' Instagram account 'can no longer be accessed or viewed.' They never were able to provide us specifics as to what terms we violated, though they did hint at our account 'impersonating' someone… I continue to seek answers on why our account was removed, though it will appear to be a losing battle. Our apologies to all those who followed us on the Instagram page…
Zechariah has a new Instagram page. You can find it at Running4HeroesInc.
People are already expressing support for Zechariah.
https://www.facebook.com/MikeHarmonRacing/posts/209758890814762
Mike Harmon Racing wrote,
We here at Mike Harmon Racing wants everyone to know that we are standing behind Zechariah and Running 4 Heroes Inc. We are sickened by the amount of Law Enforcement Today sites that have been taken down. Zechariah has been featured on National News outlets, from CBS News to Good Morning America, and endless local news stations. His Instagram page was taken down simultaneously as Law Enforcement Today Facebook was shut down. The reason given was for page restrictions for Inauthentic Behavior. The Running 4 Heroes pages are run by Zechariah's father Chad, and has all rights to do so, as Zechariah is a minor. As most of you know, Mike Harmon will feature Zechariah and Running 4 Heroes paint scheme, for the NASCAR Xfinity season opener. This car will honor all Fallen First Responders who lost their lives in the Line of Duty in the year 2020. This will not change! MHR is a proud supporter of Military, Law Enforcement, and all First Responders.