Former Milwaukee Ald. Bob Donovan pledged to "make Milwaukee great again," during the well-attended Bob Donovan rally at Serb Hall, criticizing Acting Mayor Cavalier Johnson for being "bought and paid for by the fat cats" and for having an ineffective plan to combat skyrocketing violence.
"I will fight for a better Milwaukee," said Donovan, who is one of the multiple candidates for Milwaukee mayor vying to be in the top two to make it out of the Feb. 15 primary. "I am not at all satisfied with the status quo." He said that Milwaukee could have a bright future. "Help me make Milwaukee safe again. Help me make Milwaukee prosperous again. For the love of God, help me make Milwaukee great again," said Donovan.
Republican gubernatorial candidate Kevin Nicholson attended the Bob Donovan rally at Serb Hall and endorsed Donovan.
Donovan also announced that former Lt. Gov. Rebecca Kleefisch had also called him to endorse his campaign. Republican Attorney General candidate Eric Toney, the Fond du Lac County district attorney, was also at the rally.
Kevin Nicholson said to the crowd: "Are you fired up for Bob Donovan? You should be… Bob, you're going to win this thing."
Nicholson said there are incidents in Milwaukee where people are shooting at cops and they are out on the street in 24 hours. "It starts to erode our sense of civil society," he said. Nicholson said "we need to elect mayors" throughout the state who will "systematically rebuild police forces that have" been decimated.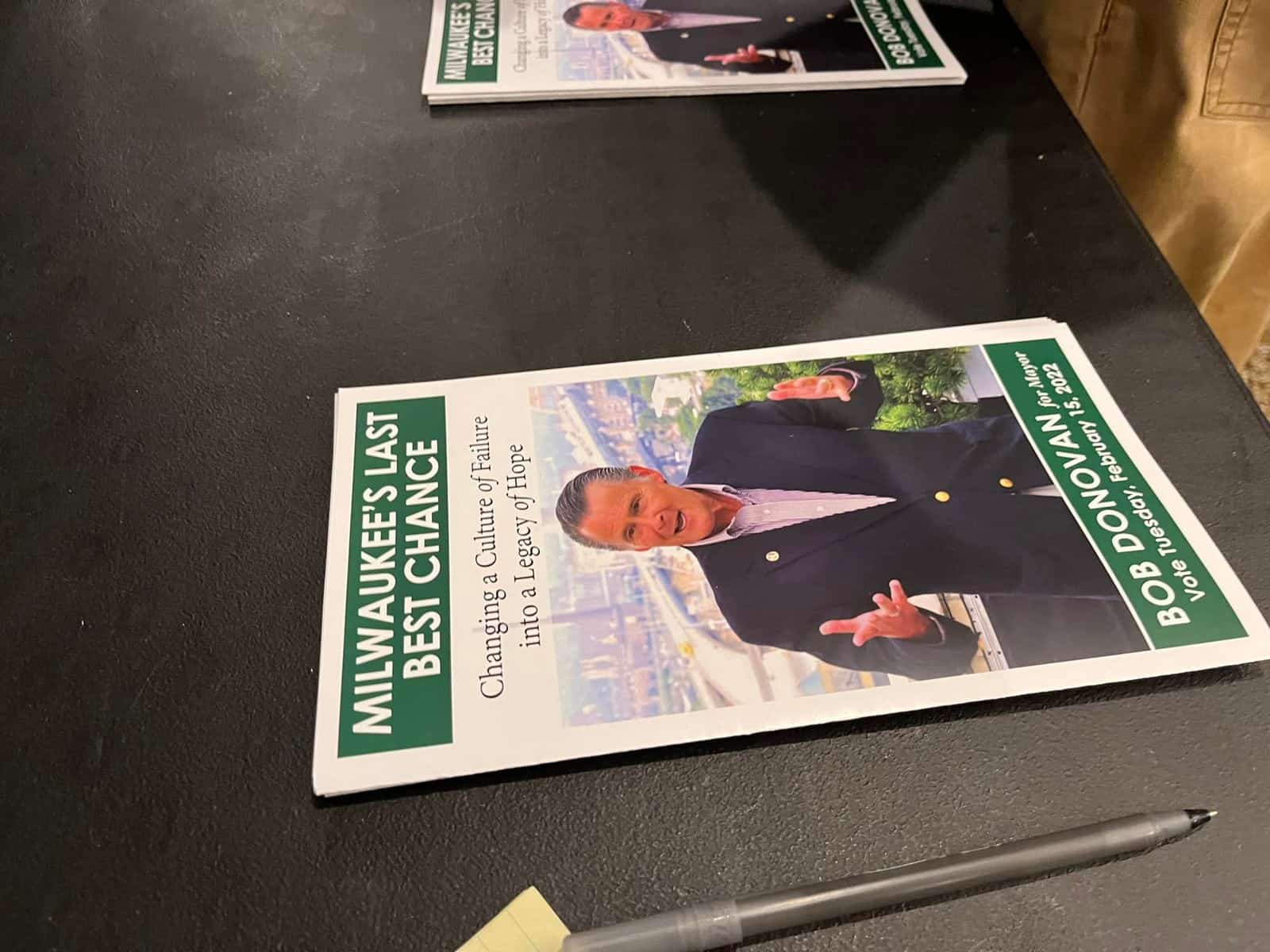 "The profession of policing has been undermined by our political class, our entertainers and people in the media." He said the rising murder rates are "unacceptable." As governor, he said he would push for mandatory minimum sentences and bail. He said he wants to work to "create universal school choice in every single school and for every single student in the state of Wisconsin, regardless of income, regardless of where you live." He said Donovan could provide moral authority as mayor on schools and public safety, which will lead economies to grow.
---
Bob Donovan Rally
"Milwaukee's in trouble," Donovan told the crowd at Serb Hall. People were waving Donovan signs throughout Donovan's speech.
Donovan said he has a plan to "move Milwaukee forward. Our community is lost. Milwaukee needs a plan, a vision, a strategy."
He said it's time to turn a "retreat into an advance."
His plan focuses on restoring public safety, and combating what he called the "reckless driving pandemic" and stolen cars. He said it was time to hold criminals accountable but to also hold judges and DAs accountable.
He said the city won't solve the public safety crisis by "forming a circle and singing kumbaya."
Donovan said Acting Mayor Cavalier Johnson takes credit for "adding 200 cops" but that doesn't keep pace with the number of officers who have left the Milwaukee police force alone, through retirements or resignations.
He said Johnson voted for budgets cutting cops yet "proposes millions for the Office of Violence Prevention, which is at best a questionable agency and at worst a complete failure."
Donovan noted that Johnson also wants to "divest in sensitivity training for Milwaukee police officers."
"F*ck that!" a member of the audience shouted. "Nonsense," yelled another.
Donovan said of Johnson, "What planet are you living on?"
He accused Johnson of being "bought and paid for by the fat cats."
He said Johnson is outspending him 10-1.
Donovan also mentioned taxation and controlling runaway spending. He said school children should be taught that they are living in the greatest country on earth. He wants to deal with crumbling roads and to bring new jobs to the city.
He said 50% of black men in Milwaukee are unemployed, a problem that needs solving.
It's time for "gutsy, bold leadership," Donovan said.