Update: A Wisconsin jury found Rittenhouse not guilty of all charges on Nov. 19, 2021. Read our story on the verdict here. Read all of our Rittenhouse exclusives here.
The Milwaukee Journal Sentinel's decision to censor the criminal records of Joseph D. Rosenbaum, Anthony Huber, and Gaige Grosskreutz is just plain wrong and harms the search for the truth. That's especially true in the case of Rosenbaum, a 36-year-old adult sex offender out on bail for battery and bail jumping accusations, who, a case can be made, was the instigator the night that Kyle Rittenhouse, a juvenile without a criminal history, opened fire.
Arizona courts ordered Rosenbaum, who was accused of molesting and/or engaging in inappropriate sexual activity with five boys, to have "no contact with minors under the age of 18 without permission from the Court." Rittenhouse was 17, and Rosenbaum was chasing him when shot. That sounds relevant to us.
In Aug. 28, we wrote an opinion piece titled, "Why We've Decided to Tell You the Criminal Records of the Men Shot in Kenosha."
On Sept. 2, the Journal Sentinel, Wisconsin's largest daily newspaper, countered with an article titled, "Why we aren't reporting on the records of the victims of the Kenosha protest shooting."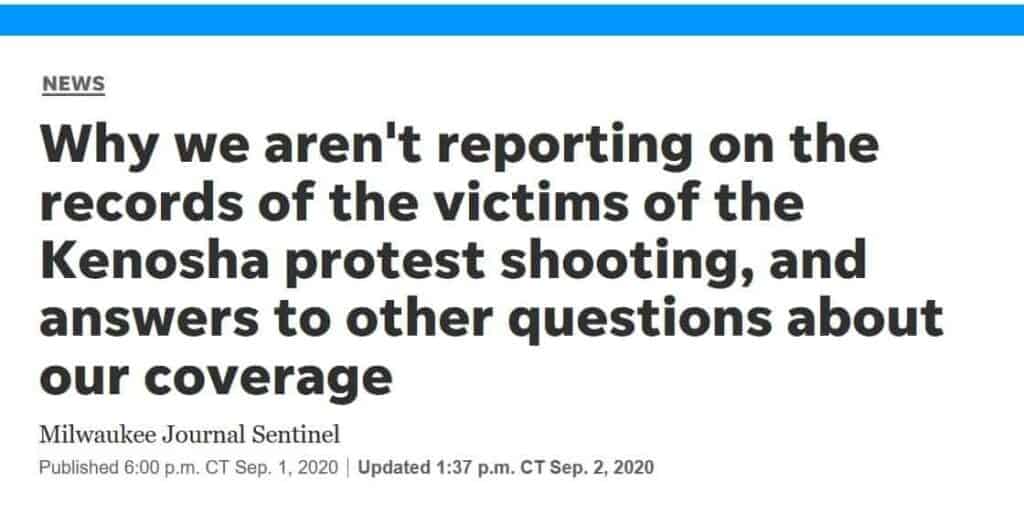 That's interesting: a newspaper censoring facts readers need to fully understand the context surrounding shootings in which a credible claim of self defense has been made. The adult men shot were all confronting, attacking or chasing Rittenhouse, a 17-year-old. The president said Rittenhouse was "violently attacked." To assess whether that's true, it's helpful to know that two of the men accused of doing the violent attacking (Anthony Huber and Rosenbaum) were previously accused in criminal courts of violently attacking people. Of course, it's also on video.
The newspaper explained its censorship this way:
There is no evidence so far that the backgrounds of the three victims — Anthony Huber, Joseph Rosenbaum and Gaige Grosskreutz — had anything to do with the clashes that led to the deaths of Huber and Rosenbaum and the wounding of Grosskreutz. They are the victims of a shooting, and as far as we can tell their past legal records have no bearing on them being shot during a protest. If more facts emerge that show their backgrounds are relevant to what happened that night in Kenosha, we would revisit our decision. For instance, if there is evidence that any of the victims' backgrounds could have affected their interactions with Rittenhouse, or if he knew anything about them before the shooting.
Here's why the Journal Sentinel's reasoning is flawed and the wrong call:
---
There IS Evidence the Men's Backgrounds Had Something to Do With Their Behavior That Night; That's Especially True of Joseph D. Rosenbaum
Turns out the man Kyle Rittenhouse shot and killed last night in #Kenosha was Joseph D Rosenbaum, a convicted sex offender of sexual conduct with a minor

Here is video I shot of him begging to be "shot" in front of a gas station minutes before his death pic.twitter.com/tUfUGWX3io

— Drew Hernandez (@DrewHLive) August 27, 2020
Rosenbaum was a registered sex offender who was out on bond for a domestic abuse battery accusation and was caught on video acting aggressively just prior to the shooting, that night, using a racial slur. Rosenbaum is seen pushing a dumpster that was on fire. Witnesses told us people were pushing the flaming dumpster toward squad cars.
We obtained the court records for the Arizona sex offense that landed him on Wisconsin's sex offender registry (see them here.) They say that he raped, molested or was sexually inappropriate around five boys between the ages of 9 and 11, one of whom was burned. In prison, Rosenbaum racked up dozens of infractions, including multiple violations for assaulting staff.
Minutes after the disturbance at the gas station, Rosenbaum tied his red shirt around his face and head – a witness told Wisconsin Right Now that he spent some time "intricately" doing so, stating he believed he did it to conceal his identity. Rosenbaum is then observed chasing down Rittenhouse, throwing a bag at him and cornering him behind cars. Screenshots show Rosenbaum after he was shot lying on the ground with his red shirt only tied around his head. Why would Rosenbaum try to conceal his identity?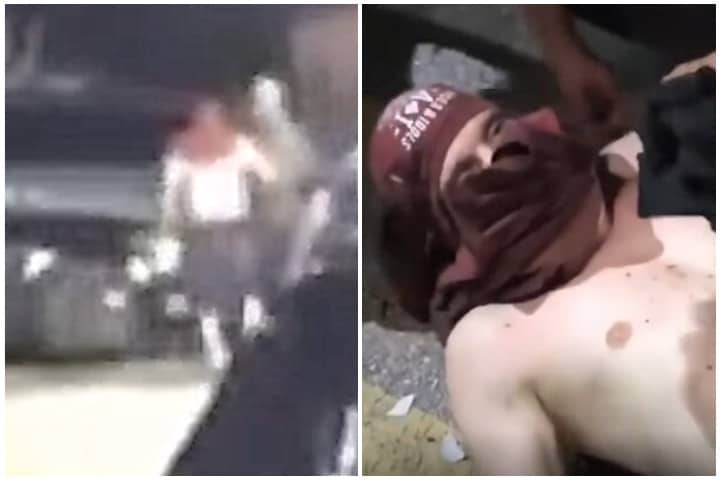 According to the criminal complaint:
McGinnis (a citizen witness) stated that there were other people that were moving very quickly. McGinnis stated that they were moving towards the defendant. McGinnis said that according to what he saw the defendant was trying to evade these individuals.

McGinnis said that the unarmed guy (Rosenbaum) was trying to get the defendant's gun. McGinnis demonstrated by extending both of his hands in a quick grabbing motion and did that as a visual on how Rosenbaum tried to reach for the defendant's gun. Detective Cepress indicates that he asked McGinnis if Rosenbaum had his hands on the gun when the defendant shot. McGinnis said that he definitely made a motion that he was trying to grab the barrel of the gun. McGinnis stated that the defendant pulled it away and then raised it.
Huber was a felon convicted in a strangulation case who was recently accused of a domestic abuse-related crime. He was confronting and making contact with Rittenhouse with a skateboard when shot. Grosskreutz was convicted of a crime for use of a firearm while intoxicated. Since he was armed with a handgun and moving toward Rittenhouse when shot, according to the criminal complaint, that seems relevant to us too. Minimally, we think readers should be told the information so they can decide how relevant it is.
Let's be clear. The criminal records of all people who are shot and killed are NOT relevant. For example, for the sake of argument, let's take the active shooter who gunned people down at an El Paso Walmart. Whether the victims had criminal records or not is completely irrelevant in that instance. However, this case is different because it's arguably unclear who was victim and who was aggressor. Rittenhouse's attorney argues he was attacked by a vicious mob. Video makes that a persuasive argument. Prosecutors say it's homicide. Eventually a jury may be asked to decide.
Can past violent criminal behavior predict future offense? Yes, according to studies. In one U.S. Department of Justice study, 83% of prisoners were arrested nine years after release. Violent offenders were more likely to… commit violent offenses. Both Rosenbaum and Huber already were repeat offenders.
---
Kyle Rittenhouse Was Putting an Arson Fire Out Right Before the Shooting
Previously unseen footage of the Kyle Rittenhouse shooting in Kenosha. He was being pursued by Rosenbaum before a single shot rang out, followed by four more shots. https://t.co/VqFOPFR9ZU

— Ian Miles Cheong (@stillgray) August 29, 2020
The newspaper contends that clashes "led to the deaths." There's no evidence that Rittenhouse was involved in aggressive behavior toward people before the shootings; he was trying to put an arson fire out, witnesses and video show. Here's what we've pieced together of Rittenhouse's actions that day, from eyewitnesses (we were in Kenosha for five days/nights), video, the criminal complaint, and his lawyer's statement.
Rittenhouse worked as a community lifeguard and then went to help clean graffiti off buildings. A local business owner, David Prill, told us Rittenhouse was hired to help guard a local business. He was seen performing medic duties.
Shortly before the shooting, a group of men, including Joseph D. Rosenbaum, congregated at a gas station and started the dumpster on fire. Witnesses Dylan and Justice Putnam told us Rosenbaum's group was pushing it toward police cars. The citizen "militia" members at the gas station had fire extinguishers and were trying to put it out. That's on video.
The Putnams said they thought Rosenbaum was chasing Rittenhouse to rob him. Was he? We will never know what he would have done if he had caught Rittenhouse. Here's what else they told us:
"Rosenbaum was irate. He was looking for some kind of altercation."
"He (Rosenbaum) was intricately wrapping it (his shirt around his head) to conceal his identity."
"He (Kyle) looked like the weakest member of the group."
"I think he (Rittenhouse) came by himself with the fire extinguisher."
"He (Rosenbaum) accused us of pointing a rifle at him."
"Rosenbaum was angry (that people were using fire extinguishers)" and said, "Why did you do that?" to people trying to put the fire out.
There's video showing Rosenbaum pushing the burning dumpster (arson is a crime, as is threatening law enforcement officers with a fire). There's also video showing Rittenhouse trying to put it out with a fire extinguisher. The Putnams told us this is what enraged Rosenbaum so much that, when Rittenhouse walked off, he chased him down.
https://twitter.com/MarkDice/status/1298756466417864704
What do people think Rittenhouse should have done instead? He was trapped behind cars with rioters actively damaging cars behind him (that's on video), and someone else had just fired a gun. Do people really believe that Rosenbaum, who was caught on video acting aggressively just moments before, would have exchanged pleasantries?
---
It's Not True That the Men Were Shot 'During a Protest'
Here is more footage from #kenosha the night Kyle Rittenhouse shot rioters

Rioters were very stupidly attempting to challenge militias armed with rifles at a gas station before the mob left to the dealership

You can clearly see Mr. Rosenbaum leading a pack of lemmings pic.twitter.com/Z84rIHRGjH

— Drew Hernandez (@DrewHLive) August 27, 2020
It extremely misleading to say, as the Journal Sentinel did, that the men were "shot during a protest."
Watch the above video. Does it look like a "protest" to you?
We were there that night. What started out as a protest in the park turned into standoffs with police, who were pelted with bottles and fireworks. Law enforcement then pushed people out of the park, and they spilled into city streets.
The clashes broke out at a gas station down the street.
Another view of Kenosha militia shooting #kenoshaprotest #KenoshaUprising #KenoshaShooting #Kenosha pic.twitter.com/UryWLeZlT7

— War Warner (@fascistanista) August 26, 2020
If it was a protest earlier, it wasn't then. The totality of the circumstances make the men's criminal histories relevant. They weren't shot while sitting in church. They injected themselves into a scene of unfolding criminal behavior (we acknowledge it's possible that Huber and Grosskreutz, also a medic, thought they were stopping an active shooter even as Rittenhouse thought he was under attack. However, it's the mindset of the defendant that's relevant to the legal determination of self defense.)
---
Half-reported Biographies Are Misleading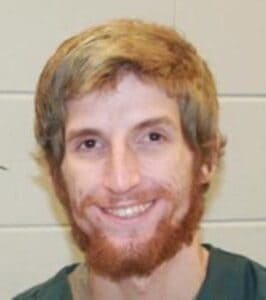 The Journal Sentinel and other newspapers have printed stories about "who the men were."
To give people a sanitized version of their lives is misleading at best. If you're going to write a biographical profile, tell the truth. Everyone who dies tragically is not a saint with a halo. People are complicated, and these men surely were too, mixes of good and not so good.
Instead, we got an Aug. 26 article from the Journal Sentinel called, "What we know about the victims of the Kenosha protest shooting that killed two men and injured another." Except the newspaper either left out a lot of what it knew or didn't do the legwork to find out.
We're told by the Journal Sentinel only that Huber was a "sweet" person but not that he was convicted of strangulation and false imprisonment. We're told Rosenbaum leaves behind a fiancee and young daughter but not that he molested children and had an open domestic case.
Half truths are dishonest to readers when they're presented as the full picture.
It's not only the Journal Sentinel who did this. The New York Daily News described both deceased victims as "sweet" and "loving." Were they? Maybe sometimes to some people. But certainly not to all.
The Journal Sentinel should revisit its decision and give readers the whole truth.