Khalil Coleman arrest: The leader of the Peoples Revolution group in Milwaukee, is being held in a Kentucky jail on the evening of February 16, 2021, after a felony arrest for robbery and a charge involving a minor, Wisconsin Right Now can exclusively reveal.
The charges are serious; according to Kenton County, Kentucky, jail records, Khalil Coleman was being held on accusations of:
Robbery, second-degree.
Unlawful transaction with a minor, second-degree.
Elsmere police Detective Eric Higgins told Wisconsin Right Now that Coleman, another man, and a 17 year old attempted to rob a drug house but the juvenile went up to the wrong house. Court records say suspected heroin was found in the car and that Coleman is accused of giving the gun to the juvenile and pressuring him to do the robbery. They were arrested after trying to flee from the police and getting blocked in by a snowplow, according to Higgins. Read more about that in our latest story here.
The other man allegedly involved is Joshua Clarey, of New Berlin, according to jail records. In addition to the same charges as Coleman, jail records show he's accused of possession of a controlled substance first-degree and fugitive from another state.
What does the "unlawful transaction with a minor, second-degree" charge mean? According to Kentucky state statutes, "A person is guilty of unlawful transaction with a minor in the second degree when he knowingly induces, assists, or causes a minor to engage in illegal controlled substances activity involving marijuana, illegal gambling activity, or any other criminal activity constituting a felony. Unlawful transaction with a minor in the second degree is a Class D felony."
Kentucky statutes defined robbery, second-degree, this way, "a person is guilty of robbery in the second degree when, in the course of committing theft, he uses or threatens the immediate use of physical force upon another person with intent to accomplish the theft. Robbery in the second degree is a Class C felony."
Khalil Coleman Arrest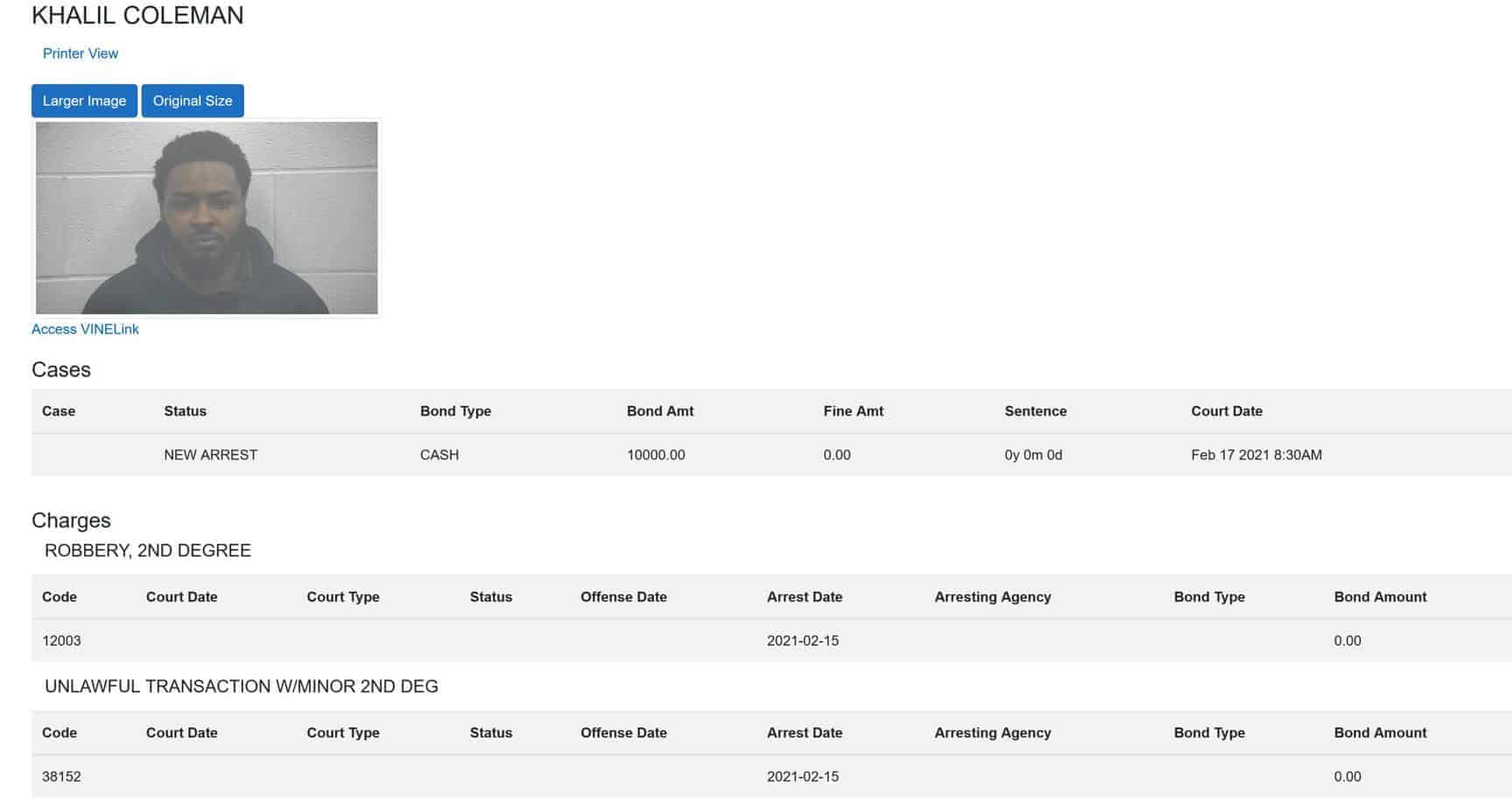 Court records say Coleman is a "new arrest" being held on $10,000 bond. He has a court date on Feb. 17. Khalil Coleman arrest date was Feb. 15. The arresting department was listed as the Elsemere Police Department. Elsmere, Kentucky, is a small town. The population is about 8,451. The town is located about 15 minutes from Cincinnati, Ohio.
It's not clear why Coleman was in Kentucky or what specifically he was accused of doing because of the late hour when we received this tip. However, we will follow up with more details once we can reach police.
Coleman has organized or helped organize the Peoples Revolution protests and riots in Milwaukee and Wauwatosa, including those at Mayfair Mall. He is considered one of the most prominent Black Lives Matter activists in Milwaukee. The Milwaukee Journal Sentinel, in a glowing profile of Khalil Coleman, called him "the key organizer of the largest local daily demonstrations that erupted after the death of George Floyd in Minneapolis. Coleman directs medics, security and traffic control and makes sure a certain order holds."
People seemed to know something was amiss on Facebook. Khalil Coleman last posted a cryptic comment on Facebook on Feb. 13 that read, "Sometimes you gotta put on a different outfit, change ya face and make them not recognize you. You'll understand later…" He hasn't posted since. "My Brotha … give me a call," a friend wrote on Feb. 15 but didn't receive a response. "Call me bro," wrote another person.
Coleman does have a criminal history in Milwaukee, but it dates to 2010. He says that was "dismissed," but he was convicted of misdemeanor marijuana possession and bail jumping. A woman said he often left a 40.caliber Glock handgun loaded "within the reach of their child," according to the criminal complaint, which said authorities confiscated marijuana, the gun, knives, and two ski masks. The complaint alleged he violated a no contact order. He was allegedly found with a handgun in another case, a charge dismissed but read-in. He's had no charges for a decade.
The Peoples Revolution group recently received a commendation from the Milwaukee County Board, spearheaded by County Supervisor Ryan Clancy, who apologized to the organization. The resolution claimed the group has made the city safer, although members of the group were previously charged with felonies after a shooting incident and violent assault occurred at the home of two police officers. Wauwatosa police reports show that Coleman was at that scene, although he was never arrested or charged in that incident. The newspaper even compared Khalil Coleman to Chicago Bulls' legendary coach Phil Jackson, calling BLM leader Frank Nitty (who was recently arrested on a sexual assault accusation but hasn't been charged) Michael Jordan.
We previously wrote a lengthy story on Khalil Coleman's Gangster Disciples gang ties and his history.
However, he has received glowing news coverage from the Milwaukee media.
On February 6, Khalil Coleman wrote on Facebook about a confrontation he had with police in Atlanta, calling them pigs.
Khalil Coleman, who protested the deaths of Dontre Hamilton and Derek Williams through Occupy the Hood, helped start a Safe Zone initiative that received government money. He said it reduced homicide and included outreach from "hood ambassadors." He said he's sold thousands of copies of a book he wrote about the inner city to several Wisconsin school districts, and that he's been contracted to create peer mediation programs at Milwaukee's Riverside High. "My classes revolve around literacy," he says.