"I am disappointed that he is no longer a member of our department". -Wauwatosa Police Chief Barry Weber
In a positive recommendation letter on behalf of Joseph Mensah, Wauwatosa Police Chief Barry Weber called Mensah an "excellent police officer" and said he was disappointed that Mensah was no longer a member of his force.
The letter was dated December 23, 2020 and addressed to a detective with the Waukesha County Sheriff's Department. We revealed on Jan. 26 that Waukesha County Sheriff Eric Severson had hired Mensah to be a patrol deputy in that organization.
Mensah was the subject of protests and riots, including an assault at his home by People's Revolution members, because he was involved in three fatal on-duty shootings on the Wauwatosa police force. However, the District Attorney ruled each shooting justified self defense.
You can read an extensive interview that Wisconsin Right Now conducted with Severson about the new hire here. In it, Severson revealed that Weber had given Mensah a positive reference.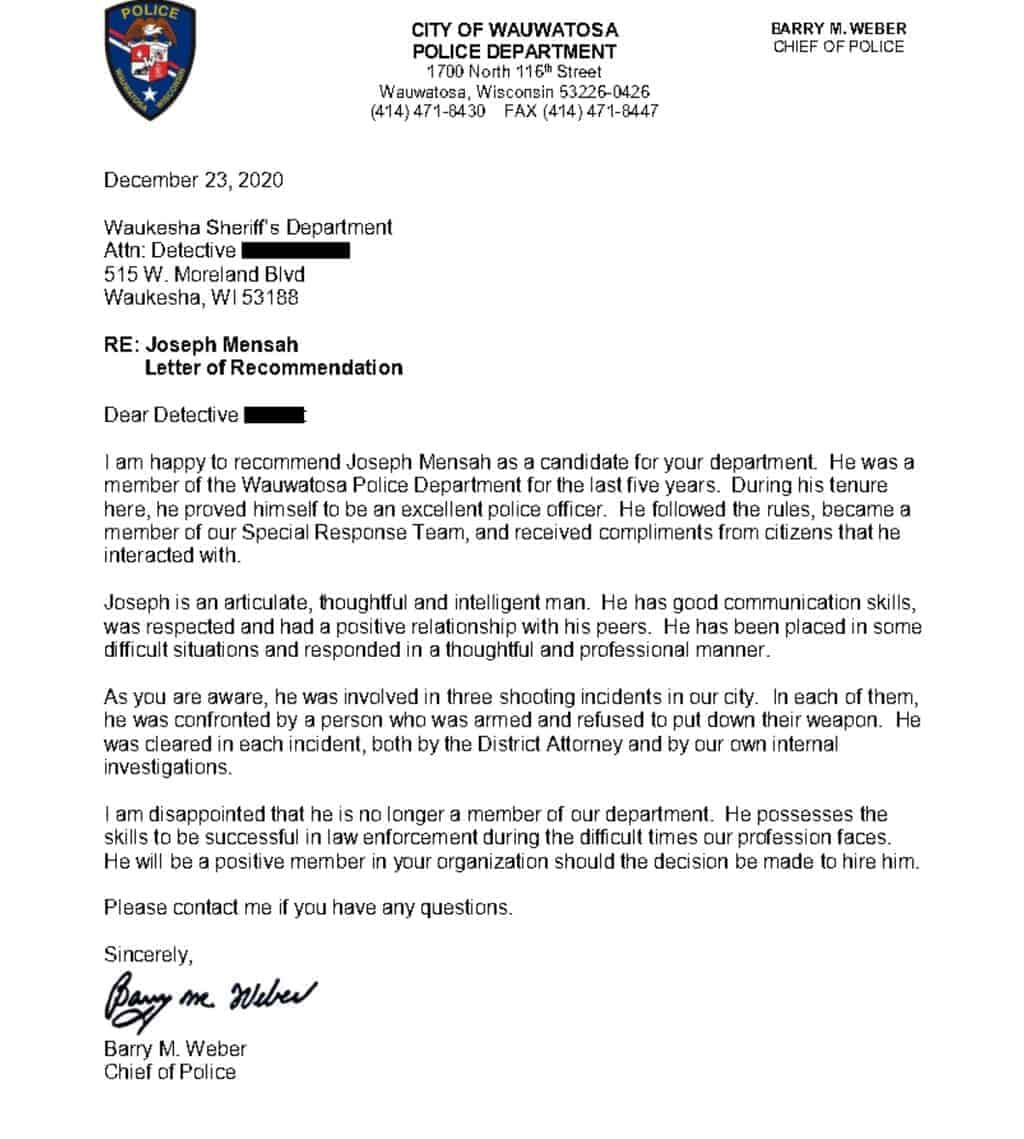 In the letter, Weber wrote that he was "happy to recommend Joseph Mensah as a candidate for your department. He was a member of the Wauwatosa Police department for the last five years. During his tenure here, he proved himself to be an excellent police officer. He followed the rules, became a member of our Special Responses Team, and received compliments from citizens that he interacted with."
According to Weber, "Joseph is an articulate, thoughtful and intelligent man. He has good communication skills, was respected and had a positive relationship with his peers. He has been placed in some difficult situations and responded in a thoughtful and professional manner."
Weber wrote, "as you are aware, hew as involved in three shooting incidents in our city. In each of them, he was confronted by a person who was armed and refused to put down their weapon. He was cleared in each incident, both by the District Attorney and by our own internal investigations."
Added Weber, "I am disappointed that he is no longer a member of our department. He possesses the skills to be successful in law enforcement during the difficult times our profession faces. He will be a positive member in your organization should the decision be made to hire him.