This MacIver Institute article was originally published on April 27, 2023. Republished with permission. 
---
The Wauwatosa School District's approach to rehabilitating juvenile delinquents includes exposing them to radical BLM ideologies and activists, setting graduates up for failure when they return to society, open records acquired by the MacIver News Service reveal.
Milwaukee County judges often sentence juvenile offenders to the Vel R. Phillips Youth & Family Justice Center as an alternative to sending them to the state-run facility at Lincoln Hills.
"We lose all control over services programming [when they go to Lincoln Hills], they're disconnected from their families and communities, and we just, we feel we need to do as much as we can to get these kids home here in Milwaukee," according to Kelly Penthke, Milwaukee County director of the division of Children Youth and Family Services.
Vel Phillips is both a detention center run by the county and a high school run by the Wauwatosa School District. The detention center can house up to 127 inmates at a time, and the high school's population varies between 80 and 200. Many of them are awaiting trial.
Once convicted, the worst of the worst offenders are assigned to the Milwaukee County Accountability Program (MCAP), which is also administered by Wauwatosa educators. The program can handle 24 students at a time. It's meant to rehabilitate them and prevent them from committing further to a life of crime.
"There's only like three crimes everybody commit: car theft, robbery, murder… and high-speed chases. So, there's like four. And that's probably what a lot of people are here for, one of them four," one student explained in a podcast recorded by his teacher.
"This is jail. There's just a different name for it. It's definitely prison," another student added.
The students expressed their eagerness to avoid prison in the future. Unfortunately, MCAP has a lousy record of reforming juvenile delinquents. According to the Wisconsin Bar Association, 62% of MCAP graduates re-offend.
In fact, two of Milwaukee County's most horrific recent murders were allegedly committed by recent MCAP graduates. Omarion Danielson, charged with murdering a mother on Christmas Eve in front of her son, and Lawrence Griffin, charged with murdering a 12-year-old after first stealing his eyeglasses, are both said to have attended MCAP in 2020.
"If the process worked, a lot of kids wouldn't come back," one of the students in the podcast said "A lot of kids come right back."
Much of the blame should be placed squarely on the educators in charge of the program. They seem far less interested in helping their students fit into society than they are in keeping them at odds with it. MCAP's curriculum regularly exposes students to radical ideologies and activists.
During civics class in 2020, MCAP students were taught about Seattle's autonomous zone and asked if they thought Milwaukee should establish one too. Described as "sections of cities blocked off, free from police and other government regulations," students listed far more benefits than problems with the idea.
Like many other public schools in Wisconsin, Wauwatosa held a "Black Lives Matter in Schools Week" at Vel Phillips in 2020. Students were encouraged to write an essay answering the prompt "Schools show that Black Lives Matter when they…" The responses were not included in the records released to MacIver.
Vel R. Phillips' instructional coach, Rebecca Kirchman, even circulated BLM's "Week of Action Demands" to her colleagues at the high school/detention center. Those demands included "Restorative justice in all schools" and "fund counselors, not cops."
Students were also exposed to lessons about the Black Panthers. The lesson guide, produced by PBS television, presented law enforcement as racist and the Panthers as antiracist. The justice system itself is described as "racist and fascist."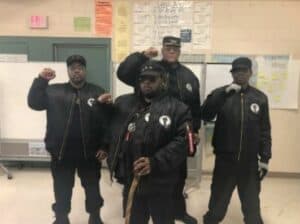 According to the guide, "Today, many original Panthers continue their work for liberation in different ways." To really bring that point home, the school brought in local Black Panther leaders, including "King Rick," to talk to the MCAP students.
Kirchman explained in an email that "MCAP are comparing/contrasting BLM and original Black Panther Party. Speaker will explain the latter and how it relates to today's movement/work."
Admittedly, King Rick only appears to have visited with the MCAP students once. Another local activist, named Khalil Coleman, had regular access to the students for years as a paid contractor with the Wauwatosa School District. In many ways, Coleman proved to be far more controversial than even the longtime local leader of the Black Panthers. Coleman was affiliated with the national street gang, the Gangster Disciples, but he would become even more controversial before long.
In October 2018, a community organizer named Sharlen Moore introduced Vel. R Phillips' principal, Dean Heus, to Coleman over email. Coleman had written two books about growing up in the inner city and ran his own business called Changing Lives Through Literature (CLTL).
"I think this would be a great opportunity for the young people at the Vel Phillips Juvenile Center. Khalil has a curriculum that goes along with his book and I would love to extend the opportunity for the school to engage some of the young men," Moore explained.
The Milwaukee Courier described that curriculum as "based around the social justice issues in the book that prepares students for civic engagement projects."
Heus encouraged Coleman to submit a formal proposal to run workshops at Vel R. Phillips. Coleman claimed he would help students with reading, writing, vocabulary, critical thinking, speaking, community service, organizing, youth development, and team building. He was never asked for a resume or proof of certifications. Coleman did include a rough bio in his emails, but it showed no history of working for anyone but himself.
For the next year, Coleman's workshops would dominate the school's English Language Arts program. He taught a 10-week module centered around his books, restorative justice, and criminal rights. Danielson and Griffin attended those classes.
From Dec. 2019 to Jan. 2021, the Wauwatosa School District paid Coleman $11,060.50 for books, workshops, and other materials. Based on his hourly rate of $25, Coleman spent up to 265 hours with students during those two years.
Coleman wasn't just teaching high school English classes in Wauwatosa in 2020. He was also leading a terrorist organization called the "People's Revolution" that waged a low-level insurgency throughout the city during the summer of 2020. For 200 consecutive days, the People's Revolution disrupted businesses, destroyed property, and terrorized residents. At one point, the group conducted a terrorist attack on two police officers in their home.
It was no secret that Kahlil Coleman was the leader of the People's Revolution. It was reported in the media and police reports indicate law enforcement had mapped out the organization's structure. Few were held accountable by the justice system. No charges were filed against Coleman at all.
While leading that insurgency, Coleman was getting ideas for future workshops at Vel R. Phillips. Sometime that fall, he pitched a new history workshop. It would have touched on topics like "Long Black Freedom Movement," "Resistance and Youth Movements," and "interactions with the justice system." The school loved it and approved a new contract with Coleman in January 2021. Unfortunately for Coleman, he never had the chance to turn this next vision into reality.
In February 2021, Coleman linked up with a local fugitive and a 17-year-old. They drove down to Kentucky and robbed a drug house at gunpoint. The three were arrested fleeing from the scene. Coleman was convicted of first-degree robbery in April 2022, with a recommended sentence of ten years. The 17-year-old was from Indiana and not connected to MCAP.
MacIver's open records request did not yield any mention of Khalil Coleman after Feb. 10, 2021. The last email was a calendar update. Khalil was scheduled to teach from 10 am – 1:20 pm on Feb. 12, 2021. The records don't indicate whether Khalil made it to class that day. Coleman was arrested in Kentucky on Feb. 15th. The last check Wauwatosa Schools sent to Coleman was dated Jan. 28, 2021.
It does not appear that Coleman's connection to MCAP has ever been made public. Crimes connected to MCAP graduates are also kept quiet.
Despite the program's track record, it has the support of the Milwaukee County Board of Supervisors. It just approved a $31.3 million plan to renovate the detention center and expand MCAP from 24 to 32 students at a time. $28.3 million of that funding came from a state taxpayer-funded grant.
It's not surprising that the board supported the expansion. It also gave Coleman's group, the People's Revolution, a formal commendation following its actions in Wauwatosa in 2020.