Five of a Seven Chapter Series
"I was like, wait a second. You're screaming black lives matter, but you're going after a black cop for shooting two black individuals and a Latino?" – Protester Jeremy "Hippie" Henderson to police.
Protester Corey Kirkwood didn't mince words when Wauwatosa police asked him about the Peoples Revolution and whether the protest/riot group is tied to street gangs. Other Peoples Revolution members didn't hold back, either, when asked by police about the organization.
What he alleged was pretty stunning; Kirkwood, a long-time protester who once stood on an American flag outside the GOP debate in Milwaukee and has open criminal charges as a habitual repeater, told Wauwatosa police he believes the Peoples Revolution "is gang related because he has seen (its leader Khalil) Coleman wearing a facemask with the G and star affiliated with the Gangster Disciples. He has heard that Coleman is a general in the gang, (Ronald) Bell is a hitter, and that the other security personnel are low level gang members who will do whatever Coleman instructs. Kirkwood stated he doesn't know the ultimate objective of the organization but wouldn't be surprised if Coleman was leading up to a war between the gang and police."
It's not the first time such allegations have surfaced, although they certainly run counter to the glowing profiles of Coleman and the Peoples Revolution in the news media. Kirkwood was one of the Peoples Revolution members at the scene when then Wauwatosa Police Officer Joseph Mensah was attacked last August, newly released police reports say. Coleman was there too, according to the reports, and what they say he was doing is disturbing.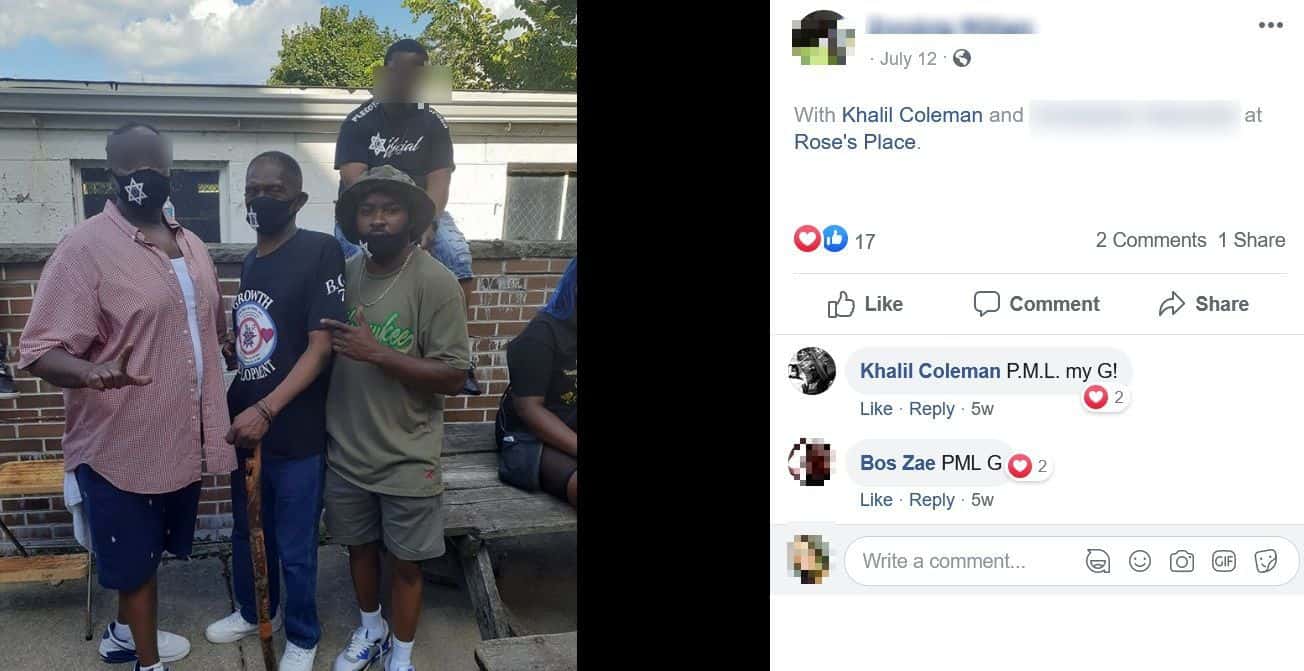 The gang allegations are just one of many comments in the newly released Wauwatosa police reports that give a far less flattering picture of the Peoples Revolution – often in their own words – than the previous media coverage and Milwaukee County Board commendation would indicate (the resolution praised the group for making the city safer). For months, members of the group have been tying up traffic and hurling abuse at and even injuring police officers in a series of Wauwatosa protests and riots, police reports indicate.
We previously reported extensively on Coleman's ties to members and founders of the notoriously violent Gangster Disciples street gang. Although he openly wears the gang's symbols and colors and uses its lingo and admires its imprisoned leader Larry Hoover and recently met with one of Hoover's oldest associates (a Chicago founder of the Supreme Gangster gang that merged into the Gangster Disciples) in a Milwaukee tavern, Coleman denied any involvement in its criminal activities. He claimed instead to be a follower of G&D not the GDs: "Growth & Development," Hoover's long-ago attempt to rebrand his notorious and violent gang into a do-gooder community group and essentially rename it. Prosecutors convinced a jury that, to Hoover at least, G&D was simply a continued front for criminal activity – a gangland Potemkin village. You can read our story on Coleman and the Gangster Disciples here, as well as watch a video that gives his side of it all.
On Jan. 25, Coleman – described by various Peoples Revolution members as the organization's leader – posted a certificate of achievement from the Growth & Development organization, complete with GD symbol and lingo. You wouldn't know any of this from the news; the Milwaukee Journal Sentinel, for example, once compared Coleman to legendary Chicago Bulls coach Phil Jackson in a glowing profile that said Coleman was Milwaukee's key organizer of the largest Black Lives Matter protests.
As for Bell? Bell is the Peoples Revolution member who is accused of a felony for discharging a shotgun toward then Wauwatosa Police Officer Mensah during a melee at his girlfriend's home. We previously reported that Bell had a Hoover tribute on his Facebook page as well. Bell was already wanted on a misdemeanor warrant for battery-domestic violence with a dangerous weapon when the Mensah attack occurred.
Wisconsin Right Now obtained the voluminous police reports via an open records request. In part, as we've previously reported, they describe in great detail the violent assault against Mensah (now a Waukesha County Sheriff's Deputy) and his police officer girlfriend in the yard at their own home. Both were left with physical injuries after being punched, scratched, and shot at by multiple members of the Peoples Revolution. Bell and two others (Niles McKee and William Lofton) are facing serious criminal charges..
The police reports provide a bird's eye view into the inner workings of what has become Milwaukee's most determined and, in some cases, violent protest/riot group. The behavior described in the reports doesn't much resemble the peaceful protesting described in many sanitized media accounts, although to be sure some members of the group have engaged in peaceful protest. The new reports, though, also raise questions about the actions of a state representative (David Bowen – which we previously reported) and the Milwaukee director for the office of U.S. Senator Tammy Baldwin (Tiffany Henry) as well as the group's leader, Coleman. The group has demanded significant reforms, including defunding of local police departments and the firing of police chiefs, succeeding with the Fire and Police Commission's demotion of Milwaukee Police Chief Alfonso Morales, which was overturned by a judge. We counted at least 10 open felony charges against various members of the group.
Bell told police in a lengthy interview that Khalil Coleman is the "organizer of the revolution." He also named Bowen, a male named P (later named as Percy "Godking" Hayes), and "Tiffany" as leaders of the group, along with three other women.
"Bell stated none of the protests they have been doing lately have been peaceful," the reports say. He stated the group "marches around the city and researches who was killed. The group is advised about Common Council meetings and Fire and Police Commission meetings." Bell described a previous incident in which protesters left a church service and bought toilet paper at a Dollar Tree to toilet paper Wauwatosa Police Chief Barry Weber's house. Bell stated the group asked Coleman if it was OK if they toilet papered Weber's house, and Coleman allegedly told the group "it was OK and that the chief was a piece of trash."
The reports also indicated that some Peoples Revolution members didn't seem to really understand what they were protesting for in the first place, as they got key details wrong and admitted that the actions being protested seemed justified after all.
Peoples Revolution member Niles McKee also spoke extensively to police, although some people at the scene of the Mensah attack (including Bowen) refused to talk to them. One of McKee's revelations: He alleged Coleman "likes armed individuals just in case something were to happen,"
When asked about the Peoples Revolution's end goal, "He (McKee) acknowledged that they would continue to whine and cry until they get what they want," the reports contend.
McKee agreed that the Peoples Revolution controls its members by not notifying the lower-level members of the destination before protests, and that they have a system set up for people like him to bring weapons but not the leaders. "I pointed out that when things went bad the same leaders showed no support for those getting arrested and were still free to protest and have dance parties in the street,"  the detective wrote. McKee admitted, "Honestly you're right that's basically the Peoples Revolution basically using us as bait."
Here's what else the reports revealed about the Peoples Revolution and some of its key characters:
---
'A History of Increasing Agitation'
As of Sept. 30, 2020, the reports say the Peoples Revolution group had entered the city of Wauwatosa and illegally assembled 58 times since May 29, shortly after George Floyd died in Minneapolis.
"This group has had a history of increasing agitation and in some instances violence," the police reports allege.
The group "has a history of intentionally shining very bright lights into officers' eyes, as well as swearing at them, insulting them and their families and threatening to fight police in an apparent attempt to entice a physical altercation with police," they contend.
In addition to Mensah, the group went to the homes of a detective, members of the Police and Fire Commission and the mayor. Peoples Revolution members have screamed abuse at police officers like, "And yo momma's a ho," "bitch," "shut yo bitch ass up," "f-ck the Tosa police," and used the N word, police reports allege. One report describes how a video of a protest captured people saying things like, "you a bitch, you a bitch, you a bitch" and "f-g ass n-gga" to cops. They were also called p-ssies.
"This type of behavior is common with this group that claims to be peaceful," the reports allege.
There were other incidents of injuries to officers or physical contact with officers, as well as threats, traffic obstruction, reckless driving and eluding cases and accusations.
Multiple people at Mensah's house that day have either criminal histories or even open criminal cases. One man investigated but not arrested as possibly pointing a handgun at Mensah that day has a pending felony case from June for possessing a firearm as an adjudicated delinquent.
Vaun Mayes, out on pretrial release on federal charges for an alleged firebombing plot against a police precinct, was at the Mensah scene recording video, police reports reveal, and he allegedly entered the Target store as people bought toilet paper before the Mensah incident, but no one alleged he was violent. Rather he urged people to stop being violent, according to police reports. However, at least six people were punching Mensah at one point in the attack at her girlfriend's home, more than one firearm was produced, a gun was discharged near him, and a megaphone was cracked over his head. He and his girlfriend, also a police officer, were left with multiple physical injuries.
---
Why Are They Protesting?
The reports indicate that some Peoples Revolution members are protesting incidents based on a misunderstanding of the facts.
Bell. who once wrote on Facebook, "Dope boy money…bro we sell straight loud the (n word) sell 4 dollars sacks," falsely told police that Mensah "killed three black dudes." The detective corrected him (one man killed was Latino). Bell stated that "Mensah caught Jay Anderson in a park sleeping and shot him in the head five times. Bell stated Alvin Cole was running from Mensah at the mall and shot at Mensah. Mensah opened fire and shot Cole in the back." He said he learned this from Cole's mother.
None of those accounts accurately describes the allegations against Mensah, according to the DA's reports. The reports allege that Anderson lunged for a gun while intoxicated and after repeatedly being told to drop it; Cole discharged a gun and pointed it at officers, and so forth.
After being pressed logically by a detective who told him more of the facts, Bell admitted police officers have the right to defend themselves. He said he did not think Mensah is a murderer.
Insight Into the Group's Tactics
Bell provided insight into the group's tactics; he said that, when they pull up at the meet location, one person walks around and puts tape on the license plates. Bell believed "they put tape on their plates so they don't get caught doing what they are going to do."
The members of the Peoples Revolution are directed to leave interactions with police to members of the ACLU who are marked by wearing blue vests. The Peoples Revolution does not follow certain rules when the ACLU members are not around, according to Bell.
Bell said a man named Andrew Aaron, who uses the pen name Jo Van Deraffe, "makes the protest routes for the group. Andrew tells the group where to go and the group follows. Andrew does not tell the group where they are going before they go."
Police alleged Aaron is a leader in the group and his main role appears to be using his bicycle to "get ahead of the caravan of marchers and vehicles and illegally block all lanes of traffic." When police arrested him for disorderly conduct and unlawful assembly, the police reports allege he actively resisted. His arrest sparked a chaotic protest in which one woman repeatedly kicked an officer, and protesters wouldn't let officers leave the area. There are no charges on CCAP for him.
Bell told police that one woman who was at the Mensah incident runs a gas fund for the protesters that people donate money to. Bell said he is not paid by the Peoples Revolution to protest. Coleman is at the protests every day. "P" tells the group to get in their cars and follow.
Bell agreed that slashing the tires of Mensah's U-Haul, as reports say occurred during the attack, was not an example of peaceful protesting. He agreed Mensah and his girlfriends were victims.
Bell said that Mensah didn't do anything irresponsible, foolish or reckless. He said Mensah was not responsible at all. "I apologize. You know, I'm sorry for bringing the firearm to his house. I'm sorry for putting my hands on him," Bell told police.
Bell said "Mandos" protect the protesters in case people shoot at them or someone tried to drive through the crowd. He said they have cars that block the roads. He did not know why they had to be so heavily armed.
Bell said the People's Revolution meets up every day between 3:30 p.m. and 5 p.m. but that the meet up location changes.
---
Percy "Godking" Hayes: An Officer's Injury & Five Open Felony Charges
The reports describe how, even after the Mensah assault led to criminal charges against three of its members, the group didn't give up on its aggressive tactics of invading the personal sphere of police and other officials. An officer ended up injured during an arrest at another protest – this one at the private home of a Wauwatosa police detective.
Percy L. Hayes (AKA Godking Hayes on Facebook) was described in police reports as a "high ranking member of the Peoples Revolution." He was accused in police reports of being at the Mensah scene, and one Peoples Revolution member alleged he threw a punch there, although he was never arrested nor charged in that incident. Hayes claimed he didn't have any recollection of being at Mensah's house.
A couple months later, Hayes was taken into custody during the protest at the detective's home. He was arrested on an active felony warrant through Brown County and was accused of resisting arrest, leading to a soft tissue injury of the arresting officer. The police reports allege he was in possession of a loaded handgun, despite being prohibited from possessing one.
According to the police reports, he "armed himself" and went to a protest at the private home of the Wauwatosa police detective. He allegedly told an officer that his "instincts told him to grab the officer" and he didn't remember that he had the gun in his pocket.
In another report, an officer said Percy L. Hayes "made multiple threats." The officer claimed Hayes said he "wanted to use me as a tackle dummy due to having the shield and stated he was very good at tackling." Hayes allegedly said, "I'll be seeing you again but next time it'll be on your off day while you're outside in your yard playing with your kids." The arrest of Hayes sparked angry denunciations against police from some members of the group at the time.
Percy Hayes has three open felony charges in Milwaukee County for possessing a firearm in violation of a domestic abuse of child abuse injunction; bail jumping; and resisting an officer – substantial bodily harm/soft tissue injury. He has two open felony charges for forgery and fraud from 2018 out of Brown County.
Hayes claimed all of the People's Revolution protests were peaceful.
Yet the reports are replete with other allegations of criminal behavior:
Brian Thomas Anderson performed some communication duties for the group, sending a key demand letter to the city. He was exposed as a felon serial burglar with open felony cases in multiple counties and was eventually sent to prison.
Another man at the Mensah scene was later taken into custody after allegedly being found with folding knives and lighter fluid and striking an officer during arrest.
The Wauwatosa Police Union earlier unsuccessfully demanded "greater accountability" from the Common Council and its Government Affairs Committee, saying the city has failed to address the "violent and unethical behavior" of Ad Hoc Committee Chairman John Larry, who was recorded on police body camera video threatening a police lieutenant. Larry heads an important committee formed to consider reforms of the Police Department but has previously made what the union calls discriminatory references to the city of "White-watosa" and the "White-watosa Police," comments the union calls "extremely offense and divisive."
In yet another incident, officers tried to stop a vehicle in the wrong lanes of traffic, with an obstructed license plate and for obstructing law enforcement after the driver allegedly kicked stop sticks out of the roadway. A second vehicle was in the wrong lanes of traffic and had a black flag hanging out its window. Both disregarded lights and accelerated away, reports contend. In September, one of the drivers called police to come get his flag, which had fallen onto the street. He arrived with Henry, Bowen, and state Rep. Jonathan Brostoff, say the reports.
The driver was given his flag and five citations, and the second man, also with the group, was arrested. The DA did not prosecute, so municipal citations were issued instead, the reports say. These are just some of the examples in the reports.
---
Khalil Coleman – the Leader of the Group
Kirkwood said that Coleman is the leader. He makes all the plans and only shares them with his core. The core members always wear earpieces and have walkie talkies at the events. Hayes gets the route from Coleman and is in charge of the transportation, he alleged. Bowen is in the front lines with a bullhorn at protests, the reports allege. The front line is reserved for the core members, said Kirkwood, who added that he thinks Mayes marches with Coleman as a means to gain attention. He also said that Mayes, BLM leader Frank Nitty, and Coleman initially worked together but had a disagreement about money being donated through Cashapp.
Police have had many encounters with Coleman. Coleman was cited for obstructing traffic by loitering for participating "in a leadership capacity in a protest march" that interfered with the ability of other vehicles, including a Milwaukee County bus. He was also cited for obstructing/giving false information to an officer, reports allege.
He used a bullhorn to order the other protesters to surround police squads, preventing them from driving away, they say. A third ticket was for special event permit required. He was referred to the DA for unlawful assembly, but the DA didn't charge. He is a chronic violator "and unlawfully protests each time he is in the city to protest. This is the defendant's third citation regarding this behavior," reads one report.
Another ticket against Coleman for special event permit required says the group was impeding and blocking traffic.
There are allegations of violence at the Mensah incident, but Coleman was neither arrested nor charged. Protester Kirkwood told police he "observed Coleman striking the windshield (of a U-Haul Mensah parked outside) with the bullhorn but does not know if the windshield was damaged." He alleged, "Coleman repeatedly hit Mensah on the head with the bullhorn" and said Mensah's girlfriend was "being grabbed by various people."
Bell also told police Coleman was present the night of the Mensah incident, had a bullhorn and "broke the bullhorn on Mensah's head." Bell said Coleman gave the cracked bullhorn to Taleavia Cole, the sister of the armed teen Mensah shot and killed at Mayfair Mall, as a trophy. He described what was happening as "chaos."
Bell said when they got to Mensah's house, "they were directed to get out of their cars" by Coleman.
Coleman said, "f*ck that, everybody get out they cars," said Bell. He alleged Coleman was provoking the crowd. Bell said he believed Coleman, not Mensah was the "one responsible" for causing the problem at the house, according to the reports.
Protester Niles McKee alleged that Coleman told the group to delete any videos so there would be "no evidence of us going to Mensah's house, get aggressive with this man, fighting and getting at him and calling him all types of names," the reports allege.
McKee said Coleman gave instructions to the group. He was "pissed at how people were acting but he was happy with what went down." He felt Coleman was happy that the group beat up Mensah and fired a shot at him but was upset because there was fighting amongst the group, the reports allege. Although some reports say members alleged Mensah was fighting back, he and his girlfriend were not accused of any wrongdoing, and protesters interviewed by police ultimately agreed with police that Mensah and his girlfriend were the victims.
Mensah and his girlfriend "were shot at with a shotgun and assaulted. In addition, windows at the home were broken and the rear door was damaged by the shotgun round," police reports say.
The reports say 60-70 vehicles were seen traveling toward Mensah's residence, with some "driving at a high rate of speed through the neighborhood and all over the road." The protesters were "yelling and screaming from the vehicles and beeping their horns." Some people were sitting on the roof of cars. They were yelling obscenities and cursing things like "f*** the police" and "f*** 12."
Police documented injuries to Mensah, including scratches, multiple locations of swelling and a laceration on his forehead. One neighbor estimated there were 35-40 cars.
Mensah's girlfriend told police that a black male struck Mensah in the head with a megaphone so hard it broke the megaphone. She "believes this particular action emboldened the crowd and led to others attacking Mensah." Someone said "I'll kill you n word" while pointing a gun at Mensah, and another person said "we will shoot the dog." Two armed subjects chased Mensah to the back door. Mensah's girlfriend had scratches and bruising on her neck and arms. A neighbor heard someone shout, "I'll shoot you and that dog" and tell a woman "get your stupid ass in the house or I'll shoot you too." Mensah said at least six of the males started throwing punches at Mensah, who was struck in the face and head repeatedly. He saw a black male holding a handgun and then a shotgun discharged "inches from him," Mensah said.
---
Taleavia Cole Allegations
Taleavia Cole is the sister of Alvin Cole, the armed teen who was shot and killed by Mensah outside Mayfair Mall. The shooting – as with the other two Mensah on-duty fatal shootings – was ruled justified by the District Attorney.
Bell told police that "the Cole family was also present at (Mensah's girlfriend's) house. Taleavia Cole was hitting Mensah." He stated that "Taleavia hit Mensah and Mensah's girlfriend. No one else from the Cole family hit anyone." Taleavia Cole has not been arrested or charged in connection with the incident. (Disclosure: Cole previously threatened to physically attack one of our contributors on Facebook).
---
Tiffany Henry: US Senator Tammy Baldwin's Staffer
Who is Tiffany Henry? She's listed as president of the Milwaukee Urban League Young Professionals. That site says she "began her professional career in 2005 working for then United States Congresswoman Tammy Baldwin. In 2013, Tiffany joined, now United States Senator Tammy Baldwin's Senate staff in Milwaukee…Presently, Tiffany serves as the Milwaukee Office Director for U.S. Senator Tammy Baldwin." In 2019, she was named one of Wisconsin's top 49 most influential black leaders.
In October, Henry and Bowen were featured speakers at an event called "Healing Justice," sponsored by the Greater Milwaukee Foundation. In 2020, she was named to the city of Milwaukee's Millennial Task Force. She spoke at Alverno College and to students at Bradley Tech.
What she exactly did at Mensah's house is not clear because of contradictions in the police reports. She has not been arrested or charged in the incident, and she and Baldwin did not return our requests for comment. However, the reports allege that she was there.
Peoples Revolution member Niles McKee told police that one of the people punching Mensah was named Tiffany. He observed Tiffany "throwing a punch." McKee thought it was Tiffany that "cracked the bullhorn over his skull," meaning Mensah. The police reports indicate that the only Tiffany there was Tiffany Henry, the Baldwin staffer. Asked about Khalil Coleman, McKee said, "I think he got a couple punches off."
However, other accounts give Coleman as the person allegedly cracking the megaphone over Mensah's head; in the chaos, who did what can be tough to sort out. Coleman and Bowen were also not arrested or charged in connection with the attack. Mensah and his girlfriend thought the bullhorn attacker was a male.
We previously ran across Henry when she showed up to run interference during our interview with Coleman about his ties to members of the notorious Gangster Disciples gang.
Bell told police that, later in the evening after the Mensah attack, Tiffany Henry said "he (Mensah) was fair game because it was in the alley."
"He also confirmed that this was the same Tiffany that struck Mensah while he was in the alley at the U-Haul," police reports allege.
Bowen and Henry spoke to the shooter after the attack but before he had turned himself in, the reports say; they allege that the pair asked Bell if he was a felon, and he told them he was not.
McKee said Tiffany is state Rep. Bowen's "right hand man." Tiffany was calling Mensah a "punk ass bitch" and used other colorful language during the mob attack, he told police.
Bell stated that the two did not tell him to turn himself in. Bell stated Bowen knew Bell was the individual with the shotgun and that Bell wanted to turn himself in. "Bowen encouraged him not to turn himself in. Bowen and Henry told Bell they had a lawyer for him and they would pay his cash bail," Bell alleged to police.
Henry called Bell after the shooting but before he had turned himself in to police, he told police. Bell said he wondered why she was calling him because she never calls him. She asked him how he was doing. He told her he was good. She asked him if he was straight, and he told her he was. She told him that the Wauwatosa police and Mensah were trying to figure out who shot the gun off. Henry wanted to know Bell's side of the story. Bell stated he and Mensah were tussling at the back door, there was a crowd of people and the shotgun went off.
Bell told police Tiffany Henry is a representative for Senator Tammy Baldwin. "Bell stated Tiffany Henry was at Mensah's house. She was standing back with Rep. David Bowen. Bell stated Henry speaks on the bullhorn at the protests stating, 'This is what Democracy looks like.'"
"McKee said Tiffany struck Mensah while he was in the alley at the U-Haul. He was not sure if she connected with any of her attempts," the police reports say.
McKee also told police that Coleman might have taken the bullhorn from Tiffany to use it but stated that he only ever observed Tiffany hit Mensah with the bullhorn. He said he heard David Bowen discuss the bullhorn at Washington Park.
---
Baldwin's Staffer's Name Came Up Again
Wauwatosa police had other run-ins with Henry involving Peoples Revolution protests.
One police report describes another incident in which Henry and Bowen were walking eastbound along Washington Blvd. in the middle of the street, allegedly obstructing traffic. The officer "informed them they needed to move to the side of the street to which they did not comply," the citation alleges.
Tiffany Henry was cited for violating the special permit required ordinance. "During conversation with police, Coleman, Henry, and Bowen were asked and they stated that they did not have a permit and that the group did not intend on obtaining one. After the unlawful assembly warning time expired, the group continued to walk in the roadway," contends the ticket.
She received a second citation for violating an emergency order. "A soldier with the National Guard directed Henry to stop. She ignored his directive and continued to walk…" it says. The police officer then approached Henry and arrested her for violating the emergency order that involved a curfew.
WTMJ-TV says she was arrested live on Facebook during another Mensah protest.
The Milwaukee Journal Sentinel described Henry as "a member of the Peoples Revolution," and said she was "yelling" at officers from a distance during another incident captured on livestream.
She told the Journal Sentinel why she protests: "No matter what I attain in life, no matter what blessings God gives me, at the end of the day, I'm a Black person, I'm still looked at because of my skin color as a crime. So I have to be with the people and making sure that our voices are uplifted together, that we are united together and that we seek the justice we demand and we get the respect we deserve."
---
'Fighting for Freedom'
Niles McKee, charged with furnishing Bell the gun, was a little less clear on why they were all protesting. He worked at the MPS Recreation Department but his job was on hold due to COVID.
McKee had been with the Peoples Revolution since the second week. He was asked if having Milwaukee Police Chief Alfonso Morales removed was a good thing and said the rumor going around about then Acting Chief Michael Brunson was that Brunson was "a step worse."
He said he was "fighting for freedom."
When asked how getting Chief Morales fired and attacking Mensah make him free, McKee did not provide an answer. When asked what the end goal was for the People's Revolution, he said, "justice for all." The detective challenged him and he said, to "try to get police choke holds" and to "neutralize how the police are supposed to use proper training when walking up on a situation… stuff like that."
He then acknowledged he did not do any research on the Wauwatosa Police Department or any other law enforcement agency or the training and standards through the state of Wisconsin to learn about the training that officers have to go through. He only said "Chisholm" in reference to his research. He was aware that officers had to go through an academy and went through psychological training but could not name anything else other than to say he knew "bits and pieces," the reports allege.
The detective asked what the state says about chokeholds, but he did not know. The detective said they are not permitted by statutes and pointed out "the things he was looking for are already banned by statute." The detective challenged McKee by suggesting that, if he wanted true change, he should research and find out what actually needed to be changed; he responded, "That would be smart."
The detective then presented various scenarios to McKee that mirrored Mensah's various shootings; for example, he asked what would happen if a person went after McKee with a samurai sword, and McKee said he would neutralize the threat by shooting the person in the head.
He asked what McKee would think if they were in a room with a gun on the chair, and McKee had already provided continued warnings to not go for the gun, and what he would think if the person dove for the gun. McKee said, "you're trying to wipe me out."
McKee admitted such situations would be justified. The detective asked why there was a group attacking Mensah for actions that McKee just agreed were justified. He said that he had to "see it from the other side of the glass" and now it was "very clear." He said, "I'm with the Peoples Revolution but, what's right is right and what's wrong is wrong."
He said the Peoples Revolution has been operating under the idea of "I want what I want and I won't stop until I get it" but also that "right is right and wrong is wrong."
The detective asked McKee what change they are seeking, and McKee explained that the change they want is "better police training as far as dealing with people."
He was challenged, like what?
McKee explained a lieutenant pointed to the door at the Cheesecake Factory during one protest, telling the group to go; McKee was explaining it was a "slave master mentality." But he acknowledged they were trying to shut down the Cheesecake Factory, and the detective pointed out people could be arrested for that.
The detective asked why due process does not apply to Mensah. McKee said, I guess because of his track record.
The detective asked McKee why people who claim to be peaceful would need to hide their identity via tape over their license plates and he said, "there's some logic there."
Asked for examples of how the People's Revolution has not been peaceful, McKee said, "doing shit like that."
He agreed Bowen rides with them all the time and knows what they are about.
---
Segregated?
Another man who has protested and is known as Jeremy "Hippie" Henderson told police that the group is skeptical of him because he is one of the only "white boys" that regularly participates with the group. He said the group has people who direct traffic and medics.
He mixed up one of Mensah's shootings with another case.
Henderson said the group screams for equality but then they "segregate the group." At the end of one march, people said they were going to go back to their own safe house but the "white allies" had to find their own way there, he alleged to police.
He thought the media were responsible for initially withholding Mensah's race.
He described a protest in Milwaukee mid town where someone shot an entire clip in the air. At another occasion near the 16th Street Viaduct, he saw someone with a pistol in his pocket. He said people have thrown eggs, glass bottles and shot in the air at the protesters.
He said he learned Mensah was black a week or two into the current protests. He said when he learned of Mensah's race, he thought, "I was like, wait a second. You're screaming black lives matter but you're going after a black cop for shooting two black individuals and a Latino?"
Disclosure: WRN contributor Jessica McBride is the niece of Dennis McBride. Jim Piwowarcyzk, the owner of WRN, is the author of this story.