Two were previously reported missing, and eight were already released to a parent or guardian.
The 10 youths who were arrested in a stolen vehicle after a crime spree that included the strong-armed robbery of a man who was snow blowing his driveway in Wauwatosa, range in age from 13 to 17 years old, Wauwatosa police say. Two were previously reported missing, and eight were already released to a parent or guardian.
The incident has increased citizen concern over crime in Wauwatosa, where debate has raged after a protest/riot group linked to violence repeatedly called for a decrease in the police budget. The comment thread on the police Facebook page filled up with angry comments.
"Never thought I'd have to snowblow my driveway with my pistol," wrote one man.
"Did the hapless Mayor and the worthless radical alderpersons busy ruining the image of Wauwatosa demand their immediate release and draft a resolution condemning the police yet?" wrote another.
A woman wrote:
Thank you Tosa PD and MPD. It was a crazy weekend for sure. The amount of damage, crime spree and the unsettling feeling many of us felt is unfortunate. When I heard squads and saw down Center I was so hopeful they would be caught! Thankful for the work of neighbors and our neighborhood FB pages that had everyone working together! It is unfortunate kids were released but hopefully they will still have some type of consequence and learn that this isn't the best life choice. Having 10 kids in that one car was crazy. Thankful there were no serious injuries especially with the reckless speeding throughout the community!
"One 17 year old subject was transported to the Milwaukee County Criminal Justice Facility. One 16 year old subject was transported to the Vel R. Phillips Juvenile Justice Center on an outstanding warrant for vehicle theft," police wrote in a news release.
"Eight other juveniles, ranging in age from 13 years old to 16 years old, were interviewed and released to a parent or guardian. Two juveniles had been reported as missing and were reunited with their family. Charges will be referred to the Milwaukee County District Attorney's Office."
The troubling sequence of events started on Sunday, Jan. 24, 2021.
According to Wauwatosa police,  officers responded to the 2500 block of N. 91st St. after a strong-armed robbery attempt was reported. "The victim reported a subject approached him while he was snow blowing his driveway and demanded everything in his pockets," the release states.
"The subject then reached into the victim's pockets searching for items. The subject left without obtaining any property."
According to the victim, "the main subject was accompanied by two other subjects and they left the area in a newer red SUV, possibly a Hyundai," the release says.
"Officers determined this vehicle was a red 2017 Hyundai Santa Fe, reported stolen out of the City of Milwaukee on Saturday , January 23, 2021."
Roy Durrenberg is the man whose vehicle was stolen.  We reviewed a Facebook post he wrote on Jan. 24 in a group called "stolen cars in the greater Milwaukee area."
"My 2017 red Hyundai Santa Fe Sport on 1/23/21 about 4pm. 3000 block of 80th Street. Thieves broke side window passenger side behind backseat door," he wrote in the post. Durrenberg
told Fox 6,
"Apparently they were stopping and picking up cars all over the place."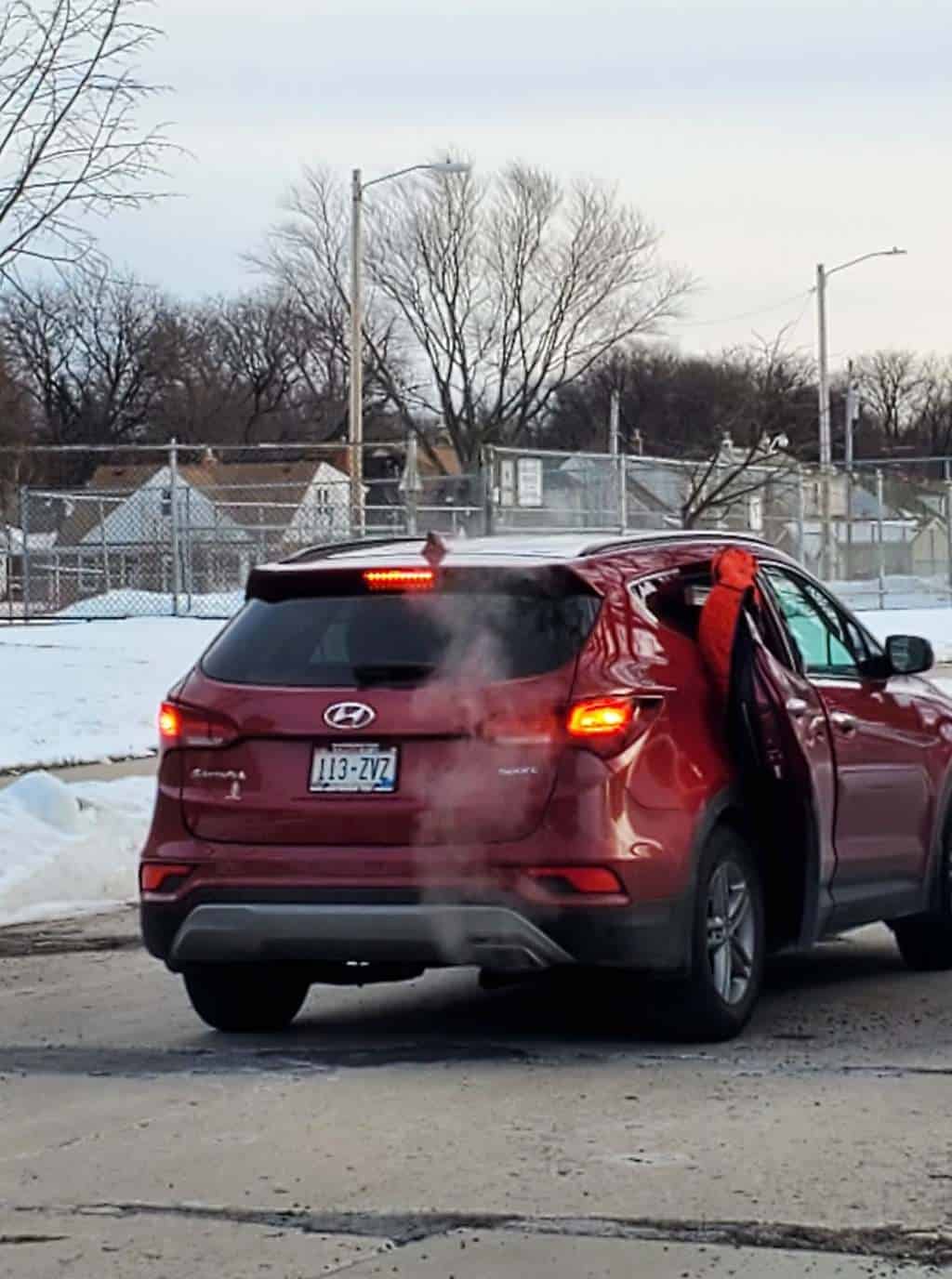 But that wasn't the end of it.
"Later the same morning, about 11:20 a.m., this vehicle was reported in the area of West Meinecke Avenue and N. 85th St.," said police. "Officers located the vehicle in the 2600 block of N. 83rd St. and it appeared that the subjects were attempting to steal a vehicle which was parked, unoccupied and running. One subject fled, but was arrested by Milwaukee Police Department officers a short distance away. Nine subjects remained on scene and were arrested by Wauwatosa police officers."
Police advised, "This is an active investigation and we ask the residents in the above-mentioned areas to check their doorbell or security cameras for footage during the timeframes of 8 a.m. until 11:30 a.m. Contact the Wauwatosa Police Department Investigative Division at 414 471 8430."