The WisGOP filed a complaint with the Wisconsin Ethics Commission to investigate Jill Underly's conduct.
The Republican Party of Wisconsin has filed a complaint with the Wisconsin Elections Commission against Superintendent for Public Instruction candidate Jill Underly.
The complaint alleges that Underly twice used her Pecatonica Area School District email account to contact several superintendents across Wisconsin to obtain their contact information, a little more than two weeks before launching her campaign for state superintendent last year.
Republican Party of Wisconsin Communications Director Anna Kelly said in a statement, "Wisconsin kids deserve better than a superintendent who uses our schools as campaign offices while some Wisconsin schools remain closed. WEC must investigate these concerns immediately so that Wisconsin voters can know the full extent of Jill Underly's crimes while she was on the taxpayer's dime."
The full press release reads, "The Republican Party of Wisconsin has filed a complaint against Superintendent for Public Instruction Candidate Jill Underly with the Wisconsin Elections Commission asking the commission to investigate her illegal conduct. The complaint calls on WEC to commence an immediate investigation into Underly's illegal use of Pecatonica School District resources to build her campaign contact list on state time.
Last week, the Wisconsin State Journal reported that Jill Underly used her official district email to communicate with superintendents across Wisconsin in an effort to gather their personal emails ahead of her campaign launch. Underly's emails reveal that she was campaigning on the taxpayers' dime by sending these emails during official work hours on multiple occasions. Underly even explicitly mentions the "state superintendent race" and later admits that she "may have been risky" in communicating using her official district email.
Underly was right to be concerned, given that her actions violated multiple Wisconsin laws that bar public officials from campaigning on government time or using government resources, according to the complaint. The GOP argues that WEC must launch an expedited investigation immediately so that Wisconsinites can fully understand "the extent of Underly's illegal actions ahead of the spring election on April 6."
Jill Underly Emails
On April 20, 2020 at 11:44 AM, Underly used her official Pecatonica Area School District email address to ask for the support of other superintendents as she prepared to officially announce her run for State Superintendent.
"I have something I need to send out to you, but I don't want to nor should I send it to your school email," she wrote. "If you are so inclined could you please respond to me…and share your personal email address with me?"
Apparently, several recipients of the Jill Underly email called the Pecatonica Area School District to make sure the email was not spam.
Underly wrote a follow-up email an hour later from her official email account, "I didn't know how to ask for your personal email without being all vague. Please don't call my school district asking about it – this isn't a spam message. I will send you more information, but it's regarding the state superintendent race and I didn't want to send it over district emails."
"Please trust me -more information coming. Again, entirely optional – and please respond to ——– (which is my personal email)."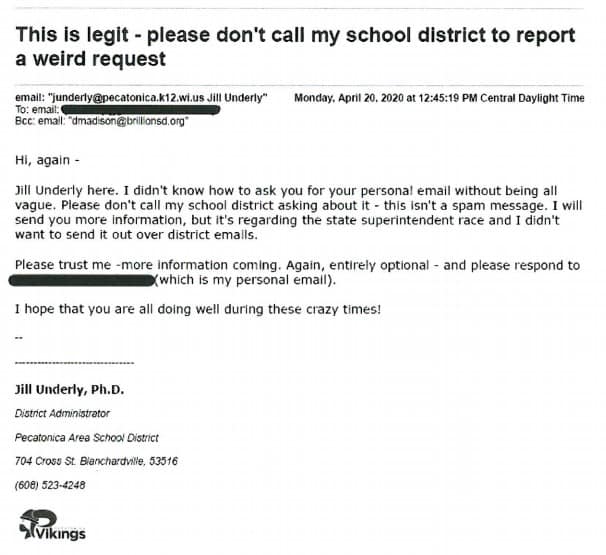 The next morning at 9:45 a.m., Underly sent another email to the superintendents announcing that she was running for the State Superintendent position.
"I know that you will promote the best candidate who is pro-public schools and has the best intentions and will advocate for all public school children and children in Wisconsin," she wrote.
"PS: Please do me and yourselves a favor and don't communicate with me or anyone else about this election on school district emails or servers.  I may have been risky in asking for your personal email via your school email, but I couldn't think of any other way, and besides there was no money asked :)"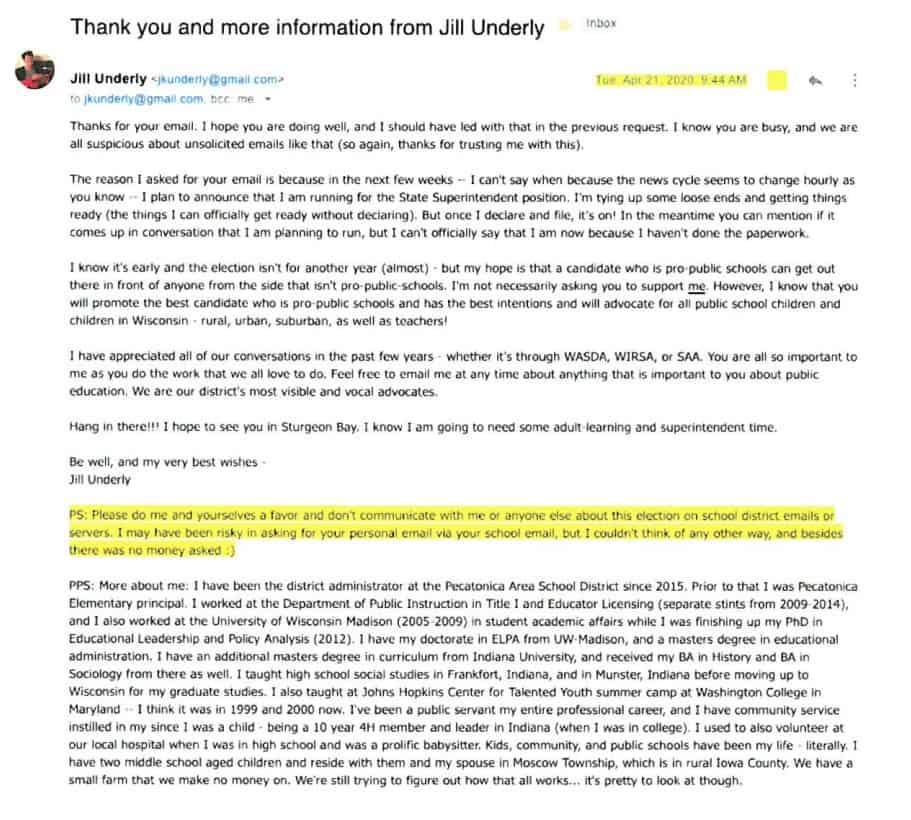 Read the full complaint here.
Jill Underly has raised 16 times more money than Deborah Kerr, her opponent.
Wis. Stat. § 230.40 States,  "No person holding a position in the classified civil service may directly or indirectly solicit or receive subscriptions or contributions for any partisan political party or any political purpose while on state time or engaged in official duties as an employee. No person may orally solicit or by letter transmit any solicitation to a state office or be in any manner concerned in soliciting any assistance, subscription, or support for any partisan political party or purpose from any person holding any position in the classified civil service while on state time or engaged in official duties as an employee. No person holding any position in the classified civil service may during the hours when on duty engage in any form of political activity calculated to favor or improve the chances of any political party or any person seeking or attempting to hold partisan political office, nor engage in any political activity when not on duty to such an extent that the person's efficiency during working hours will be impaired or that he or she will be tardy or absent from work. Any violation of this section is adequate grounds for dismissal."
The 2011 John Doe Investigation
Two aides to Milwaukee County Executive Scott Walker, Darlene Wink and Kelly Rindfleisch were criminally charged in 2011 for misconduct in public office for doing campaign activity for Walker's governor campaign on public time, resulting in both pleading guilty and Rindfleisch serving a 6 month home confinement sentence.
The 2001 "Caucus Scandal"
In 2001, the media and left highlighted allegations that employees of four state agencies were doing political work on government time, leading to criminal charges against Majority Leader Steve Foti, Republican Assembly Speaker Scott Jensen, Representative Bonnie Ladwig, and Democratic State Senator Chuck Chvala.