Deja Vishny, the ex wife of the judge who issued the unprecedented decision that there is probable cause that already cleared former Wauwatosa Police Officer Joseph Mensah committed homicide appeared in a press conference last year in which she trashed Mensah and vowed that she and attorney Kimberley Motley would "use every legal means at our disposal to continue this fight. To continue the fight to make sure Mensah is never a police officer."
You can watch the video later in this article.
In addition, Deja Vishny, a former public defender who works for Motley's law firm on an of counsel basis, has written many anti-Mensah screeds on Twitter, calling for him to be fired. She also wrote a tweet that somewhat presaged what her ex-husband, Milwaukee County Circuit Judge Glenn Yamahiro, decided as a result of a rare John Doe hearing requested by Motley and the family of Jay Anderson, who Mensah shot to death. Vishny, who has helped Motley represent the Anderson family as a lawyer, was listed as an attorney of record on the John Doe case with Motley for about a week before withdrawing when Yamahiro was selected as judge.
Deja Vishny is also the mother of Yamahiro's child. Yet Yamahiro decided he didn't have a conflict of interest, although he did disclose the tie in court and claimed he has not had a conversation with her since 2012.
On March 25, Deja Vishny tweeted, "Police practices expert James Trainum testified there is probable cause to charge Joseph Mensah with reckless or negligent homicide for killing Jay Anderson.#justice4jay."
In February she shared a story on the John Doe hearing being held by her ex and tweeted, "Read about the hearing to charge Joseph Mensah." That same month, she wrote, "The hearing asking a judge to appoint a special prosecutor to charge Joseph Mensah has started with expert testimony that he was not acting in self-defense and the investigation was corrupt.#policeviolencemustend."
That's close to what her ex ended up finding in his decision this week, although a special prosecutor will ultimately decide whether to charge Mensah and the judge claimed there is probable cause that he committed the crime of homicide by negligent use of a dangerous weapon. However, Yamahiro is also choosing that special prosecutor. The decision, after a one-sided hearing led by Motley in which Mensah's side wasn't able to present a defense or cross-examine witnesses, runs counter to investigations by the DA, a former US attorney acting as an independent investigator and federal prosecutors, all of whom did not find that Mensah acted unlawfully in the 2016 shooting.
In November 2020, Deja Vishny tweeted, "Joseph Mensah must never be a cop again, anywhere.#justiceforjayanderson #justiceforalvincole #justiceforantoniogonzales." He is now a Waukesha County Sheriff's detective, and Waukesha County Sheriff Severson has announced that he is keeping Mensah on the job for now.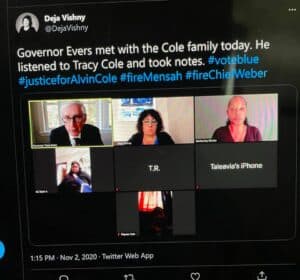 In addition, Deja Vishny has exhibited extreme animus against Wauwatosa police, a review of her tweets shows. She claimed on Twitter that the Wauwatosa police sent her name to the FBI because of her legal work against them, alleging they must think her legal work is "dangerous." She called herself one of the "lawyers for the families." That includes the Jay Anderson family.
---
The Video
Deja Vishny appears in the above press conference video at just after 10 minutes in. Speaking before her? Motley? After her? The father of Jacob Blake, the man shot by a Kenosha officer, who was also cleared.
We first extensively detailed Vishny's ties to the judge in May; however, the October 2020 video we've unearthed makes the alleged conflict of interest even clearer. Fox 6 ran a video of a press conference that Motley and Vishny held after the arrest of the mother and sisters of Alvin Cole, who was shot and killed by Mensah. Mensah has shot and killed three people in the line of duty; he was cleared after extensive investigations into each death.
"We will, as attorney Motley said, use every legal means at our disposal to continue this fight. To continue the fight to make sure Mensah is never a police officer, to continue the fight for justice for the Cole family, the Anderson family, the Gonzalez family, to continue the fight for justice for the people who have been illegally arrested and physically abused by the police last night and in other times in Wauwatosa and to continue the fight on behalf of the residents of this city, who care about changing their city," Vishny said in the above video.
She claimed a special investigator concluded in a report that "Joseph Mensah has not been fit for duty in the past, he is not fit for duty now, and he will never be fit for duty as a police officer anywhere in the future. Why? there are a number of reasons. Besides just the fact that he's he killed three people if that isn't reason enough which is what we are saying he was found to be untruthful. He is not a credible enough police officer to put on the stand which is crucial to the administration of justice."
Vishny went on to trash Wauwatosa, saying, "Why is Wauwatosa protecting this officer? There are many reasons to fire him, and this police chief could have done it now. Why has this police chief protected him? Why has this city protected him? Why is this city dragging the mother, a grieving mother and her living children out of a car it hasn't even been a year yet since her son was killed by this police department? Why is this police department illegally arresting journalists? All of you journalists know here that curfews have to have exemptions. We haven't even seen a written copy of this we don't even know if this curfew is legal."
---
Deja Vishny's Tweets
Vishny has also tweeted about Wauwatosa police, the John Doe, and the Anderson shooting.
On July 6, she wrote, "Apparently my legal work is dangerous enough so I ended up on a list sent by Tosa PD to the FBI."
On April 20, she wrote, "Justice has been done for George Floyd. Where is justice for Eric Garner, Amidou (sic) Diallo, Breonna Taylor, Michael Brown,Tamir Rice and others killed by police. Not to mention all the Wis men killed – Dontre Hamilton, Jay Anderson, Derrick Williams, Alvin Cole.#Weneedjusticenow."
That same month, she wrote, "Cops like Joseph Mensah have to be stopped from job hopping. #Stopwanderingpolice" and "Good riddance Chief Weber. Tosa, will you hire a chief who will make changes? #Tosaneedsjustice #Blacklivesmatter."
In November, she wrote, "Joseph Mensah's resignation is long overdue. While we welcome the news; it is tragic that the WPD under Chief Weber's leadership failed to address his shortcomings for years. It is time for new leadership in the WPD!#stillfightinginTosa."
In January, she promised, "Joseph Mensah was hired as a Waukesha County Sheriff- this fight is still underway. Clearly Waukesha County needs a new sheriff with better judgment. #fireMensah #voteoutsheriffseverson."
In October 2020, she wrote, "Police must be held accountable for killing people. Their job is to uphold public safety and preserve life. We are continuing the fight. #alvincole #jayanderson #antoniogonzles." That same month, she wrote, "Kimberley Motley, the Cole family and I will be meeting with DA John Chisholm Wednesday afternoon and we think he will likely tell us his decision in this investigation. We are hoping for the best- and that justice prevails. Alvin Cole should be alive today! #justiceforalvincole." Mensah was cleared in the Cole shooting because Cole was armed with a gun that discharged near officers after fleeing from them outside Mayfair Mall.