The CDC says it is also aware of some cases of varicella, mumps, tuberculosis, malaria, leishmaniasis, hepatitis A, and COVID-19 among evacuees.
The U.S. Centers for Disease Control and Prevention (CDC) is recommending that medical professionals and clinicians be on alert for infectious diseases among Afghan nationals recently brought into the country, including measles, mumps and rubella, diseases for which Americans have already been vaccinated.
After the CDC announcement, Pentagon Press Secretary John F. Kirby said Afghan evacuees were required to get the MMR vaccine and then be quarantined for 21 days.
As of Sept. 20, the CDC had been notified of 16 confirmed cases of measles and four cases of mumps among Afghan nationals and U.S. citizens who recently arrived from Afghanistan. Earlier this month, Afghans contracted measles at Fort McCoy, Wisconsin.
"All arriving Afghans are currently required to be vaccinated for measles as a condition of their humanitarian parole. And critical immunizations like MMR are being administered for Afghans at safe havens on military bases in the United States," Kirby said. MMR vaccines would also be administered overseas as well, he said.
All of those who were confirmed to have had the measles were isolated and provided care, and those with whom they had contact were also quarantined. Contacts who were not immune were given the MMR vaccine or, if not vaccine-eligible, immunoglobulin.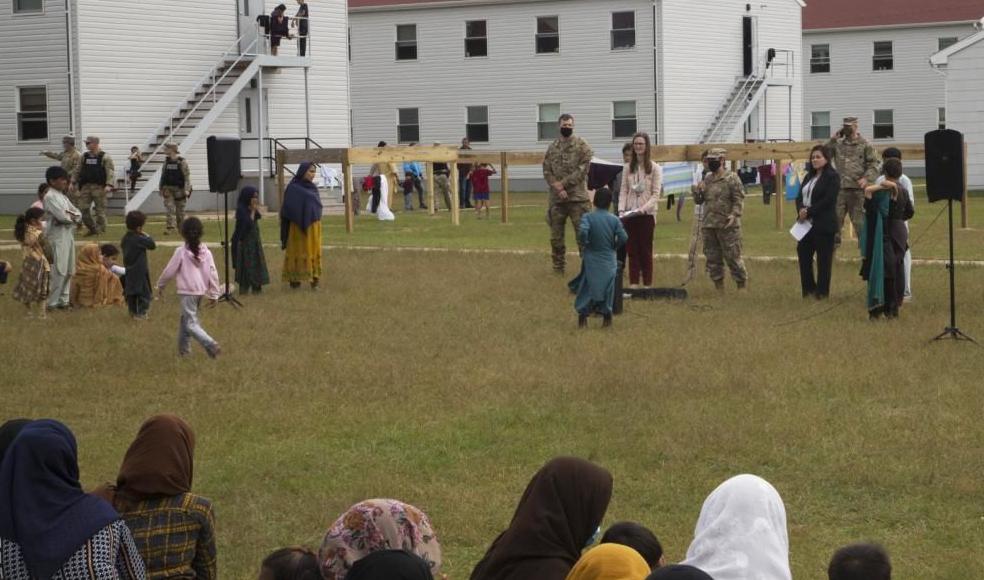 So far, 124,000 people from Afghanistan, including roughly 6,000 American citizens, have been flown out of Afghanistan, the CDC reports. Many of them "are from areas with limited access to healthcare and vaccinations and have been living in close quarters for long periods during the evacuation process, thereby raising the risk of disease spread," the CDC reports.
Afghan Evacuees Spreading Infectious Diseases
Despite these efforts, the CDC expects the possibility of additional measles infections and spread among evacuees based on ongoing transmission and low vaccine coverage (approximately 60%) in Afghanistan. Public health officials are instructed to look for people with communicable disease symptoms, isolate them, and track information to manage the spread of the illness.
Evacuees who are in the U.S. are required to be vaccinated with MMR and complete a 21-day quarantine from the time of vaccination at designated locations, the CDC says. Evacuation flights from designated locations and from other countries to the U.S. have been temporarily halted to facilitate MMR administration and post-vaccine quarantine efforts.
Evacuees are also at increased likelihood of gastrointestinal infections, including shigellosis, giardiasis, cryptosporidiosis, hepatitis A, rotavirus, and viral diarrheal diseases, the CDC states. The CDC says it is also aware of some cases of varicella, mumps, tuberculosis, malaria, leishmaniasis, hepatitis A, and COVID-19 among evacuees.
Vigilance should be particularly enhanced in communities near the military bases that are housing the evacuees: Marine Corps Base Quantico, Virginia; Fort Pickett, Virginia; Fort Lee, Virginia; Holloman Air Force Base, New Mexico; Fort McCoy, Wisconsin; Fort Bliss, Texas; Joint Base McGuire-Dix-Lakehurst, New Jersey; and Camp Atterbury, Indiana.
In 2000, measles was declared to be eliminated in the United States. However, travelers continue to bring measles in, which poses ongoing risks to unvaccinated people.
Afghanistan ranks seventh in the world for measles cases, the CDC reports. "People with measles can spread the virus to others from four days before through four days after the rash appears. Measles virus can remain infectious for up to two hours in airspace after an infected person leaves an area and can be spread to large numbers of susceptible people very rapidly. Measles outbreaks in refugee camps and other congregate settings lead to high morbidity and mortality (as high as 34%)."
Bethany Blankley | The Center Square contributor
Go to Source
Reposted with permission