All criminal charges against Mayor Cavalier Johnson's brother, Allen Addison, who was accused of shooting a man in the head and then engaging in a high-profile two-hour standoff with police, have been dismissed, Wisconsin Right Now has learned.
Milwaukee County Judge David Feiss dismissed the charges – 1st-degree reckless injury with a dangerous weapon and felon in possession of a firearm – without prejudice when an "essential witness did not appear" in the long-languishing case on May 30, according to court records.
Watch the body cam video of the standoff here:
"Case set for Jury Trial. Defense ready to proceed," the records say. "State's essential witness is unavailable. Defense motion to dismiss, argued, and granted by the Court without prejudice. Defendant released from conditions of bail and any bail on deposit to be returned to the poster." The criminal complaint was filed in January 2022.
It's not clear why the witness was unavailable. We would note, however, that the longer a case languishes, the less likely witnesses are to appear, and witness/victim intimidating have long been a serious issue in Milwaukee courts.
In 2014, Addison was convicted of three felonies for intimidating a witness in an earlier, unrelated case.
Eddie Knox[/caption]
The state's witness, who is not named in the records, was present for earlier court hearings, but the Public Defender requested more time to appoint a lawyer for Addison, the records say. The case was further delayed due to a breakdown in communications between Addison and his lawyer. The public defender's officer then appointed a new lawyer. All of this delayed the case.
We have contacted Chisholm's spokesman seeking comment on the dismissed charges, as well as an explanation as to why separate charges were not filed relating specifically to the standoff, as the dismissed charges related to the shooting he was wanted for at the time of the standoff.
Court notes say in January 2023: "Case in court for jury trial. State filed a motion to adjourn due to the essential witness being unavailable. State unable to comply with the speedy trial demand. Defense moved to modify the bail. Arguments heard as to bail. Court modified the defendants bail." Feiss then modified Addison's bail to a signature bond.
That means the mayor's brother is escaping any accountability for the high-profile incident, which was first reported by Wisconsin Right Now.
Addison, a convicted child abuser, had dodged police for two months on charges he shot a man in the head in a callous drive-by shooting, contributing to Milwaukee's skyrocketing violent crime rate at a time his brother Cavalier was painting himself as a public safety candidate.
Addison was wanted for two months on felony charges that allege that he shot that man, Eddie Knox, in the head, and illegally possessed a firearm as a felon. He eventually surrendered at the scene when the SWAT team showed up with an armored vehicle. Police knocked for two hours before Addison came out, a neighbor told WRN.
The man who was shot, allegedly by Addison, believes the news that Addison was wanted for the crime "spread through the family," referring to Cavalier Johnson's family. Johnson and Addison share a mother and multiple half-siblings.
Eddie Knox, who did home improvement work but can't anymore because of his wounds, told Wisconsin Right Now in an exclusive interview at the time that he told the Milwaukee County District Attorney's office in January 2022 that he'd learned Addison might be staying at the home of Cavalier's mom on Wright St.
We tracked down Knox through the address listed in the criminal complaint, which gives his name as only "E.K." We knocked on the window, and he came out, willing to talk. He said that no one, not even police, told him that Addison was arrested for shooting him; that he learned from TV news. Not a single other journalist attempted to talk to him.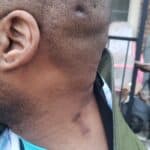 Knox said that he went to get some dog food, and pulled up on his street when the shooter "pulled up along the side of me and called my name and started shooting."
He says that he knew "it was Allen" because he had known the 37-year-old man since he was 18. "My son chased him down and got the license plate," he said, adding that he picked Addison out of a photo lineup. However, the criminal complaint does not contain those details; it says that Knox could not identify Addison for sure because the windows were tinted, and that his son chased him, but it doesn't mention him getting a license plate. It does say that police found casings in Addison's truck and that a neighbor identified him as the driver right after the shooting. The complaint says the motive is tied up in Knox preventing Addison from beating up Addison's girlfriend in a previous incident.
Knox said Addison also had a problem with his son because his son dated the mother of Addison's children. Knox dates her sister.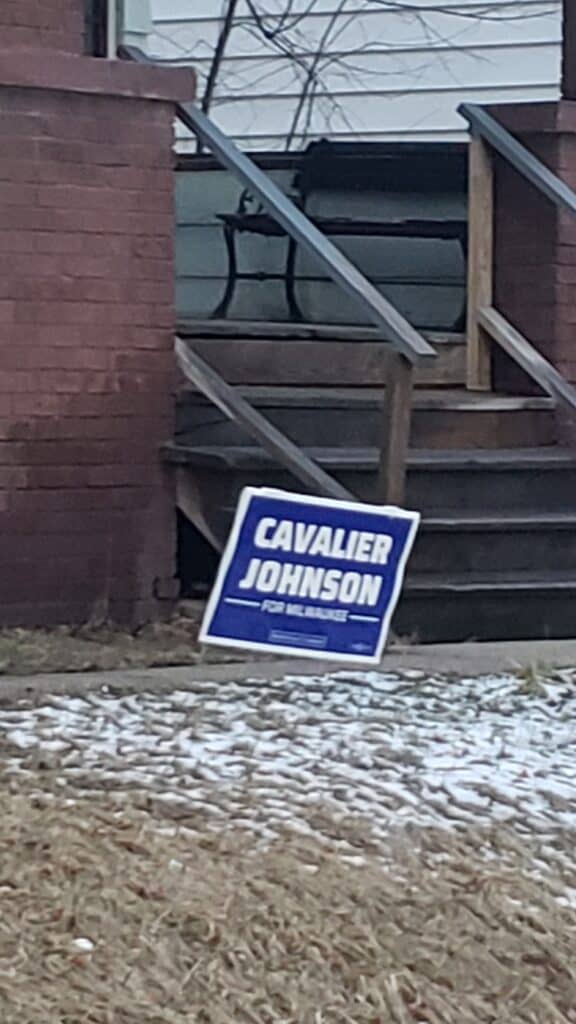 Knox said he was baffled at how he survived the shooting, as were hospital personnel.
"I don't know why he shot me," he said.
Knox said police immediately tried to track Addison down because he was the suspect from day one.
The two-hour standoff, which started with officers knocking in vain and escalated to a SWAT team with a loudspeaker, occurred several days before the mayoral election, which Johnson, already Acting Mayor, won.
The registration of the truck used in the Jan. 4, 2022, shooting was listed to Addison. A witness of the shooting identified Addison as the truck's driver during the drive-by shooting. The Milwaukee County DA's office issued a warrant for Addison on Jan. 19, 2022, for 1st-degree recklessly endangering safety and possession of a firearm-convicted felon.
On March 29, 2022, at 3:26 p.m., Milwaukee police went to the home at 2313 N. 41st St. to locate Addison. Through historical records, they determined it was the address of Allen Addison's uncle, according to the affidavit.
It says that officers knocked and observed Addison at the residence, but he did not immediately come out. He was observed in the house while officers tried to get him to come out.
He was taken into custody at 5:38 p.m., over two hours after officers began knocking on the residence door, the affidavit says.
The owner of the lower and upper flats in the house spoke to officers and indicated who lived in the units. The names are redacted from the affidavit.
Acting Mayor Johnson claimed he did not know his brother was wanted or arrested until he saw a social media post the next day, and he says he hadn't seen him since that Thanksgiving. He wouldn't identify the social media post.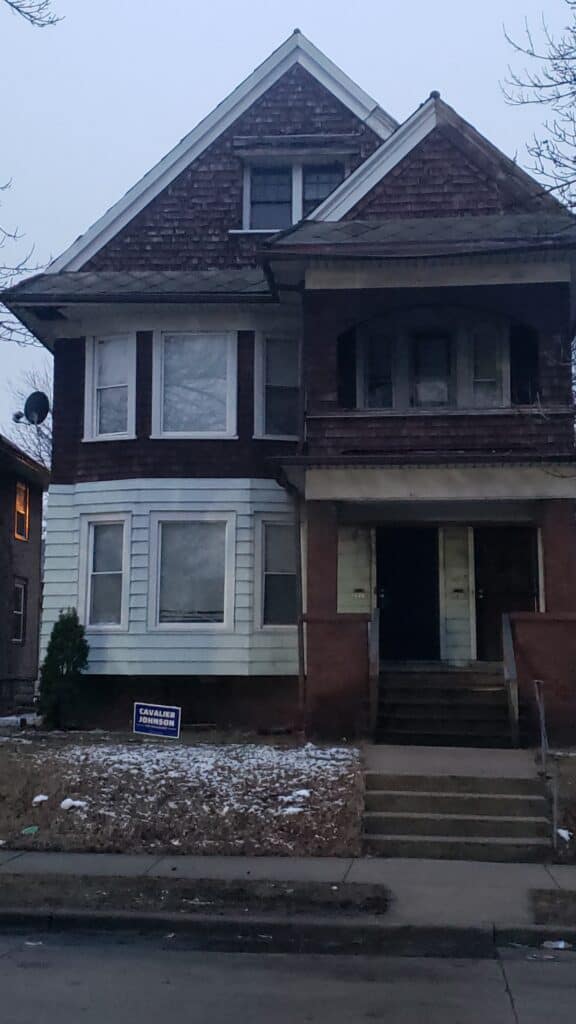 Milwaukee County District Attorney John Chisholm's office refused a request to sign off on a Milwaukee Police search warrant to search the north-side house where Acting Mayor Cavalier Johnson's brother, Allen Addison, was holed up during a two-hour standoff.
As a result, the house where the Acting Mayor's felon brother defied police for hours while wanted on a felony warrant, was not searched for additional occupants (even though it was believed other people were inside), and it was not searched for evidence. "None of that is normal," an upset law enforcement source told Wisconsin Right Now. "The warrant never made it past the DA's office for approval, which is odd because the residence could obviously contain further evidence of the crime he was wanted for. It's contrary to every other felony investigation."
DA Chisholm's spokesman, Kent Lovern responded at the time,
MPD consulted with an experienced assistant district attorney, who has personally reviewed over 1,000 search warrants with law enforcement officers, and in the collaborative process that generally occurs with a search warrant review, the prosecutor provided feedback regarding the lack of sufficient evidence connecting the premises on 41st Street to Addison himself and to the charged criminal offenses against him from over two months earlier.  After further discussion, the MPD investigator and the prosecutor mutually agreed to not pursue the search warrant.  Neither John Chisholm nor the assistant district attorney who consulted with MPD about the search warrant were aware of the relationship between Allen Addison and Cavalier Johnson until after the media reported it late last week.