A Dane County Court Commissioner, Brian Asmus, allowed Milwaukee County Judge Brett Blomme to have unsupervised contact with his two young children, over a prosecutor's objection, despite the fact that Blomme is accused of sharing and downloading multiple videos showing the graphic rape of young boys, including toddlers, one who was crying during the assault.
The court commissioner, while calling the allegations "certainly disturbing," also rejected a prosecutor's request for $2,500 bail, opting instead for a $500 signature bond because he doesn't believe that Blomme, who was assigned to Children's Court before his arrest, is a flight risk. And he rejected the prosecutor's request that Blomme be banned from using the Internet, instead restricting him only from using social media or file-sharing platforms.
Meanwhile, the state Supreme Court suspended Blomme, stopping his pay.
As to the children, Asmus said this decision was a "more difficult situation. He does have a husband who I have to assume is going to take whatever necessary precautions there are to ensure his children aren't victims." Asmus said there is "no indication or evidence in the complaint to believe Blomme has "assaulted his children or other people." He noted that Child Protective Services is "involved and investigating the situation."
Asmus said that he expects "the husband will probably monitor the children and not put them in a situation where they could potentially become victims…I'm not sure it's necessary for a court order at this particular time."

The criminal complaint described in extremely graphic detail how Blomme is accused of sharing and downloading child pornography on 27 occasions last fall; he's facing seven charges, each that comes with a mandatory minimum of three years in prison. The Children's Court judge, a long-time LGBTQ activist whose career was supported by prominent Democrats and the Democratic Party, shared horrific rape videos that show adult men anally raping and having oral sex with Asian and Caucasian toddlers and other young children, the criminal complaint says. In one video, a child was crying while being raped and wearing a Mickey Mouse shirt. In another video, a child was clutching toys during the assault.
As for Asmus, he endorsed liberal Jill Karofsky for state Supreme Court. He was also in the news when he gave a signature bond to a man accused of beating a woman. That story said Dane County uses an algorithm to generate a risk assessment. He is a Marquette Law School grad and a former Dane County prosecutor.
However, Asmus rejected a request by the prosecutor to ban Blomme from having unsupervised contact with any children, even his own. Instead, Asmus said that the unsupervised no-contact prohibition applies to all children except Blomme's kids. Photos Blomme posted to social media show him with his husband, who works at UW-Madison, and two young children who don't appear to be teenagers, a boy and a girl.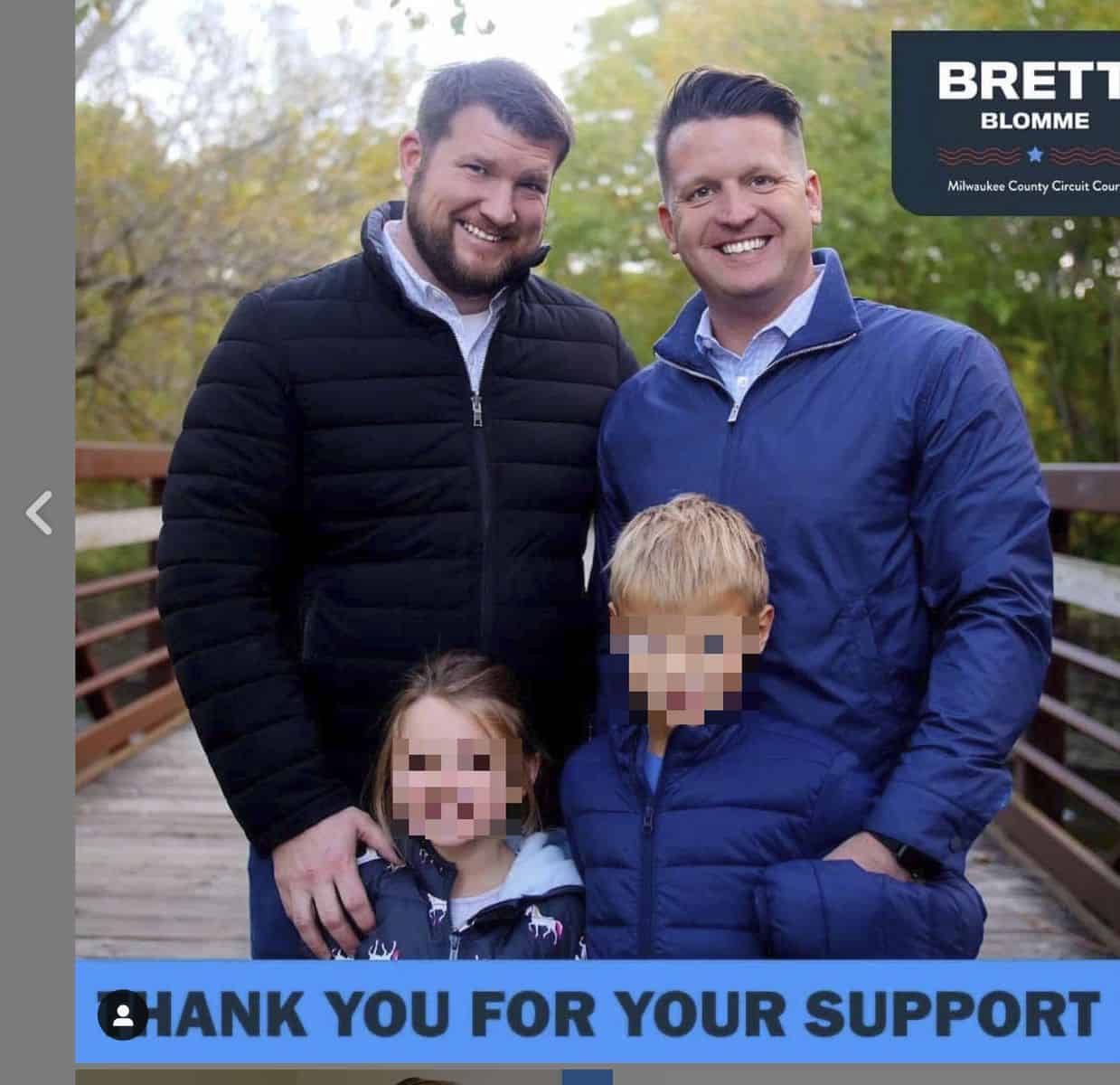 Watch the video of the hearing here.
The commissioner said he was ordering "no unsupervised contact with any minors except his own children."
As for the signature bond, he said that he did not believe that Blomme should be treated "more harshly or less severely" than other people, and he said that it's "hard for me to come to the conclusion that he's going to essentially give up his life and take off and essentially be on the run for the rest of his life."
Thus, said Asmus, "signature bond is appropriate." He said it would be "sufficient to ensure Mr. Blomme's appearance… there are no allegations of sexual abuse of minor children" by Blomme, he said. Asmus noted that, under the law, bond can only be set to ensure a person's appearance in court not to protect the public.
As for the proposed Internet ban, Asmus said that it's nearly impossible for a lot of people to run their lives without the Internet because it's so prevalent in society. He said limiting the ban to file sharing and social media platforms "accomplishes the state's legitimate concerns and the court's concern in regards to Mr. Blomme using the Internet to download Internet porn."
The prosecutor, David Maas, told the commissioner that the state requested cash bail of $2,500 because the defendant is facing so many serious charges "largely based on computer-generated records which have inherent reliability." Each charge carries a mandatory minimum sentence of three years of initial confinement.
As for the Internet ban, he asked for a "no unsupervised Internet prohibition on the defendant." He also wanted Blomme banned from using a cell phone or mobile devices.
As for the children, Maas said the state wanted Blomme's own children "included" in the order banning unsupervised contact.
Maas also noted that people are not being accepted on pretrial services at the moment because it's overcapacity due to the pandemic.
The defense attorney, Christopher Van Wagner, asked for a signature bond. He said Blomme has no prior record, "owns two residences, has substantial ties to the community, is in a marriage and has children and is committed to them. The presumption of innocence is still part of this proceeding. Why is he different than anyone else for the first time accused of child pornography in this county?" He said such people are usually given signature bonds absent some evidence they intend to flee.
"He's a professional. He does own a home. He has no particular place to go but here," said the attorney.
He indicated he has two children but said "there is not a word in there (the complaint) as to my client" having or trying to have any actual contact with children to abuse them.
"Why should he have supervised contact with his own children at this point," said Van Wagner, noting that "CPS has been notified. They'll look into it. My client, his husband and the state, are all aware of CPS involvement. The court should defer to CPS. He has a constitutionally protected interest in his own children."