Brian Thomas Anderson, an organizer of communications for the main protest group that is disrupting Wauwatosa and demanding police reforms in that city, is a convicted felon and serial burglar with open felony criminal cases in two different counties.
He was most recently in court on September 11. He entered a no contest plea to a felony burglary charge in one of the open cases last June.
In between his ongoing court appearances, Anderson has spoken on behalf of the "The Peoples Revolution" group. He sent the key demand letter to the City of Wauwatosa in July on behalf of the protest group two weeks after being released on bond in one burglary case. Among other things, the letter demands the police chief's termination and a freeze on the police budget. When a journalist asked for the "press person" of The Peoples Revolution to direct message him recently, Anderson was the one who wrote the journalist back.
Wisconsin Right Now obtained the criminal complaints and victim impact statements in the four criminal cases against Anderson from the court system because he's playing an important role in demanding policing reforms in that community, which has been the site of disruptive protests for months at Mayfair, people's private residences, and elsewhere. WRN received a tip about Anderson's criminal history from a Wauwatosa citizen who is not tied to police, the union, or city government/officials. The Peoples Revolution has organized many of the protests. To be clear, WRN doesn't believe that the criminal histories of all Black Lives Matter protesters are relevant, nor would the site report them. However, when an activist is pushing key policy changes in a city and acting on behalf of a key group in some ways, WRN thinks the public is entitled to know who they are. If you're going to call for policing reforms and slam the police, the fact the police recently arrested you multiple times becomes relevant to the discussion. The readers can judge relevancy from there, but at least they have all of the information.
Wisconsin Right Now learned that Anderson has an eight-year pattern of being socked with burglary charges across different counties relating to storage sheds and, in one case, an apartment. You can read the court documents and details from each later in this story. Victim impact statements describe the emotional devastation the victims suffered; in one case, Anderson was charged with stealing the cherished musical instruments of two sisters' deceased band director father and selling them; some of the instruments were never recovered, causing the sisters emotional pain.
He was accused of stealing $70,000 in jewelry from a couple's apartment. They described the violation of trust in a victim impact letter to the courts:

In another case, Anderson has already pleaded no contest after being accused of stealing DVDs a military veteran saved as mementos after buying them on an overseas deployment from children needing food.
In a Washington County case, the criminal complaint accuses Brian Thomas Anderson of telling police that he entered storage units with bolt cutters because he was unemployed, and it was his intent to find a lot of money so he could "get the hell out of Wisconsin." He was living in his parents' Brookfield house, which is valued at more than $700,000, during one case, court records show.
We asked Anderson for comment. He said:
In 2011 and now more recently in 2019 I made serious mistakes in my life that have resulted in criminal charges or convictions. For years I have struggled on and off with an addiction to gambling and through my faith in Christ, therapy, and the support of family and friends I have at last been able to see a path forward towards freedom from that addiction. After the death of George Floyd in May, I weighed my personal risks before speaking up in my city of Wauwatosa and advocating for justice and equality for all. What was clear to me is that God doesn't allow you to chose the moment in time when you must stand up and advocate for what you believe is right. I was required to speak up because I was not going to ignore the call on my heart. I need no personal reputation to remain as this has never been about me. The fact that your publication is running a story on my personal criminal history for merely engaging through letter to elected officials is abhorrent. This is not news, it is intimidation. But I will not be intimidated because BLACK LIVES MATTER.
Anderson made it clear in the letter he sent the city that he was acting on behalf of The Peoples Revolution, a group that has focused on changing and criticizing the Wauwatosa police, often in incendiary terms. The ongoing disorder in Wauwatosa culminated in felony charges against Ronald Bell, a Peoples Revolution member who is accused of shooting at Wauwatosa Police Officer Joseph Mensah.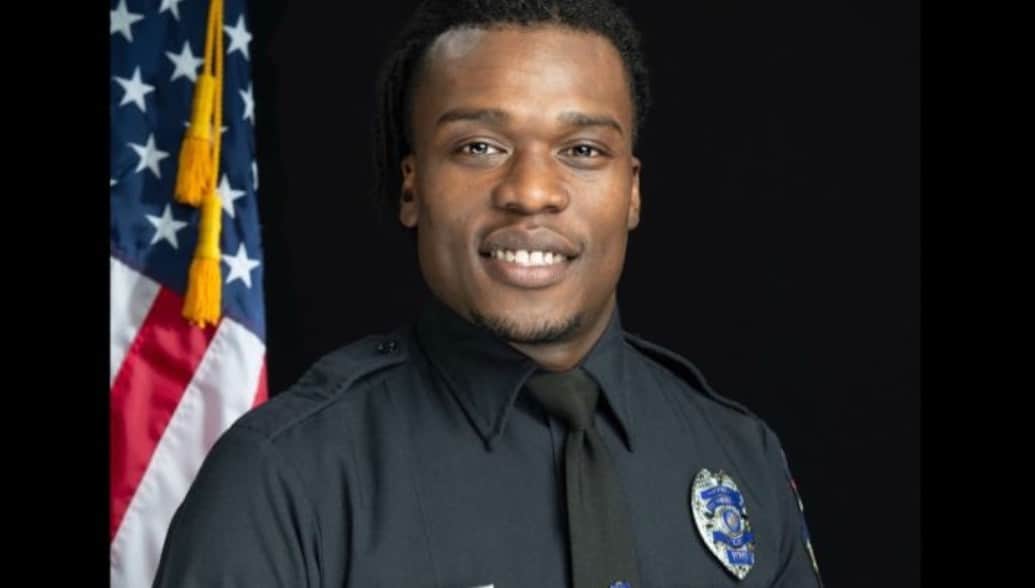 The protests have focused on Mensah's fatal on-duty shootings of three people since 2015. Two were ruled justified self defense by the DA, and the third is still under investigation. The Peoples Revolution protests have caused some intense scenes throughout the city. Wauwatosa police have described ugly scenes between other protesters (not Anderson) and police, writing in one incident, "While police were enacting an arrest, officers were confronted by protesters. The protestors attempted to prevent the arrest by physically engaging officers and blocking off routes, preventing squads from leaving. Neighboring law enforcement agencies responded to a mutual aid request."
---
The Peoples Revolution Demand Letter Sent by Brian Thomas Anderson to the City Includes Ronald Bell as a Signatory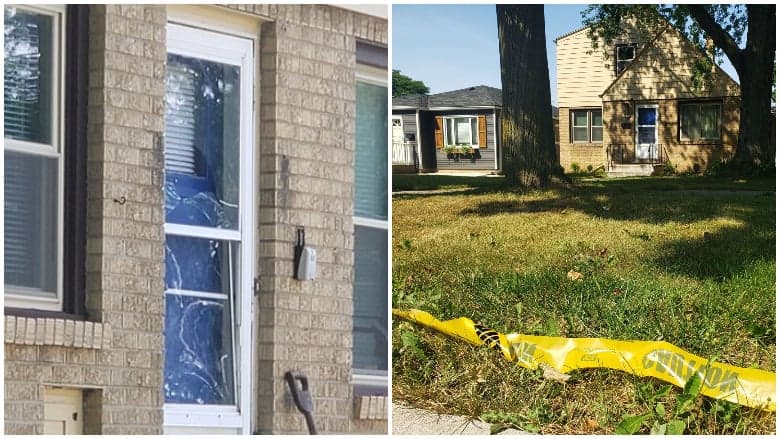 A now defunct LLC registered in Anderson's name – Cream City LLC – sent The People's Revolution demand letter to the city's Common Council and mayor. Bell signed that letter. Among other things, the letter demands the termination of Police Chief Barry Weber, saying he's "not fit for the job," and demands a "permanent hold" on any "increase in the budget to the Wauwatosa Police Department."
In that email, Anderson wrote: "Attached is a letter that was just delivered in person to the City Clerk. This was also just sent out to local media. Please refer all questions or responses to this email address and they will be passed on to the appropriate person." He signed it, "Brian Anderson, Wauwatosa Resident, on behalf of the people of The People's Revolution."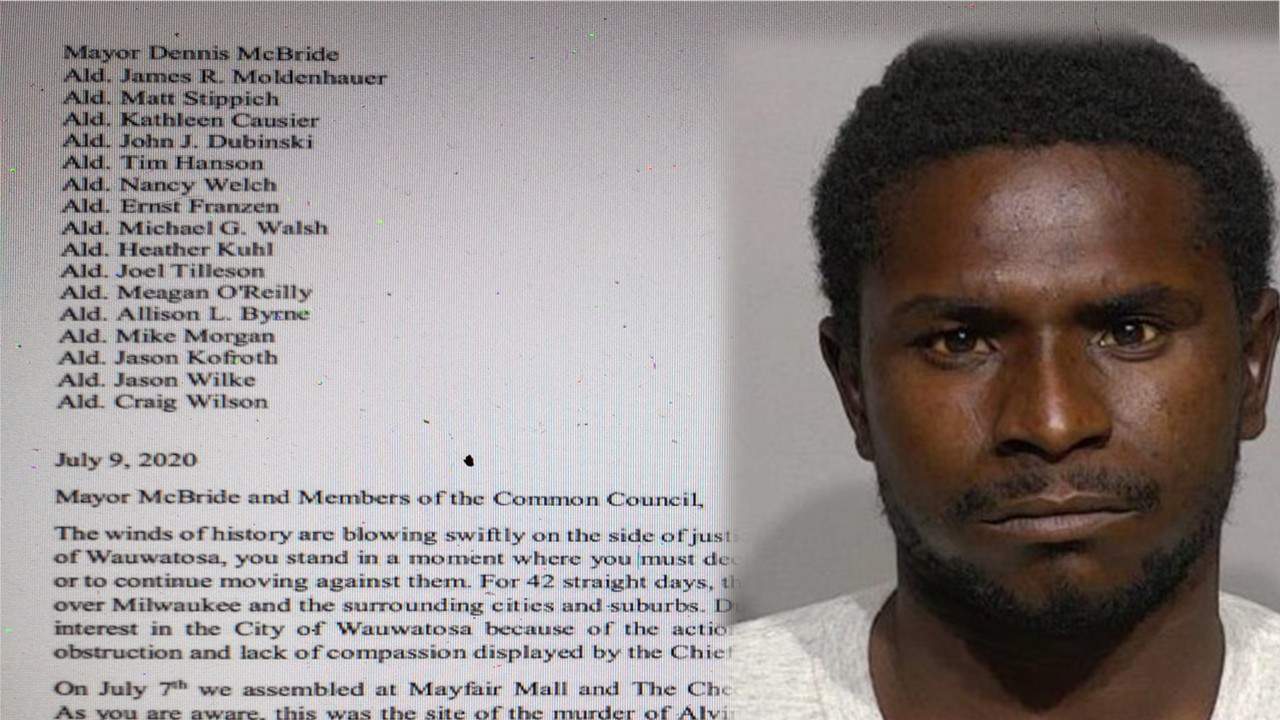 On Sept. 15, Anderson shared a statement to The Peoples Revolution page, starting his status, "STATEMENT BY THE PEOPLES REVOLUTION REGARDING THE ABUSES AND ESCALATION OF THE WAUWATOSA POLICE DEPARTMENT: The actions of the Wauwatosa Police Department on the evening of Saturday, September 5th were unequivocally unacceptable, and highlight the ongoing problems with policing in Wauwatosa." Anderson wrote, "This has been sent to hundreds of media contacts and this morning will be going to local elected officials" and offered "Thanks to the entire Media/PR committee for working on this and putting it together the last few days!" In another post, Anderson called the Declaration of Independence "some revolutionary shit" and ended one post, "long live the revolution!"
On Aug. 28, he spoke collectively, writing, "In case anyone is wondering we don't just want Wauwatosa Police Chief Barry Weber and Officer Joseph Mensah fired, we want (a police lieutenant) fired too. It is he who has been ordering and directing all the harassment, intimidation, and brutality towards protestors. Believe me, it will happen because he is rotten and corrupt to the core. Also, to the Tosa officer I called sweetheart earlier today: how's it going sweetheart?" He demanded that the mayor "clarify the enforceability" of protest rules.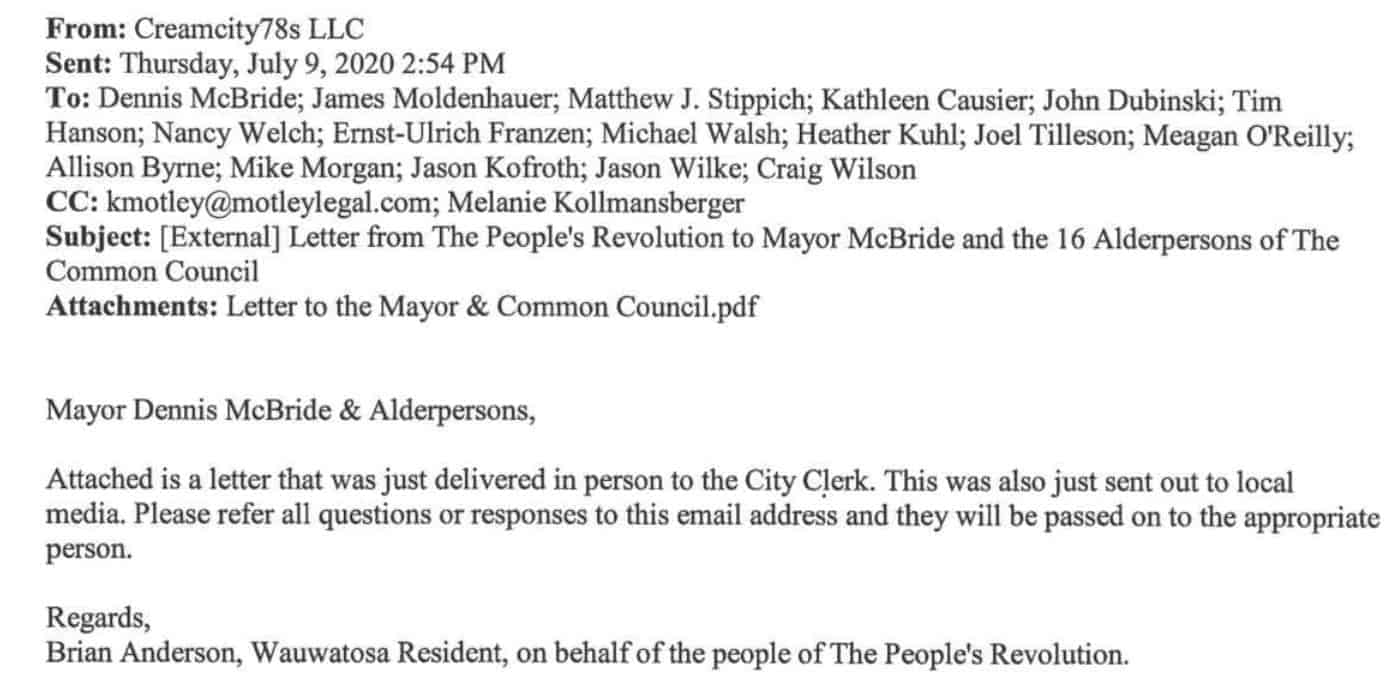 In August, he claimed he received an email from a Wauwatosa alderperson he wouldn't identify that read, "I find myself in this strange situation of being part of the establishment, understanding much of why it exists, and trying to change the norms of that establishment. I don't support the actions of the Mayor and frequently find myself to be the minority voice on the Common Council…" Anderson wrote, "We are making change in Wauwatosa. We can't let up one bit on that pressure or that fight." In another post, he wrote, "In the photo is the names & e-mails of the 5 members of the Wauwatosa Police & Fire Commission. Email. Email. Email!"
In late August, Anderson shared a letter addressed to the "Citizens of Wauwatosa" on The Peoples Revolution Facebook page, where he often shares content. "Your Wauwatosa Police Department has failed you and we will continue to expose their corruption and abuses. We aren't going anywhere," it reads in part. "We are not thugs. Or Antifa. Or deadbeats." The letter accuses Chief Weber of "harassment." Anderson's Facebook page is filled with People's Revolution press releases and other comments about the movement. "The Wauwatosa Police Department and the union representing it is a racist organization and once again they are staining the name of Wauwatosa and bringing shame to the City," he wrote recently.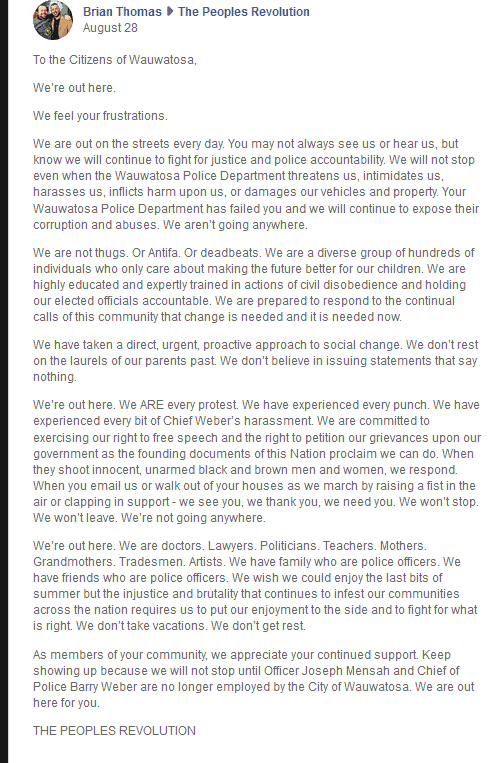 What Anderson doesn't mention is that he's a convicted felon with two additional cases pending.
On Aug. 26, he wrote on Facebook, "Too often everyone decries destruction of property but ignores what led to it. The only thing that is important is that violence to people is unacceptable. While I do not support destruction of property, I will also not denigrate or criticize it. Because no property, in any circumstance, is more important than a human life."
Anderson spoke at the July 21, 2020 special Common Council meeting. "We have seemed to lower the standard for police officers… we excuse their force and their bluster. We excuse their violence," he said. "We have become a society that no longer realizes that the police work for us. They should not be here to terrorize."
Here's what we discovered in the court records:
---
Brian Thomas Anderson: Open Felony Case in Fond du Lac County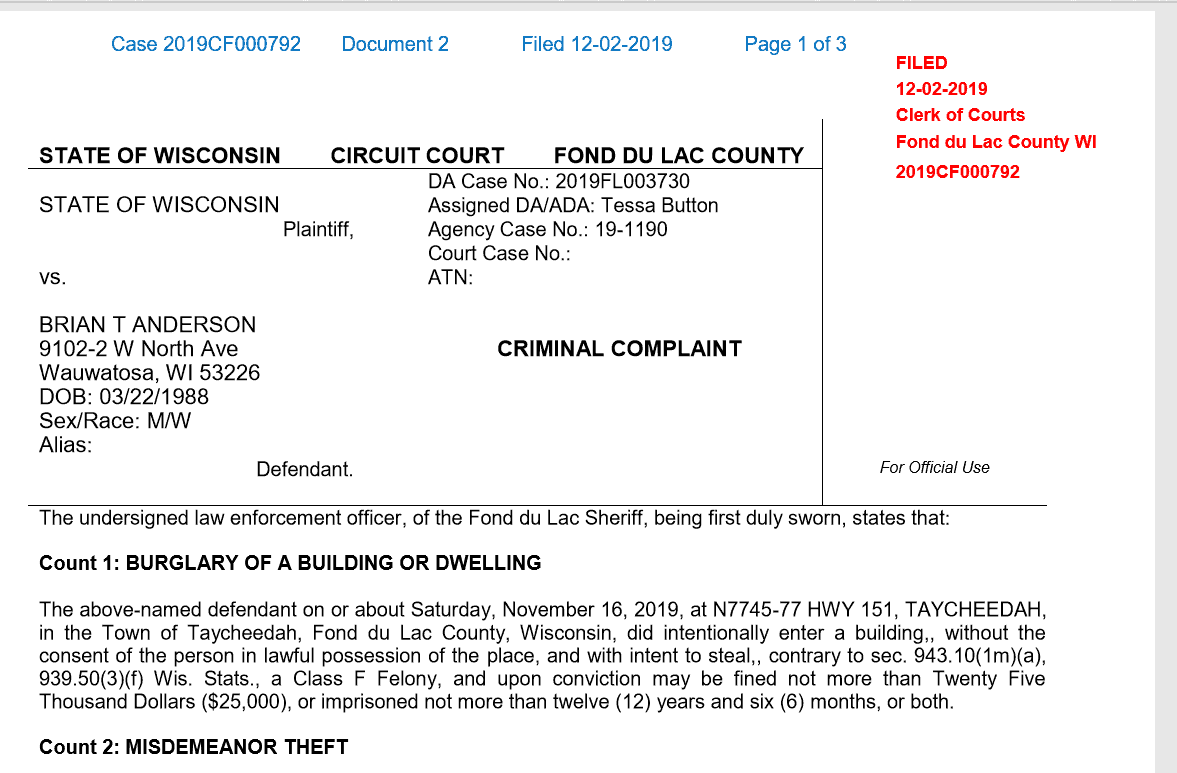 In a still pending case, Anderson was charged with felony burglary, four counts of misdemeanor theft and a count of misdemeanor criminal damage to property. On June 22, he pleaded no contest to felony burglary and one count of misdemeanor theft of movable property. The other charges were dismissed and read-in. Restitution and sentencing hearings are coming up on October 20.
See the criminal complaint here.
On Nov. 16, 2019, a woman went to her storage unit and discovered that belongings were knocked over and things were rearranged, the criminal complaint said.
She believed a tote full of 100 different movies/DVDs was gone. Some of the movies were mementos. The woman had served in the military which required her and her husband to serve overseas. During their tours overseas, she "bought movies from the local children so they could get food," says the complaint. She contacted the owner of the storage facility, and a video showed a white male exit a vehicle, cut the padlock, enter the unit and then leave with a box. The video was able to obtain the vehicle's license plate, the complaint indicates. The value of the movies was $1,000.
A deputy learned that Anderson sold DVDs at Mega Media Xchange, Half Price Books, and Greater Milwaukee Coin, the complaint alleges.
---
Open Felony Case in Walworth County
In 2019, Brian Thomas Anderson was charged with felony burglary, misdemeanor theft, and criminal damage to property. The case is still open. The charges stem from November 17, 2019 in the Town of Whitewater. Police were called to a report that a storage unit was broken into with the lock cut, the criminal complaint says.
Read the case online here.
The complaint says that video surveillance captured a "white male getting out of the vehicle and using a set of bolt cutters to cut the lock off and open the unit back up." He then removed a box; a box of Tops baseball cards was missing, the complaint says.
Around that time, police received a crime alert from Fond du Lac County about a burglary in a locked storage unit there. The suspect was identified as Brian Anderson and the car matched the suspect vehicle in the Whitewater case down to a license plate sitting on the dash, the complaint alleges.
The complaint says a detective learned that the "defendant has a gambling problem and was burglarizing storage units to support his gambling habit," the complaint alleges.
He was last in court on Sept. 11 for a status conference.
---
Felony Conviction in Waukesha County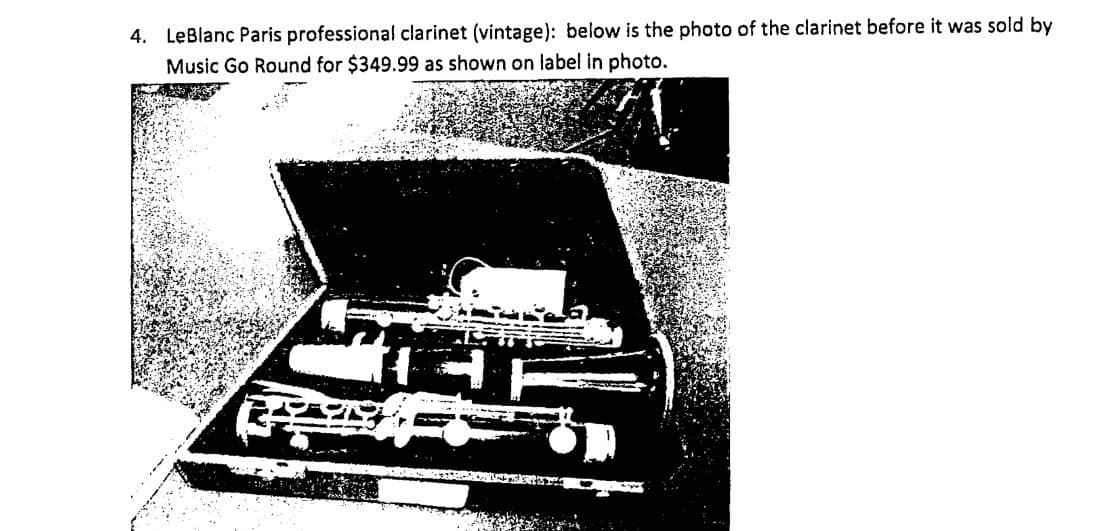 The Waukesha County case was filed in 2012. Anderson's address was given as the Wauwatosa address that matches his LLC. He was charged with burglary of a dwelling in the City of Delafield and burglary of a room within a building in the Town of Lisbon. Both are felonies. He was convicted of one of the felony charges. The other count was read-in at sentencing, according to online records. The sentence was 5 years probation, a stayed prison term, and 6 months in work-release jail.
Read the court file here, including the criminal complaint.
According to the criminal complaint, prosecutors alleged that, in the Delafield incident, two home owners reported that someone entered their apartment and stole $500 in cash, about $1,000 in collectors' coins, and approximately $70,000 in jewelry. The property was kept in a safe in their closet.
The home owners had left the apartment to travel overseas. That March, the Delafield Police Department received an envelope in the mail that contained cash and jewelry belonging to the couple valued between $20,000 and $25,000 and $450 in cash. It was mailed from the Pewaukee post office. Their daughter told police she suspected her ex boyfriend, Brian T. Anderson might be responsible. She had given him a key to the apartment that he later returned. Anderson's fingerprints were then found on plastic bags left in the safe, the complaint says. Authorities later discovered that Anderson had pawned several items of jewelry, the criminal complaint says.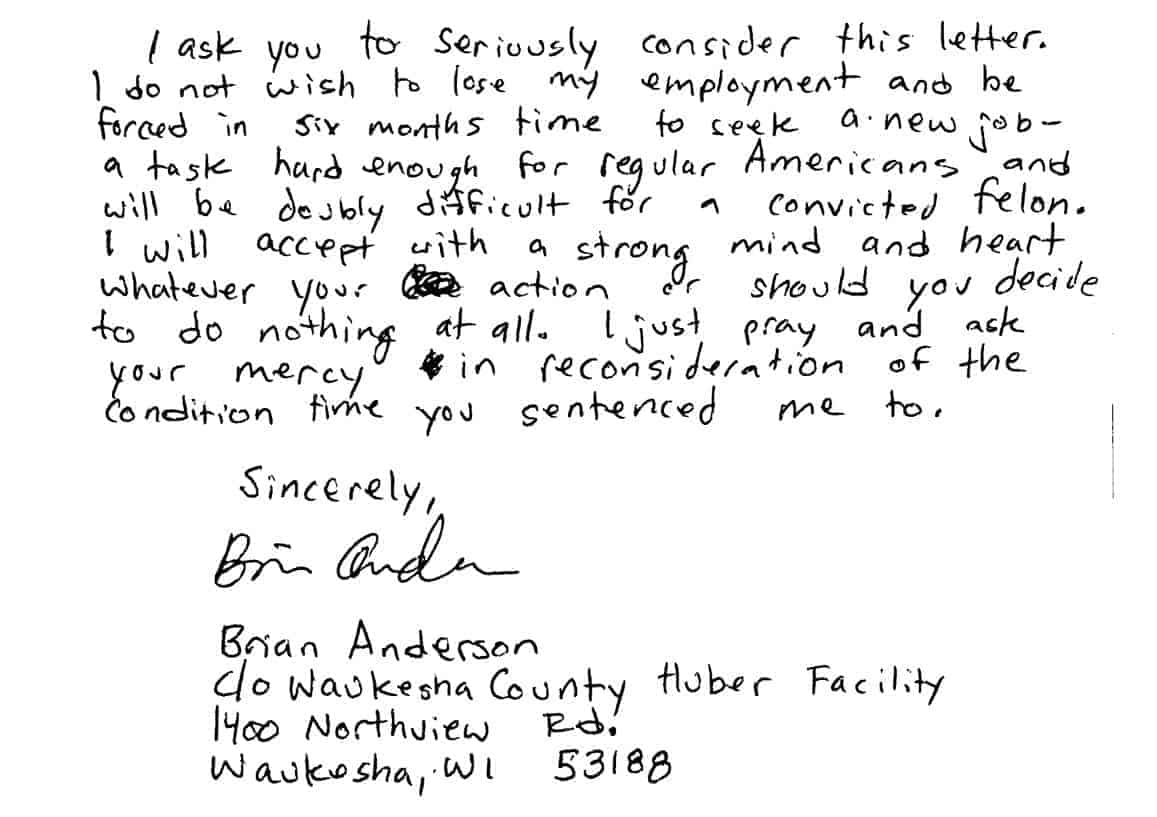 In July 2012, authorities were dispatched to a break-in of several storage rooms in the Town of Lisbon.
Two women said they had placed their deceased parents' belongings in the locker when their parents passed away. Items included musical instruments. They noticed that the musical instruments were stolen. They were valued at over $70,000. One of the women found her father's saxophone on eBay. Authorities were able to trace the sale of several of the musical instruments to Anderson, who told police he found the saxophone at an estate sale.
One of the sisters called the "theft and ultimate loss of the musical instruments" a "terrible emotional blow to my sister and me. Our father was a gifted musician, composer, arranger, and teacher who lived for music and his family and friends." He was the band director at Carroll College and later a Muskego middle school.
He died suddenly at age 62. "He wrote once in a letter to our mother that he wanted his girls (my sister and I) to keep his instruments after he was gone, even if we did not play them," she wrote. She said she was "horrified to find them gone," adding, "it has become clear that there is little hope of recovering most of the instruments taken, and it has been like losing my father all over again. In addition to the grief of reliving his death, I now carry the guilt of being unable to fulfill his wish that we keep his instruments."
They were not able to get the saxophone back. Other instruments couldn't be traced, either. They indicated that Brian Thomas Anderson "refuses to discuss anything about the theft or where the other instruments were sold," making them harder to recover.
In 2013, Anderson asked the judge for a reduction in conditions imposed or electronic monitoring. The judge denied the request. He said in a letter to the court that he was working at a company in Butler. Anderson wrote that the judge termed his words to the court as "glib," but he denied they were.
He added, "I wanted to address the addiction that influenced my victimizing" the people in question. He said his heart "was and is filled with guilty and shame." He asked for help from his parents to satisfy the restitution but was paying them back.
The family whose apartment was burglarized described in a victim impact statement how the burglary caused other innocent people to be fingerprinted as suspects and left them "frightened in our home. .. We felt extremely violated."
They said they believed the crime showed "premeditation" because "the theft was disguised with paper cut exactly to substitute for cash." The woman called it "disturbing, saddening, maddening, and alarming but mostly confusing. I am very angry at Brian on several levels."
The letter said the jewelry stolen was "meant to become a legacy to my daughters and be given to them as wedding gifts and such," wrote the female victim. The couple took a "large financial loss" and, as they are retired, would not be able to purchase new jewelry for an inheritance, she wrote.
---
Felony Conviction in Washington County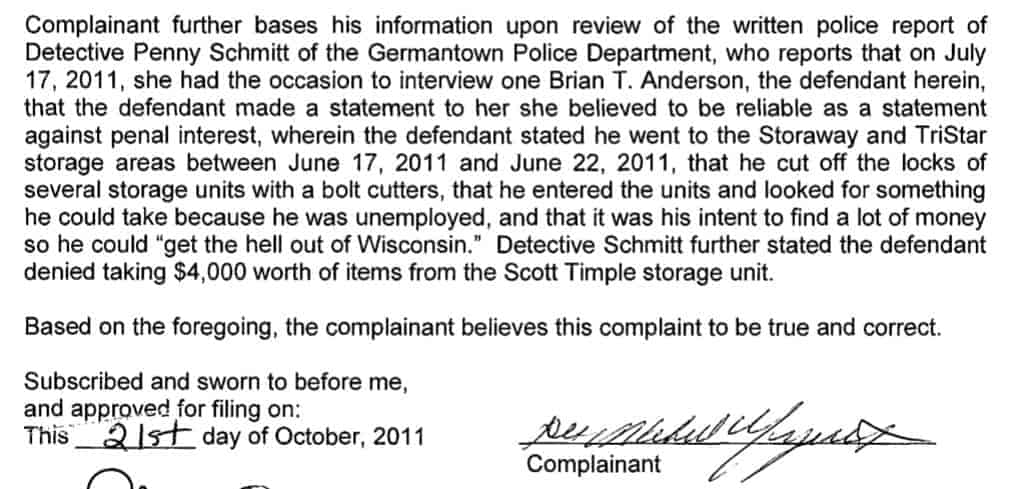 At the time of the Washington County case, Anderson was living in Brookfield. He was charged with 2 counts of felony burglary and 3 misdemeanor counts of criminal damage to property. Read the criminal complaint here. The felony charges and one misdemeanor count were dismissed. According to online court records, Anderson pleaded guilty to two misdemeanor counts of criminal damage to property. He was sentenced to a term of probation with stayed jail time.
In a letter to the court, the owner of one of the burglarized storage lots described how the crime harmed customers' sense of security at the business.
"My son and I spent hours going over video, as well as calling in the video company to help make a tape
for the officers involved which cost us $178.00. We spent over 15 hours capturing video and meeting
with customers. We provided new locks to our customers at $15.00 each (times 11 customers)," she wrote. "Trying to explain the individual was caught still does not restore customer security even with a 'new' lock. The disrespect for our facility, our customer's privacy, and the years we have spent building a reputation only to be negated NEEDS to be considered in the sentencing of this man."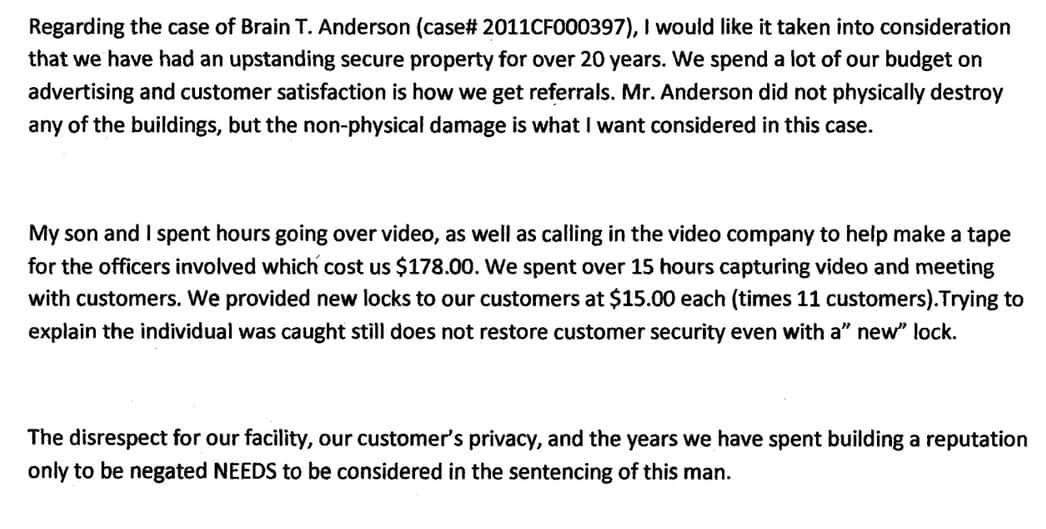 According to the criminal complaint, prosecutors alleged that a woman who owns a series of storage units in the Village of Germantown reported that nine separate units had the locks cut off. These units were rented by eight separate individuals or businesses.
Some of the people who rented the storage units, such as a local company storing paperwork, reported that nothing was missing.
However, one man said that two of his storage units were burglarized. Items taken included Franklin Mint 1:24 die cast cars, poker chips, a cut glass Nascar display, and other items totally $4,442.
A manager at another storage facility then reported that 17 units at that facility also had their locks cut off. The complaint accuses Brian Thomas Anderson of admitting he went to the storage areas in 2011 and cut off the locks with bolt cutters. He entered the units and looked for something he could take because he was unemployed and it was his intent to find a lot of money so he could "get the hell out of Wisconsin." He denied taking the $4,000 worth of items from the one storage locker.
Disclosure: Jessica McBride, a contributor at Wisconsin Right Now, is the niece of Wauwatosa Mayor Dennis McBride. Jim Piwowarczyk, the owner of Wisconsin Right Now, is the author of this story.