If you are a Children's Wisconsin employee who has decided not to take the COVID-19 vaccine and want to come forward with your story, please email us at: [email protected]
Children's Wisconsin nurses and other healthcare workers have produced a 'Stop the Mandate" video showing powerful stories from employees who are refusing to be vaccinated.
Children's Wisconsin will require all staff to be vaccinated against COVID-19 by Nov. 15, 2021. The requirement applies to all team members, whether or not they provide direct patient care and whether they work at a Children's location or remotely. This includes all employees, physicians, other providers, learners, contractors and volunteers, according to the hospital.
The video shows the human side of those who face losing their jobs by refusing the mandate, although it features the stories, but not the names and faces, of the affected workers who oppose the vaccine mandate many in the name of what they describe as "medical freedom."
"Experienced nurses are NOT dispensable," the video starts. "There is already a terrifying shortage and they are still threatening to fire us. We. Live.in. America. STOP THESE MANDATES."
People offered support in the comment thread under the YouTube video, which has had more than 4,000 views. "These are strong dedicated nurses. I know some personally. They are truly truly worried for their patients who will not get care not only due to no staffing but no specialty skill sets. They are harming all future patients, our children. 🙏 Keep Standing," wrote one woman.
The deadline for staff to be fully vaccinated is Nov. 15, 2021. The organization runs Children's Hospitals in Milwaukee and the Fox Valley.
The video opens with a statement that Children's Wisconsin is willing to fire 500 employees who have chosen not to receive the COVID vaccine.
"This staffing shortage will not only hurt Children's Wisconsin, but the patients, families and communities we serve," says the opening slide in the 10:31 long video.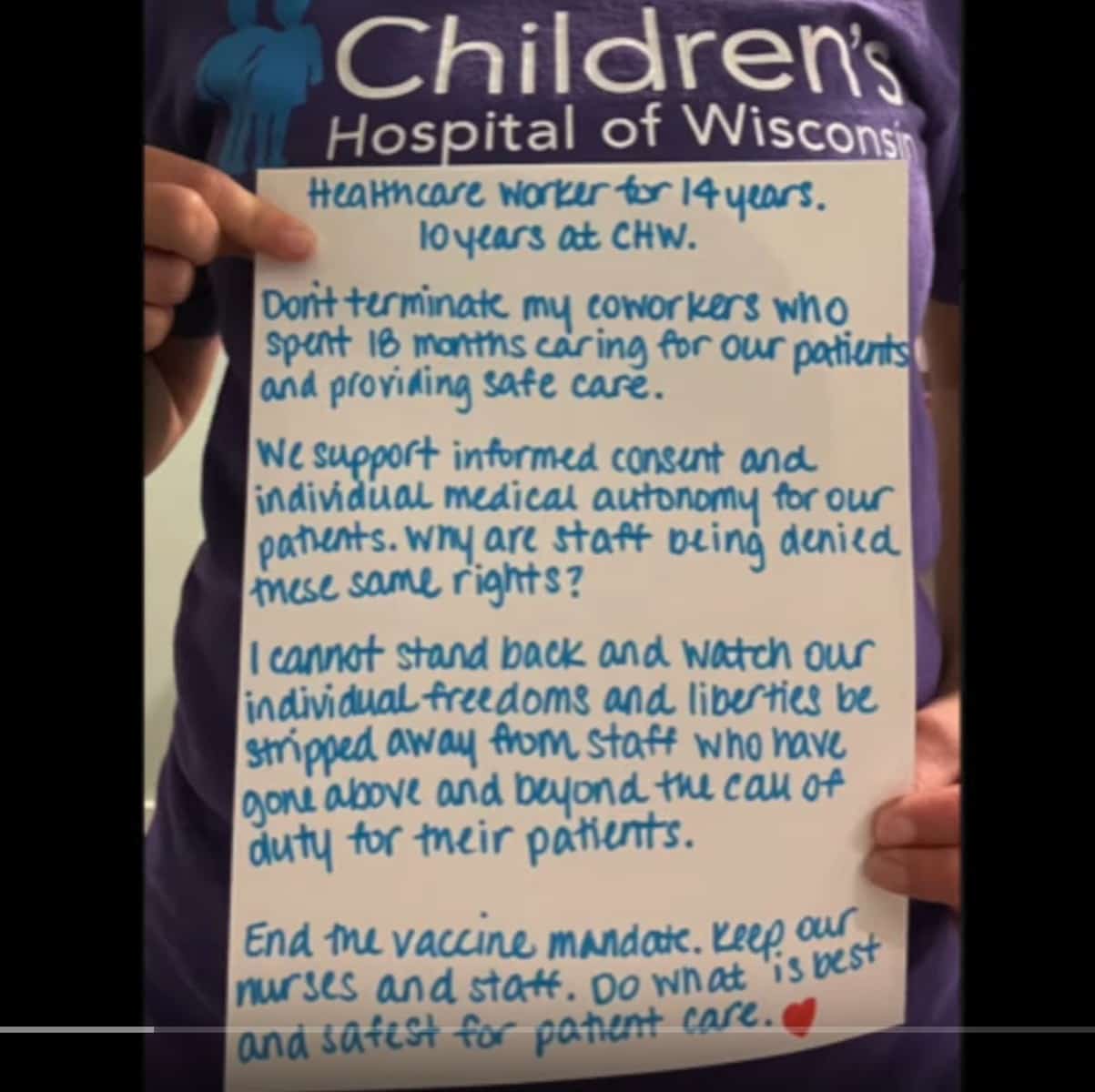 The video says it is offering a "glimpse of the human impact of Children's Wisconsin COVID vaccine mandate."
It then features a series of employees holding signs or just shows the signs and other messages. Some examples of the signs:
"RN 29 years. Last 21 years at Children's Wisconsin. Level 4 NICU. My years of experience can not be replaced by new grads or National Guard. I love my job. Stop the mandate now!!"
"25 years in Radiology at a job I love!! Every day giving quality and compassionate care to Wisconsin kids. Stop the mandate."
"RN: 28 years at Children's Wisconsin. Losing a job I love because of a mandate. Check my natural immunity. Please STOP the vaccine mandate. Our patients need us!"
"10 years at CHW as a NICO RN. Now losing a job that I absolutely love! Protect medical freedom. Stop the mandate."
The video says there are already safety shortages that the vaccine mandates will worsen. The video includes messages staff members receive when units need help: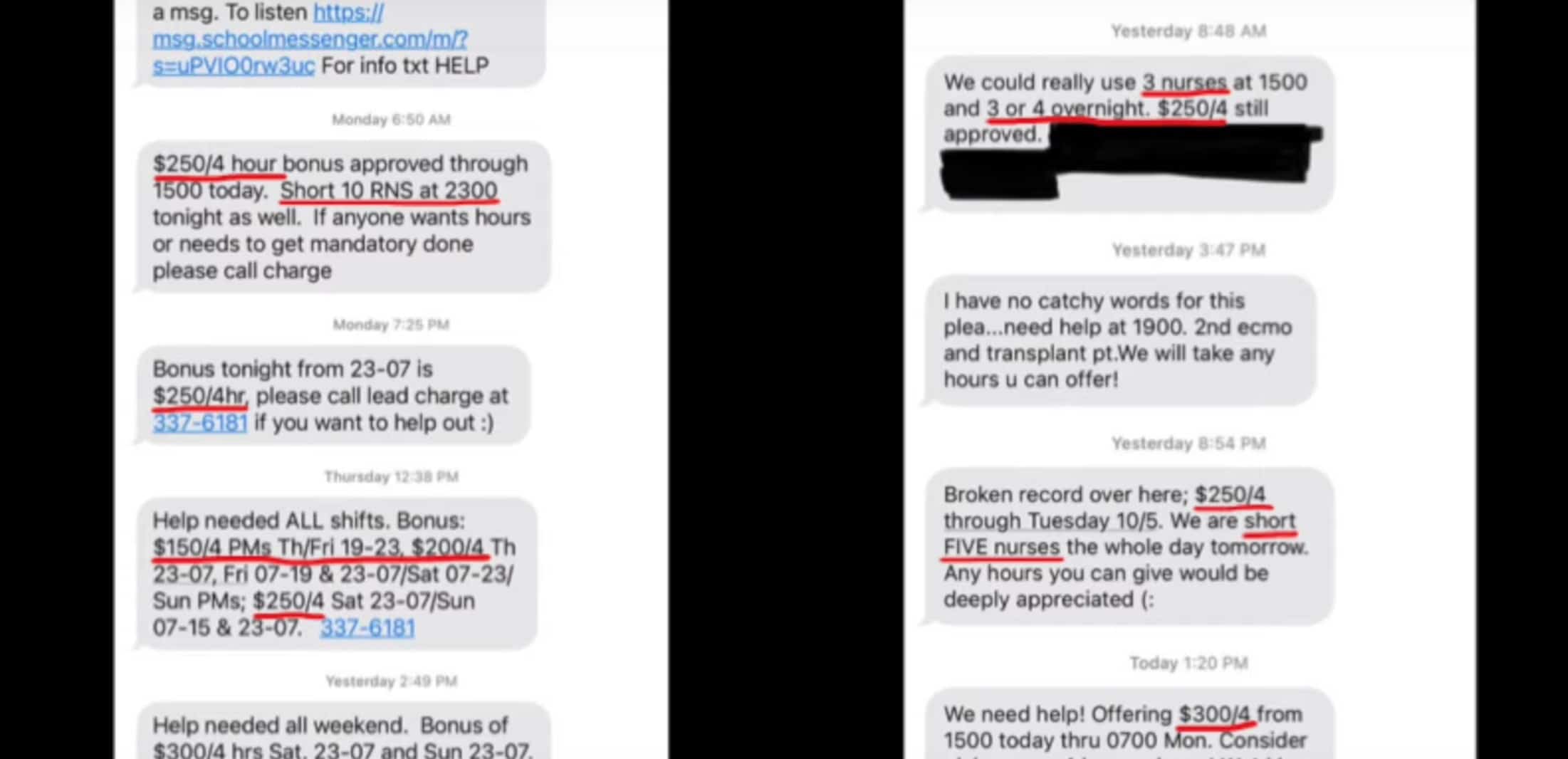 Sources tell us that Children's Wisconsin is already very strained by staffing shortages.
Children's Wisconsin Vaccine Mandate Exemptions
Children's Wisconsin says they have established a process for employees to request an accommodation or exemption based on a medical condition, other disability or religious conviction. However, sources are telling Wisconsin Right Now that they have not heard of any religious exemption requests being approved.
According to a statement posted on Children's Wisconsin website:
Caring for the sickest and most vulnerable kids in the state, Children's Wisconsin has a responsibility to ensure all of our team members are available to provide world-class care and support to families.

As the COVID-19 pandemic continues and new variants of the virus emerge, Children's Wisconsin will require all team members to be vaccinated against COVID-19, just as we've long required protection against other common contagious viruses. Children's Wisconsin will require all team members to be vaccinated against COVID-19, whether or not they provide direct patient care, and whether they work at a Children's location or remotely. This includes all employees, physicians, other providers, learners, contractors and volunteers. The deadline for staff to be vaccinated is Nov. 15, 2021.

A process has been established for individuals to request an accommodation or exemption based on a medical condition, other disability or religious conviction.

From Mike Gutzeit, MD, chief medical officer at Children's Wisconsin:

"Almost all Children's Wisconsin doctors have been vaccinated for COVID-19, demonstrating the confidence some of the world's best doctors have in the safety and effectiveness of the vaccine. We are thankful for their example and will continue to lean into their expertise and leadership as we engage with team members who are not yet vaccinated.

The best protection for our children from the physical, mental and emotional impacts of COVID-19 is the timely vaccination of the community surrounding them. The mission of Children's Wisconsin drives us to do everything in our power to protect the health and well-being of kids. The vaccine is safe, effective and continues to be the most powerful tool against COVID-19."