Support for educational freedom is strong in Wisconsin and could hurt Gov. Evers at the ballot box, a poll found.

Most Wisconsinites favor the Wisconsin School Choice program, with more than half of independents and Republicans supporting it, a new poll shows. The poll also shows that Gov. Tony Evers' opposition to school choice is hurting him with the crucial independent voting base needed to win re-election.
The poll shows that 56% of people favor the Wisconsin School Choice program. Only 26% oppose it. Even 36% of Democrats support it. Support is strong among independents, with 54% favoring it and 25% not favoring it. Among Republicans, 77% favor it, and 11% do not.
Voters were asked, "As you may know, Governor Evers strongly opposes opening up Wisconsin's School Choice program to every family in the state. Does this make you more or less likely to vote for Evers for re-election this fall?"
In the poll, 46% said it would make them less likely to vote for Evers compared to 35% who said it would make them more likely and 16% who said it would make no difference. These numbers are driven by independents and Republicans; in both groups, more people say Evers' choice opposition will make them less likely vote for him than people who say it will make them more likely. Even 17% of Democrats are less likely to vote for Evers because he opposes school choice.
Evers' School Choice Polling Numbers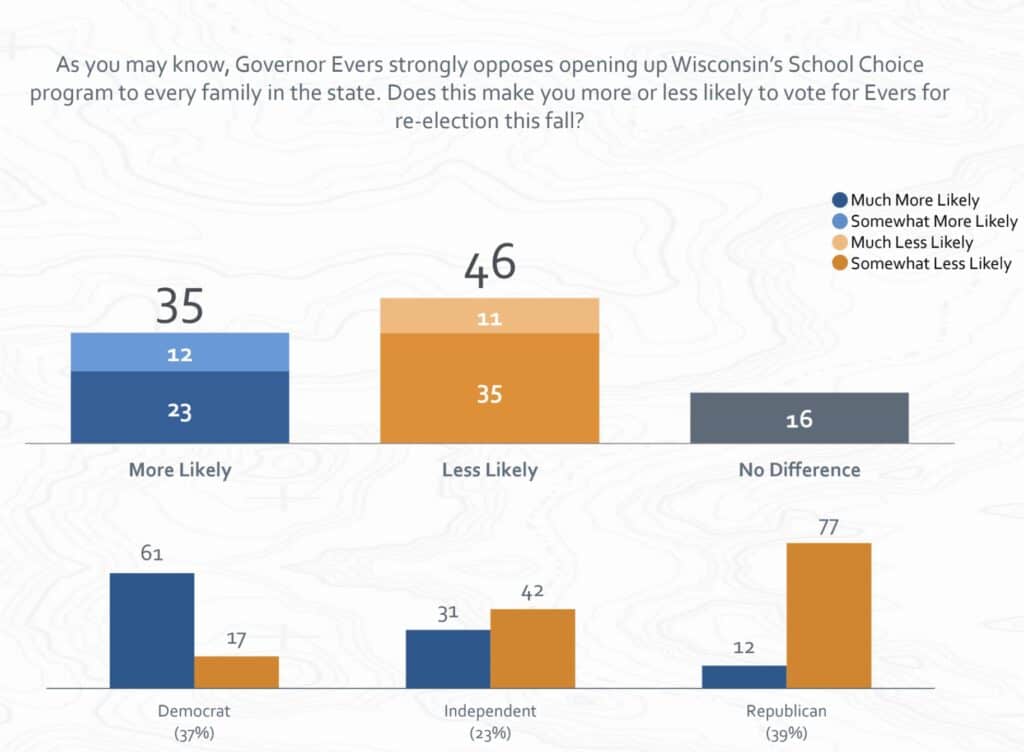 Evers is hurt most strongly in the La Crosse media market by his school choice opposition. That's a swing area of the state.
In the poll, conducted by School Choice Wisconsin, voters were read the controversial tweet by Democratic party leader/state Rep. Lee Snodgrass, who said, "If parents want to have a say in their child's education, they should home school or pay for private school tuition out of their family budget."
More than half of independents and Republicans would be less likely to vote for a legislator who made that comment. The opposition to her comment was most pronounced in the Green Bay, La Crosse, and Milwaukee media markets.
Asked, "Would you be more or less likely to vote for a state legislator that votes to open up Wisconsin's School Choice program for every family in the state?" more than half said yes.
"There's been a parental awakening in Wisconsin. While voters might be divided on any number of non-education issues, there is substantial agreement when it comes to education," said Nic Kelly, President of School Choice Wisconsin.
Support was even higher when people were given more information about school choice, especially facts that the media often don't tell them.
Pollsters read voters this question: "The program allows lower-income parents to send their child to a private school of their choice. Private schools must meet a strict set of regulations for student safety, standardized testing, public audits and publicly reporting student performance. Knowing this, does it make you favor or oppose the Wisconsin School Choice program?"
In that instance, 62% of people favored it, with only 32% opposing it, and even support among Democrats leapt to 43% with 63% of independents and 79% of Republicans favoring choice. Again, support was strong across all media markets but was strongest in Milwaukee and La Crosse.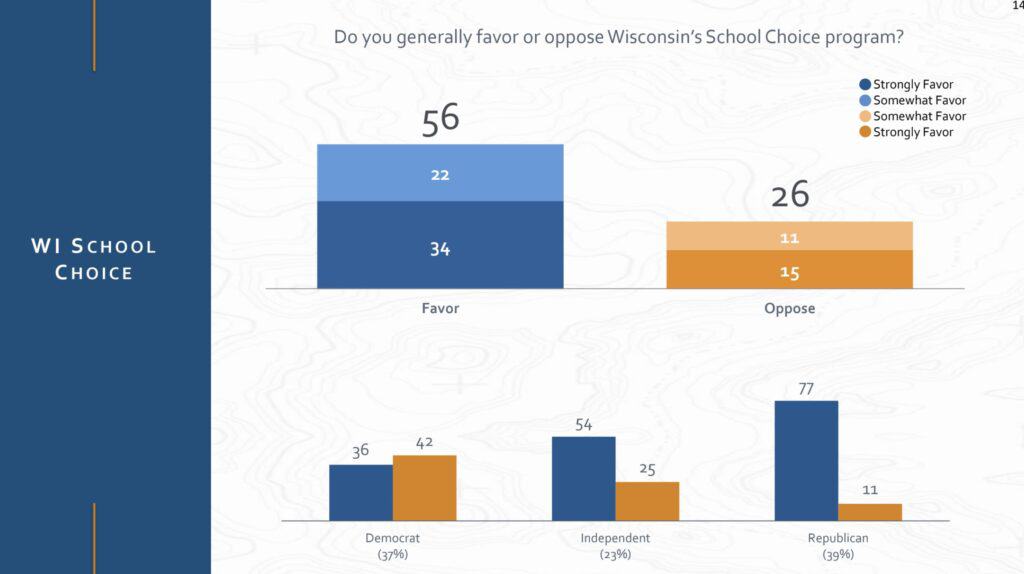 Almost one-third of people polled knew someone who was thinking of switching a school in the past year. The reasons, in order, were: academics, educational curriculum, mask mandate, forced virtual learning, and other.
There was also strong support across the board for parental rights across all media markets and groups. For example, 78% said they agreed that parents "should have the right to review their children's instructional materials and outlines used by the school they are attending." And 74% agreed that "Wisconsin parents should have the right to send their children to schools that are best for them rather than being forced to attend schools based solely on where they live."
In addition, 65% of people agreed that "Currently only low-income families are eligible for school choice vouchers in the statewide program. Income restrictions need to be dropped so that every Wisconsin family has the ability to send their children to a school that's best for them." And 54% of people agreed with this statement, "Charter and choice schools have better academic results compared to public schools yet receive less than two-thirds of the amount of public funding traditional public schools receive. It is time to fully fund charter and choice schools."
The poll was conducted by OnMessage Inc. in Wisconsin. Telephone interviews were conducted on February 13-16, 2022. The margin of error for this survey is +/- 3.70%.
Support for choice is strong throughout all media markets, and it's strongest in the Milwaukee and Green Bay media markets.
It's also strong across all age groups and both genders.
Support jumped to more than 50% in all political groups, even among Democrats, when people were asked whether they were more or less likely to support the school choice program if told that "students in Wisconsin's School Choice program score higher on state tests than traditional public-school students and score higher on the college readiness test, known as the ACT test."
The same is true when people were told "Private schools in the program must follow all safety codes, submit annual audits and match data reporting, including the state test, as public schools before they can accept state vouchers."
The poll also showed that people generally had positive impressions of the public schools in their area; many just want parents to have options. People felt the most important issue facing schools was "Increasing teacher pay and overall funding for our public schools" followed by "Focusing on teaching the basics and stop focusing on critical race theory."