Since 2019, Gov. Tony Evers' Parole Commission has released hundreds of convicted criminals, freeing them early on parole mostly into Wisconsin communities, including more than 300 murderers and attempted murderers, and more than 47 child rapists.
---
---
Frederick Herrington was one of them. His release was discretionary.

24th in the series.
---
Frederick Herrington murdered his 2-year-old foster son, Miles Turner, in Racine in 1997 because the boy had soiled his pants.
The boy's wounds included "at least five separate trauma injuries to the child's back, from the shoulders to the top of the buttocks…at least four more trauma injuries to his right arm and innumerable injuries to his buttocks and thigh area," an old newspaper article in the Racine Journal-Times says.
Frederick Herrington admitted striking Turner "with a switch."
The medical examiner determined Miles died of "multiple blunt trauma injuries to the entire body" including four separate blows to the head. They were described as using "high velocity force."
According to an old article in the Racine Journal Times, the child was "found unconscious at the bottom of some stairs." Police said that Herrington beat the child because of the pants soiling.
"Your degree of culpability is absolute," the judge said. "Anyone who beats a 2 or 2 ½ year old child for having an accident, it's unspeakable."
The boy's problems with soiling his pants were likely because he was traumatized from being removed from another foster home he was in since he was an infant. He was removed from that due to unfounded allegations of corporal punishment, the Journal Times article said.
The prosecutor, Elizabeth Blackwood, said, "Miles was not hit just once, twice or three times, he was beaten all over his body. To make matters worse, the defendant left this child and went off and shopped."
In 2019, Gov. Tony Evers named a new Parole Commission chairman, John Tate. Tate promptly began releasing some of the most brutal killers in state history, including Herrington. Eves reappointed Tate after Frederick Herrington's release, saying he was pleased to do so.
---
Tony Evers' Parole Commission Released Frederick Herrington Early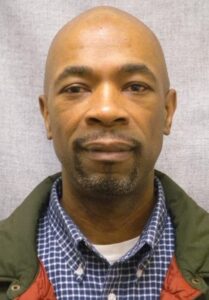 Date paroled: 12/10/2019 [You can look up his parole date here by putting in his name and clicking on "movement"]

Currently Resides: Racine
Age: 51
Convicted: First-degree reckless homicide, 1997.
Sentence: 40 years. His mandatory release date was not until 06/14/2023. The parole was discretionary.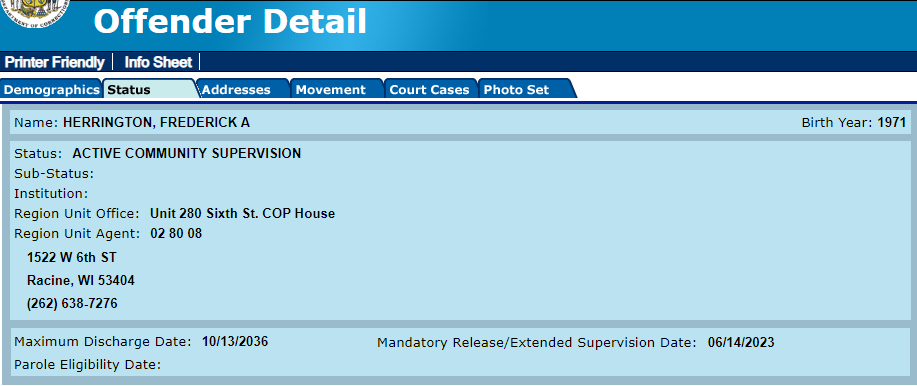 ---
The Victim:
Miles Turner, 2, a foster child
---
What the Killer Did
Frederick Herrington was 26 years old at the time of the crime.
When police arrived they found Herrington "was casual and calm preparing dinner."
The mother of the boy told Herrington, "You should have no rights to freedom. You should not walk the streets at all."
When a young child "passes away under these circumstances, it's an incredible tragedy," Racine County Circuit Judge Emmanuel Vuvunas said at the time, according to an old article in the Racine Journal-Times.