Left-wing Supreme Court candidate Janet Protasiewicz pasted the word "LIES" next to a factual Milwaukee Journal Sentinel headline that was based on a 15-year-old rape victim's statement to police about what convicted felon Anton Veasley did to her.
See: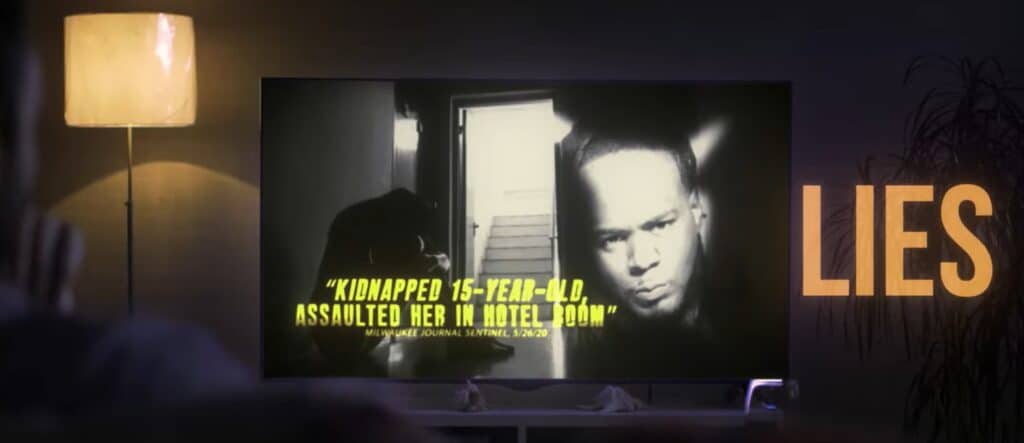 Is Protasiewicz accusing the teen rape victim of lying? That's the implication from her ad. If so, why did she, as court records say, order an "entry of Judgment of Conviction" against Veasley in the case?
Protasiewicz has been under fire because she gave Veasley a "time-served" disposition (he had served some jail time already), allowing him to walk free on probation with a stayed prison term at sentencing, according to court records. She could have given him 20 years in a prison cell.Veasley has already re-offended and was convicted of a felony firearms charge.
Protasiewicz is running an ad that is ironically titled "the truth." Over a picture of conservative candidate Jennifer Dorow, Protasiewicz's ad says that "outright lies" and "false attacks" have started. The ad does not actually list any outright lies or false attacks.
Then, alongside the word "LIES," the Janet Protasiewicz ad runs a headline from a Milwaukee Journal Sentinel article that reads, "kidnapped 15 year old, assaulted her in hotel room," next to a picture of felon rapist Anton Veasley.
Protasiewicz's campaign is, thus, falsely saying through the juxtaposition of word and image that it is a lie to say the 15-year-old victim was kidnapped and assaulted by Veasley in a hotel room. But that's what the teen told authorities happened to her, according to the criminal complaint. And, as noted, he was convicted in Protasiewicz's court.
Does Protasiewicz believe the teen was not really raped by Veasley? Why, then, did she uphold his conviction for sexual assault when Veasley appeared in her courtroom?
According to Wisconsin court records, Veasley was convicted of the following charges in Protasiewicz's court:
3rd Degree Sexual Assault, a class G felony, Wisconsin Statutes 940.225(3)(a).
Child Enticement-Sexual Contact, a class D felony, Wisconsin Statutes 948.07(1).
Protasiewicz was also the judge in Veasley's plea hearing, court records show.
We obtained the criminal complaint from the Milwaukee County District Attorney's Office. Read it here: Criminal Complaint_1 – Veasley, Anton Roosevelt; 2020CF001889; Veasley, Anton Roosevelt_12277214_1(1)
The Milwaukee Journal Sentinel headline was based on the criminal complaint, which accuses Veasley of abducting the teen off a street and raping her in a hotel room. The brave victim managed to escape. Thus, the Journal Sentinel wasn't lying, either.
The screenshot in Protasiewicz's ad first appeared in a third-party advertisement that criticizes Protasiewicz for her handling of the Veasley case. However, the advertisement merely repeats the victim's statements in the criminal complaint and uses court records that outline Protasiewicz's sentencing. Thus, if Protasiewicz argues she was merely criticizing the other ad, it's a point without distinction because that ad simply repeated the teen's claims from the criminal complaint. That brings us back, in circular fashion, to the key point: Does Protasiewicz not believe the teen victim?
Wisconsin Right Now first broke the story of Protasiewicz's sentencing in the Veasley case. There are no "lies."
This is what the criminal complaint says the teenage victim told police:
"ALB left her group home on the afternoon of May 14, 2020. She was walking toward Silver Sping Drive when a man, who she identified in a photo array as the defendant, pulled up in a pickup truck and began yelling at her. At first she ignored him and kept walking. The defendant exited the vehicle, approached her, and reached out to grab her.
ALB tried to dodge out of his way, but the defendant grabbed her wrist and forced her into the front passenger seat of his vehicle. She did not consent to going with the defendant. While in the vehicle the defendant called people asking them to book a hotel room for him. He also asked ALB if she wanted to make money. He asked her if she had any sexy clothes and gave her a pack of condoms.
He told her that she would have sex with men and give head, and that she could set the prices herself. The defendant told her that he could have her walk down National Avenue and men would some right up to her, but she said she was not comfortable with that. The defendant told ALB to call him 'Daddy.'
The defendant had a friend of his named Sheila book a room at the American Inn Motel located at 6798 W. Appleton Avenue, in the City and County of Milwaukee. In the hotel room the defendant told ALB to take her clothes off, then he pushed her on the bed and had penis to vagina sex with her without a condom. He told her that he was the only one allowed to have sex with her without a condom. He also had her perform oral sex on him.
The defendant left the room. ALB spoke to the manager who allowed her to make a call, she spoke to her friends, went back to the group home, and called police."
Protasiewicz previously laughed when asked about the case and defended her sentence, saying she did not have a crystal ball.