Since 2019, Gov. Tony Evers' Parole Commission has released hundreds of convicted criminals, freeing them early on parole mostly into Wisconsin communities, including more than 300 murderers and attempted murderers, and more than 47 child rapists.
---
---
James Block was one of them.

6th in the series.
---
Christine Acevedo was a much-loved mother of three when her ex-boyfriend, James Block, asphyxiated her to death. The murder was brutal.
According to newspaper articles from the time, James Block first strangled Acevedo, but then revived her. He then put his knee on her neck and chest, asphyxiating her to death. "Die bitch," he said as he stood over her. She pleaded for her life.
The family has published many remembrances to Christine in a Kenosha newspaper. Year in and year out, they would remember her.

Christine's daughter Patricia Logan told Wisconsin Right Now that she not find out that Block had been paroled for a year.
"He strangled and revived her and she was fighting," Logan said. "He put his knee on her neck."
Although she acknowledges the Parole Commission may have had old contact information for her, Wisconsin Right Now was able to find her in an hour. "I was not notified," she said. For years, she said, the family wrote letters urging the Commission to deny the parole. Over the years, her grandmother and aunt passed away.
"I was shocked he got out," Logan told Wisconsin Right Now. "Life is life. You took a life, you don't get to breathe fresh air. My mother doesn't get to breathe fresh air; why should he?"
She believes Gov. Tony Evers should not have appointed a Parole Commission chairman with this early release philosophy. "He (Evers) did not look at the full picture of what families go through," she said, describing Block's release as incredibly "traumatic," reigniting PTSD that she's struggled with since she was a 12-year-old girl suddenly informed her mother was murdered.
Tony Evers reappointed the Parole Commission chairman who freed James Block in 2021, AFTER Block's release.
---
Evers' Parole Commission Freed James Block Early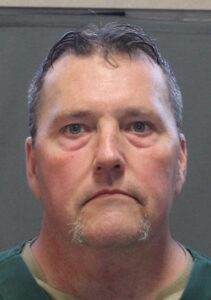 Date paroled: 07/07/2020 [You can run James Block's parole date yourself here by putting his name in the database and then clicking on "movement"]
The released killer now lives: Kenosha, Wisconsin
Age: 60
Convicted: 1st-degree intentional homicide
Sentence: Life. James Block did not qualify for mandatory release because he was serving a life sentence. Thus, the decision to parole him was a CHOICE.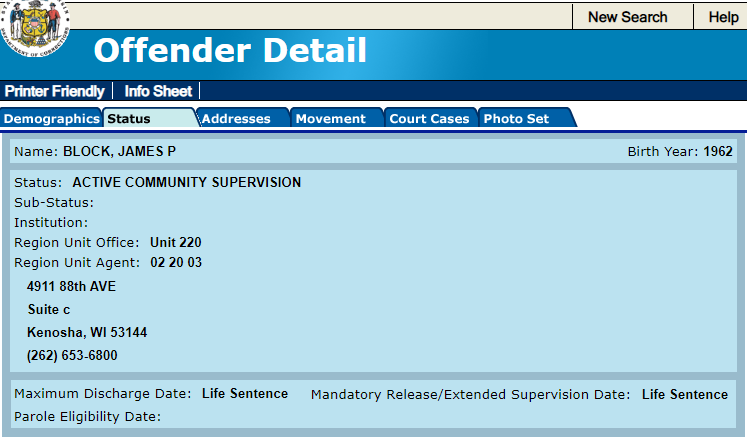 ---
The Victim: Christine Acevedo, 34
Acevedo was a shipping clerk and mother of three. Logan described Acevedo as "very good to her family, to her friends. She was a worker. She was kind, caring, and she liked people."
She enjoyed going to rummage sales with her grandmother. "My children had to grow up without a grandparent," said Logan. "It was very sad and hard. I didn't understand as a kid why that would happen."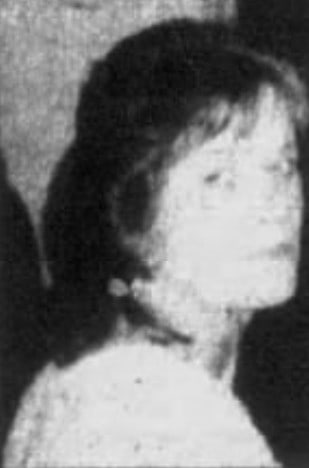 ---
What the Killer Did:
According to a 1984 article in the Kenosha News, James P. Block asphyxiated his former girlfriend Christine Acevedo, 34, during an argument about money.
Block told a witness he choked the victim, then placed his knee on her throat or chest and said "die bitch" as she pleaded with him not to kill her, the newspaper article said.
A Kenosha News article states that Block tried to strangle her but then put his knee and foot on her chest until she was asphyxiated. He choked and revived her before kneeling on her throat.
Logan said her mother met Block at a glass factory in Waukegan where they worked.
Of the parole, she said, "It's a let down. I didn't feel it was right he was released. He's 10 years older than me. I was hoping he'd die in prison. There's nothing I can do about it now."
She believes parole should be reserved for "drug addicts or someone who ran dope" not a brutal murderer like Block.
"My mom was my rock," she said. After the murder, "everyone went through stress and loss. Depression and anxiety."
She found out Block was released when she "had a bad feeling that he got out" and called the victim/witness office to ask. "I found out he had already been released for a year," she said. "I was beside myself."