Wauwatosa Police Officer Joseph Mensah should NOT be fired.
Up until now, Wisconsin Right Now had a lot of respect for former U.S. Attorney Steve Biskupic. No more.
Biskupic is urging the city to fire Mensah, but terminating an officer for justified shootings sets a terrible precedent and reads as a hunt for justification to pacify protests/riots. Biskupic, who was retained by the Police and Fire Commission, didn't find that the three shootings were unlawful. Neither has District Attorney John Chisholm, who ruled all three were justified self defense. Instead, Biskupic came up with a series of Mickey Mouse trivialities to get him.  They weren't searching for the truth; they were searching for a reason. Hey, Biskupic: Get a spine.
Biskupic's report reads like an attempt by the city to find a way to fire Mensah anyway. We would note that the Common Council prejudged the case, calling for the officer's firing even before Biskupic and Chisholm completed their investigations.
We read Biskupic's justification for urging Mensah's termination.
First, he argues that the officer should be fired because he might hypothetically shoot a fourth person. This is absurdly unfair. People should be fired for what they have done, not for what they might do.
As to the possibility of a fourth incident, Biskupic wrote, "Will he hesitate, will fellow officers react differently? Will nefarious members of the public (given Officer Mensah's high profile) attempt to bait him? Those questions now objectively exist."
It's extremely unfair to fire an officer because other people MIGHT make his job unsafe or because he MIGHT hesitate or because other officers MIGHT react differently.
How would you like to be fired from your job for something you haven't done yet? How would you like to be fired from your job because others might threaten you or because of what someone else might theoretically do? That's unfair.
Secondly, Biskupic states that Mensah should be fired for making misleading statements to the news media in an interview the chief didn't authorize. We think Mensah should have gotten departmental approval before talking. That was a big mistake on his part. It likely warrants suspension (we'd note he's already suspended for reasons that are unclear. He was suspended before investigations were complete. None of that gives us confidence in the city's ability to be fair.)
We think context is important. When he gave the ill-advised interview, Officer Mensah was under incredible pressure, enduring repeated harassment. The protests culminated in him allegedly being SHOT AT outside his girlfriend's home, which was overrun with rioters. Where was the department then? Why did they not sit on the officer's home and prevent rioters from running all over his girlfriend's yard essentially leaving him to fend for himself in the face of an unruly mob? The officer was under great pressure to defend his reputation when he gave that interview. We think that needs to be considered in context.
As for the misleading statements, Biskupic says Mensah didn't correct a false statement made by the talk radio host. That statement alleged that Alvin Cole fired at the officer first; in fact, Biskupic now says Cole's gun discharged "apparently accidentally," hitting Cole, and that Mensah then says he fired when Cole pointed the gun at him (Cole still had it in his hand). We don't think it's fair to discipline Mensah for something someone else said. Discipline people for what they do, not for what others say. Mensah is being urged to be fired because he didn't correct a comment a talk show host made. Secondly, the other statements strike us as not firing offense worthy (for example, getting wrong the history on how many times other officers had fired). The latter is historical data not germane to the question of lawfulness in the Mensah shootings. Chief Barry Weber said at the first press conference on the Mensah shooting of Cole: "What is clear and not a matter of dispute is that the deceased fired his weapon before the police officer fired theirs."
Maybe the interviews should necessitate a suspension. To be sure, Mensah could have spoken with more preciseness. Fine. But firing? No.
Here's a case in point of how unfair Biskupic's report is to Mensah. He states in the report that Alvin Cole ran from police and pulled out a handgun and the gun fired "apparently accidentally." He then says Mensah should be fired because he didn't correct a talk radio host that Cole fired at Mensah first. But by using the word "apparently," Biskupic is acknowledging he doesn't really know what Cole was intending to do when he fired. Was it an accident or not? If it wasn't an accident, obviously Cole wouldn't be intending to shoot himself.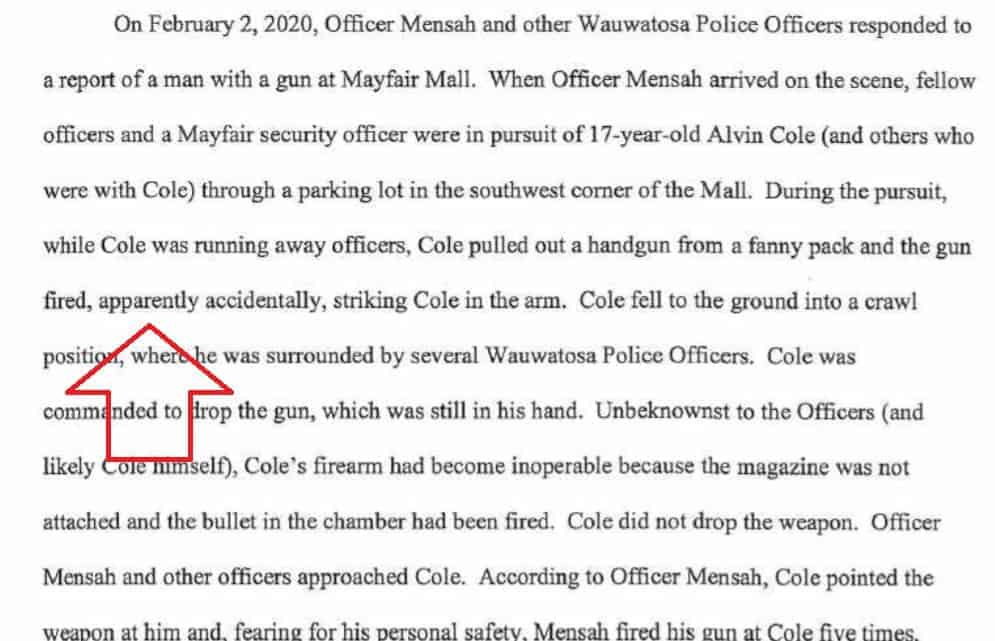 Chisholm's account of the shooting is somewhat different from Biskupic.
This is what Chisholm wrote of the key moments:
A pursuit of Cole, partially captured by Officer Shamsi's video, followed during which time one of the male individuals (KD) was detained by Officer Schleis, and Mr. Cole was pursued by Mayfair Security guard DB, Officer Shamsi, Officer Mensah and Officer Johnson in that respective order. During the pursuit a shot was discharged from Cole's vicinity (this is captured by Shamsi's video/audio and Olson's audio) and Cole went to the ground with a firearm in his right hand. Because it was later determined that Alvin Cole had a graze wound to his left forearm, and because a spent casing was still in the chamber of the firearm recovered from Cole, it is believed that Cole discharged the firearm while running. Cole was ordered to surrender the firearm by Officer Shamsi who was closest to him. Officers Olson, Shamsi and Mensah all stated that at some point Mr. Cole pointed the gun in their direction and did not surrender the firearm. Officer Mensah fired 5 rapid succession rounds at Mr. Cole which ultimately led to Mr. Cole's death.
Here's another example of how unfair Biskupic is to Mensah. With respect to all three shootings, Mensah stated, "I'm an anomaly in this whole situation even though they continue, continue to disregard the fact that the common denominator in every single one of these incidents is that the subject was armed… Either they displayed a weapon, went for a weapon, fired that weapon in every single one of them. And out of all of these the entire- their defense in all these incidents is that I am the problem in every single one of them. It completely takes out the fact that you have people who are committing crimes where I'm going to calls where people have committed crimes. They present a weapon at an officer."
Biskupic then splits hairs and twists what Mensah says, writing, "in fact, in the case of Jay Anderson, Officer Mensah had not been called to Madison Park to investigate a report of a crime being committed. He went to the park on routine patrol and saw a car parked there after closing – a non-criminal offense punishable, if at all, by a forfeiture of between $10 and $200."
But Mensah didn't say that he was called to a report of a crime. He said that he was "going to calls where people have committed crimes." In fact, Biskupic's own report says that Anderson was over the legal limit of alcohol for driving and had likely been smoking marijuana in the car. The latter would be a crime. Words matter. Mensah didn't say what Biskupic claims he said.
Finally, and this is perhaps the most important point: Biskupic, a former federal prosecutor now in private practice, did NOT find that Officer Mensah used unlawful deadly force in ANY of the three shootings. Not of Jay Anderson. Not of Antonio Gonzales. Not of Alvin Cole. He also confirmed that all three men were armed when shot. Anderson and Cole had guns, and Gonzales had a large sword. Biskupic, who was retained after a complaint by the Anderson family, spent more time on that case and found that there was insufficient evidence to find that Mensah used illegal deadly force when he shot Anderson. He did not give a conclusion on the other two cases, but, notably, he also did not say the use of force was unlawful.
We would note that District Attorney John Chisholm previously found that Mensah used lawful self defense when he shot and killed Anderson and Gonzales. He ruled today that Mensah used lawful self defense when he shot and killed Cole.
Biskupic's report is just a recommendation. We urge the city NOT to fire Officer Mensah.
Biskupic found that allowing "Mensah to continue the performance of his full police officer duties, including the concurrent authorization for the potential use of deadly force for a fourth time, creates an extraordinary, unwarranted, and unnecessary risk to the Wauwatosa Police Department and the City of Wauwatosa."
Biskupic also accused Mensah of making "public statements regarding the shootings that are inconsistent and misleading with respect to the facts of these matters." He said the statements violate an important policy strictly prohibiting an officer from publicly discussing the details of an ongoing investigation of an officer-involved fatality."
Read the full report here.