Milwaukee County Judge Yamahiro, in an unprecedented decision, has outrageously found probable cause that former Wauwatosa police officer Joseph Mensah committed homicide in the five-year-old death of Jay Anderson Jr.
Judge Yamahiro will appoint a special prosecutor to consider whether to bring a homicide charge using a little-known provision in John Doe laws. Remember that any charges would need to be proven beyond a reasonable doubt before a jury. That's a higher standard than probable cause.
We don't think the media will tell you all of these facts, but they are important to remember. Here are 14 key facts that are important to remember about Judge Yamahiro's outrageous decision:
Judge Yamahiro Key Facts
1. Judge Yamahiro has a significant alleged conflict of interest. His ex-wife and the mother of his child, Deja Vishny, assisted in representing the Anderson family and has worked side-by-side for months with attorney Kimberley Motley, calling for criminal charges against Mensah. See our previous story exploring the conflict of interest question in depth here. How close are the pair? "Best partner EVER!!" Motley, who asked Yamahiro to charge Mensah and handled the case in court, declared about Vishny, a former Milwaukee public defender.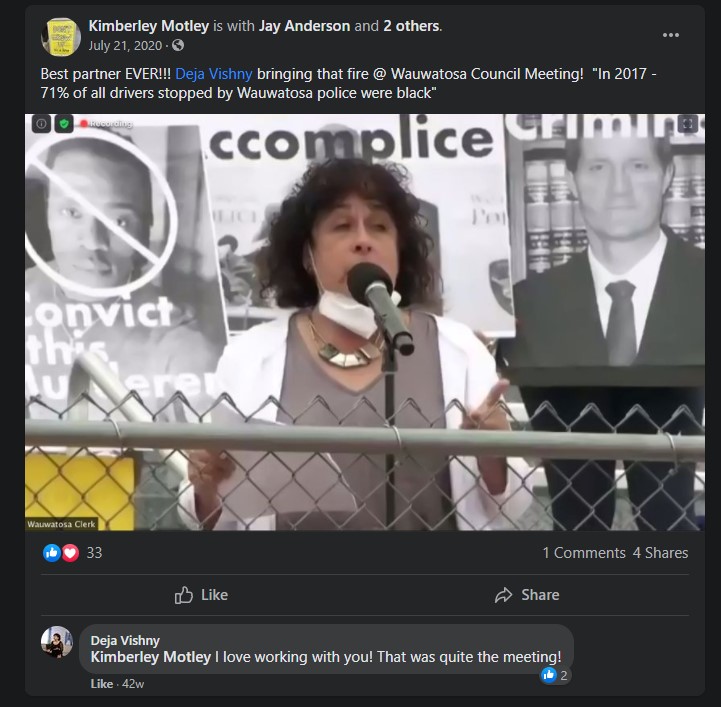 2. Judge Yamahiro is a former public defender who was appointed by liberal Governor Jim Doyle to the bench.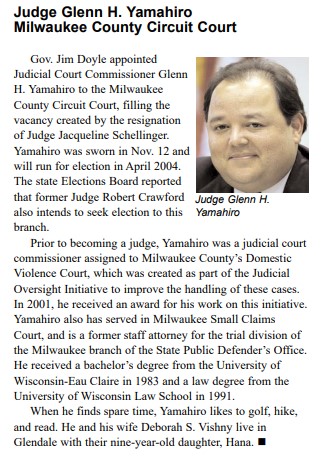 2. Mensah was cleared by multiple reviews, one dating back FIVE YEARS. In 2016, John Chisholm, the DA, "told Anderson's family that Mensah's actions were justified self-defense when he saw Anderson's hands drop during their interaction," the Milwaukee Journal Sentinel reported in 2016. In 2020, former US Attorney Steve Biskupic, acting as an independent investigator, found that there was insufficient evidence to find that Mensah violated the law in Anderson's death. Federal prosecutors declined to charge Mensah after yet another review.
3. Mensah's lawyer didn't get to present any evidence or cross-examine any witnesses at the Judge Yamahiro hearing due to how John Doe laws work. Any citizen – in this case Anderson's family via Motley – can petition a judge to consider charges that a DA won't issue. However, the Chicago Tribune previously reported that the provision is so rare it's used once or twice a decade.
4. Mensah did not testify at the Judge Yamahiro hearing.
5. Mensah's lawyer did not get to present his own experts at the Judge Yamahiro hearing.
6. The evidence the judge heard was crafted and presented by Kimberley Motley, attorney for the Anderson family. Thus, it was a completely one-sided presentation.
7. Anderson possessed a firearm, a Ruger model SR9c, 9mm, semi-automatic pistol, according to Biskupic's report. His loaded firearm was on the front passenger seat next to him when Mensah shot him.
8. Anderson had a prior misdemeanor conviction for possession of a firearm while intoxicated. That night Anderson consumed brandy and smoked marijuana with a friend, who suggested that Anderson go home. His blood-alcohol level several hours after leaving a bar was still 0.11, according to Biskupic's report. He entered the park at 1:37 a.m. He likely smoked more marijuana (the car was still filled with marijuana odor when examined by police officers an hour and a half later, and a very small amount of marijuana residue was in a paper fold in Anderson's pocket.)
9. Mensah's personnel file contains only one disciplinary incident, a letter of reprimand for negligently causing a minor collision. His file contains 14 pages of commendations from citizens and other police departments.
10. Mensah said he gave Anderson repeated orders not to reach for the gun. Anderson initially complied and placed his hands in the air about chest or shoulder height. "However he suddenly reached toward the seat with his right hand while looking at the weapon (on the seat.) Mensah stated he immediately moved his weapon to the high ready position and ordered hands up and radioed he has a gun! Step it up! The driver placed both hands in the air stating, 'What? There's nothing there! It's nothing!" That's according to Biskupic's report, citing Mensah's account to investigators.
Mensah said, "I see the gun! Don't reach for it!" The driver again reached toward the front passenger seat. Mensah ordered, "Stop reaching for the weapon!" The driver pulled back and said, "It's nothing." Mensah said the driver made at least four separate movements with his right arm toward the front passenger seat. Each time Mensah ordered him to stop and the driver returned both of his hands into the air.
Mensah stated the last time the driver made a movement, instead of just his right arm moving toward the gun on the seat, his whole body lunged toward it. Mensah yelled, "Keep your hands up," but the driver did not comply and Mensah discharged his weapon 3-4 times, Mensah told investigators. He felt exposed because he was in an open parking lot without any cover. He said he discharged his weapon because he knew the firearm was on the passenger front seat of the vehicle. He stated he ordered and pleaded with the driver numerous times to not reach for the weapon. He shot because the driver reached for the weapon and he believed the driver was going to use it against him. Officers have a right under Wisconsin law to use lethal force if they reasonably believe that their life or that of another was in imminent danger.
11. Video documented that Anderson made a movement in the car right before Mensah fired. A squad video shows Mensah standing outside the passenger door with his right arm extended. Anderson is sitting in the driver seat and his right arm can be observed in the air. The driver was moving around with both hands in the air. Then, the driver's right hand was moving side to side. Then movement by the driver is observed and the right hand can be seen extending toward the passenger front seat. The right hand dropped from view. That's all according to the Biskupic report. Does that provide reasonable doubt?
12. William Harmening, the Jay Anderson family "expert" whose testimony against Mensah was cited repeatedly by Yamahiro as a foundation for his decision, was rejected as an expert in another police shooting case because a federal judge believed he "lacked the needed expertise" in key areas. In addition, Wisconsin Right Now found that the professor – who told a judge that Mensah's use of force was not "reasonable" – was previously accused of presenting a conclusion against a police officer that was "riddled with errors." Harmening's expert testimony was limited in other cases, and another judge raised questions about some of his findings. In a Fresno case, he was accused of injecting "mere speculation and conjecture" into his testimony. Read our story on Harmening here.
13. Waukesha County Sheriff Eric Severson, who hired Mensah as a sheriff's deputy, said he did a careful and exhaustive review of the past shootings: "The reality is that there is no evidence to lead anyone to credibly believe some kind of linkage between any one of these (Mensah's) deadly force situations other than the persons involved chose to arm themselves with deadly weapons and refused lawful orders by police and turned those weapons toward others," said Severson. Of Anderson he said, "In his (Biskupic's) own words, the guy was legally intoxicated and in possession of a firearm; that in and of itself is a crime. He was repeatedly being told, 'Do not pick up that gun.' He did it anyway."
14. Mensah was also cleared in two other shootings. Both of the people shot in those cases had weapons.