Some media outlets' stories didn't report the Kenosha shooting suspect description, even though he was at large in the community for some time.
The Kenosha County Sheriff's Department provided a suspect description in their press release issued in the early morning hours of April 18.
The initial Sheriff's Department's release said: "The suspect has not been located at this time. The suspect is described as a black male over six feet tall wearing a light-colored hooded sweatshirt. This appears to be a targeted and isolated incident." In a later news conference, the sheriff said a person of interest had been located. CBS 58's story does give the full suspect description. So does 620-WTMJ.
But other stories don't list it.
Here's how the other media outlets' stories described the shooter:
CNN: "whoever opened fire"
Milwaukee Journal Sentinel and USA Today: "suspected shooter" and "a patron" and "the man"
Fox 6: "the suspect"
WTMJ-TV: "the suspect"
Journal Times: "suspected shooter"
WISN: "the suspect" (without giving the suspect description, the station added, "No other details have been released.")
NBC News: "suspect"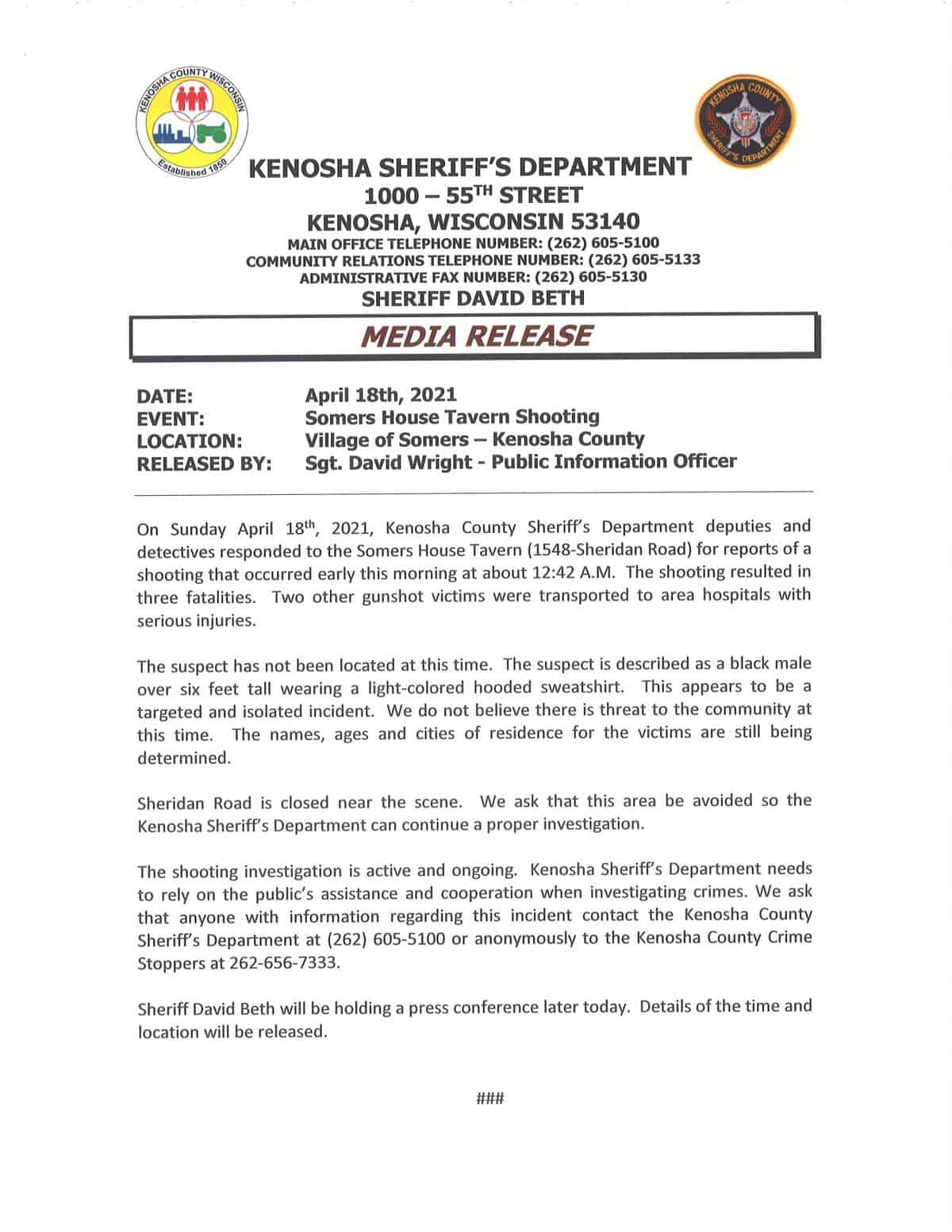 The department did say it did not believe there was a threat to the community. The shooting occurred around 12:42 a.m. at the Somers House Tavern, 1548 Sheridan Road. Three people died. Two other gunshot victims were taken to area hospitals with serious injuries, the release says.
An updated press release says there were six shooting victims and at least one possible unknown shooting victim. Three of the victims are males and are deceased. The person of interest will be criminally charged with one count of first-degree intentional homicide with additional criminal charges to follow.