Wauwatosa Mayor Dennis McBride says the Mayfair Mall mass shooting wouldn't have happened if the shooter had "complied" with the mall's "strict no-gun policy."
McBride made the comment in a press release. "Guns have no place in shopping malls or other places in which crowds of people gather. Mayfair has a strict no-gun policy. If the shooter had complied with that policy, no one would have been hurt yesterday," he wrote.
He added, "On behalf of the community, I thank the officers of the WPD and nearby police departments for their protection of shoppers, employees, and other members of the greater Milwaukee community. "
The mayor returned to the issue of guns in a Sunday news conference where the chief revealed a 15 year old Milwaukee teenager was in custody in connection with the mass shooting, which injured eight. McBride reiterated that Mayfair has a no-gun policy. "Mayfair has that rule and people should follow that rule. Unfortunately, there are people who break rules and laws," he said.
"I see a deeper problem in society. Children shouldn't have guns. Mayfair has a strict no gun policy. People should not bring guns to malls," said the mayor.
McBride said in the news conference that he doesn't believe "people should come to political rallies with guns."
He made the comment at the tail end of a November 22 press conference when asked about a MAGA rally held across from the mall on Saturday, November 21. "The Wauwatosa Police Department is pleased to announce the arrest of a 15 year old Hispanic male in connection with the shooting at Mayfair Mall," Weber said in the same news conference.
McBride was asked about the armed people who showed up at the MAGA rally in support of President Donald Trump's recount efforts the day after the shooting. The protest involved about 500-600 people and featured former Milwaukee County Sheriff David Clarke. It was held across the street from Mayfair, and many people, including Proud Boys who said they were there to provide security, were openly carrying firearms, which is legal in Wisconsin with some exemptions.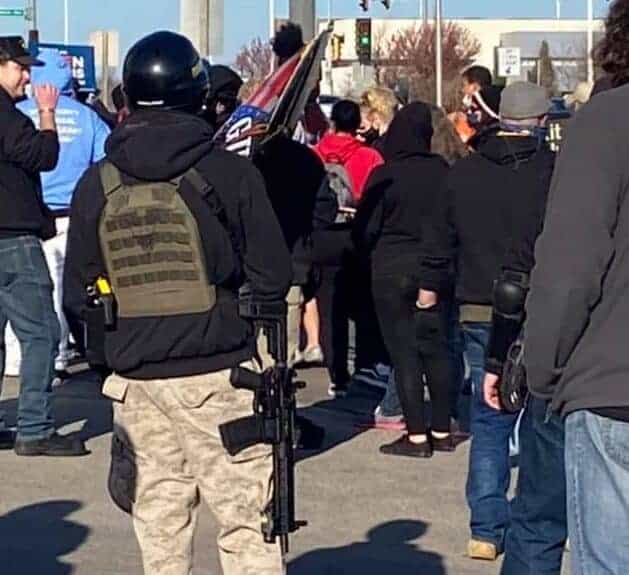 "That rally as I understand it was planned for at least a week prior to the shooting," McBride said. The mayor said it was "unfortunate they chose to come despite what happened the day before."
He added: "I don't think people should come to political rallies with guns."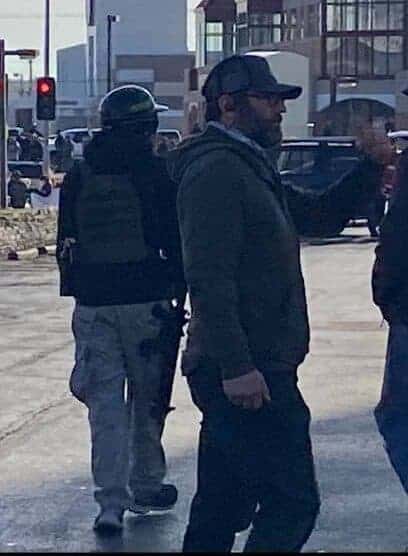 According to the mayor, "We need to respect the First Amendment rights of everybody to stage a political rally or a protest, but if it had been up to me I would have said please do not come, do not bring guns; honor the fact our community is suffering right now and needs to heal."
Wauwatosa has seen acts of violence before – stemming from the People's Revolution protests in the city. A People's Revolution member is accused of discharging a gun at Officer Joseph Mensah, who resigned this week after coming under fire for shooting and killed an armed teen who brought a gun to Mayfair Mall and then discharged it outside. Mensah was involved in two other fatal on-duty shootings. All were ruled justified by the Milwaukee County DA. McBride signed a revolution that called for Mensah's firing before the DA's office was complete. The officer is now resigning in exchange for a severance agreement worth $130,000.
There were no reports of any violence among MAGA protesters at Saturday's rally; we did ask Wauwatosa police about a conservative site's report that MAGA protesters were struck by a car. The Wauwatosa police spokeswoman told us: "There was an injury crash at Mayfair/North around 10:57 a.m. Two pedestrians sustained minor injuries and the vehicle involved fled the scene. Our Crash Unit is investigating the incident." We asked her about the national site's claim that a Biden supporter was driving the car and asked whether the incident was politically motivated and intentional, and she responded that she didn't have those details.
There was also this incident, which appeared to involve an anti Trump protester taking a swing at a member of the Proud Boys.
https://twitter.com/Mrtdogg/status/1330227830358233088
However, video also captured a man at the protest putting on a swastika mask while standing with a group of Proud Boys who disavowed him on video.
---
The Shooting Stemmed From an Altercation Between Two Groups
https://www.facebook.com/27357795283/videos/1122422958173836
In the news conference, Wauwatosa Police Chief Barry Weber said the shooting, which injured eight people (including four innocent bystanders), ignited as a result of an altercation between two groups. Police said they weren't sure whether gangs were involved. The Milwaukee youth was arrested in a traffic stop, and the gun was recovered. Police were there giving first aid to victims within 30 seconds, said Weber; the suspect exited the mall as people were running out. The exact nature of the altercation was not released, nor was the suspect's name due to his age.
The mayor proclaimed that he was "off to Mayfair. I have no problem whatsoever shopping at Mayfair."
"We live in a society where there are a lot of gun sand a lot of people act impulsively and stupidly," said McBride. He said the shooting could have happened "anywhere on the street, in church."
He said more than 16 million people go to Mayfair each year and declared it was safe.
He said that "good police officers" and mall security make sure the mall is safe.
Disclosure: WRN contributor Jessica McBride is the niece of Dennis McBride. Jim Piwowarcyzk, the owner of WRN, is the author of this story.