Why aren't Tony Evers, Josh Kaul, and other Democrats condemning Agard's Memorial Day statement, which is insulting to service members who gave their lives for the country?
Wisconsin state Senate Democratic Minority Leader Melissa Agard sent out a disgraceful Memorial Day email to constituents trashing the U.S. Military for its "sexism and violence" and slamming the United States' "unethical war efforts" and supposed failure to treat "people of color and immigrant" service members equally.
Agard, a state Senator from Madison representing the 16th Senate District as a Democratmel, sent out the statement on May 26, 2023, leading into Memorial Day weekend.
To state the obvious, Memorial Day is a solemn occasion meant to commemorate and honor American service members who died while serving in the U.S. military. Originally known as "Decoration Day," it has been an official federal holiday honoring these American heroes since 1971.
Yet, as Wisconsinites throughout the state were poised to honor our country's fallen services members with decorum and grace, Agard decided it was appropriate to take potshots at the United States and its military. The first sentence of her email made it clear that she understands exactly what Memorial Day is supposed to mean.
Agard's statement was first obtained by writer David Blaska. Wisconsin Right Now has also obtained, with Blaska's help, the original e-update sent out by Agard from a constituent who received it, Norman Sannes. It shows she sent the statement out using her legislative email as an official legislative function.
"Nothing like 'piggy backing her personal opinions and crusades' on top of a revered day of remembrance. Agard has assumed the mantle of 16th Senate District Jane Fonda, and I'm not Fonda Jane!" Sannes told Wisconsin Right Now.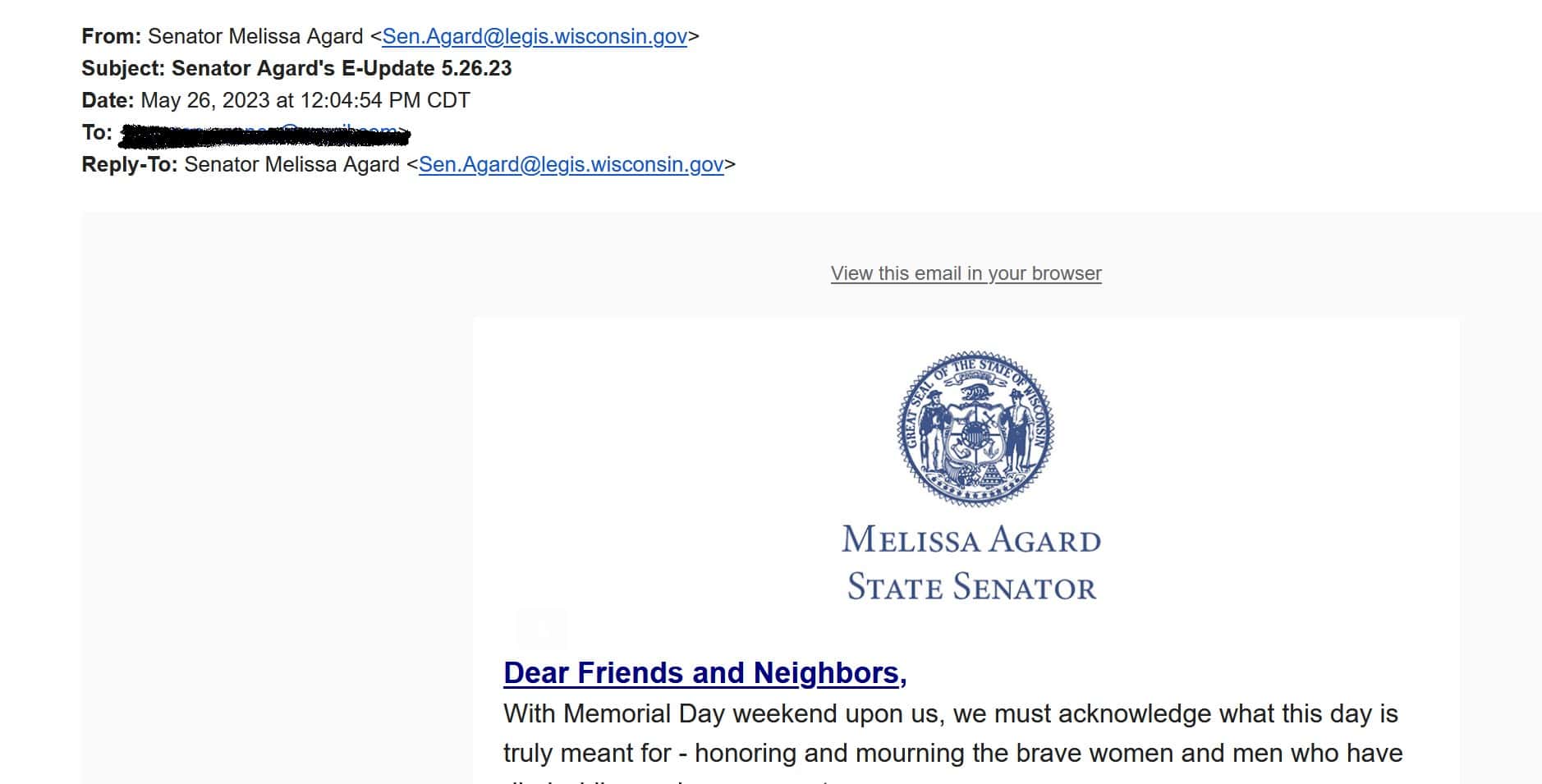 In her warped worldview, Memorial Day should also be a day to remember the "countless innocent civilian lives" killed by American service members.
Her disdain for U.S. service members and her inappropriate and despicable insult to those who gave the ultimate sacrifice should be condemned by all, yet other Democrats remain silent, including Gov. Tony Evers and Attorney General Josh Kaul.
Here is Agard's full Memorial Day statement:
Dear Friends and Neighbors,
With Memorial Day weekend upon us, we must acknowledge what this day is truly meant for – honoring and mourning the brave women and men who have died while serving our country.
Memorial Day is a day about remembrance. Remembrance for the countless lives that have been lost throughout the years in wars and conflicts on behalf of our country. However, in addition to remembering the men and women who have served and lost their lives too soon, today we must also remember so many others.
We must remember the countless innocent civilian lives that have been lost in the United States' unethical war efforts. We must remember the women who for so many years worked diligently behind the scenes, were on the frontlines going unseen, or who faced sexism and violence within the military, and the people of color and immigrants who have served and died, whose own country refused, and continues to refuse, to treat them equally despite their willingness to sacrifice their lives for this very land.
But despite our inability to change the past, we still have the power to change the course of history. We are stronger together. And together we can build strong communities.
In Service,
Melissa Agard
State Senator
16th Senate District