Update! The moms on a mission were the top three vote getters in the February 15 primary and advance to the general election in April.
They're called "Moms on a Mission."
Their names are Nina Christensen, Shelley Holzman, and Chris Stueland, and they're  Menomonee Falls School Board Candidates
The Waukesha County Republican Party has endorsed the three women.
They're on the Feb. 15, 2022, primary ballot for School Board. Last spring, conservatives and other parents all over the state stood up and started taking back school boards. The Moms on a Mission are part of that movement. The top six vote-getters out of eight candidates will advance to the April 5 general election. Two of the eight are incumbents.
The moms have raised concerns about books given to kids.
Christensen was among parents who organized a protest against masks. Stueland also spoke out against mask mandates, telling WISN-TV, "We don't really know long-term effects from wearing masks all year long, five days a week, in school. There's opportunity for these parents, teachers, volunteers helping in the schools to get vaccinated."
As Christensen wrote on her website,
"Like many career moms, my primary focus was my family, raising my children, and work. I placed absolute trust in many of our institutions, including the educational system. However, about a year ago, I began to pay more attention and ask questions. It was important for me to obtain a comprehensive understanding of the system. I spent countless hours attending school board and committee meetings and researching information about the inner workings of the school district. In doing so, I gained tremendous insight. I appreciate that there have been great strides made in certain aspects of our children's education, however, I discovered serious areas of concern. The negative impact of the pandemic further amplified those issues. I was disappointed to see the declining Forward exam scores for our district. Many students in our district are failing to meet proficiency scores in the critical areas of reading, science, social studies and math. The fundamental responsibility of our educational system is to prepare our children to enter into the world prepared and equipped to succeed.
Our school system has slowly been misdirected due to an emphasis on socially- and emotionally-charged controversial issues. These distractions have contributed to a lack of focus on fundamental educational principles and academic standards.
The primary goal of education should be about teaching children HOW to think instead of WHAT to think. It is about CRITICAL thinking and not EMOTIONAL thinking.
I believe our country is at a turning point and we can reverse course if we combine our efforts. I believe we can do better. I believe we can achieve excellence. We need to redirect, refocus and realign our priorities back to fundamental educational principles and standards. I advocate for forward-thinking, but not to the detriment of forgoing core values. Now, knowing what I have discovered, I cannot look away. I am compelled to take action because we have a moral obligation to help secure a bright future for our children."
Here are the women's bios.
---
Chris Stueland Bio
Chris Stueland says:
"With a fresh perspective, I am compelled to make a difference in the education of our children. My husband and I have lived in Menomonee Falls for 16 years and we have three daughters. I am also a Speech-Language Pathologist in the medical setting. In these trying times, advancing our children's learning and development skills to their fullest potential is vital for a high-quality education. As a wife, mother and healthcare worker who demands excellence in public education, I am committed to be a voice for parents, students and teachers to problem-solve together."
"The pandemic has allowed me to take stock in my children's education and has highlighted strengths and weaknesses in our schools. I feel that I can offer a fresh perspective on the board as a mom and speech-language pathologist. My critical thinking skills as a healthcare professional will allow me to think outside of the box when offering solutions. For the past 2 years, I have been actively involved with the school district by regularly attending board and committee meetings, speaking at board meetings, writing emails and meeting with school district leadership. I feel it is important to fully understand the inner workings of the school board and what is being accomplished."
Her focus:
Status quo has to go – fresh ideas are needed on policy and procedures
Hands-on approach supporting our parents, students and teachers
Stand up for Parents' Rights
Prioritize Transparency and Accountability with Curriculum and build trust
Strive for Excellence and community standards in education
Fiscal responsibility – student-centered budgeting
---
Shelley Holzman Bio
Shelley Holzman says,
"My two children will be graduates of Menomonee Falls School District. My hope when they reflect is that they are proud of their education and the experiences they have gained on their K-12 journey. I am motivated to ensure the students of Menomonee Falls School District are in an environment that will allow them to thrive academically, grow into critical thinkers and be positive centers of influence within our community."
Holzman told The Milwaukee Journal Sentinel, "SDMF has been in-person learning for most students since January 2021. More emphasis needs to be placed on how to catch up any students left behind by virtual learning or those students struggling with re-acclimation to in-person learning."
She says she stands for:
I will use common sense and logic to navigate issues facing our district. Stop the politici9zing of every issue.
I will stand up for students, the district and our community – on driving excellence in education.
I will stand up for teachers – building environments that drive student success.
I will partner with our administration in building a culture that attracts and retains top talent.
I will ask tough questions. I will use data and root cause analysis to understand the issue and solutions available.
---
Nina Christensen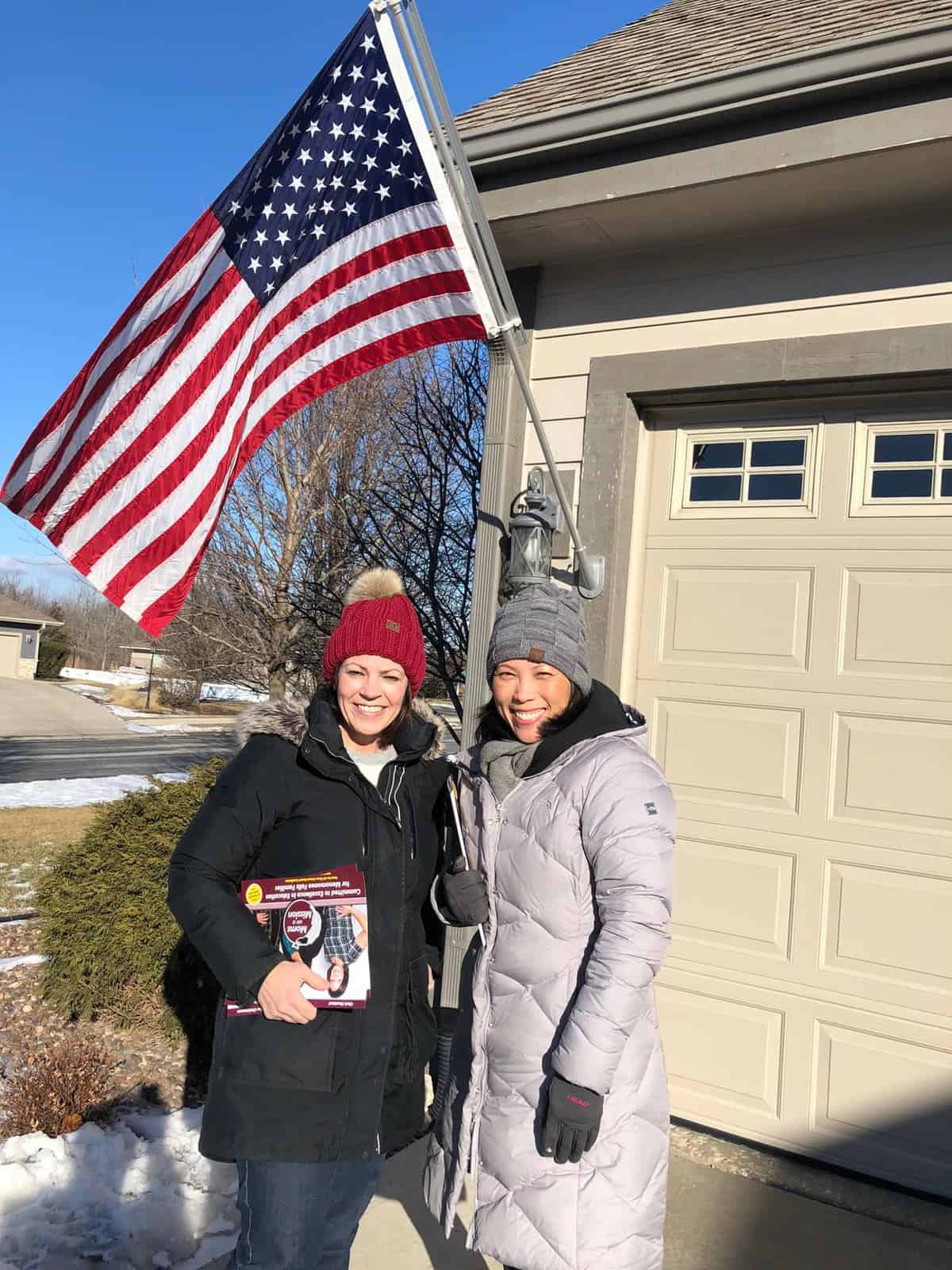 Nina Christensen says,
"I am a business owner, a medical professional and, most importantly, a mom of two children in the public schools. In 2009, my family moved to Menomonee Falls to raise our children, and we have been proud to be part of this close-knit community. I want what is best for all families in the community. I have spent 22 years of my career advocating for my patients and now, I want to redirect my focus to protecting our children's success and future."
What she will pursue:
Review and assess curriculum and books that distract from academic achievement
Focus on improving our district's assessment and proficiency scores
Reshape policies to have clear and concise curriculum transparency; have parents and teachers involved in the decision-making process.
Examine school budgets to ensure that stakeholders have confidence that their tax dollars are being managed properly.
Respect parents' choices, decisions and autonomy
Advocate for open and honest dialogue about accountability of staff, teachers, and administration