Michael Wagner, a UW-Madison journalism professor who runs a fact-checking site there, apologized and deleted a tweet he admits "could be read as encouraging violence."
The tweet read, "Where have you gone, Rand Paul's neighbor, a nation turns its lonely eyes to you."
We asked UW-Madison for comment. "Students, faculty and staff are able to exercise their First Amendment right to free expression on social media; when they do, they are expressing their own views, not those of the university," Meredith McGlone, director of News and Media Relations for the University of Wisconsin–Madison, said when asked about Wagner's tweet. We asked her whether there are exceptions to that, including advocating violence, and haven't heard back.
The professor's research articles include an article called "the public consequences of political vilification in politics and the media." He earned $114,000 in one recent year, according to a media database.
According to NBC News, Paul's neighbor Rene Boucher was sentenced to prison time in the violent assault against the sitting senator. Paul told the court he suffered broken ribs, flew 10 feet in the air and was left with "significant injury that I have lifelong symptoms of," NBC reported.
"I don't know what a night without pain is like or what a day without pain is like, so I do suffer from this," Paul said, according to NBC. "This was no routine altercation. This was no sort of fact-to face man to man thing." The attack led to hernia surgery for Paul and he developed pneumonia after the attack. The dispute was over yard waste.
Michael Wagner wrote the comment with a share of a tweet from a man who quoted Paul as saying he will introduce amendments to defund any government agency that seeks to enforce Centers for Disease Control and Prevention guidelines, including schools. Paul had said, "It's time for us to resist. They can't arrest all of us…No one should follow the CDC."
Here are the tweets, both the original post and Michael Wagner's follow-up apology. Although he deleted the original tweet, screenshots were widely shared on social media. We reached out to both Wagner and Hernando Rojas, who is Director, School of Journalism and Mass Communication at UW-Madison. We heard back from McGlone instead of Rojas and received an automated email back from Wagner that says he is out of the country.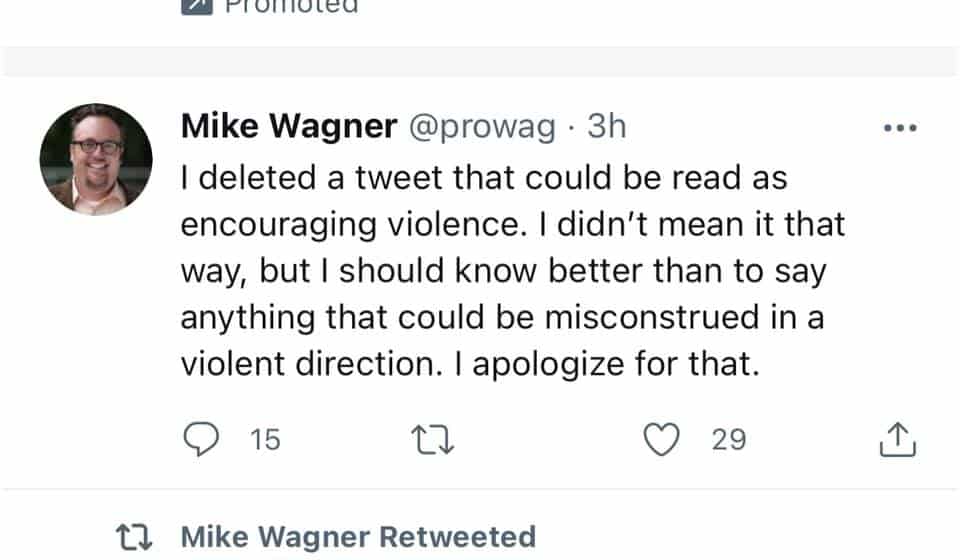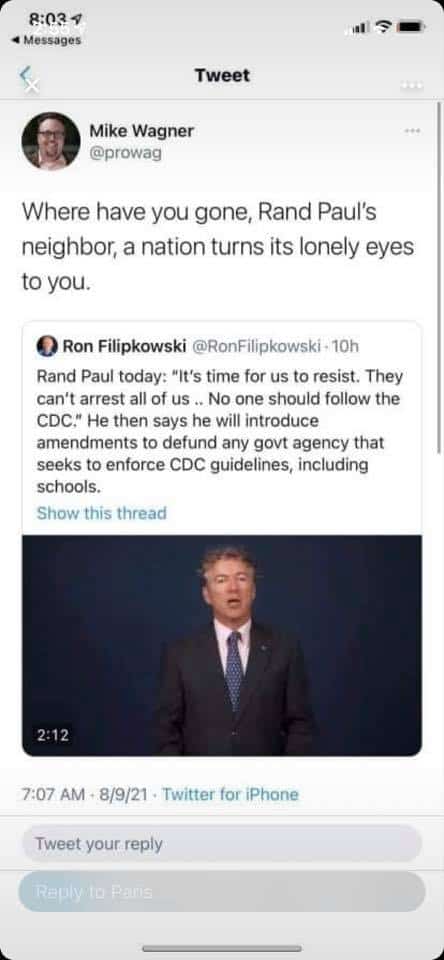 Wagner's Twitter page is filled with diatribes against Republicans.
He has repeatedly criticized Fox News' host Tucker Carlson, writing that "Tucker Carlson and his show are dangers to the republic." He called him a "menace to society" in another tweet.
In May, he wrote without explanation, "Just googling when the last time was a member of Congress killed another member of Congress. No reason." He has called people who take opposite views on topics like Simone Biles "monsters."
With a tweet he shared about Republicans in the Legislature seeking to ban testing and mandated vaccinations at UW, he noted, "Death cult." He shared a CNN story on House Republicans ousting Rep. Liz Cheney from her leadership post after "feud with Donald Trump," and wrote, "the country needs the news media to adopt a pro-democracy frame, not this."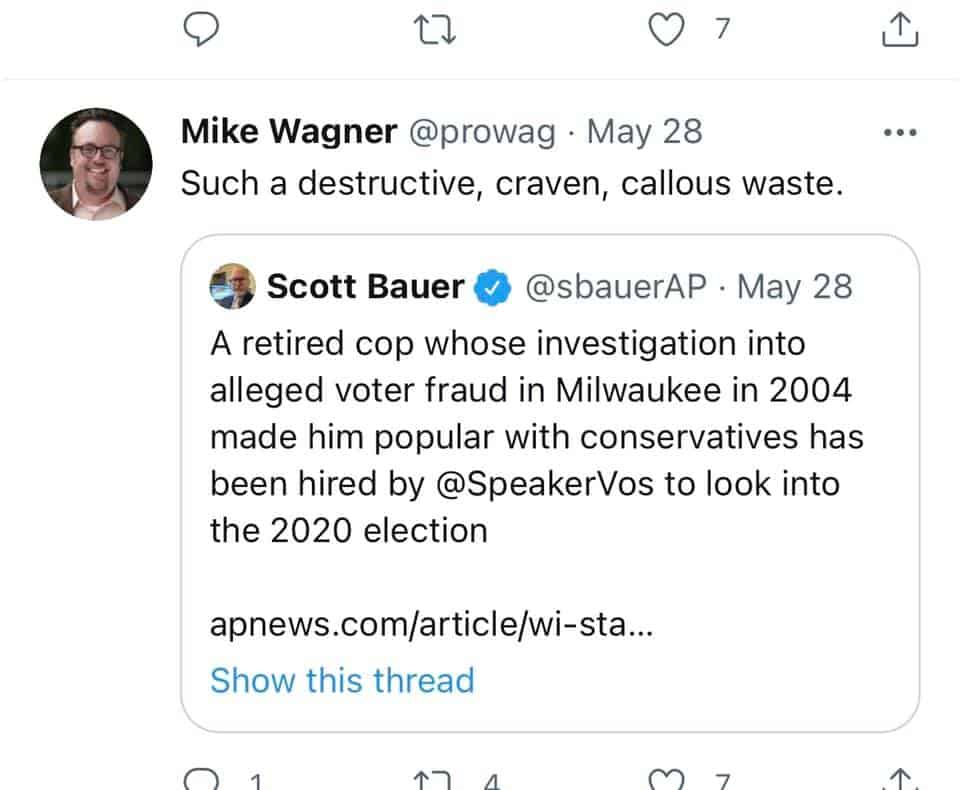 Who is Michael Wagner?
His university web page says that his research, teaching, and service "are animated by the question, 'how well does democracy work?'" Wagner approaches this question from a variety of perspectives, incorporating into his work the study of political communication, political parties, journalism, public opinion, political psychology, political behavior, religion and politics, the presidency, and biology."
It says, Michael Wagner "teaches courses from the 200-to-800-levels focusing on reporting, political communication, media and behavior, physiology and communication, fact-checking (where he runs the fact-checking site The Observatory with Lucas Graves), public opinion and opinion writing."
The fact-checking site contains headlines like, "Shot in the foot? Wisconsin's weak gun laws may harm us, neighbors" and "Is President Trump's trade war still hurting Wisconsin agriculture?" and "Tammy Baldwin says regulations curb rural broadband growth. Is she right?"
His page says he is "completing a construction of the Wisconsin media ecology in the 21st century in order to understand how Wisconsin politics has arrived at the state in which it currently finds itself."
It's not the first time he's criticized Paul on Twitter. In April, he wrote a tweet directed at news outlets, sharing his opinion that Paul "appears to be confused about how the economy works, how the Constitution works, and how to be a serious public servant."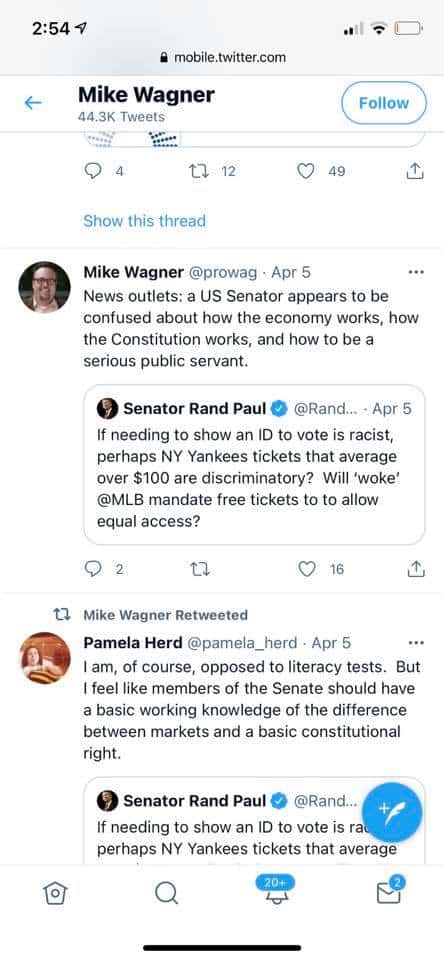 In April, he wrote, "It's almost like former President Trump is an incompetent, narcissistic, lying dirtbag."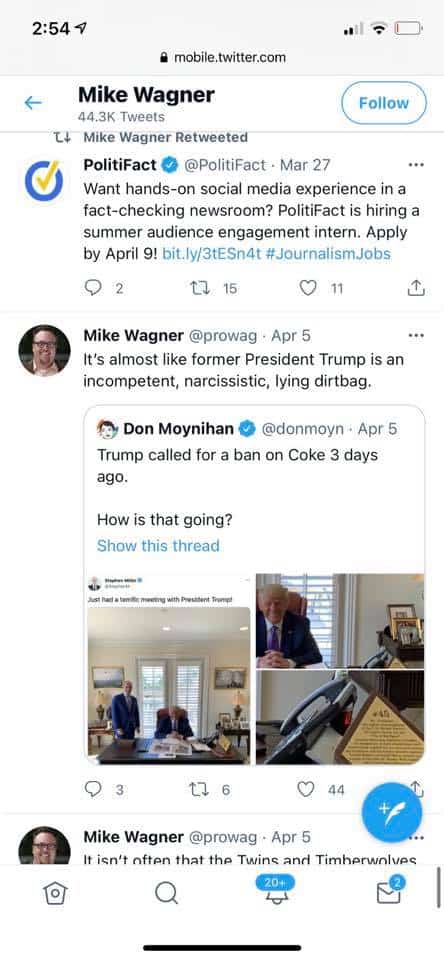 Michael Wagner wrote that Ted Cruz "provided cover and support for people seeking to overthrow the government. It is appalling that he continues to serve as a Senator."